Bookmark this: Microsoft's highlights from Build 2014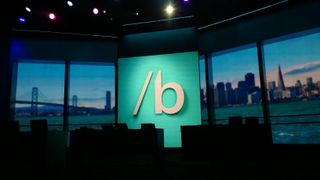 We're still recovering from Microsoft's //BUILD/ conference from last week. Build 2014 was the event that Microsoft finally showed us Windows Phone 8.1 for the first time publically. It was also full of information for developers throughout the week at all the various sessions. Microsoft has compiled a really handy recap of the event last week.
Need to catch up and digest all the info? Then you're going to watch to go to Microsoft's Building Apps for Windows blog to get a full rundown of everything. They've compiled highlights from the keynotes, universal apps, Windows Phone 8.1 and Windows 8.1 Update.
This is their Build 2014 highlights #1, which means we can probably look forward to another post from them breaking down all the enterprise features.
Hit up the source link below to catch up!
Source: Build 2014 Highlights #1
I've a Lumia 1020, will it recei.... *SLAP*

oh dear.. it appears we have a new WPC joke to spam

Just enjoy, this will end in 4 days..... ::fingerscrossed::

better than the last one :)

No. The 3310 will receive an OTA update later this month and will receive Windows 9 directly in September.

Another: "And I'm just sitting here... waiting for the DP"

I hope that's not what he meant

LMAO xD xD xD !!!!!!
I think he meant about Dev Preview..

I'm reading "Developer's Preview" in every title from WPCentral that pops up on my phone. It must be some kind of disease, illness, syndrome... what is it guys?

People just can't wait....can you?

Obsession? Thrill? Freaking awesomeness?! ;)

You mean more like..... let. it. go.
Let. it. go.

Nokia, let it available... Let it available :v

I'm almost close to a heartbreak opening the site hoping to find the "developer's preview available" title...

You better watch out for "Heartbleed" then.. :p

/b I see what MSFT is doing there :3

Omg it thrills me how apps will completely change the start screen. I want that diagonal theme. Epic.

Most memorable part of build was when they did not announce any new high-end phones coming to T-Mobile! Oh well, maybe next year! :/

The Lumia 925 will get all of the same software any new phone will. It has a very high PPI screen, fantastic, highly rated, high MP camera. Also it is probably one of the last Lumias that will have the glance screen. If they don't release a new Tmobile windows phone that is flagship level, I'm not sure it would really impact us a whole lot since we've already got flagship material in our hands.

Guys, on the enterprise side, did someone see something about encrypted email? Is it coming in WP 8.1?

Why does Belfiore say Windows 8 point 1? Everyone I know in software would say Windows 8 dot 1. And Baja Fresh is not the third best Mexican restaurant in Palo Alto. Anyway, Cortana looks mostly good. Eagerly awaiting giving it a shot!

He's not only selling it to software savvy folks.

He was speaking to an auditorium full of devs. To me it made him lose some street cred.

it's not a URL. it is a number. you don't say $1.5 dollars as one dot five dollars.

I see your point (ha!), but it is not really a number so much as a designation. In other words, you don't add Windows 7 to Windows 8.1 and get Windows 15.1. Same with IP addresses. You don't add 10.10.10.1 with 10.10.10.2 and get 10.10.10.3, and absolutely no one in the know would say "point" for an IP address and not expect to get laughed at.

just because you don't add versions to get the next, it doesn't mean it isn't a number. And BTW, IP addresses don't use "point". You don't say 127 point 1 etc. you're highly confused :) stop it. Whatever the case, it is windows eight point one...period!!!

It is you that is confused. If read correctly you will see that I also say no one uses point when talking about IP addresses. Similarly, no one in software uses point for version numbers. Sure, I can see laymen saying point. What I'm saying is Belfiore by using point when talking to an auditorium full of devs comes off as sounding like a layman, which isn't good for the head of the division.

Similarly, no one in software uses point for version numbers

HA HA HA. sure. ok. well you heard it first. windows phone 7 POINT 5 was really SEVEN DOT FIVE. LOL. you've lost it. but I give you credit for trying.

Right, I would say a dollar fifty. So Windows Phone 8.1 should be Windows Phone eight 10.

read this in words: 3/2 = 1.5 argument settled.

"you're going to watch to go to Microsoft's" I think you meant "You're going to want to go to Microsoft's"

cortana of us accent contained in the developer preview or indians will have to wait a year? i somewhere heard that cortana will be available for us only... ms is currently working on other accents... and it will be soon available in 2015... btw cant wait for the DP (DEV PREV.... NT DOUBLE PENETRATION ;) )
Windows Central Newsletter
Get the best of Windows Central in in your inbox, every day!
Thank you for signing up to Windows Central. You will receive a verification email shortly.
There was a problem. Please refresh the page and try again.