Build 2015 recap and discussion: Join us live on Windows Weekly later today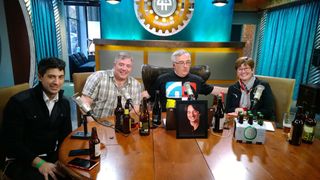 Microsoft's Build conference is wrapping up today, although most of the big news was announced on Wednesday.
Since then, some clarifications and bits of information have been trickling in. Whether it was iOS/Android app conversion tools, Continuum for Windows 10 mobile, HoloLens or new initiatives, Microsoft had a lot to share.
Do you need a recap and discussion? Tune into Windows Weekly later today at 2pm PT / 5 pm ET / 9pm GMT where Paul Thurrott (Thurrott.com), Mary Jo Foley (All Things Microsoft) and I are going to talk about all that is new, break down what it all means, and what we think.
Plus, as a Build-Windows Weekly tradition, there will be alcoholic libations to loosen the tongue.
Windows Weekly is streamed live on TWiT.tv where you can tune in via the web. Can't watch it now? No worries as it is converted into a podcast, where you can watch or listen later.
These special edition shows can run two hours or more, so grab the popcorn!
Windows Central Newsletter
Get the best of Windows Central in in your inbox, every day!
Daniel Rubino is the Editor-in-chief of Windows Central, head reviewer, podcast co-host, and analyst. He has been covering Microsoft since 2007 when this site was called WMExperts (and later Windows Phone Central). His interests include Windows, laptops, next-gen computing, and for some reason, watches. Before all this tech stuff, he worked on a Ph.D. in linguistics, watched people sleep (for medical purposes!), and ran the projectors at movie theaters because it was fun.
Microsoft is just getting better and better!

I couldn't disagree more.

Thats a double negative, so you agree with Travsdel? And, you would be in the minority if you don't beleive Microsoft have done some very cool product work recently. Surface, Xbox One, Windows 10, Visual Studio + Universal App (meaning not just Windows, but now iOS and Android), Office 365, Office 365 video! Hololens. Yup, you'd have to try pretty hard not to acknowledge some of the cool and relevant technology they have compelted over the last few years.

Thats not a double negative, just saying.


http://www.gcflearnfree.org/grammar/negatives/print Disagree is a negative prefix double negative (see link above for explanation), and so it was proceeded by "couldn't", so its a double negative. :) Just saying. ( Its valid to say "I couldn't agree more", its a double negative when you say "I couldn't _dis_agree more")

RIP Joe Belfiore... Apparently lol

Hahahahahah man...!!! XD man what a click joe belifore photo in middle beer bottles surrounding him all round XD

that's what i think too :))

Dan has to get busy to catch up with Thurrott. lol.

I'm pretty disapointed that no new devices were announced at Build... Also was hoping for a release date of Windows 10 for the PC.

Were you actually expecting that? Windows 10 for phones is so far behind Windows 10 for PC/tablet that there's no way they even now what kind of hardware will make this bloated excuse for an operating system run smoothly enough to be acceptable. It runs HORRIBLY on the Lumia 635...slower than my 1020 on its worst day. No, I'll bet W10 is going to have to improve a LOT before they settle on exactlyl what hardware will be needed. With WP7 and WP8 you could use less-than-top hardware and get better performance than Android or iOS on any hardware. But because of how badly they are designing W10, they will NEED to have the best hardware just to make it passable. Every advantage Windows Phone ever had is GONE.

And you came to this conclussion after using the first build of a technical preview? I have always used preview builds from the start and this is no different than what i expected. Did you honostly expected it to run smoothly than 8.1 at this point?

Besides, on the latest build on 635 is pretty passable already, not perfect, but its getting there. (Its not as sluggish as before) I too can't see how you can draw a final conclusion from a very early tech preview.

I just thought they would have more to show us on the phone side and maybe Windows 10 running on Xbox... I was pretty impressed with how they are making universal apps to run on everything and now iOS and Android apps can be ported over.

There's E3 for Xbox stuff.

Let's just bookmark this comment and others like it here in April-May and see what reality is after a few more builds of the phone OS version are released. Making sweeping conclusions based on little to no evidence is a hallmark of tech blog comment sections. There may be millions of folks on the Insider Preview program, but there are clearly a lot who don't seem to crasp the concept.

lol yup, you can already do this with the desktop builds. go back to January when the first build with Cortana came out and people were complaining about EVERYTHING. its a freakin technical preview -___- now a couple of builds after and everyone is like OHH so that's what they were gonna turn that into lol.

Bloated excuse of an operating system? Because you're using the finished article obviously...

Time and time again Windows Central has mentioned/posted and written about the fact not to expect devices during BUILD.

Didn't they announce devices at last years Build? Along with Windows Phone 8.1?

They were fairly insistent here that we were unlikely to see any. What I love is when Dan and the others go to another meeting afterwards, you just know they are fueling up on time sensitive secrets..... Love it.

Off topic. Could someone please clarify regarding Project Astoria. I read on xda that W10 on phones will include an Android runtime layer that'll let them run existing Android apps (both Java and C++) unmodified. Unlike Islandwood, which will require developers themselves to recompile their software to bring it to Windows, Astoria will in principle work with any old APK, without requiring the developer to do anything but publish the app in the store—as long as the APK sticks to the APIs that Astoria will provide. Does it mean like blackberry?

Noo noo Codes will have to be recompiled for them to run on Windows devices. I dont know exactly what runtime layer means, but I assure you it's NOTHING like blackberry.

I'm going to have to look back through the articles but it looked to me like they were compling the code in Visual Studio then publishing the package to the store. If that's the case, the .apk gets converted into a .<whatever format will be used for Win10 Universal Apps> and run like any other app. I didn't get the impression that there would be an emulator in Windows like Blackberry.

We need Windows Central podcasts

I would rephrase as "We need periodical Windows Central podcasts!"

OK can you please explain that pic of Joe, cause it's very random and creepy?!

It's from the last event I think

It is just looking drink party in memory of joe... Lol!!!

Windows 10 bar,u can drink without going to bar..just like joe.

That's Great Daniel that you gonna be on Windows Weekly today. Show with you are always more interesting cause you bring some fresh energy to studio.

Mary Jo's site is All About Microsoft, not All Things Microsoft. Just so you know. And the Joe B photo was just because at that time they were pretending he was there. It's an inside joke.

I didn't get the "All About Microsoft" and "All Things Microsoft" part.

It means that Mary Jo has a site named "All About Microsoft" and not "All Things Microsoft"

"Hangin' with the geezers"

Can't wait, sorry to be a downer but stream is not up yet and the schedule on Twit.TV indicates that show will start at 10 PM gmt not 9 PM? O.o Edit: Yay!, looks like it was a typo on Twit.TV and show should be starting soon :). 2nd Edit:... o.0 a pre-recorded episode of TWIET??? So it is starting at 10 pm lol...

Dan, looking forward to this. Really enjoy listening to these casts. Oh, and thanks for the extra information in the text. Kudos to you sir.

How do I listen to this on Windows phone?

if they're video player supports html 5 you can watch it from your browser :) I was watching the whole Build conference from my phone while it was live. I believe twitch.tv DOES support the full html5 standard for video playback so give it a try.

I missed it:(. when is the youtube vesrion ready?

I missed it:(. when is the youtube vesrion ready?

I missed it:(. when is the youtube vesrion ready?

Not yet I have been wating for it myself

Daniel, looking forward to hearing this podcast in windows weekly! Looks like a fun party was had by all. ;) Not to mention all the exciting news that was announced at this year's build.

Yay!!! It's finally Up!!! :) Watching it now in Seattle!!!

Hmm, a tad bit to much alcohol on the show. They talk over the heads of the guests and them self's a lot. Also, maybe Peter Bright should drink more because I never seen him this focused when talking, usually it takes him forever to get to the points. Great work of Peter Bright, Daniel and the .NET rock guys, loved to hear them talk.
Also something that's been obvious for some time is that all the guests of WW (Including Paul and Mary Jo) is the only part that is functioning with this show. Leo is a great guy and for all the work he is behind, but I still think that he's the problem with this show not becoming more or better. The padre probably don't like the drinking part so I understand him not willingly being the center host, but man what a super show that would have been, now its just ...good. Lets face it, Leos interest in Microsoft or W.W. is at this point merely him being the brilliant inventor and producer and claiming it for his own benefit, not the show. All in all, Leo is probably a really nice guy, otherwise he would never been able to create all this quality shows. But I'm speaking as a show host here purely.

Leo is the week link of the show most weeks, but maybe he should drink whisky every week. It seemed to mellow him out a lot, at one point I thought he was falling asleep. He even left the set during the question and answer period.

It's no wonder windows phone is not doing well. When Microsoft announces something amazing, instead of getting an enthusiastic response you get a "I don't know, lets wait and see". It's the community that lifts up any platform whether it is Android, IOS, or Windows Phone. If the people on the platform support it thrives, so don't get depressed about Microsoft's track record and give up on it. This is a new Microsoft, the past does not apply. Also why do you think people are getting jaded my new phones S5 S6 blah its not the physical phone and some specs that just makes the experience. It's the OS and software that makes it enjoyable past the initial wow factor. If Microsoft can nail that then the flagship phone isn't even necessary.
Windows Central Newsletter
Thank you for signing up to Windows Central. You will receive a verification email shortly.
There was a problem. Please refresh the page and try again.