Everything you need to know about Call of Duty: Modern Warfare Remastered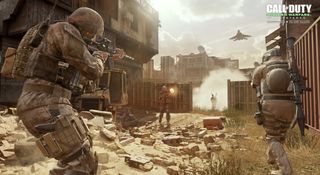 The Legacy Edition of Call of Duty: Infinite Warfare includes Modern Warfare Remastered, a fully enhanced remake of one of the most popular Call of Duty games of all time. At Call of Duty XP, we played Remastered and caught a panel in order to bring you this thorough rundown of its many enhancements.
Modern Warfare Remastered at Call of Duty XP
The second-ever Call of Duty XP event recently took place in Los Angeles. It served as the culmination of a yearlong season of competitions in which teams of the best Call of Duty players from all over the world competed for prizes.
Additionally, attendees got to play a number of upcoming Call of Duty games, including Infinite Warfare multiplayer, Infinite Warfare's cooperative Zombies in Spaceland mode, the Infinite Warfare virtual reality experience – and of course, Modern Warfare Remastered multiplayer.
Although we didn't get to play Remastered's campaign, we did learn a lot about the work that went into updating it for modern audiences during the Modern Warfare Remastered panel. The panel consisted of five developers involved with the remaster:
David Pellas, Studio Director at Raven Software
Thomas Wilson, Creative Director and Co-Studio head at Beenox
David Mertz, Design Director at Certain Affinity
Oscar Lopez, Designer at Infinity Ward
Mike Denny, Lead Designer at Infinity Ward
Which elements made Call of Duty 4: Modern Warfare such a classic?
Before we talk about enhancements, it's important to understand why Modern Warfare holds such an important place in gamers' hearts. That resonance starts with its campaign. Modern Warfare's story mode features countless memorable moments.
The first such showstopper is the introductory level in which players see through the eyes of Yasir Al-Fulani, the president of the Middle-Eastern country in which Modern Warfare takes place.Al-Fulani gets dragged into the street, confused. The player has no control other than being able to look around. Time slows down and someone points a gun at Al-Fulani, executing him. It was like nothing anyone had experienced in games before. The developer credits that stylishly appear and disappear during this sequence further enhance the cinematic effect.
Modern Warfare's multiplayer is rightfully remembered as changing the competitive FPS landscape as well. According to the panel, its greatest multiplayer achievements included the introduction of role-playing elements like player leveling, perks, Killstreaks (called Scorestreaks in Infinite Warfare), and other in-game rewards. Multiplayer ran at 60 frames per second (facilitated by a sub-720p resolution), providing a smooth and compelling competitive package.
Goals of the remaster
The Modern Warfare Remastered project started with an online petition. Once the idea was brought up with Activision, the publisher had to choose a studio to handle the remaster. The primary duties fell upon Wisconsin-based Raven Software, which had already contributed to several previous Call of Duties.
Raven started with a proof of concept of the game's ninth level War Pig, showcasing some of the visual improvements the studio planned to bring to the table. After bringing in some original team members at Infinity Ward, the next step was to set the tone for the project.
The developers had to figure out which aspects of the game were "sacred cows" – things not to mess with. "Respecting the original game and gameplay experience was incredibly important for us," David Pellas explains. All aspects of the gameplay, including artificial intelligence and difficulty, had to remain the same.
Still, they wouldn't just be porting Modern Warfare to newer consoles as-is (as Activision has done with other previous-gen ports like Marvel Ultimate Alliance). For this project, the publisher let the developers go all out. "We wanted to redefine what a remaster is," one of them intones. A huge part of that process involved bringing the visuals up to the standards of today's technology.
Raven and co tried to add a sense of history to every location in the game, transforming things that might've been generic before into specific places that could exist in our world. The entirety of the game's geography would receive countless visual details to make for a more cinematic gameplay experience.
Audio wouldn't go unattended either. Although none of the audio was replaced or rerecorded, it all received a serious remastering. Why would the sound even need updating? In 2007, the original recorded audio contained more sound channels than the consoles of its time could produce. Xbox One and PlayStation 4 can reproduce far more of that aural fidelity.
New techniques improved the sound stage as well. "Layering out multiple sounds now makes a big difference," a developer remarks. The sound of broken glass, metal crunching, treads of the tank – these sound layers are all distinct now. New spatial effects give sound effects a different sound depending on the environment in which they take place, as well. These enhancements apply to both campaign and multiplayer.
Modeling
To demonstrate Modern Warfare Remastered's visual improvements, the developers begin by showing us some updated character models. "We started [by updating Price's model] because we wanted to set the bar high," a developer tells us.
Captain Price is an important character who players first meet in F.N.G., the game's tutorial mission. His hat, beard, and a world-weary appearance are some of his key visual traits. The new Price model is vastly more complex than before. His face now shows his age and history more than ever before, with wrinkles around his eyes, a mole on the side of his nose, and even individually modeled mustache hairs.
Another clear example of that realistic facial hair comes with Imran Zakhaev, an aged Russian arms dealer and terrorist called the Fourth Horseman. He sports a lengthy white goatee that has been enhanced with individual hairs. And more impressively from a modeling standpoint if not hygienically, he now rocks hairs growing out of his ears as well.
Looking further down on the characters' bodies, clothing now has wrinkles, zippers, and pockets that weren't visible before. Some clothing has even been upgraded with dynamic joints. For instance, when a character looks out of a moving helicopter in another campaign level, his clothing flaps realistically in the wind.
Realistic characters need authentic guns, too. "We needed to take the weapons up to the same level of personality as the characters," a developer reveals. The guns have greater detail than ever before, including scarring that shows they've seen some action. And light reflects off the different surfaces of each gun realistically.
Remastered has the distinction of being the first Call of Duty in history to account for every caliber of bullet, for every gun in the game. In the original Modern Warfare, all guns expelled the same shell casing when fired. Now, each gun ejects an accurate casing.
To demonstrate, the developers show us a light machine gun that pulls individual bullets in from its left side and expels those same bullets from the right after firing. It's not a graphical trick – the bullet model moves through the innards of the gun and comes out the other side. That might seem like an inconsequential detail, but it makes each gun more distinctive and lifelike.
Vehicles also received a major upgrade. One example is the AH-1 Cobra helicopter that appears in every Modern Warfare. The original helicopter had an angular appearance and little textural detail beyond a camouflage pattern. The new textures add far more detail than before. And to create the motion blur of the old model's blades, the artists "cheated" by giving the blades blurred textures. The new Cobra's blades create genuine motion blur when they move.
Modeling the cars took some of the most time of all the new assets. Every single vehicle is remastered, with modeled interiors and undercarriages. Players have to crawl underneath cars at times, and now you can look up and see bolts and other properly modeled details.
Environments
Remastering the environments begins with "paint-overs." For each level, the artists establish a color script and determine the tone they want for that level. Next, they play the original version of the game (in this case, the PC version) and take screenshots from those levels. Then the artists produce new concept art as a layer on top of the past-gen screenshot, adhering to the new color script.
The paint-over "serves as a clear indication to the 3D artists the level of detail and fidelity that [needs to be reached] for every level." The process is iterative, so they take new screenshots and produce new artwork throughout development – not only at the beginning. They also worked with concept art that didn't involve screenshots as well.
New details like burning trees, tires, and exploding cars have been added in some areas, bringing previously static environments to life. To create additional depth in the distance, multiple layers of mountains were erected where there used to be only one.
In the tenth mission 'Shock and Awe,' the scaffolding near buildings is now a destructible asset. "This is where you get something that feels just like the original, but with something more on top," one of the developers concludes. These changes don't affect gameplay at all, but they still provide a better experience.
A relatively new graphical technique called Tessellation Displacement Mapping also brings new details to old environments. Basically, it involves dividing up a low polygon model into more polygons and then displacing them by pushing them in or out. One example of this technique in Remastered is that individual rocks in a cobblestone road now stick in and out instead of relying on a flat texture map to create the illusion of depth.
Camera and animation improvements
Remastered's camera takes advantage of dynamic depth-of-field adjustments to focus attention on important parts of the screen. For instance, when the important action is taking place inside of a helicopter, the exterior loses focus. And when the camera focuses on the outside, the interior view softens so as not to distract from where the player's focus should be.
In the original Modern Warfare, the camera didn't always feel like it was attached to the player's body. Remastered takes the opportunity to improve on that and add what the developers call "body sense." Wherever it makes sense, the camera more closely follows the player's body. For instance, when rappelling down a rope, the camera will now capture the feel of your body.
Another example comes when a massive explosion occurs while the player takes an evacuating helicopter at the end of 'Shock and Awe.' Originally, the player somewhat passively observes one of his teammates being sucked out of the helicopter door. In Remastered, you'll actually reach out for your friend but lose hold of him as the helicopter spirals out of control. The new animation adds more drama and tension to the level's conclusion.
AI-controlled soldiers have enhanced body sense as well. Friendly fighters now move much more realistically throughout the environment. They learn into their turns and even grab onto rails when navigating stairs. "It makes the AI look smart," one of the developers observes. These improved animations were necessary in order to make Remastered feel like a cohesive, modern package.
"If it ain't broke, don't fix it" is certainly the attitude the Remastered team took towards Modern Warfare's multiplayer mode. But they did add an amusing taunt animation that players can perform by hitting down on the D-Pad. This will make you hold your gun out in front of you with both hands, admiring it. The taunt should be doubly satisfying if you can manage to perform it in view of a deceased player's kill cam.
What's old new is new again
My brief time with Modern Warfare Remastered multiplayer actually took place before the developer panel, so nobody in our games used that new taunt move. But we did have lots of fun playing three games of Domination, a team-based mode in which each side vies to control capture points on a map. One of those maps was Overgrown, which takes place around an abandoned farm whose buildings have been overgrown by wilderness.
Remastered is slower paced than the futuristic Infinite Warfare. It lacks a few features like double jumping and sliding that help players move around maps more easily. But it still feels perfectly smooth and well-tuned, just like the original Modern Warfare. It also looks fantastic, as the screenshots we captured for this story will attest. The enhancement work that the developers described to us is plain to see on the screen.
If everything the Remastered team told us about the campaign holds up, Call of Duty: Modern Warfare Remastered should be one of the most successful videogame remasters since Capcom breathed new life into the first Resident Evil on GameCube (and eventually current-gen consoles).
Whether or not one follows the annual releases of Call of Duty, Modern Warfare itself remains a landmark FPS that has rarely been topped from a cultural impact standpoint. Remastering the game provides a nostalgia trip for long-time gamers while also introducing it to a whole new generation of Call of Duty fans.
The only controversy about Modern Warfare Remastered comes from how Activision is selling it. Remastered won't be sold as a standalone product anytime soon. Instead, it comes bundled with the Legacy or Digital Deluxe editions of this November's Call of Duty: Infinite Warfare. Preorders for the cheapest of those editions, Legacy, come in at $79.99.
Having to buy special editions of Infinite Warfare just to get Modern Warfare Remastered is a bit of a drag, but at least we enjoyed what we played of Infinite Warfare so far. Perhaps Remastered will eventually sell on its own, but don't expect that to happen this year.
Call of Duty fans, do you plan to pick up Infinite Warfare and Modern Warfare Remastered when they launch together on November 4? And are there any other Call of Duty games deserving of the deluxe remastering treatment?
Get the Windows Central Newsletter
All the latest news, reviews, and guides for Windows and Xbox diehards.
Paul Acevedo is the Games Editor at Windows Central. A lifelong gamer, he has written about videogames for over 15 years and reviewed over 350 games for our site. Follow him on Twitter @PaulRAcevedo. Don't hate. Appreciate!