Windows 10 Mobile Camera app adds forced HDR and video pause options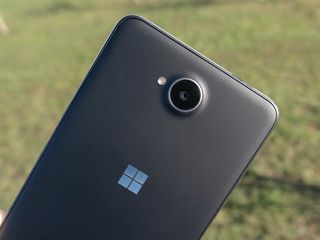 Windows 10 Mobile users should see an update available for the Camera app. Microsoft is rolling out the new version that adds at least two new features: a way to pause video and the promised forced HDR option.
The video pausing addition is one that is already available on the Camera app for Windows 10 PCs and tablets, but is now available for phone users as well.
The Force HDR option is one that was first promised by Microsoft in January, and now is finally available. Windows 10 Mobile users can now have control of when to use the HDR feature, with options for on, off and auto modes. Also the feature has been rebranded as "Rich HDR" rather than the previous "Rich Capture". Let us know if you find anything else that is new or improved in the comments!
Thanks to everyone for the tips!
Download Windows Camera for Windows 10 Mobile
Fast ring insiders only I guess

Hmmm . I'm not getting this update on my lumia 730 official build .164

Same here Who among us is without sin.

Same here Lumia 950 xl on production thing Posted from Windows Central for Windows 10

Got it on lumia 950 redstone. Happy :)

I got the update in my Nokia 730 on official w10m (.164) Posted from Windows Central for Windows 10 with a Nokia Lumia 730

And it's working fine. By the way rich capture (rich HDR) seems to be unavailable for 730 instead it regular HDR
mode is available Posted from Windows Central for Windows 10 with a Nokia Lumia 730

Updated. But nothing new, still rich capture

Is the annoying wait after you take a picture gone?

Didnt got it on 1520 redstone 925 Posted from here, 1520.

I'm on the slow ring and I got it. Posted from Windows Central for Windows 10 Mobile

I got it and I'm not fast or slow ring. What a funny assumption to make...

I got it Sent from my Microsoft Lumia 950, AT&T.

Nothing on my ATT 950. Not on Insider at all.

I got it yesterday on my AT&T 950

Slow ring too. Received the update on my Lumia 930

Windows central could have at least said who the update is for ya know. Henry Miller

Judging from the comments it's for whoever got lucky. One picture at a time -- LG V10

I'm a fast ring insider on 925 and I didn't get it.

635 Slow Ring user here, HDR & Video pause features running great !!!

This is amazing news! I'm also waiting for someone to tell me what it means? :-) Forced HDR?

Means you can shoot every shot with hdr on (or off, or auto detect)

And what is HDR? For the benefit of everyone else who hasn't got a fkn clue?

High Dynamic Range. Essentially takes multiple exposures and stitches them together to make 1 image. Posted via the Windows Central App for Android

yup just got it on 1520 finally :)

It is help to easy video recorder Abishek

Sweet update! Got it on my Lumia 1520 (.164) and HP Elite X3 (Redstone) Posted from Windows Central for Windows 10 using my HP Elite X3

HP Elite X3, you mean the 'superphone' that's not out till ~Jun? How on earth do you have that phone?

;) Posted from Windows Central for Windows 10 using my HP Elite X3

Yeah right, sure thing. ;)

There are people with test devices that aren't allowed to comment.

Ahhhhh my elite x3!!! Posted via the Windows Central App for Android

Only for native windows 10 device s ie. 950/xl 650 550. Start mentioning this windiws central Who among us is without sin.

I am on production with my 950 and I am not seeing it at all...

unlocked Lumia 950 XL.. non-insider program and still not getting this feature

Same here. What's going on with different updates for different phones/builds. Also didn't get the Outlook mail update WC posted about. Got an update but was an 'older' build...

I've tried messaging some people from Microsoft for clarity, but have not received a response

Check thw forum * why do i have differed app updates* post your comments there

I have it on my Lumia 930. 10586.164 on slow ring.

Gurl, I updated the cameras app, same phone and build, slow ring as well. Not seeing it.

I've got it.i'm on insider .164 on a lumia 1020.only the hdr feature i'snt available,but the pause for video recording is there.

How is the camera on 1020? Is it worth updating to 10? I am using my 950 but wondering about the 1020 Posted via the Windows Central App for Android

Having it on my Lumia 1520.

Not showing on my L640. Production build .164.

Cue all the posts saying they cant get the update, really have to wonder what MS is doing with their store these days....

It takes time to roll out to everyone friend. Posted from Windows Central for Windows 10 Mobile

I've haven't gotten any of the recent app updates except for the outlook mail update with a 950xl on .164

Same here, although I didn't get the new outlook mail update with the correct rendering build too...

Not necessarily true, I didn't even get the last camera or photos update and that was last week.

I was on the same boat, until I did a hard reset (mail & calendar didn't work at all.. Desperate measure). All working much better after that. Fast ring Posted from Windows Central App
Lumia 830/Win10Mobile

I did a hard reset not too long ago. I'll likely go to fast ring once they sort out the band issue anyway.

While I don't own a band, I agree. The stability is still a little off, with camera and edge crashing more often than I like. Overall better after the reset, prior to which I thought I had made a horrible mistake

Not been using windows store since long time uh? It takes some time from when it's published to get on every server.

Yeah.... I was on vacation and was quite frustrated I couldn't "quickly" find a panorama app. The Lumia ones isn't listed on the store anymore and all the 3rd party ones look terrible. Do you or anyone else have a recommendation?

Ya cycloramic has occasional stitching issues but it's by far the best one on the store right now.

I still have Lumia Panorma app In my Lumia 830. Official update

I found it in the store, but says it's not compatible with my device. https://www.microsoft.com/store/apps/9wzdncrfhx4s Would you mind going to your app list, pressing and holding on the app to expose the menu, click the Share button? It will bring you to the store listing and popup sharing options. If you select Messaging, it will give you the store link for the app. Can you paste the link here?

Lumia Panormahttps://www.microsoft.com/store/apps/9wzdncrfhx4s In store it still says not for windows 10, but it shows an option to OPEN and its working perfectly.

Thanks for getting the link! It's a no-go for me still. I wonder if that will work on my old 920 running 10. Maybe this isn't an OS thing but a manufacturer thing. Microsoft mobile versus Lumia

Right? I want my lumia panorama app back.

It was not that good when the camera faced the sun

Open store... My Library... Check all the apps you preciously had... You might have it there to reinstall..;-)
Best of luck Nokia Lumia 1520
~The Power of Windows 10~

I found it there, but says it's not compatible with my device :-( Original devices were Lumia 900/920. Upgraded to 950 xl. https://www.microsoft.com/store/apps/9wzdncrfhx4s

I want my Photosynth app back

That was so awesome. I loved that app. I'll pay to bring it back. "Hey Peter! How was your vacation?" *opens photosynth* Everyone's jaw drops.

I got it back from my library in store... Try yours... Nokia Lumia 1520
~The Power of Windows 10~

THIS!!!! Seriously when this will come? Almost every phone have freaking Panorama feature (even though not all of them produce great shot). We need a built-in Panorama to the Camera app and also produce high-resolution ones. The old Panorama was okay but still far from great since it only produce tiny panorama photo instead. Also I think it would be great for Camera app to have built-in QR+Barcode reader too since we lost in that native functionality in W10M, a bit bummer too.

Been waiting for a panorama app for way to long . Hard to believe Microsoft haven't implemented something 4 months with my new 950 XL and no way to take a good panorama photo. :/

This, long overdue. Posted via the Windows Central App for Android

Not seeing update..non insider

I got it, lumia 730 14295, but still disappointed, no rich capture for 730, no love for my phone.

Its sad, since I have it on my phone which is basically a better packaged version of your phone.
In recent usage I can understand that MAYBE it's because the 730 does not have OIS, which could result in subpar, unaligned images. But that should be an outcome the users should be able to chose. Posted from Windows Central App
Lumia 830/Win10Mobile

Which really disappointing to Microsoft's part. Not just they gave up support to older but capable devices (especially with 1GB and 2GB of RAM on Lumia 1020), they also not as great to some x30 devices either. Which leaves me questioning if Microsoft will ever updated them past RS2 or even RS1. It's not really clear if Rich Capture requires certain hardware features or just purely software. It doesn't even require having "PureView" brand either since like this Lumia 650 isn't a PureView but have one. I don't think 650 camera module is anything so special about it like let's say on flagship models (including older ones).

I downloading now and im production member. I wish that update will fix Lumia 930's camera. Posted on Lumia 930 with
Windows 10 Mobile

Got the Camera update on my AT&T 950, Slow Ring. (There was a Phone app update, too.)

I always found that Rich Capture had blurred images a bit and std mode was always clearer...

Strange... STDs usually dont show up clear.

No updated in my Lumia 950xl. Why?

Cool cool cool. Keep them coming.

Just got it, 930 slow ring. Cheers

Awesome update. Windows Central for Windows 10-Microsoft Lumia 640

Many photos after both hdr and standard mode I can't see any improvement

No update on fast, slow, or production ring on L640. Also no update to Mail with Move to spam option. Frustrating and confusing.

I have just go it. In U.K. L640 running 14295.

This site is trning into one huge clickbait of articles. This update is not available to production users as far as I can tell and only applies to redstone users. I might be wrong as some who are stock are saying they got it. Im on att 950.

Got it on my non-ATT 830 on production ring. !!

every article from callaahan is clickbait

I do not like at all the settings to be an overlay on the camera view.

How much longer will it take Microsoft to implement proper audio recording features for my Lumia 1520, grrrr.

I read that audio is recorded in stereo for our phones now. I have a 930 Posted from Windows Central for Windows 10

For 525 ? Anyone can tell?

Microsoft gave up on x20 devices unfortunately. Just go straight to Feedback app for that to suggest Microsoft for extended optimization and support.

I am not getting this on my rotary phone.

Is there a fix for the flickering view when Camera is first launched? How about the "Choose Best Lighting" option?

Got it. And I'm in love now Sent from Windows 10 Mobile

Got the camera update but didn't got any HDR feature and pause in mid video recording Posted from Windows Central for Windows 10

Video pause doesn't work on my 930.

Lumia 640 here, not in any ring at all. The new HDR feature is very slow.

Is the pause video recording only for sd8xx devices?

windows central rly needs to say in the article that this update is only for insider only

Still they did not fix the Rich Capture / HDR not working!!! I hate this Windows Camera app more every day more! ​Every time I try to use HDR I get "finishing touches" for minutes and after I only get a 1280x720 low resolution without any info picture!!

Windows Camera still suffers from hiccups when taking Rich Capture. It takes too long to get over from "Saving..." and sometimes it doesn't stop "Saving..." until a reboot is done. •Lumia640•

Don't have that problem on my L 640

It's known for doing that if you're saving to a slow SD card. I have a high speed card, but have learned it saves quickly if I save pictures to internal memory, then periodically move pics to the SD card.

rhapdog...really good idea. Thanks

Thanks for the tip rhapdog. You were right; on my Lumia 640 XL, after I switched the setting to save pictures to internal memory (formerly had it save to an SD Card labeled Class 10, which should be fast, but clearly is not enough), it saves MUCH quicker. Not only that, I no longer get "something went wrong errors" or the perpetual Saving message that I could only get out of by rebooting the phone. ​Thanks a million. Rich HDR makes a huge difference in photo quality in about half the situations I shoot, so I am really glad to get this tip while I am on vacation overseas for four more days.

No update ... for my lumia 930 official windows 10

Does it fixed the live images issue ?

Adding the finishing touches...

New features working perfectly Lumia 930 fast ring still no proper sound when recording though do get white noise now which is a step in the right direction....

I read on All About WP it enabled stereo sounds while recording video on the 930. Posted from Windows Central for Windows 10

Is rich HDR mode available for all devices? 730 doesn't seem to be Posted from Windows Central for Windows 10 with a Nokia Lumia 730

Latest build 1520 nothing :( ???? Why??

Lol, Windows Phones couldn't even pause video recording all this while? And I thought iOS was the most stupidly limited OS, Windows phone just keeps taking bits and pieces of that title. Posted from my Surface Pro

They did with the Lumia camera app but this is a Microsoft camera which is kinda new... Lumia camera gad the panorama option Microsoft camera doesn't...yet.

Wondering why I can't get it on my Lumia 950 XL yet. Posted from Windows Central for Windows 10

Waiting for the pause feature with my release preview 535 :D Posted with the Windows Central app for Windows 10 on HP 250 G1 notebook. It is a scary old monster, I think :D

Camera app still isn't recording from external mics plugged into the headphone jack. This is the same mics that I've used with L920, L1020 and even Galaxy S5. Voice recorder and even Fun Video Creator both pick up from the plugged in mic, so this is a software problem. The Camera app uses the internal phone mics, no matter what.

Rich HDR is available for all devices or some limited one ?

I don't get that feature either just the regular HDR Posted from Windows Central for Windows 10 with a Nokia Lumia 730

In my 640XL (.164) doesn't updated...Why?

PLEASE put the store links back where they were not in the body of the piece !!!

I'm not seeing this update on my Lumia 930 (production release). With all these different rings and testing phases and confusing news stories, Windows Mobile is starting to feel really fragmented...

Nothing on my Lumia 930 yet... Someone that uses the stable version did get download the update.

Nothing on my Lumia 930 yet... Someone that uses the stable version did get download the update?

Awesome update...Lumia 950.Well done Microsoft

Darn! They release forced HDR just AFTER I bet back from my overseas trip... Oh well, still a great feature that should benefit countless users in the future.

Works in #Lumia640XL but with output 1280×770px tiny image. Perhaps only use for Instagram or so.

Got it on my 1020. Noticed new option called digital stabilization which i did not have before. Don't have HDR option though. Wonder if the 41mp is enough lol

I got the update on l930 .164
If I pause the video this is it the video ends there and you just see o frozen screen

Can someone explain to me what Rich HDR function is? What difference it makes when on/off? I have lumia 925 and 950xl. Is it only that I can edit my shot after I make it (light)? Am I missing something? Thank you in advance.

The old Rich Capture would decide based on the lighting either to take several photos at different exposure levels (HDR) or to take several pics with and without flash (Dynamic Flash). Then in the editor you can blend between these different photos to improve your shot. The new Rich HDR forces the camera to take several HDR photos whenever it is turned on, but I believe it will also still use the Dynamic Flash feature if your flash is set to Auto.

Got it on my 950 XL Dual Sim on Production.

I am waiting for microsoft to enable digital image stabilization and rich hdr for front facing camera. =D

Hasn't shown up on my Icon yet. Checked the store and it doesn't show the latest changelog under the app entry.

That thing I love with windows camera is that when I take a picture I know it will be in 16:9 format. With my Galaxy s7 Edge 16:9 only have 9.1 Megapixels and one 4:3 12 Megapixels but daaaam is taking pictures fast! Posted via the Windows Central App for Android

Led Light Wont work after update. anyone else? Lumia 640xl win 10 14295 1000

You're not alone. Same here since 14295 update on 535. Even before camera update.

Not live for me yet. L830 on Redstone, fast ring.

Got it on my 535. But since 14295 update I can't control flash while taking photos or video. Any one out there whit the same issue?

Finally... Finally... Finally people will stop whining about this... Only to whine about something else... In seriousness, happy to see this update. Posted via the intertubes

I'm not seeing an auto option, only on or off on my 1520.

Same here on 640...no auto

Uh oh. Getting "Something went wrong" when trying to adjust lighting. 950 XL

Not seeing the update... Using a 950XL and im not an insider... Guess this is only for the insiders... *sigh*

One other new feature on the 950 and 950xl camera app is that you can now fully zoom in on all 4K options, previously the zoom only worked when recording video in 4k 24fps wheras now it works in 4k 25fps and 4k 30fps

It sucks because now my camera doesn't auto focus anymore when moving the device...another failure for technically great camera on 950 but castrated by MS crappy software. And no panorama either!!! Update ; adjusting illumination alias rich capture doesn't work anymore : something went wrong is all i get...this 950 is by far the worst phone ever!!!

Soooo glad that I didn't buy it!! I will not spend 600 dollars on such a ugly device and a Os that still has waaay to many bugs... and screen buttons?! Wth?! Posted via the Windows Central App for Android

I really am lost when it comes to this since when I first update to w10 there has always been a wand in the camera settings for turning hdr on/off there is no Auto thou. I have a 735, is this different?

Nothing about the update here on my lumia 930. I could not update it. There are no updates available for windows camera on build .164 normal update on my lumia.

Official build on 1520 I don't have it either.

Pause for video recording pauses visual but only continues with audio recording while visual stay paused. Nokia Lumia 1520. Doesn't take photos in raw format since updated.

I also didn't get any update on my 535

I am not getting this update on my Lumia 1520.

AT&T Nokia Lumia 830, received Camera update and working OK. (On Redstone 14295.1000)

Update not available... 950XL India Posted from Windows Central for Windows 10

Didn't got the update yet in my 730 W10M (build.163)

Green circle on the top for viewing photos. Ugly.

Got the update on my L925 Slow Ring. No HDR but I did get the pause video feature. No update yet for my Fierce XL on the Slow Ring. Will patiently wait. Posted from Windows Central for Windows 10
Using the Alcatel OneTouch Fierce XL for Windows 10

What's with the white lines whenever I capture HDR. Rich capture is now gone. Using 930 here :/

930 is a mess with windows 10... Posted via the Windows Central App for Android

No option for video pause.(L735) Anyone got it?

No update for my L930... I am really confussed... few update for insider, few for native win10 phone, few for other phone... Please MS do something with this mess!!! Where is panorama feature??? We are living in 21 century!!! Why do you destroy what is good in previous version of OS???

I didn't get this update...i just want ds update...!!!

Finland, Lumia 950XL .164 build, retail-production and no update :( Currect Camera app is v2016.128.141.0

no HDR option on my Lumia920. Video pausing works great though.

Great! Now we need a good panorama build in the camera app. Posted from Windows Central for Windows 10

I just try it, it saving photo forever.

On my 930, The video freeze where I push pause button, even if I push again..
Thanks MS for your bugging apps, your bugging OS and your castatrophic strategy (one step forward, two steps backwards).
You made me lose my investment (phone), now I have a buggy brick that nobody wants to buy.
Since many years I use to buy new phone and sell 6 months, 1 year or 2 years later at a good price but with your bad OS and strategy, my phone is just unsellable.
I had 3 windows phones but this is my last one, for sure.

I got the update from fast ring build 164 Sent from Lumia 630, Win10

No sign of the update on my 950xl and I'm on the fast ring

Got it on L640, slow ring, last night. Seems to work okay. Is saving a pic from video new? I have pause and hdr, but I don't remember pics from video being there before. I tried it, and while it's a bit cumbersome compared to Android's method of doing it, it does work. Crashed on first attempt, but did work on second attempt. You have to do it while watching a video, can't be done while recording. It gives you a slider bar and you can advance to where you want, then hit the save icon to pull the image out.

I guess technically, pic from video would be considered a "photo" app feature, not the camera though. But I thought it notified me of that when I opened camera. I could be wrong, it was a long night...

No update on .164 with 640xl. Bummer.

Just like I thought, WPcentral posts another article with a mis leading headline. This is only for preview builds.

Never got this update on my 640

Got it on my 1520, there is no auto mode just on and off just like the old Rich Capture.

Does any of you know why Microsoft has not enabled landscape start screen in its OS? It's just an innocent question.

Cool but what does the hdr do? I have no idea what that is...

C'mon MS. Still no update until today. 950XL DS Release Preview.

No update yet. 1520 on official release .164 in Germany.

Rich HDR does nothing on my 640xl. Not even seeing the "adding finishing touches" or the "choose best lighting". Also photos taken with windows camera still appear in the camera interface even though i've deleted them in the photos app. I'm on the latest redstone build.

No update yet on my Lumia 730 biuld.164

Has anyone got this on the official .164 release?

I got error 0xA00F425C, who else got the same error? I can't record video

No update on my 950XL .164, but my 1520's on .164 has it

Amazing feature! Still no one said a word what the hell is HDR Other MS link says HDR is hardly needed: here...

Windows is waste. I am using windows since from Nokia lumia, but still getting errors on apps "Something went wrong, please try again later". Also updated my phone to OS 10.0.14393.67, even though the camera clarity on Rich HDR is worst i ever seen. Completely wasted money to buy this phone. Also unable to take slow motion videos. But app says you can use Slow motion videos.. If this is not available for all phones, what is the use of this app?
Windows Central Newsletter
Get the best of Windows Central in in your inbox, every day!
Thank you for signing up to Windows Central. You will receive a verification email shortly.
There was a problem. Please refresh the page and try again.