Windows Camera on PC now lets you pause video recordings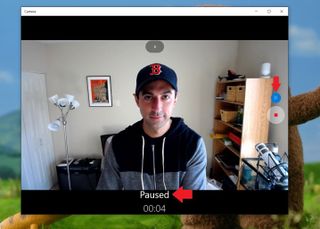 Microsoft has updated the Windows Camera app on Windows 10 PCs, adding the ability to pause your video recordings. As you record, you can now hit the pause button on the right side of the app's screen.
Posting on Reddit, a Microsoft employee said that the update would come over to mobile users soon.
The employee also said that the company is working on a couple of other feature requests they've received though he didn't offer any details. The Windows Camera team is also making an effort to add support for as many webcams as possible, including older web cameras without up-to-date drivers from their manufacturers.
Download Windows Camera from the Windows Store (opens in new tab)
Source: Reddit
Windows Central Newsletter
Get the best of Windows Central in in your inbox, every day!
Good news since so many people seem to want this on phone, sounds like it should be there soon - I've never really seen the need for it but I'll try it out once it does come to phone

can't about a scenario that PAUSE will be useful, it's like joining to videos together?!

It's actually super useful as it saves you from later having to join video together in editing. You can also record clips, or let time pass between events.

IT is the most usefull one IMO, conincidently i was out hiking with my friends and was recording video with my L1520 and there was this little ledge that i had to climb, i didnt want to stop the video as i hate joining clips and wished there was pause button. and this is like that wish come true :D thank you MSFT, dont let us wait too much.

I love making videos at famity gatherings from every person like 10 secs and pausing when moving the camera from one person to the next (Samsung NX-300)

I used to film someone walking into a wall, pause, then resume with an empty wall. When you watch it again, it's like the person disappeared into the wall TADAAAAA. Cool.

This is a great feature that I have wanted for years! Posted from Windows Central for Windows 10, from my firmware-less AT&T 950. :-]

exactly what i used to do, it was cool thing when it was not common to have a good camera in the phone.

I like that the subtitle is "take a breather" because I think we all need one after finding out that Daniel is a Red Sox fan lol

Actually, I hate baseball with a passion. I am a Boston fan though as in the city ;)

When on mobile?
(sarcasm mode on)

When will you have a Windows 10 Mobile,? ( sarcasm mode: Ultra )

It's a bit funny though getting pause feature on PC before mobile :D •Lumia 930•

Well, they have to text it on the more stable OS first. Windows phone Os is a variant- a smaller version. If you were a developer for windows, which would you go with first?

Beautiful. I said it! Microsoft have beautiful ideas. Let them just make it work!

Man, I nearly read this once and made a few fatal errors. For a minute, I thought this was during video playback. Thank god I re-read the article.

Now if they can fix the camera app crashing with certain web cams that would be great.

Well, that's what it says at the end that they're working on. I use a few, but all newer with no issues. Logitech c920 is kind of the gold standard these days for external. One's built into laptops, however, are much more unique.

I have a logitech quickcam pro 9000. It works on everyhting but the windows camera app. Its weird. stopped working one day after an update to the app. It even works in skype. Just not the camera app.

Finally a great feature.....i dont know about you guys i use My phone fore home video recordings family videos birthday party gathering etc......like in the 80's 90' s Every cam recorder had a pause button so you could continue recording and it would be one single file.... no need to join them later..i don't now how it nowadays if people do use a cam recorder for this purpose?.... todays phone do a great job! hope we soon get a panorama feauture aswell

This is SUPER news!!! It basically means instant/on-line editing possibilities. It saves lots of time and storage space. And what is best - none of the other mobile devices or DSLR's neither don't have it. Only Video Camera's has it.

I hope they will enable taking still shots while the video recording is paused.

Yay ! We asked it....
And Microsoft bring it !
.
.
.
.
.
Suggested it on feedback-hub 11 months ago -_-

Maybe I can use my old usb Logitec webcamera. Yea.

Lmao. This was a shipped feature in Windows 98. Micro$haft Windoze 10 Extra Botnet (EB) Ultimate Edition

Want this on the phone now!

Just received the update on my phone!

That is a nice feature, now let see if it let you edit that click where we cut off the Daniel wearing a boston hat.

This is thanks to the new MediaEditing APIs :D Lanceloni Baloney

I have to say the camera on my 950XL is amazing. The living pictures are so good they are shocking to see. Simply amazing. The camera app does need some sort of indication of when the post processing is complete. It seems if I take pictures too fast I don't get living pictures on every shot, which is something I really want.
Windows Central Newsletter
Thank you for signing up to Windows Central. You will receive a verification email shortly.
There was a problem. Please refresh the page and try again.