'Force HDR' option is coming to the Windows 10 Mobile Camera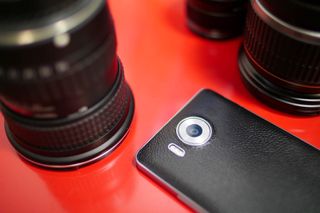 If you've been irritated that you can't control when the official Windows 10 Mobile Camera app uses HDR (high-dynamic-range) for photos, some good news is headed your way. Microsoft imaging head Juha Alakarhu says the Camera app will soon get a "Force HDR" option, giving you the control you desire.
From All About Windows Phone:
High-dynamic-range imaging is a technique that combines multiple images taken at a range of exposure levels in order to create a higher-quality, richer photo. Currently, the Windows 10 camera app automatically switches HDR on or off. There's no timeline yet for the introduction of this feature, but it's good to know it's on the way.
Source: All About Windows Phone
Windows Central Newsletter
Get the best of Windows Central in in your inbox, every day!
Does it currently only activate it when it will benefit the photo?

Yes! It decides automatically.

Manual overriding is it. Can you tell me what happened to the Lumia camera, has it been merged with the Windows camera in Windows 10M?

Most of the features of Lumia Camera were reimplemented in the W10 Universal app Microsoft Camera.

Are you sure? Even "Smart Cam" features? Unfortunately I don't think so...

Yeap, and you can decide how much of the effect is applied too, which is nice! Although some people will love having it on always =/

It would actually be nice if it can be turned off. I mean sure it decides with algorithms and such but sometimes it's all subjective and I don't want HDR.

Nice! I was wondering about that :)

Still Lumia camera is best compared to Windows camera ( L1020 ).

When is Windows 10 Mobile coming though?? I mean as out of preview.

who cares? it's still a buggy mess, particularly the camera. does it losing the preview tag mean anything?

dude, its BEEN out of preview.

Windows 10 Mobile has been out of preview since the Lumia 950 and the 950 XL has been released to the market.

Chill, I'm pretty sure he wants to know when it comes out for older devices.

It started for some devices in Latin America

It came out. It's called 950/950XL

I have a 950, you are kidding yourself if you don't think the RTM build on the phone is beta. It's a buggy mess.

Interested to hear why you think it's a buggy mess? I have the 950XL and since the firmware update and the latest insider build I have no issues at all.

No issues here too...950xl running smooth

Hi! What OS build u have? Is it the 0.29?

No, it's the latest insider build .63

Hi! Its me again lol! Ive been wanting to get into d insider to get d latest update since ive been stuck to d .29 build . But am hearing some mixed reviews saying d insider build is buggy still and the scary part is it might cause damage in d phone and render my warranty void. How true is that in ur experience?thanks for d reply

I agree. My 950xl it's awesome. Iris recognition is super fast too. Could be even faster from the looks of it. The most time is spent activating ir.

950 XL here and its an awesome phone. I never seem to have all the issues everyone else seems to be having all the time. Just lucky I guess. I do feel for people who are having the problmes.

Random resets. Random freezes in any/all apps. Force closes apps. All after the firmware update. Before then, it was worse, but still not great. Bugs enough.

RTM is the new beta. Unfortunately you have to get used to it.

You're mental, it's a dream.

Is someone going to ask this on every article? I'm pretty sure they'll write about it when you can upgrade to Win10m. The constant on repeat, broken record isn't going to inspire a "oh yeah, glad you asked. We meant to tell you that's ready now too" response.

Not. If you're serious about photography on the 1020, SHOOT IN DNG!

I'm using my d800e and my d3 for serious photography. I love my 1020 and i like to have that feature. I also shot in dng with him. Posted via the Windows Central App for Android

So what is the use of the Rich Capture button? I didn't get it. My main complain is that when I active Rich Capture in most of times the Windows Camera apps saves 1025x768 and without the option to edit Rich Capture. I lost many pictures because of that.

Rich Capture turns auto-HDR and the auto-flash feature on or off. But all you are doing is putting the camera in auto mode (or not). When Rich Capture is on it will use HDR in certain scenes, but you can't force the HDR.

Ah, got it. Daniel, do you know something about this bug I'm reported will be solved in the next Camera update? Is annoying! I cant even zoom in the picture.

I have experienced that as well, randomly. The photo cannot be pinched to zoom. And what's up with the images shown in a small centered view, and you have to double tap, to enlarge? Even then, it enlarges, but doesn't fill the screen. You have to pinch/zoom, to fill the screen (when that works). Infuriating, at times.

Rich capture is not working on my Lumia 930... And the sound doesn't work either. I am so disappointed whit windows 10...

That happens to me too. If I turn on Rich Capture, it sometimes takes the picture with a resolution of 1280×720

If it turn automatically,please save the original resolution,most of time when it rich capture turn on,we need to on the flash too if want the rich capture works,I think Lumia camera still better

I just use ProShot's HDR and I get the results I want. The only thing missing is an update to PS to use manual mode with the 950/XL.

ProShot works perfect for me too. Although I miss Lumia Camera on W10M. Lumia Camera 5 was simply the best camera app ever. Windows Camera on the other side, needs a lot of work.

About time! This is really annoying.

What is rich capture? How do you turn it on and off anyway I can't see any options on my 950 XL.

Remember, not long ago, when we had the best camera and camera software for our Windows Phones? Now its all crappy

Why on Earth did they discontinue the Lumia Camera??? Just why... Doesn't make any sense. Instead, they replaced it with this crap, I hate it.

I wondered this at one point also and I have yet been able to find an answer.

They could've just given it a name change change and tweak the interface and make it more Windows 10 and that's it! Posted via the Windows Central App for Android on my Lumia 950 XL

It takes photographs, what more do you want?

This is what Microsoft has always been known for; have/buy something great, replace it with something half assed. It's the Microsoft way!

Sad, right? MS just threw away everything good that the Nokia and Zune teams did.
I've tried the camera on the Nexus 5x and tbh, it blew my 928 out of the water. No need to mess with settings, just point and shoot.

It still doesn't have the Shutter speed option(set the exposure time for really low light conditions). For that I would gladly stick to this one

That's what its like on the 950 XL, point and shoot and you get fantastic photographs. No need to mess with the settings, which to be honest are all alien to me. I just get shít results if I start messing with them.

The Lumia 928 is an old device.. the Nexus 5X is brand new. Compare the Nexus to Lumia 950.

Hope they don't get Lumia camera for iOS

I agree. I mean how can you pull the Lumia camera off the market. Makes no sense. Smh

Microsoft on weeds makes sense.

I wasn't aware weed was that effective. I must sample their stash :)

Well it's legal over in the US, who knows what they're smoking haha

Washington is one of them ;)

Ah I was wondering why some pictures looked better than others

What's the mini-movie feature called that seems to kick in semi-randomly? It gives photos that Harry Potter effect. Photo color is great during the animation, but horrible after the animation is done. It's on my wife's L640, but not on my L925.

Living images or live images, maybe.

Happens with my L930. Hope an update fixes it, i couldn't find any option to change the effect.

As far as I know it kicks in when it detects movement? If there's movement and it still isn't working then it's broke, unless certain models can't do living images!

You can turn it off in the camera settings.

Thanks for the info, everyone. Is the bad color still an issue in .63? I haven't updated her 640 yet from .29.

So Juha, ex-imaging head of Nokia is still with msft huh? No wonder the advancements to the camera.

Currently running the latest build of W10M and my phone gets hot at random, battery life is very bad, camera freezes on trying to save a shot and my flashlight has stopped working. Its very sad that W10M is yet to be released and you wonder how Microsoft think highly of the mobile. I'm really disappointed. Sincerely Lumia 930 user

I own L930 too. I feel sorry for you, I'm awaited the official release of W10M in India. Never been an insider, better to have the OS slowly when its ready.

It's ready. 1511 (.29) is what was on my production/retail 950 and 950XL. It was ready enough for them. If your carrier actually makes the effort to tweak for their builds for their models, there may be some minor improvements there, but I hardly think that is likely. Those carriers that support it will do no more than test it and allow MS to push it. It'll be the same bits that is on the models it comes on out of the box.

It's not ready. No matter how many times they, or you, say it doesn't make it true.

I experienced the same thing with my Lumia 1020. I have since rolled back to 8.1 and have no plans to install W10M again. I will switch to android when it's time for me to get a new phone.

Same here. I don't feel comfortable whit the fact that you actually have to buy a new windows phone just to get a working Windows 10 mobile. My lumia 930 is not working as it should.

Nothing but good news here. One picture at a time -- LG V10

coming soon as always! :D

Anyone having experiance with 950xl with the 63 update if it runs well ? And btw the videos recording is bad anyone having this to ?

I have .63, and the FW update, on my 950xl and all is good. BTW I am also running .63 on my L1020, and no issues there either. And I live with these devices, like most of you.

So now we know why bracketing was left out. It'll be toggled by force HDR. Makes perfect sense

Perhaps, best wait and see :).

Yeah, but why not leave bracketing until this is ready?

Before doing this , just fix your damn slow burst mode , if it's even a burst ....

I've never gotten rich capture to work on my 1520 after moving to Windows phone 10. Anyone has that problem? I had to rely on bracketing.

So does this mean that older phones like the 1020 will get HDR?

I use rich capture instead of hdr, it's not the same, but it kinda works.

W10M is working great on my 1520, except for an occasional camera freeze right after taking a photo. Happens probably every 20 shots or so. Only thing that fixes it is a reboot and the last shot is lost.

Do you take the 20 pictures in quick succession? That could be happening due to the fact that the post processing of images keeps happening in the background while you take newer pictures, overloading the phone. I would suggest slowing down, taking fewer shots back to back.

My 1520 does this also. It can do it after one picture, so I don't think the amount of photos in a timeframe are the culprit. Just buggy software.

Great to hear, I hear a lot of people complaining about missing that feature, and I can attest that I does come in handy once in a while.

Still getting random restarts on my ICON while using Camera. It gives me the low battery warning and then restarts. That, coupled with the unresponsive touch screen upon reboot, forcing me to reboot several times, is super annoying.

Lol thought it was just me because its not connected to the cell network

MS always take away features way before they can implement a sort of replacement, and that is not ok imho.
it's good to hear the true HDR is on the way, tho, better later than never.

Atm theere are to many problems with the phones with update 29. Scrolling true pictures on sd card i get stottering after some time en they load sometimes slow to,
Some videos are blurry not always, and some moore problems its abouth time they realease a better update that solve theese problems and stop slacking with updating and fixing things before ppl get tired of it and get other phones

Get a faster SD card (UHS-I are the fastest supported speeds), make sure you're on the latest firmware update which improved SD card performance, and then upgrade to build .63. I know you may not want to put insider preview on your new phone out of principle of you being a consumer. I was like that at first. However, Lumia 950/XL are for the fans and all Lumia 950 owners are early adopters and therefore somewhat the "testers" of Windows 10 mobile. So you might as well accept the fact that this is not your standard consumer smartphone and get the best version of the OS available for your device. I did not put 0.63 on my 950 until about 4-5 days after it was available when there's been no reported additional issues with it.

I agree, you do need a good SD card with the 950,950xl. That explains why I had no problems with mine since .29, now with the FW, and.63 it is happy.

Hi there! Is there a big change in using 950xl with version .29 to .63? Ive been wanting to get into insider but some comments scares me saying its not stable enough and cause many trouble to reguar user. If i do that shld u advise me to back up my fone first? Thanks

I'm using Lexar 1000x microSDXC 128GB card (UHS-I with 104MB/s Read & 45MB/s Write) a very Fantastic card! Highly recommended!

Great stuff! This has been over if my major issues with the 950 camera. I had HDR on my 735 with W10 but my 950 thinks it's smarter than me, lol. Can only get rich capture with the flash on, which defeats the point!

Still waiting for a decent Panorama replacement too..

Is this for devices with "rich capture"?
I have a 730 and there is a option to enable or disable HDR.

L950xl no issue at all except the battery doing draining quick before the firmware update.

Are u on 63 ? Do u have any problems with it

Battery has been much better since the firmware update and 63 build. It easily lasts a full day now. Currently on 65% remaining and it's almost 16 hours since I took it off charge. Very happy with it.

I have a 950XL so thatswhy i aske :) do u have any problems with reboots wifi or something like that ? Or is it running better with theese new updates

I never had a prob with reboots, because I always had a decent (fast) SD card since .1, now .63..

Why can't they just give no hdr, auto hdr, and "forced" hdr in the first place? Posted via the Windows Central App for Android

When windows phone 8.1 upgrading windows 10?

Depends on the country and carrier. From the stories I've seen on Windows Central and elsewhere, .29 is what is being rolled out. I really hope the need to do a hard reset and not load a WP8.x-created backup doesn't drive people away from Windows Mobile.

If i want to take panoramic images how can i do it on 950?? Plz guys if anyone knows about it do let me know....

And while there at it they need to add a good panorama app.

But still no living images capture for Lumia 730 in Windows 10 camera app! :/

If you take a video and take pics from the video it saves them as living images. I miss it too but this way u can do something at least

Still Lumia camera is best compared to Windows camera ( L1020 )

Guys I know this is off topic but I can't download **** from the windows store I tried downloading world of tanks blitz and I keep getting this error 0x8020002B also tried download asphalt 8 no luck in that either

you may have to use the removal tool and start the instal again from fresh.

I miss good panorama feature... If I compare panorama feature on my L930 vs. panorama feature on my Samsung S5... Lumias are really crap

Now that is subjective BS

Now add force-on for living images as well - in the toolbar for usability - and fix all the bugs in saving them so that the feature actually works. WP8.1: on/off, can be viewed only in phone. W10M: random auto/off, many of the captures can be viewed only in Creative Studio Beta...

They should start by correcting the color algorithm...it's such a shame. When you're going to take a pic, in your display it looks just perfect...when you take the pic, the colors become awful. It turns out with a blue/green override... With android or ios , you can just tap your screen and the pic looks perfect.... Please fix it asap!!!!!
Horrible color in windows camera!!!!!

When windows 10 will start to roll out.

Tomorrow fo android and ios...

As for battery on 950 getting randomly hot, I discovered that disabling facebook in the background can do wonders.

Errm doesn't pressing the magic wand turn hdr on? That's what I've always done on my Lumia 735

It turn the automatic decision on. It might do it and it might not.

Ok, it always seems to do it when I put it on

Generally getting happier now with the camera software on my 950. In Nov it was a mess, like the entire OS. But with this latest update it had really come together.

Wich updates do u have and are they good u dont have problems with it ?

.63. The latest update. Still having problems but it is becoming a minor inconvenience now. But the camera software had gotten noticeably better in this latest few updates of both the OS and camera app

Do u still have crashes with the phone or is it running smoother on 63 with your 950, do u recommend 63 to ppl that have 29 on it ?

Yes, and put a newer fast SD card in the thing. I have no issues, using .63

I got a 80 mb card in it i think thats good enough 120gb one

Oh yea! .63 was a major step forward, more so t han the other incremental updates since the release. No reason to avoid it. One more cleanup build and I would feel comfortable recommending people get a phone with W10 or upgrade from 8.1. I suppose MSFT feels that way too since they seem just about ready to release W10 for update on existing phones. I support the idea. It's not perfect, but it's not embarassing anymore

Ok il go try it now and instal it now, oh btw is theere stil a store problem or did they fix it ?

I won't update to Windows 10 sorry but we still on alpha and looks like never will get on stable

Lumia 920- first: I have w8.1phone and sometimes during video recording the video is lagging sometimes just recording sound for 5 seconds. I don't know how to fix it. Hard reset - I did it. ..... Second: How do make night mode or night pics with w10phone on 920?

Should have done this **** years ago, is it that ******* hard to change the names from LUMIA apps to MICROSOFT. Their stupid logic is to throw out the stake and eat the burned spoil stepped on hamburger!!!

They had to rewrite it to make it universal.

Any news on windows 8.1s gestures beta, the one microsoft said would come to the windows 10 os? Has anyone got any information regarding gestures for windows 10?

Seriously. What's with the Coming Soon™ with Windows 10
Windows Central Newsletter
Thank you for signing up to Windows Central. You will receive a verification email shortly.
There was a problem. Please refresh the page and try again.