Camera360 for Windows Phone 8 hits the Store shelves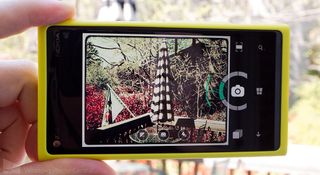 Camera360 for Windows Phone 8 has landed in the Windows Phone Store. Camera360 (opens in new tab) is a popular photography app over on the Android and iOS platforms that presents a unique user interface that applies various filters and effects to your images. The interface takes a little time to get used to but after a few minutes, it's rather nice.
Tapping into a "less is more" concept, Camera360 has a central dial, a creative compass, that lets you scan through the various shooting themes and then side swipe the screen to choose the effects for each theme. You also have several frames to choose from and a photo diary to review your photos by date taken.
Want to apply themes and effects to existing photos or change the theme for a recently shot image? Camera360 also includes an editor to do just that.
Want to share your images? You guessed it, Camera360 has a wide selection of sharing options that includes Facebook, Twitter, Evernote, Flickr, SinaWeibo, QZone, and more.
First impressions are good for Camera360 and we're working on a full review that should be up on the site shortly. In the meantime, you can find Camera360 (it's free) here in the (opens in new tab) Windows Phone Store. Windows Phone 8 only.
Thanks, everyone, for the tip!
George is the Reviews Editor at Windows Central, concentrating on Windows 10 PC and Mobile apps. He's been a supporter of the platform since the days of Windows CE and uses his current Windows 10 Mobile phone daily to keep up with life and enjoy a game during down time.
Best app ever...seriously loved this on android and the interface is even more,gorgeous on WP, everyone should dl this

Yes sir!! The bug name apps from other platforms just keep coming in.

Thank you very much! I also think the UI of Camera360 for WP8 is beautiful! :)

I agree, the interface is beautiful.

100% agree. Stunning and fluid ui. Feels at home on wp.

Thank you for supporting Camera360 :)

I'm absolutely impressed with it. Not sure though, if it supports the maximum resolution of the camera. I have the impression it doesn't, but I could be wrong. The only thing I'm missing from it is a manual focus setting like CleverCamera offers.

Gave it another spin. Appears it indeed uses the full resolution. Awesome. And the touch focus did a very very decent job as well. I'd still prefer sort of a slider or wheel to manually adjust the focus. But hey, the app offers a very beautiful and unique interface and is completely free. Must have app.

Thank you very much for your review. On behalf of Camera360 team, I appreciate your feedback.
And you can chat with me on Skype: camera360_pinguo.

I am wondering if there could be a SINGLE app to replace ALL the photo editing apps on my Lumia 920. I have Sophie Lens Pro, Colorify, Creative Studio, and Photofunia. Now downloading this, hope this is the one. :-/

We need a "match.com" app that will pair us with the right photo editing/filters app based on our personal photography profile. I can only date so many photo apps at the same time.

This one did a good job ay replacing most of mine..except for sketch camera..because of the unique filters found on that app. Besides that beautiful UI.

This can't take the place of Fhotoroom and ProShot for me. This is cool for some fun pics, but when I want a sharp, clean, unfiltered pic, I gotta go with something else.

What's better about this one compared to others?

haha~Thank you for supporting Camera360!

This is a really nice app

It looks gorgeous on the screenshots. I think I'll give it a try.

this app can replace most of your other photo editing apps and it is really different from all.. very nice interface

We'll make our app better and better

Great app! playing with it now..

This app is pretty as all hell but I feel like some filters just don't look right.

What are those filters? Can you please tell me? :)

cool that you guys went thru the comments to respond to people. thanks for that.

the filters that looked off to me:
when under microspur, pure produces daylight unevenly on my 920.
when under food, normal has a "sketch mode" feel to sharp edges. so the corner of a plate or something that would cast a shadow doesnt look quite right.


im on twitter to if you vuys want to chat, @thefightsayeth


Definitely was one of my all time favorite on Android. If it was a paid app, I'd still buy it.

Thank you so much for supporting our app!

in comparation with Lomograph?

in my opinion id favour lomograph or even besnap for that matter

When you click 'edit' on a photo from the gallery, it now gives you the option to edit with built-in editor or cam360. First time I've seen an app manage this.

Fantasia Painter shows up here for me. But apart from that, this is the only other third party app that does.

Meme lens I meant, can also do this.

This supports instant resume...

Whoa the interface looks so good! Can't wait to try it out!

This article doesn't even mention the live effects view. A pretty nifty feature.
This app easily shoots to the top of my fav camera/photo app list!

Hold your shorts, there is soon a review he said. :D

But but but....it's a FREE download. By the time a review is out, we've all already used it.

WP be getting some nice apps recently yo

had a little play and am i the only one thinking its a little too complex perhaos im used to messing around with photoplay i dunno


Wow what a pleasant surpise!

I love this app, just got it this morning

3 apps to rule em all. Nokia foto edit app, PhotoFunia and now this. Amazing stuff. Too bad on the missing live tile, would've been cool.

My camera Lens apps and editing apps are starting to pile up in WP8 ;( ---- so happy that 360 made it! That was my favorite lens app in Android.

Wp seriously on the ball right now, great apps coming out, great games coming out, I don't feel like I own a small market OS at all. I have more apps on my L920 then I ever did on my Iphone, loving this app as well!

Beautiful app! Didn't care for it much on Android or iOS but it feels great to use on WindowsPhone!

Ohhhhh...miss u too much camera360 welcome on board

Wow this is great! Love it.

UI is gorgeous. Anyone knows if it's possible to write text on frames?

Quality of photos not that great. Phone gets hot. Better to apply lenses and frames "lomogram " after using regular camera.

+1000
the photos are blurry.
interface is nice but quality is low and the phone (L920)
gets really hot...

when you edit a photo you can't apply a border, just effects. would be good if you could apply borders. if it included editing brightness/contrast, crop and rotate it would fully replace most of my other camera apps.

please landed it also on Windows Phone 7.x! please....please....please....please....please....please.... I Love this apps and i used it often in ANDROID phone

Thank you for supporting our app :)

Nice app. Existing WP 7.x users sucks.

Is this another photo filter program? There's so many out there.

Thanks a lot for your comments! I'm from Camera360 team. :)

And you can chat with me on Skype: camera360_pinguo.

Thank George Ponder so much for composing this article ~

Welcome to follow us on our Facebook : Pin Guo

Hi, Why isn't it taking pictures at full resolution? My Lumia 928 has 8mpx camera but the app only takes photos at 2048x1536?
Windows Central Newsletter
Thank you for signing up to Windows Central. You will receive a verification email shortly.
There was a problem. Please refresh the page and try again.