Candy Crush Saga gets 15 more levels with Tasty Treasure Trove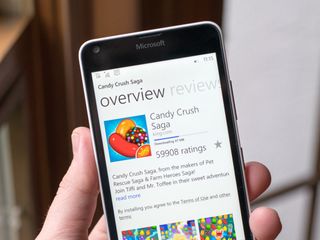 Candy Crush Saga for Windows Phone has been updated yet again, adding more levels with the Tasty Treasure Trove. The update brings adds 15 new levels, and brings the total number of levels to 1025.
The change log, which was accidentally posted in German to the English-language Windows Phone Store, says this (translated):
You can grab the latest version of Candy Crush Saga from the Windows Phone Store now.
Thanks to Arpit M. for the tip!
Download Candy Crush Saga for Windows Phone
Windows Central Newsletter
Get the best of Windows Central in in your inbox, every day!
Sweet! now if I could only get past level 50... lol

The 40's took me about 4 hours. lol

I'm on level 76 with 3 stars in all the levels, check my name in the leader board it is Candyman, in many of the levels I'm #1

Still struggling to pass level 235..... Boring chocolate

I don't why but this candy crush update gets stuck in the middle while updating..

Candy Crush does this no matter what, indefinite pending or downloading 5-10% yet King refuse to do anything about it. Maybe this is the way King will remove it, by saying "No one plays Candy Crush on Windows Phone so we'll remove it from the Store."

Wow windows phone sure is developing!!! Touchwood to stupid games and nutella :D

Dude you're alright? I mean in your head?

Never installed and will not install it... Am really obsessed to see my sister mad towards game..... She even forgets to eat food

How can I reset my facebook progress in this game?

Can't download the game...its stuck on pending.. .-.

Do you have an SD Card in your phone and have Candy Crush install on it?

Same here, update can't install.

This is the only game I know of that refuses to install by either staying pending indefinitely or downloads 5-10% of it then stops.

Still waiting on Soda Crush.

It'll be preinstalled on Windows 10.

Do you have assurance of this "It'll be preinstalled on Windows 10."

I remember Microsoft stating this.

Am unable to install snake rewinds latest update, it downloads fine but doesnt install!! Tried switching on nd off phone but no luck! Anyone having the same problem? Hv downloaded it 7 times but unable to install!

Same here, I guess it is something to do with WP store.

I think so too! Will try tmrw!

Same thing happened to me as well.

Used to play but then started having problems updating so I deleted never to install it again

Done a third of the levels, getting too tough.

Level 937 here. Take note: This game is brutal on your battery.

Man.. I'm only on Level 483... Still making my way!

If only Family Guy: The Quest For Stuff would be updated.

Now if I can only get past level 140. Been stuck there for months

Same here! Seems impossible doesn't it?

not useful at all...as the game doesnt download on millions of lumia devices in my country..there is a very bad download bug in store...tried every solution but no luck...lumia 535 is the number one prey of this bug...many other essential apps also dont install....for example microsoft files...and many more...there is a big need to raise voice for this...

I don't have this issue with other apps and games, just Candy Crush so it isn't just limited to Lumia devices.

Candy crush saga wont reinstall stuck on pending. Did soft boot, enabled push notifications and made sure date and time correct manually. What do I do now???

I uninstalled thinking possibly corrupted files, to no avail, Candy Crush Saga will NOT download for me, & I am a Huge fan of game, any help would be welcomed, Tyvm in advance, error code 80073CFB it gives after "Pending Out" hope this can help us all.

I contacted King.Com support for a game I spend money on and THEY ARE POCKETING, & they tell me to go to Windows Central Forum, Umm, King.Com aka Candy Crush Saga is the ONLY problematic app & JUST STARTED having issues since last update July 16 I do believe, I've unchecked, Time & Date auto update, soft reset, to No avail, still stunned thaat King.Com told me sorry but go to here, that there was a supposed fix, NADA, lumia1520 latest updates! Plz help!
Windows Central Newsletter
Thank you for signing up to Windows Central. You will receive a verification email shortly.
There was a problem. Please refresh the page and try again.