Carphone Warehouse partners with Three to launch new network in the UK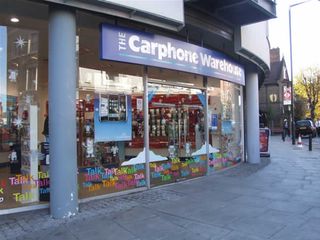 Dixons Carphone, the owner of UK retailer Carphone Warehouse, has announced plans to launch a new mobile virtual network operator (MVNO). Partnering with Three, which may soon merge with O2 should purchase talks between Hutchison Whampoa and Telefonica go head, Dixons itself will offer branded tariffs alongside contracts from major mobile operators in the UK.
The news comes at a time when you thought the UK mobile industry couldn't get any more confusing for the consumer with operator mergers and new network announcements occurring in the past few months. Dixons' launch has been in the works for around 9 months, and has created a software platform to support offered services.
Dixons will join Sky, who recently announced plans to launch its own MVNO with O2.
Source: Financial Times
Rich Edmonds is Senior Editor of PC hardware at Windows Central, covering everything related to PC components and NAS. He's been involved in technology for more than a decade and knows a thing or two about the magic inside a PC chassis. You can follow him over on Twitter at @RichEdmonds.
What , I'm confused. I'm on ee. And three. So I think bt is buying ee and 3 is buying o2. I think it will get. Expensive here in uk. Nothing different there then. We are always ripped off

The only network so far i havent heard say anything about major changes is Vodafone.

Well there was a rumour going around that vodafone where going to buy sky but as sky went for O2 i guess hats not going to happen now...

Vodafone could still buy Sky but there's also a rumour that Vodafone may buy Liberty Global (owner of Virgin Media)

I don't get what these articles have to do with windows...

You can buy a Windows Phone that connects to these networks, right?

Still, not specific enough...
Sorry mate, just an opinion.

I think these articles are great . I don't really bother reading normal news sites as most of it doesn't affect or interest me. Having these kinds of articles keeps me on top of all the news I need to know about tech services that I'm interested in.

Don't read them then. I would rather there were more news stories about the wider mobility sector than there being no news stories at all. It's not as if by reporting on this, it means they can't report on a new Windows phone because, hey guys, we've exhausted our quota of news stories today.

Yes but you must take into account that we have a lot of very stupid people on here that think only things that are of interest to them should be in the news.

As a UK user I'm VERY interested in having this news available through Windows Central. Yes, this may not be of interest to many parts of the world, but there are many articles that are USA or India specific, for example, which I don't read, but appreciate they are important to others. So, simply ignore the articles of no interest, and spend more time enjoying your life. Cheers :-)

Well there goes our last independent high street phone shop then! First phones4u. I can't help thinking that CW will push sales of their own network (three) over the competition then EE and Vodafone might pull out!

They don't own three. They are partnering with three to use three's network and run as an mvno like virgin mobile do with ee or Tesco mobile do with o2

Yes, I understand that. I think they will push the network first as they will surely make money from people being on the network.

I have been on Talk mobile for years and they never mention it. They would rather you use one of the other networks so that they get commission. This changes nothing except cpw customers will use the Three network instead of Vodafone. I suspect they will issue us with a new sim.

I don't recall phones4u ever operating their own mobile network.

Wow this is getting confusing. So we are going technically have 3 networks (Vodafone, Three and EE/BT/whatever is going to happen there) and a bucket load of Virtual Networks? (Carphone, Tesco, Virgin Mobile, Lebara etc?) I'm soooo glad I'm not in the phone business anymore!

Spot on. Confusing as hell.

I've been with Three for years and its the only network I've rarely had any issues with. Yet not so long ago Carphone staff used to slag off Three. Never have any downtime or other issues at all with Three. And if they buy O2 can only mean better coverage

I used to be with them and I only got good signal outdoors (now with EE and get at least 3 bars indoors).

It will be an virtual network. No new infrastructure. rubbish waste of peoples time I bet

Does this mean that I might lose my £1 month contract with 25 mins and 50 texts, cos its good in my old Nokia for when I don't need a Lumia with me.

If this is as bad as carphone warehouse's last effort with talkmobile, I'll be staying away. Their customer service was non existent. Really bad, refused to reply to letters or calls about issues, stick their heads in the sand whilst taking the money. Not for me thanks. Posted via the Windows Phone Central App for Android

I have to say, that I have 4 contracts with CPW Talk-Mobile and have never really had problems with them. I'm always happy to recommend them,

Three has about the best PAYG rates int he uK - 3p calls, 2p texts, 1p/MB data. If only they had decent coverage in my part of the commuter belt, then the SIM I bought would be put to good use.

If O2 merge with Three, then the only real choice in the market will be between O2 and EE. With so little major competitors in the market, I can't see prices remaining competitive.

@Sean Burns1 - If Three buy O2 it won't mean better coverage because they won't be using the same hardware. That is owned by O2's parent company, Telefonica, and isn't part of the deal. So I assume O2 will then use Three's current network which in many areas is still crap. Sky's deal with Telefonica presumably means Sky will use the hardware that O2 currently use.
I'm gutted personally because I've been with O2 for years, hate Three and Vodafone, not keen on EE or any of the MVNO's. I' recently dumped Sky because of their crap customer service so it effectively leaves me without a network I like as I can only see O2 getting worse under Three. UK customer service will go for sure. 18 months left on my contract too so I'm admittedly selfishly kinda hoping that Ofcom scupper the deal.
Windows Central Newsletter
Get the best of Windows Central in in your inbox, every day!
Thank you for signing up to Windows Central. You will receive a verification email shortly.
There was a problem. Please refresh the page and try again.