Cases and Covers for the Nokia Lumia 920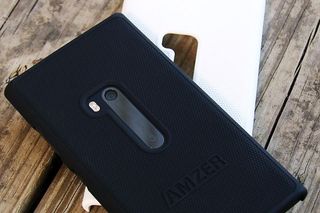 Today we're taking a look at some of our most popular cases and covers for the Nokia Lumia 920 including hard cases, skins, hybrids and even covers designed to accommodate your fitness routine.
There's quite the selection here at the WPCentral Store, so join us as we dive into further detail on what's available for your Lumia 920.
For those Lumia 920 users seeking the highest level of protection for their device, hybrid cases generally provide the best shock absorption and scratch resistance. Many of these dual-layer cases won't give you the slimmest form factor, but the trade off for the longevity of your Lumia 920 outweighs whatever peeve's you might have; for most of you, anyway.
The FAXION Case from Incipio is an excellent choice, especially for keeping the slimmest profile for a hybrid case. Both a shocking absorbing TPU and impact resistant polycarbonate are fused together in one slightly-flexible piece that wraps around your Lumia 920, guarding every inch with the exception of your display, camera and ports, of course.
The next step in thickness is Incipio's DualPro Hard Case which gives you two separate layers of protection that you can assemble yourself. The inner silicone case wraps easily around the frame of your Lumia 920 while the soft-coated plextonium shell encompasses that skin, holding everything together for a solid solution against nasty impacts.
When bulk isn't an issue and you just want the strongest hybrid case for your Lumia 920, Trident's Aegis Case is your best bet. Similar to the DualPro, the Aegis Case sports two separate layers: a silicone core and hardened polycarbonate shell. The thickness of both layers is slightly increased as well, even including a self-applicable screen protector for maximum scratch resistance. Drop tested up to 4ft and exceeding military standards, the Lumia 920 Aegis Case is in 24-7 beast mode.
While having the ultimate protection against damage is great, most users are just fine with the casualness that you'll fine in a hard case or skin for the Lumia 920. They're simple, affordable and generally come in a variety of colors to choose from.
Perfect for those that are on a budget, Mobi's Hard Shell Case does an exceptional job at taking the brunt of an impact when disaster strikes. This case comes in two pieces, a front and back shell, that snaps together leaving access to your display, camera, ports and buttons. There's a soft finish around the case that makes it comfortable to hold and doesn't attract dirt and debris after spending some time in your pocket or purse.
Need some texture with your hard case? Try Amzer's Snap-On Case for size. This Lumia 920 hard case is a little thicker than Mobi's, and comes in one solid piece that easily snaps around the sides of the device. The top and bottom of the case has no coverage, but makes for quick accessibility when it's time to charge or plug in your favorite headphones. The unique texture the Snap-On Case wears feels great and enhances the grip around your Lumia 920. A real life-saver for Sir SweatyPalms.
Incipio's Feather Case is without a doubt, our most popular hard case for the Lumia 920. It's extremely simple in design and hardly adds any bulk to the device. The shell snaps easily over the back of your phone for form fit protection against minor impacts and scratches. This hard case also features a soft matte finish for a safer grip and has access to all the device's ports and buttons. Strong, simple and lightweight.
For the skin case lovers out there we have the Dura-Gel Case from Ventev that gives you transparency with some additional design frills. It's made from a durable polyurethane that protects every edge of your Lumia 920, even elevating the side buttons for easier accessibility. As far as perks go, you benefit from additional grip, minor shock absorption, attractive design and 100% functionality.
When it comes to taking your device to the gym or pool, you shouldn't have to worry about sweat or water leaking into the openings. Thankfully, we've got a couple great protective solutions for taking your Lumia 920 on the water or out for a run.
For those long hours at the gym, take the Sports Armband from Arkon with you for protection against sweat and the possible phone-thief. This armband is made of a stretchable neoprene that's resistant to liquids and features a clear plastic window that enables you to utilize your touchscreen when you need to. Keep it strapped to your arm instead of laying on equipment for others to grab. There's even openings at the top and bottom of the case to connect your headphones, making it a great running companion.
Come prepared on the next big fishing trip or beach excursion with OverBoard's Waterproof Pro-Sport Arm Pack. This handy little case is 100% waterproof and is submersible up to 19ft! It's made of biodegradable TPU and includes an armstrap and lanyard for all your water-related activities!
Wrap Up
Hopefully you'll find your next favorite Nokia Lumia 920 case in this guide, preserving the life and aesthetics of your device until your next upgrade. Feel free to check out our entire selection of Nokia Lumia 920 cases and covers at the WPCentral Store!
Get the Windows Central Newsletter
All the latest news, reviews, and guides for Windows and Xbox diehards.