Watch us play CastleStorm and KickBeat in our first weekend Twitch replay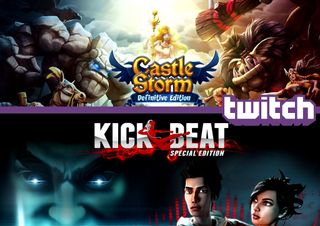 Earlier today, we announced our plans for improved Xbox One coverage. A big part of that involves hosting contests during our Twitch streaming sessions. And the first of those Twitch contests starts tonight at 7pm Central (8pm Eastern, 5pm Pacific).
Tonight we played CastleStorm: Definitive Edition and KickBeat: Special Edition from Zen Studios. CastleStorm is a fast-paced strategy game, while KickBeat is a music-based fighting game. WRead on for quick impressions of both games and the list of contest winners!
Watch live video from EastXTwitch on Twitch
CastleStorm: Definitive Edition
Zen's first non-pinball game in ages, CastleStorm is a unique action-strategy title. Players customize a castle and defenses, military units, and magic spells and then battle against invaders or a rival castle.
During battle, your main form of attack is a (difficult to aim) main weapon that can fire spears and other projectiles at invaders and the enemy castle itself. You can also launch a variety of units who will clash with the enemy's units and attempt to steal their castle's flag. Players can even summon a hero unit and directly control it on the battlefield, jumping and hacking away at opponents. Finally, magic spells can wipe out enemy units or heal your own.
The Definitive Edition includes the full story-based campaign, 2-player online versus matches, several extra modes, and both of the Xbox 360 version's DLC expansions. Once you learn the mechanics (and to tolerate the imperfect aiming), you'll have lots of fun battling through the campaign and against your online friends.
CastleStorm: Definitive Edition – Xbox One – 641 MB – $14.99 – Xbox.com Link
Watch live video from EastXTwitch on Twitch
KickBeat: Special Edition
KickBeat is a martial arts rhythm featuring an authentic Kung Fu movie-style story and plenty of hard-hitting music to fight to. This Special Edition shakes things up with an expanded soundtrack (see our review for the full song list).
How does a martial arts music game work? In each level, your hero stands in a circle as enemies approach. Enemies will only attack from the four cardinal directions. Each of these directions represents the controller's four face buttons: X, Y, A, and B. When one of your aggressors steps forward, that button label will appear under his feet. That's the time to hit the button, which will knock him out.
It's a fun and challenging, requiring players to watch the order of the approaching enemies and quickly react with the proper type of attack. An interesting story tied the game together, with a 2-player split-screen mode available to unlock later in the campaign. You also get a flashy visualizer and a frustratingly hard Survival mode.
KickBeat: Special Edition – Xbox One – 880 MB – $9.99 – Xbox.com Link
The contest
We streamed CastleStorm and KickBeat for one hour tonight (each game gets 30 minutes), starting at 7pm Central (8pm Eastern, 5pm Pacific). During that time, we gave out a total of 10 Xbox One codes:
3 CastleStorm codes
3 KickBeat codes
2 'Guardians of the Galaxy' Pinball FX2 codes
2 'Walking Dead' Pinball FX2 codes
To enter, just follow me at Twitch.tv/Eastxtwitch and tune in during the stream. You can watch the stream right here in this post, but you need to actually participate in the stream chat to have a chance at winning. We'll deliver codes to the winners via Twitch message (PM) during the stream. No code begging!
What's the best way to experience Twitch? If you don't have a PC, you can get the Xbox One or Xbox 360 Twitch app and watch from the comfort of your couch. Or grab the unofficial app Livegaming for Windows Phone. It has plenty of great features, including the ability to chat along with your fellow viewers.
I'll be available for a few minutes before and after the stream if you have any questions or just want to say hi. If you enjoy the stream, I'd love for you to tune in to future streams. For now, we'll do one every weekend, with a few non-contest streams throughout the week.
If you want to prepare for next weekend's stream, the current plan is to stream Warframe for Xbox One. Be sure to join the WPCentral Warframe clan so you can be ready for the giveaway. Thanks, and I look forward to meeting you during our streams!
Winners
The following people helped make our first weekend Twitch giveaway a success, and they received cool prizes to boot!
CastleStorm:
KickBeat:
Lightcycle45
Derekdoesit
Microsoft1080
The Walking Dead (Pinball FX2 Xbox One):
Surrealsonicus
Chaotikchiken
Guardians of the Galaxy (Pinball FX2 Xbox One):
Tonight's prizes provided by Zen Studios. Thanks also to our Twitch stream moderators for keeping the peace and giving away the prizes!
Get the Windows Central Newsletter
All the latest news, reviews, and guides for Windows and Xbox diehards.
Paul Acevedo is the Games Editor at Windows Central. A lifelong gamer, he has written about videogames for over 15 years and reviewed over 350 games for our site. Follow him on Twitter @PaulRAcevedo. Don't hate. Appreciate!