Catch song notes and tilt the drums with SongArc for Windows Phone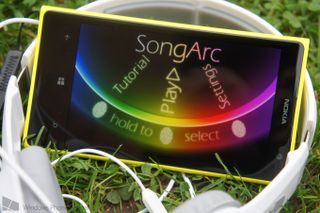 SongArc is an indie game which we've covered numerous times in the past. The game itself is a product of AppCampus, the joint project by Nokia, Microsoft and Aalto University. So what exactly is SongArc? It's a music game that taps into the songs you love listening to for some addictive gameplay.
Enjoy the likes of Guitar Hero and other music jam / rhythm titles? You'll love SongArc for Windows Phone.
As with other games already available in the same genre, you're tasked with loading a song and then hitting notes as they fly across the screen to get the highest score. SongArc has been in beta for some time and we've noted before how it's absolutely gorgeous and will definitely take up a lot of your time - so beware if you're prone to spending more than the odd few minutes wrapped up in games.
When first launching the game, you'll be greeted by a simple menu system with three options: tutorial, play and settings. The tutorial only takes a few minutes, but sets you up for the wonders ahead with numerous song sheets available. You can use your own music if there are sheets available for the songs you wish to use. But fear not if there happens to be no content listed as you can make your own sheets.
Once you've selected which song you wish to use, you'll be fired into the main screen where all the magic happens. The basic idea is to tap the arc when the notes (represented by coloured shapes) cross the barrier. By holding down for extended notes or tapping for short staccato ones, you have a rainbow of colours to access for visual cues and to score maximum points.
You can even quickly tilt the device for bass/drum effects, which adds yet another method for interaction. Don't mistake the game for being easy, though. Depending on which track you're jamming to, SongArc can be unforgiving. Check out our quick look at what's awaiting you in SongArc:
Do we recommend you check SongArc out? Most definitely. It's free (for the next month), works with both old and new Windows Phone hardware and is the best rhythm-based game available for the platform.
You can download SongArc from the Windows Phone Store (or use the QR code above). Both Windows Phone 7 (excluding 256MB hardware) and 8 supported. It's also worth following the team on Twitter and friending them on Facebook.
Are you playing SongArc? Let us know your thoughts!
Rich Edmonds is Senior Editor of PC hardware at Windows Central, covering everything related to PC components and NAS. He's been involved in technology for more than a decade and knows a thing or two about the magic inside a PC chassis. You can follow him over on Twitter at @RichEdmonds.
Missing a word in that opening sentence.

I just wanted to play with ya! ;-)

520 is Not having a compass. Will this app work with 520?

Yes, we have had a lot of beta testers using the 520, and heard no complaints from them.

Will this app need the Lumia Amber to run? Because it is asking me to update my software first.:(..!

That's strange... the game works with Windows Phone 7, so it shouldn't be picky about the Amber update. Can you send a screenshot of when the phone asks for the update to feedback (at) songarc.net ?

Finally, been waiting for this.

Btw free for the next month? Meaning?D: I'm not good at this..

Thank you Rich for the great article!

Can't wait to get stuck into this!

Really? Not available in my region..Indonesia.

Change it just to download the game.

You can change your store region in the settings menu if you have a WP8. Just change Country/Region to United Kingdom, download the app then change it back :)

Literally searched for this after remembering it yesterday! Get on!

The only game (if Im right) with wide tile for WP7.8, nice! I love the tile indeed :)

Badass game, I can't seem to find any new sheets though. How do I do so?

You probably want to find songs for your sheets, right? You have to have matching songs in your phone's Music Library to be able to play with Sheets.

The game has a glitch, which I think is related to the location of music files. I keep all my music on an SD card and, when I go to play, the game says loading music and then the app shuts.

The tutorial is great and, once they fix this issue, I'll be loving the game.

Hello,
Can you please send an email with this issue to feedback (at) songarc.net ? We would like to ask you some questions to find the issue.
Thanks!

I have all my music collection in the SD card and it's working fine.

I've got the same problem.
I thought it was because of the size of my collection, but maybe it's the SD card.

If it has to be stored on the phone, I'll have to uninstall the game. LOW SPACE on my phone. It's bad enough that the map updates want several MB, when it wants nearly 3GB free. Stupid thing.

excited!!!...downloading it rite now!

Awesome game, wish it could take music from spotify though :(

Awww. I thought it came with an algorithm that auto generated game play from the song like audiosurf. This game is about useless as only 5 of my songs have sheets for them and I doubt many more will follow because of how my music is more obscure. :/ I really wish Audiosurf Tilt had made its way from Zune to Windows Phone.

Hi Robbo,
We are sorry you are disappointed... you can always create your own sheets though.
As for an algorithm, that is not possible. For one, Windows Phone does not allow an app to read the music files, thus we would have no music to work from. But even if we had access to the music itself, there is no algorithm in the world that would get you as close to the music as good Sheet Authors do with a few hours of work. Audiosurf gets away with only 3 lanes and barely matching and detecting the rhythm of the music. We would need much more - we would need music processing algorithm that simply doesn't exist. This is one area where the human ear and brain simply cannot be matched.

Definitely going to get this. I'm hoping for some Audiosurf love someday soon as well, haha.

Thanks :) Sheet Creation is not simple and can be somewhat tedious - but some people enjoy it more than the game itself!

After looking at it for a short time, I wish it had the Audiosurf/Beat Hazard awareness to build levels itself. I'm certainly not a musician of any sort, so building sheets myself really isn't an option. Still, I'm hoping SOME of my music will end up with sheets created, but I'll have fun with whatever sounds good regardless.

will not work if you have a large music library

I have 20GB of music and it's working.

22gb here. L920 without amber update.

56 GB on SD card - not working.
Through an email, they said they are working on it.

9GB in the SD card and it's working fine.

I love SongArc since it's beta version. Nice job SongArc Team!

Thank you! We are happy you like the game!

This better support HD Graphics or I'm not going to play it. It's a must for me. Sorry guys.

Awesome game, I'm glad it is finally out!

amazing game:):)....and I have quite a few songs in my collection with sheets already available:D:D....but no leaderboards??:/

Thanks for liking us! Leaderboards are coming, we just didn't have the time to put everything in the first release :)

Intriguing - looking forward to creating sheets for my peculiar music!

And we are looking forward to play with your sheets!

Hummmm... I open the tutorial but nothing happens (the back button doesn't work either). I wonder if I am doing something wrong.

Not available in Indonesia? Nope, I won't change my region only to download this game. Developer, please release this in our country :)

Yes because changing your region can be soooooo difficult.

For people using WP7, you need 3 moths to return to your region if I´m not wrong...

Moths couldn't be that hard to find. Saw a huge one in the park this morning,

Pretty impressed so far, but the sheet creator seems daunting. I think I need to rewatch the tutorial this weekend while my mind is fresh. Look forward to creating a bunch!

Some interesting things for the next versions:
-Number of times the song was played with those notes -Real-time visualization of the music note received (this is kind of confusing for me and I don't know if it shows my note given, or the overall average) -Possibility to check how the songs created by me
But even then the game is perfect! Loved It!

I'll need to "hire" somebody to make sheets for my songs. I only have game soundtracks on my phone from Humble Bundles.
Windows Central Newsletter
Thank you for signing up to Windows Central. You will receive a verification email shortly.
There was a problem. Please refresh the page and try again.