In Canada and ready for the Winter Olympics? Then grab the official CBC Sochi 2014 app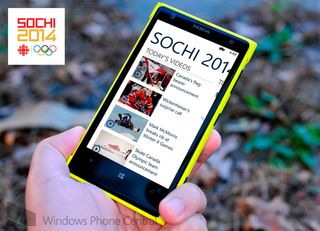 The 2014 Winter Olympics kick off in a few days. Ready for an onslaught of Olympic apps and news? We've already covered the official Sochi 2014 Results and Sochi Guide. Earlier today we also learned that Nokia updated their apps for those actually able to attend with offline maps support for the Olympic village and surrounding area.
Here's another app for all those stoked for the Olympics from the Canadian Broadcasting Corporation. It's the official CBC Sochi 2014 app for Windows Phone. Let's check out what our Canadian friends get to enjoy.
The CBC Sochi 2014 app is available in either English or French. It also looks pretty kickass and is definitely going to be a great way to keep up with your favorite athletes during the games in 2014. Here's what you can do with CBC Sochi 2014 for Windows Phone:
All events streamed live in their entirety and in real time with enhanced stats. Events available as video on demand afterwards
Simulcast of 20 daily hours of CBC Television Olympic programming
On-demand video highlights, news, analysis, blogs
Results, medal count and Canadian athletes' performances in real time
CBC Olympic Feed will keep users up to date on social media, the latest news and links to the content you need to see, when you need to see it. Athletes and journalists provide live commentary and unprecedented social media coverage from Sochi
A detailed event schedule and programming guide for CBC, the official broadcaster of the Sochi Olympic Games, as well as for the official sublicensees TSN and Sportsnet
A second screen experience where users can play along with the CBC Olympic Primetime program.
Did your read all that? This app is pretty awesome by the looks of it. There's basically no excuse for you to not stay up to date with your favorite athletes and sports if you're in Canada.
The ability to stream all events live is a very welcomed feature. If you happen to miss the action, the events will be available as an on-demand video shortly after airing. You'll also get tons of news, analysis, and more with the app. Things like medal count, results, and more will also be available within the app.
This app is only for those in Canada and we're pretty jealous right now, considering we're still waiting for NBC's Sports LiveExtra app to hopefully come before the Olympic start.
In the meantime, you should definitely grab CBC Sochi 2014 in the Windows Phone Store to get ready for the games!
Bonus: And thanks to allos autos in the comments below we know now that there's also a Windows 8 version of the app. Grab that one in the Windows Store (opens in new tab).
Thanks for the tip Kyle S!
Windows Central Newsletter
Get the best of Windows Central in in your inbox, every day!
Looks like it is not available for 7.x devices.

But it is available for Windows 8!

I know it sucks that MS abandoned all the WP7 users, but its annoying me now. All people who go on this website know that WP7 is a dead platform and will be rarely supported. WP8 has been out for awhile now, upgrade your device!

It's my wife's device, and she is on contract for quite some time. I realize that people having different economic circumstances may frustrate you from time to time, but all I ask is for some compassion when such people are providing information that may be useful for others in similar circumstances.

may i ask what device it is? Wasnt the last WP7 device the L900, which came out in April 2011? When is she due for an upgrade?

The device is a L900. She got it in January or February 2012, which would make her due for an upgrade around that time in 2015. It would cost her about $200-250 to break the contract, plus whatever they're selling the new phone for. Also, she doesn't want the 1020 (too bulky) or the 520 (no FFC), which are the only ones available on her carrier.

Go Canada Go. Grabbing the app now!

I'm hoping for a USA - Canada hockey final. That'd be epic.

I'm rooting for the Jamaican bobsled team this winter olympics... ;-)

I logged hard for this one.

Canada Russia final would be better

That's all I was trying to say... It's because we're from Dallas... That's why we get no respect... Lol❕

Repeat repeat repeat repeat

Umm, Sam⬆... You gonna delete this?

Its an app for us Canadians and just because I'm excited to see the guys repeat gold means its offensive?

More than likely its can vs Russia, how the grouping was setup Canada got incredibly lucky with the easy opponents

Lol.. No, you're right.. I'm a idiot.

They should have had okoposo on team USA, that's by far the biggest exclusion. And some of dman choices to, that's why I have to say Russia over US this olympics.

Nice! Glad to see WP getting the hot apps! Just installed!


lets Own the Podium again. GO CANADA GO!

I stumbled across this app on the store last night and installed it. Gotta love the CBC!

hopefully mcmorris can recover from his rib injury to take slopestyel gold, just read thorstein horgmo broke his colar bone and is out of the olympics, which really really sucks, but he is the main competition for mcmo

Must be nice. Considering how good CBC's extensive coverage of the Olympics is compared to NBC.

Hmm, I'm not able to get the app on my Lumia 1020 on Rogers. Says this app is not for your device...

Worked on my 1020 for bell

Says the same thing for my 920 on Rogers.

Worked on my 1020 for Telus. Maybe the CBC is excluding Rogers customers because of their scooping up of all the NHL broadcast rights. :)

@dougplanet - haha you might be right, but that would be pretty sad on CBC's part seeing as a large chunk of the country uses Rogers as their provider.

Works for me on my Rogers L920.

I figured it out. Silly me I had the region set to US instead of CA because I like my bing search to show more results and suggestions.

Other then Hockey, Sochi can go to hell :)

Hey what about Curling? I am stoked for both the Canadian mens and womens teams to win Gold this time around.

I'd rather watch the Tournament of Hearts :P

I'm just thrilled there's ANY Canadian app for WP. Still no Cineplex, TD (among many banks), Air Freaking Canada, etc etc etc, apps that are abundant on Blackberry. Canada might be the only country in the world were BB users are better served for apps than WP. So this is nice to see.

I don't know anyone here in Canada (friends, family, coworkers) that owns a WP8. iOS, Android, BlackBerry legacy, and BlackBerry 10 in that order. I'm surprised CBC even made one. Posted via the WPC App for Android! on BlackBerry Z30

I wonder what's happening with the NBC Sports app that is supposed to be available before the Olympics.

Y U NO MAKE AVAILABLE IN UK

CBC = Canadian Broadcasting Company...why would it be available anywhere else?

Love love love the olympics. Was waiting for this app! the only time i really watch cbc is during the olympics. They always have the best coverage

Anyone having some crazy battery-draining issues with this app? It isn't showing up in background tasks, but my phone's been eating batteries at 3-4x the usual rate since I've installed this..

Anyone having a language problem with this app (and with the Windows 8 app)? The UI is in English but in both apps, the commentary (Women's Slopestyle semis currently) is in French with no apparent way to switch.

Posted to the CBC Sochi FB page, had a response in 20 minutes. They are aware of the issue and are working on it!

Had a few updates and it seems to be working in English now. If only they'd get to work on the tablet apps now.... Kudos to CBC on a great app. Very well laid out with great info and video.
Windows Central Newsletter
Thank you for signing up to Windows Central. You will receive a verification email shortly.
There was a problem. Please refresh the page and try again.