In Canada and ready for the Winter Olympics? Then grab the official CBC Sochi 2014 app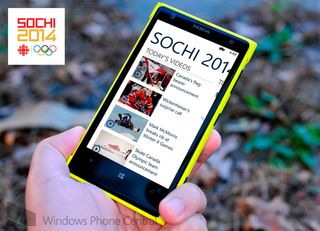 The 2014 Winter Olympics kick off in a few days. Ready for an onslaught of Olympic apps and news? We've already covered the official Sochi 2014 Results and Sochi Guide. Earlier today we also learned that Nokia updated their apps for those actually able to attend with offline maps support for the Olympic village and surrounding area.
Here's another app for all those stoked for the Olympics from the Canadian Broadcasting Corporation. It's the official CBC Sochi 2014 app for Windows Phone. Let's check out what our Canadian friends get to enjoy.
The CBC Sochi 2014 app is available in either English or French. It also looks pretty kickass and is definitely going to be a great way to keep up with your favorite athletes during the games in 2014. Here's what you can do with CBC Sochi 2014 for Windows Phone:
All events streamed live in their entirety and in real time with enhanced stats. Events available as video on demand afterwards
Simulcast of 20 daily hours of CBC Television Olympic programming
On-demand video highlights, news, analysis, blogs
Results, medal count and Canadian athletes' performances in real time
CBC Olympic Feed will keep users up to date on social media, the latest news and links to the content you need to see, when you need to see it. Athletes and journalists provide live commentary and unprecedented social media coverage from Sochi
A detailed event schedule and programming guide for CBC, the official broadcaster of the Sochi Olympic Games, as well as for the official sublicensees TSN and Sportsnet
A second screen experience where users can play along with the CBC Olympic Primetime program.
Did your read all that? This app is pretty awesome by the looks of it. There's basically no excuse for you to not stay up to date with your favorite athletes and sports if you're in Canada.
The ability to stream all events live is a very welcomed feature. If you happen to miss the action, the events will be available as an on-demand video shortly after airing. You'll also get tons of news, analysis, and more with the app. Things like medal count, results, and more will also be available within the app.
This app is only for those in Canada and we're pretty jealous right now, considering we're still waiting for NBC's Sports LiveExtra app to hopefully come before the Olympic start.
In the meantime, you should definitely grab CBC Sochi 2014 in the Windows Phone Store to get ready for the games!
Bonus: And thanks to allos autos in the comments below we know now that there's also a Windows 8 version of the app. Grab that one in the Windows Store.
Thanks for the tip Kyle S!
Get the Windows Central Newsletter
All the latest news, reviews, and guides for Windows and Xbox diehards.