Get ready for the 2014 Winter Olympics with the official Sochi 2014 Results app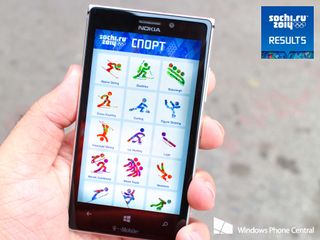 The 2014 Winter Olympics kick off in two weeks. Can't make it to Sochi, Russia to watch the games? You better get your Windows Phone ready to follow the action wherever you are. To keep up with the action and results make sure you download the official Sochi 2014 Results app from the Sochi Organizing Committee (SOC), the organization responsible for the games. Details below!
In November we covered the official Sochi Guide. That's an app from the Sochi Organizing Committee that will only work if you're physically attending the games. That's because it's a guide for those attending the games and will assist in locating venues, routes, and more.
Today we're looking at another app, but one that you can enjoy anywhere you are. The official Sochi 2014 Results app for Windows Phone will give you full details on all the sports taking place at the 2014 Olympics Winter Games and the Paralympic Winter Games. With the app you're able to:
Follow medal races in real time
Get quick and easy access to the competition schedule and results
Choose the country you're supporting, select your sports interests, and get alerts with news
Of course this app won't be super useful just yet, since the games haven't started, but it's already being populated with news, photos, and videos for Sochi 2014. You can also get linked to the website within the app to buy swag or tickets.
Ready for the 2014 Winter Olympics? Then grab the official Sochi 2014 Results app in the Windows Phone Store or by using the QR code below. You can also swipe left in our app to download it.
Thanks for the tip Andry!
KEEP IT COMING WINDOWS PHONE

"Ready for the 2014 Winter Olympics?" Yes I am! Great news. I've been looking forward to this app

What sports are you looking forward to the most? For me it's snowboarding.

I like bobsleigh, and I am not Jamaican lol.

I like hockey (both men's and women's).

Hockey and figure skating

Alpine skiing is my favorite. Especially the downhill. But I also enjoy bobsleigh, skeleton, snowboarding, and women's figure skating. Pretty much any event. Love the winter games! Hope they return to Utah again soon so I can go!

HOCKEY!!!! I wish that we could enter two teams like we do in bobsled. :p If I had to pick a second, I'll say Speed Skating (long and short track).

Curling and bobsledding for me.

Speed Skating, Downhill, Super G, Slopestyle, Snowboard Cross, Hockey....A sport that needs to be added is downhill skating, aka Red Bull Crashed Ice....Cant see the IOC going for it though.

I have this app for a while now on my phone... I thought that you guys already know this app. The app is looking nice and is working fine. The 'alphabet' keys to find a athlete by name is working great, one of the only apps that ist working fine.

Someone should make an app that showcases only epic fails at the Olympics. You know, cats that crash or fall or whatever. I'd be interested in that!

I'm not sure they have cats competing :P

Thanks guys was waiting for info on a Winter Olympics app

Finally, that strong Lumia market share in Russia translates into something good for me.

Brainwashed idiot. Just because you were raised to fear "the commies" doesn't justify being a bigot

You're calling him an idiot for boycotting a nation with huge human rights violations? How American of you.

The key word was "brainwashed" - he's clearly been raised in the US with all their propaganda to fear Russia and communism in general. In this case he's refusing to support an app for the Olympics just because it happens to be in Russia this year. It's bigoted and prejudiced. China is also guily of human rights violations but you don't see people 'refusing to support things associated with China' as they'd be boycotting 80% of consumer products ;)
I'm not American at all, and I find it quite offensive to be accused of being one :P

Lame, doesn't keep track of bombings

Just going through the extensive settings it looks like an outstanding app. Let's hope for more of these at other big events. World Cup app in the works?

Can't download! Says it is for straights only.

...but remember, it's "for the children"

There are a lot of states in USA that don't support same-sex marriages. Many states have anti-gay laws. So please mind your own business. And why in the world so many americans believe that they should interfere? You have your own country, dudes!

THIS.
So tired of people acting like they are entitled to be liked and accepted everywhere. No matter who anyone is, if you're going to another country, you should respect that country's culture (even if you don't agree with it). It always bothers me when I go to humble yet modest parts of countries (for example Isreal, Russia, China, India, etc.) and seeing these tourists in skimpy shorts and talking bad languages. It's disrespectful to their culture and you're just barging in acting like you own the place. People need to learn to be compassionate towards all cultures no matter what.

Their culture is literally leading to witch hunts, beatings, and murdering of gays. We should accept that? Fuck you.

I agree with your main point; however, if the Russian government was targeting Catholics and I was a Catholic would you expect me to remain silent?

And many states have lawsuits over the constitutionality of those laws. There are no less than 40 lawsuits... And climbing.

And years ago, some states had slavery, but then there was Apartheid and we helped free people there too.

Huh, very nice looking. Pleasantly surprised.

Just installed it. Great looking app and features. Can't wait for these Games to start!!

Don't know who made the app, but they did a pretty good job.

Hmmm. It comes from the Russian Government and requires both the identity of the Phone Owner and the Phone plus location. What part of that should be troubling? No thanks. I'll wait for an App from an Organization with a history of trustworthyness.

I think this req comes from in-app-ad :)
Windows Central Newsletter
Get the best of Windows Central in in your inbox, every day!
Thank you for signing up to Windows Central. You will receive a verification email shortly.
There was a problem. Please refresh the page and try again.