The CBS News app for Windows and Windows Phone 8.1 looks beautiful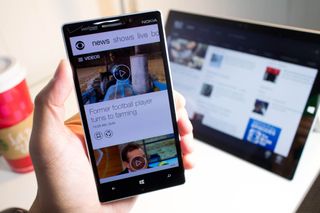 We've been playing with the CBS News app for a couple of weeks and we like it a lot. It is a universal Windows app, so it works on both Windows and Windows Phone 8.1 devices. If you haven't checked it out yet, we've installed it on the Lumia 930 and Surface Pro 3 for a hands-on video. Go watch it.
Features:
24/7 streaming video news channel: CBSN
Real-time updates to evolving news stories throughout the day
On-Demand video clip and full episodes from CBS News programs
Latest business headlines and market info from CBS MoneyWatch
Share interesting stories with your friends and family via email, Facebook, or Twitter
When you open the CBS News app, the latest news are displayed right away with an image on top. When you tap a headline, the first two paragraphs of the article slide in. The animation looks great and it happens quickly. When you scroll down, the top headers also slide away. Part of the reason why we like this app is all the sliding animations.
If you prefer to browse through certain categories, tap the menu button on the top left corner. A list of categories slides in for you to choose from.
Swiping over to the right displays a list of CBS News programs such as CBS Evening News, CBS This Morning, 60 Minutes, 48 Hours, Sunday Morning and Face the Nation. You can watch the latest clips or episodes from each show.
There is a live section that's supposed to show a live 24/7 streaming video news channel that features live anchored coverage, but it currently fails to play.
CBS News looks even better on Windows 8.1. It takes advantage of bigger screens by showing more thumbnails and including excerpts for each article. Have you installed tried CBS News on your devices? What do you think?
Windows Central Newsletter
Get the best of Windows Central in your inbox, every day!
It is a great app. Others can learn how to make a fast and featured app.

dem hamburgers doe Standard.

Beautiful app true indeed. Because of this app CBS is my go to news app on Windows Phone. Now fix the CNET app :-). You gotta love it Windows Phone fans are never satisfied. Lol. Thanks a million CBS for this app. CNN please take note.

The Fox News app is also very high quality... We know they wont be getting any praise from any article here though.

The Fox news app hasn't been updated in over a year.... It's new features in the app store are " Now for WP 8.0".... And I used to like the Fox news app, back on Windows phone 7

There's two versions out on the store now... The newer one is the 8.1 version, for whatever reason they released an entirely new app.

You can roll crap in powdered sugar but that don't make it a donut.


That's the mission statement of MSNBC

CBS, too. Yeah the app is "beautiful" but no coverage of Gruber is inexcusable.

If only Gruber had been with the GOP. We would be hearing the coverage over and over to the end of time.

Yes, gruber, the rightwings favorite new whipping boy. Last hope to stop people from gettong healthcare.

To the contrary! He is verifying what those of us with a basic understanding of economics have been saying for years. It will be a pleasure to watch the Supreme Court blow down this house of cards in the spring.

So you call subsidizing greedy insurance companies with tax dollars a solution? If more people understood just how much of a load of dog crap Obamacare is, we wouldn't be having these problems.

GE pays no US taxes. Stanley, pays no US taxes, Exxon pays no US taxes and all get subsidies from taxpayers. Hell even Verizon took bailout money from taxpayers back when Bush polities caused the US economy to lose 750 thousand jobs a month and send the stock market to 7000 and reduced the US credit rating. But when the American people vote to do for Americans, people like you rather the people suffer and die. I would rather have single payer since Affordable Care Act or Obamacare is a republican plan anyway. Created by the Heritage Foundation, (republican) launched by a republican Mitt Romney in Massachusetts. Same plan. You have no idea what you are talking about.

I am surrounded by losers at this very moment at a courthouse. These are the scum of the earth and the people that bring this country down. All I can think about is that I am paying for these people's healthcare, their food, and their housing. Yet, if I was in a dark alley with any of them I'm certain they'd rob me blind. The way to deal with the poor that are simply down on their luck is through charity, not big government. Big government brings with it big waste, fraud and politics. Charities do far better to actually help these people. Additionally, tthe charities will turn away the scum or at least try harder to help them become better citizens. Americans are a charitable people. With lower taxes I know I would most definitely give more to charity than I currently do.

I agree, this app is beautiful. Other developers need to take note.

Me too. This and CBS local are on both my phones...

Why didn't they make Local look as great?

I was wondering the same thing. Looks like a different outcome by a different team. Not nearly as polished.

I downloaded it few weeks ago but had trouble with its live tile. The tile was, well, not alive.

Yep, I think it's not implemented yet.

No live tile yet, but I'm sure it's in the works. I doubt CBS will let NBC & CNN scoop them in that department for long.

Well written/coded app..beautiful function and design..but the non-working live tile..is surprising.. One of our Collective membership.. Even email CBS News app support..oh well have to be patient...lol

I emailed them when app came out-no response so far.

Yeah it's great. Hope they implement a dark theme for amoled screens

The only problem is the content is CBS.

The app doesn't show in the Windows store when clicking the link, doesn't show when searching either.. (Search on the Windows store is terrible, so it didn't really count on finding it with search)

All the "news" that's approved by his holiness comrade obummer.

anyone with a dumb avatar like that isn't too smart.

Why does an app story for a news site bring out the partisan "warriors"? It happens from the left and the right. It's just nonsense.

If only they would fix their CNET app with the same design...

I find it hard to separate articles from each other. There should be a clearer divider or something. When I expand a headline it is hard to tell where it ends and where a new headline starts. Other than that, amazing app.

Yeah, I'm not sure if I'm sold on the either. Out like good, but I think I prefer the way the NBC app looks on the end. Unfortunately, the NBC app has s couple problems too (mostly videos that don't work).

Have it for both my phone and surface 2...great app.

Also back arrow doesn't close it like EVERY OTHER APP.

Actually, Facebook doesn't close, calendar doesn't close, Wunderlist doesn't close, I've found quite a few that don't close by using the back arrow.

Chronos Calendar + too. I like it this way.

Reading list, Torrex Pro, Skype, Skype Qik, may be this is coz they use fast resume API. And now messenger too

Everything inside this app is perfect. Why we can not have more apps like that in the store???


Outstanding app...maybe the windows central app could do some similar things :)

puck this app after 5 minutes is uninstalled they think that I will watch 30 second tv commercials every time I will select something no way!!!

You're absolutely right. Everybody should work for you for free. By the way, whatever you do... we're just going to switch your salary to zero. Ok?

When is twitter gonna be integrated back to wp8.1...men the way this is going im about to jump ship to the iPhone 6

Is that a green 930 with Verizon branding?

Thats what I wandered as well.

I just got an Icon and I know that VZW only offers it in white and black (I got white). I would have considered Green or any other color if it was offered. Looks like he got an exclusive or replaced the back of the phone.

Is it my phone, or the app? The live streaming takes pretty long to load up.....

Your connection.
Even outside US works great

No, trust me. My wifi connection is working excellent. Something is up..

I love it, but it lacks LIVE TILE option. Until then my default is NBC. I don't mind the 30sec Adverts either.

I guess that will be the feedback going forward, let's see how long it takes to update based on that request

To be clear, there send to be a live tile feature in the settings, but apparently not working, and seemingly no transparent live tile.

I noticed the LIVE TILE option in the settings too, by it does not work. So yeah, lets see how they respond.

This is a great app done the way all should be done.

Downloading, plus taking note for my own :-)

Beautiful app indeed. Posted from The Dark Side.

Everybody say android has too much Flash apps, well WP has alot of Camera and News apps

All major news outlets will be represented on all platforms. That's a given. I love all the photo apps, too. People are downloading them or they wouldn't get built.

Hopefully other companies take heed and hire some non-fanboy competent devs.

The "Live Broadcast" worked when I first downloaded it (the first day it came out). And the live tile never worked. But what an amazing app. All other developers should find out how they did this and what tools this developer used! Fo' real!!!

The CBS stopped working on my 1520. It just freezes on the splash screen now. Life as a WP user.

Was watching football on CBS and a commercial for CBS news and the app came on. All the devices were Windows devices including the phone.

It is the best ever news app on windows phone

Pro tip: turn on "Scroll Quick View into view" in the settings. You'll be glad you did - it just makes sense ;P

The app is awesome and works great. I think it's easily one of the best news apps on WP. I downloaded it just to see what all the fuss was about.

I must admit that is one is the most beautiful design app in the store... Love it for just that

That is so laughable. CBS News is an oxymoron. They wouldn't know a news story if it came in and confiscated their emails.

Ok I downloaded it.....yiu are spot on this is a great app. Especially since I can catch up with CBS News this Morning and 60 Min. the layout is great.