CCPlayer Pro is now a universal Windows 10 app for PC and Mobile, and it's great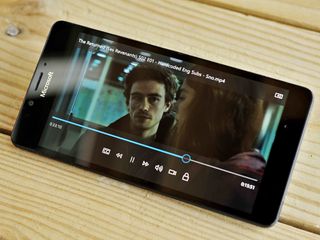 CCPlayer, who has long been making video players with the ability to play various file types, has released a UWP app for Windows 10 and Mobile. Dubbed CCPlayer Pro the app is published by L:me and is now available starting today for all Windows 10 PCs, tablets, and phones.
CCPlayer runs for $1.99 with no free trial. However, I bought it and threw some MP4s at it with no issues except one (more on that below). The app's design is excellent as it very much follows the Windows 10 design language with familiar menus and layouts.
The one issue I had that was easily solvable had to do with video playback. By default, the app would crash on MP4 files, but going into the app's Settings > Playback and disabling Use SW decoder as default decoder did the trick. Of course, this issue may vary on your system, so just take into consideration if you run into any issues.
Regarding options CCPlayer Pro brings many, including:
Support for Continuum
Light and Dark Theme options with cross-device syncing of settings
Custom time intervals for seeking
Use GPU shader within SW decoder
Toggle back button within video menu
Load unsupported thumbnail
Flip to pause (for mobile)
Thumbnail disk usage with clear cache option
Thumbnail retention period
Save fonts included in the media
Install font from file (*.ttf/ttc/otf/otc)
App Protection with password
Subtitle toggles for outline, shadow, background, font family, font style overriding, font weight, and font color
The app also lets you designate which folders to look for videos.
Perhaps a unique part is the Now Watching, which lists videos have been playing and even remembers where you left off letting you watch and continue videos randomly without having to bookmark anything. There are even popup windows in the corners allowing you to toggle quickly between multiple videos, which I found impressive.
Overall, my first impressions of CCPlayer Pro are very high if you are looking for something a little more robust. The app also worked fine on my Lumia 950 with no issues scrobbling or jumping between parts of the video. Granted, I did not try every weird file type out there, but CCPlayer Pro should handle most of them.
If you have a $1.99 and need a good universal Windows 10 video app, consider CCPlayer Pro. So far, I'm very impressed with it.
Download CCPlayer Pro for Windows 10 (opens in new tab)
Windows Central Newsletter
Get the best of Windows Central in your inbox, every day!
Daniel Rubino is the Editor-in-chief of Windows Central, head reviewer, podcast co-host, and analyst. He has been covering Microsoft since 2007 when this site was called WMExperts (and later Windows Phone Central). His interests include Windows, laptops, next-gen computing, and for some reason, watches. Before all this tech stuff, he worked on a Ph.D. in linguistics, watched people sleep (for medical purposes!), and ran the projectors at movie theaters because it was fun.
Where did your signature go?

Doesn't show up when I'm first for some reason. Posted from PornHub

Only works for replies, not new comments.

And there is our answer, thank you! Posted from PornHub

I'd give anything for a video player that organized movies into movies, shows into shows with seasons and episodes, used actual artwork for thumbnails. iTunes helps you do it, Zune helped you do it, but here we are still dealing with makeshift folder and file managing. The closest I have found is MediaBox. The only problem is that it organizes it amazingly, but it struggles with remembering your spot, and the player controls can become hookie.

Its called Netflix. Posted from PornHub.

Really? Netflix will handle my own media? That's amazing.

Your own media is stolen from Netfilx, so yeah... Posted from PornHub

My own media is dvd I bought, and I ripped and shows I legally have recorded with a tv tuner through the cable service I paid for. Talk less about stuff you know nothing about.

You know, tough guy, can you not sense when people are playing with you? It should have donned on you when I said Netflix...after all, Netflix is a content provider. Posted from PornHub

Calm down little man; I have no idea how low your IQ is. As a result it is hard to gauge what is jesting and what is stupidity.

Really...ye who cannot tell if one is jesting wants to call another "low IQ"...and a wee man to boot...Go watch your bootleg grainy videos in your mom's basement. Posted from PornHub

Take a hike already. 99% of what you post is just knocking other peoples' comments. You're a clown at best.

Yet you keep coming back to my lil circus, with your grainy films and small hands laden with Vaseline. Posted from PornHub

Haven't ventured into Plex to much. Will it handle local media on my phone in such a manner? Edit: Just tried it. It will find your local videos, but handles it like the Movie & TV app works (everything in a pile). Does it require a premium pass to do proper organization?

Not sure what you mean, but Plex def aggregates your media by movies,tv, music. And tv by season. http://imgur.com/Sbsxue9

Is that local content or on your server? I haven't tried it recently, but I seem to remember that local files it just displays by file name. Also, it might work that way if you sync from the server to your phone, but I think you need a Plex Pass for that.

It's local content on my server but not on my phone. For the seasons it has episode titles and descriptions. Highly recommend Plex. Here is a shot of season 1 on phone. http://imgur.com/2lyImMW

Plex is the truth. I've been using it for about 4 years now. It works through Roku and Amazon Firestick too.

Very true. I love MediaBox though the developer doesn't seem to be adding many features. I like the mini player but the app doesn't have an option to close or minimize the mini player.

Yeah, I feel like if more people knew about MediaBox it would catch on fast, and the dev night update it more often. Wish WindowsCentral would run a piece on it to help this guy out.

Its called managing your own files and not relying on any external app to do it for you.

What's up with you people acting like ******-bags. There has always been apps that do stuff like this and now there is a lack of them. If some of us want an app to make it easier, tough crap.

Thanks,bro. I just bought it

The organization of the app is great. Like I said though, the video player gets hokey when you go from full screen to the mini-player.

What ever happened to VLC?

Remember all the hoopla leading up to it? Posted from PornHub.

VLC for windows 10 mobile UWP will be released by end of May - Thomas Nigro

The UWP version is in a private beta.

VLC is a steaming pile, and I have no idea why ppl use it as a plyer when there are far better and more lightweight alternatives out there.

VLC can resume instantly for background dude. It's better than any player at that. Sent from my love Lumia1320

Moliplayer is better than this.. The UI!

No, I must say : It's better and cool.

Using Moliplayer Pro since last year. No objection. No complaints.

CC pro is the best W10M player followed by the default Film & Video player. Moliplayer has not been updated in ages and you can't even remove the annoying W10 Nav ribbon.

Moli player is the best , hope we saw universal app for windows 10

I'll be honest as I can: If it's not UWP now, I don't want it on my device. End of story. If Moli goes UWP I'll give it a go, but for now, it's a non-starter for me.

Yes, I just tried it with Continnum - CC plaayer pro ( mind-blowing). Now, I don't need VLC - I know it's free

Moliplayer is in hibernation now. It used to be cool but now I only go for UWP apps Posted via the Windows Central App for Android

It's my understanding that UWP does not necessarily mean Continuum support so I'm wondering if this app supports continuum? Any good suggestions for video players that support multiple file types for playback on a tv via continuum?

I can 100% confirm it works in Continuum and it looks great.

+1 for Closed Captioning (CC) support!

Is this also the developer of CCleaner?

No, CCleaner is by Pinfrom.

It needs a trail version.

If you want to see trail - then Dan rubino, or mark will soon gonna publish a video about quick overview of this app + Continnum support video into it

Trial version is called CCPlayer, without "pro"

I think that's just the old 8.1 version that can run on Win10.

On PC I`m still a Media Player Classic user, mostly because it`s a very light player, with support for sound normalization, so many movies are recorded with low volume, this feature fixes the problem, and there is also a remote app in the store for the phone from which I can control the player. If this player will bring a volume normalization and a way to remote control the PC player then I`ll buy it even at a higher price than the 2$ PS: is it just me or the player is a Movies and TV on steroids ? :)

Not just you bro, it is inspired by movies and TV app

can this access my online media files (onedrive)?

I am using Best player and it handles almost all types of files well.

Great app. I love it. Unfortunately, this UWP does not work for me. Lumia 735 :(

So, here is the solution from L:me, the author, and it works : 1. uninstall CCPlayer Pro, 2. reboot phone and 3. install it again from store :)

Gabe Aul is going to sleep so well tonight knowing he doesn't have to deal with that red button anymore.

CCPlayer has been one of the best apps for WP. Simple, reliable folder-based media player with good hardware acceleration, software fallback and scaling settings. The UWP version isn't working for me on my Lumia 1520 but the author has been fast with updates in the past so I expect it will be fixed soon.

Bought the app, it works great on my Asus transformer with atom CPU. It also has volume boost.
Remains to test it on my Lumina 930, on the i7 desktop it should work just fine.

It's great video player. I have it on my phone for long time and I'm proud with buying it! Very good support!

I bought it. $2 is worth a great player.

Does CCplayer pro supports DLNA? Can it list and play my video from my Nas over Wifi, like Moliplayer pro? If yes then I will buy it...

Does Moliplayer support this? It's not so clear in the app description. Does it work okay for you? What NAS do you have?

In the past (on WP8, I haven't tried on W10M) moliplayer could see my WD Mycloud DLNA video library in the "nearby uPnP video"...
I could play my movies over my local wifi...

Interesting. I'll give it a shot! Posted from Windows Central app for Windows.

In the past (on WP8, I haven't tried on W10M) moliplayer could see my WD Mycloud DLNA video library in the "nearby uPnP video"...
I could play my movies over my local wifi...

How is the video scrubbing? I really need a player with accurate scrubbing down to a couple of seconds. I watch a lot of recorded TV and skipping past commercials is difficult in the MS Movies and TV app..

I bought it..its great that i don't need media player classic anymore...good job ccplayer developers

Does this a filetype registration aswell? .mp4 & .ts & m3u?