CES 2017 Day One: Processors, convertibles, and clamshells galore
A decent enough Android phone for a cheap enough price.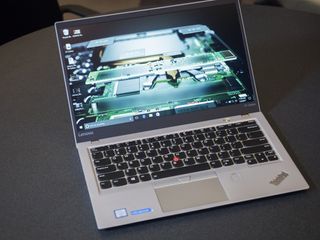 CES 2017
Tuesday, 3 January 2017
Honor 6X goes for the broke
Honor is back at it with the new Honor 6X, a phone that offers far more than you'd expect for its low price — just $249. For that you get a 5.5-inch 1080p display, an octa-core Huawei Kirin 655 processor, 32GB of storage, 3GB of RAM, and a 12MP camera. That main camera is paired with a 2MP monochrome sensor that Huawei uses to enhance clarity and depth of field. Alas, it's a new phone running Android 6.0 Marshmallow, but at that price we're honestly not surprised. What is surprising is the use of a Micro-USB port instead of the newer and better USB-C standard.
VR comes to practically any game
Lenovo's Entertainment Hub includes a neat trick: VR adaptation for first-person shooters.
Lenovo introduced a new bit of software for their Legion laptops in the Entertainment Hub. It pulls together your TV shows, movies, and games into one easy-to-use app, but the neatest part is a clever bit of software to bring any first-person game into VR. Essentially it maps the movement of the headset to the look/aim controls in a game, so where you turn your head is where you look. It's a neat way to bring existing game libraries into virtual reality.
Lenovo's new Echo
It's an Amazon Echo, but made by Lenovo.
One of the most surprising early announcements from CES 2017 was the new Lenovo Smart Assistant. It's a smart speaker in a cylinder that you can trigger by calling out for… Alexa. Just like you would with an Amazon Echo. Because the Lenovo Smart Assistant is running the same software. But Lenovo's design is a bit classier than Amazon's plain black or white cylinders, and they're undercutting Amazon by $40.
Crazy for convertibles
Your next laptop might just flip all the way out, er, around.
Convertible laptops aren't anything new, but for a while they lagged behind their traditional laptop brethren. That's changed recently, and CES 2017 is proving to be a big show for the flip-around touchscreen laptops. Lenovo updated their ThinkPad X1 line to be even thinner and lighter, as well as faster and longer-lasting, and the only notable difference between the X1 Carbon laptop and the X1 Yoga convertible is that the Yoga's a convertible and the Carbon is not.
Dell also announced a long-awaited XPS 13 convertible, bringing all of the power and hardware design that we love about the super-compact XPS 13 laptop to a 360-degree convertible form factor. Also coming from Dell was the new Latitude 5285, which packs all the latest hardware in a 12.30-inch 2-in-1 tablet. And HP took the Spectre x360 that we love so much and scaled it up to a huge 15.6 inches with a 4K display.
Qualcomm's new Snapdragon, Intel's new Lakes
Faster, more integrated, and significantly smaller.
There's a lot of fuss over nanometers in the processor game, and for good reason: smaller transistors mean processors can use less energy and be physically smaller. That's the game Qualcomm is playing with the new Snapdragon 835 mobile processors, which is both 30% smaller and 40% more efficient than the older Snapdragon 820, even while offering a 27% performance boost. Not only that, but the 835 includes a gigabit-capable LTE modem, Bluetooth 5, support for HDR video, a secure enclave for biometric data, and more.
On the other side of the processor spectrum, Intel rolled out their new 7th-generation Intel Core i processors for desktops, following a launch a few months ago of the laptop versions of the Kaby Lake generation of chips. Ranging from a Core i5 at 2.7Ghz to the top-end Core i7-7700K at a whopping 4.2GHz, these new chips aren't significantly faster than the older Skylake chips, but they are less power hungry and thus less hot.
March of the Chromebooks
With Android apps coming to Chrome OS, Google's browser-based operating system is starting to come into its own. The first Chrome OS announcements from CES 2017 come from Acer and ASUS. Acer rolled out a new Chromebook 11 N7, which takes their standard Chromebook 11 and bulks up its ruggedness to better withstand the rigors of the classroom environment. ASUS, on the other hand, updated their touchscreen-driven Chromebook Flip C302, going all-in on USB-C and dropping the big old USB-A ports.
Windows Central Newsletter
Get the best of Windows Central in your inbox, every day!
Derek Kessler is Special Projects Manager for Mobile Nations. He's been writing about tech since 2009, has far more phones than is considered humane, still carries a torch for Palm, and got a Tesla because it was the biggest gadget he could find. You can follow him on Twitter at @derekakessler.
**** off with the lagdroid phones and ****** chrome books... And keep them on lagdroid central. :P xD

YTF are you guys covering android phone...niether does huawei make windows phones

What's wrong with covering droid or huawei? WC is covering CES for you, like any other tech news agency. If you don't want to read about it, just scroll on.

Huawei does make the Windows 10 Matebook though...which is actually very nice looking.

Keep scrolling... the formatting is weird on the android wc app though, can barely read the text behind that overlay.

It's pretty weird on the Windows 10 app as well. Guess the formatting of this article is too complicated for the apps to handle.

I have never seen a sensible man with a chromebook. I guess it's made for special retards.

Actually Chromebooks are a cheap alternative to laptops for people who just want a big web browser. Generally their lack of features and functions means that their battery life is superb. Also, they are good for school. If the school runs all of the google apps, it once again becomes an inexpensive alternative to a laptop. Windows laptops are only better if your use-case requires the power and flexibility offered by a fully fledged OS.

You can get a windows laptop for the price of a chromebook. Shame on those schools who force students to use google apps. Students should be free to chose the OS they want.

Shame on schools for offering useful technology to students? In most cases the students are able to take the Chromebooks home (they're effectively owned by the student). In the classroom the OS offering is usually Windows, so calm yourself.

Although I am a fan of Windows more than Chrome I will have to say for schools there is a distinct advantage to using ChromeOS. First, they get the full Google Apps for free with no advertisements and Google Classroom. Office 365 is not free for schools but it is for non-profits. Office 365 doesn't have the classroom functionality. Furthermore, when a Chromebook is provisioned for a school district the IT staff has direct remote control of the device without any additional setup. They can control and monitor all of them through the same interface at no extra charge. The one sticking point I have heard is that Google can try to lock them into a contract to keep refreshing the Chromebooks. That and the Chromebooks are of course generally of cheap quality but when kids often destroy the equipment anyway it doesn't matter. I use Microsoft Multipoint Server has a way to keep costs down for such situations but Microsoft licensing can be more complicated and can get expensive without having the manageability or mobility. The main advantage of the Microsoft solutions are flexibility and legacy support and both are becoming difficult to justify. Microsoft really needs to step up their game on this front as they used to be the clear leader.

What good are apps in a world where apps as we know them will be useless in 1 year??? Unfortunately the massive downside for schools is the security of Chromebooks and said Classroom software. One of the major reasons all businesses don't go near them is major security concerns. And let's be honest now FULL Windows 10 is on ARM cost is not an issue. Schools can happily go back to a proper piece of software with proper security and real functionality. Luckily Chromebooks account for less than 1% of all PCs sold worldwide. Thank god.

Apps won't be dead. It's just currently there are a lot of unnecessary apps. It seems everyone that has a website puts their website into an app. If you look at how w32 worked in Windows, real apps stayed as apps and websites remained websites. At some point people started moving the web into apps. Mobile created a new problem. The focus should have been web technologies to let your site run well on any variant of device and cross platform. there will always be apps and games that truly belong in app store.

Forcing students to use Google apps has nothing to do with what OS they want.Apps not equal to OS. Students are free to choose whatever OS they want. They want Windows or Mac to run their school Google apps then they are free to go have their parents buy it. At least that's how it's always been at my boys' schools. If the school is providing devices then it'd be foolish to not standardize on the most cost effective and simplest solution to deliver your standard set of applications... ergo Chromebooks. They aren't better than Windows but they are "good enough" for the job. As a manager in a decent sized IT shop I can tell you that many factors go into total cost of ownership and Windows devices are FAR more expensive than their Chromebook counterparts (regardless of purchase cost).

**** android. They are 5 years behind with their app operating systems. Like who in their right might uses a Chromebook???? Hahaha.

The QUALCOMM SD 835 seems really interesting. I wonder if any OMs are willing to utilize this process in a Windows Phone. If Microsoft is holding out for game changing technology, then they may not build a surface phone just because a new shiny processor has been invented...

I don't know what is Microsoft's plan exactly, but I read a few weeks ago that with the Snapdragon 835 they will do Windows on ARM with Win32 emulation. It didn't seem to say Windows 10 Mobile, just Windows 10 and having a "cell PC" which can mean anything from a phone running Windows to a full fledged PC with cell connectivity. I'm just praying they will allow full Win32 emulation on future phones through Continuum... That's been my wet dream since I've heard of Windows 10 Mobile and Continuum for the first time. I like Continuum on my Lumia 950xl, but I'd love it with Win32 emulation. I know I'll have to get a new phone, but I'm ready to spend for it if it gives me this...

There is no Win32 emulation in Windows for ARM. Win32 runs natively on these devices (e.g. Win32 is compiled for ARM), only the apps are emulated. Corollary there is no Win32 at all in Windows Mobile and therefore it is impossible to run Win32 apps through Continuum even with emulation. On the other hand, if you have a Windows for ARM device, you dont need Continuum, as you have the native desktop environment anyway.

Sorry guys I don't normally moan but the clue is in the name, I'm not interested in chrome books, tbh they're outdated. Not too interested in android either. Where's Dan when you need him?

You can skip that part then.

I find the article formatting readable in the app if I snap the app on one side of the screen (make it vertical mode). Any idea why?

The insecure Microsoft fanboys are out in force today!

Hahahaha. Something tells me MS fanboys aren't the insecure ones for 2017. Android fanboys and chrome book fanbous just realized Android is screwed. Lol. Because it can't even compete with 10% of what full Windows 10 can do. I find it so funny, that all those Android So customisable man comments look so silly today. Lol.

Hey WC is just doing what a news site does..report what's new and hot! And there's a lot there..wish I could have gone this year. Happy New Year to all WC reader's.

One prolblem with CES is that there is so much info to go through. The last thing we need is Android and Chromebook info on top of it. Please keep it seperated. If anything I would prefer iOS stuff over Android but I don't think it shouild be here either

What's pi$$ing me off? Why the EFF is Microsoft catering to Lagdriod and iASS phones? MICROSOFT NEEDS TO "TEND TO IT'S OWN KNITTING"! That app, Microsoft PIX, which is SPECIFICALLY made for iOS? WTF? Why did developers make an EFFING app for an iPhone? That makes NO effing sense whatsoever. Do you see Google or Apple developing apps for Windows Phones? JFC! And Microsoft has the audacity to wonder why it's mobile sales are in the toilet? Wow. <insert *clown* emoji here>

I know it's frustrating, even shareholders blew a fuse to Nadella for caring more about Android and iOS than to W10M. Nadella sees only where the money is and that's why they develop for them first. But with Win32 emulation coming with Windows on ARM, everything might change soon...

You don't see GOOG or AAPL making apps for W10M, because they are the owners of nearly entire mobile market, so you sort of answered your own question there. MSFT is and always has been predominantly a software and services company, so it makes sense for them to develop where the user base is (and it's majority is not in W10M). It's frustrating, I know, but it is cold hard fact. Tides will turn soon enough, once W10 is ported to ARM and we enter the post-smartphone post-app era...