CES 2017 Day Two: New laptops, new phones, and old ideas made new
Thinner, faster, lighter, stronger.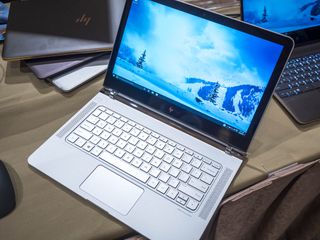 CES 2017
Wednesday, 4 January 2017
Update all the laptops
With new 7th-generation Core chips from Intel landing in the months before CES, it was time for a seemingly every PC manufacturer to update their lineup. In the cards for everybody: thinner, lighter, marginally faster, longer-lasting batteries, Thunderbolt 3 and USB-C, and a notable decrease in bezels.
The new BlackBerry that's not made by BlackBerry
BlackBerry's back, alright!
From the looks of the BlackBerry Mercury you'd think that BlackBerry hadn't changed at all. But this is a phone from TCL, the new licensee of the BlackBerry brand, even if it looks and feels every part a BlackBerry. We're still light on practically every detail, from specs to the actual production name, but we're still kind of excited to see that the shifting of the BlackBerry brand doesn't mean the abandonment of the classic keyboard.
Honor's Magic is a design showcase as a phone
Curved all around, because they can.
Huawei's never been a manufacturer that shied away from making crazy hardware, and their Honor sub-brand has generated a phone that's a truly beautiful piece of design: the Honor Magic. The glass is curved in every direction more substantially than any phone we've seen before, married to a thin metal frame. As Android Central's Andrew Martonik described it, it's similar to the "Galaxy S7 edge, but it's even more impressively thin and compact." More impressive, however, might be the software: Honor baked in artificial intelligence to help the phone predict what you'll want to do, such as dynamically rearranging your home screen.
The first Chromebook designed for Android apps
Google and Samsung partnered up to design an impressive new pair of Chrome OS devices: the Samsung Chromebook Plus and Pro. These convertible Chromebooks are the first designed with running Android apps in mind, and as such they're equipped with full motion sensor suites. Beyond that, Samsung also built in their stylus tech — pop out the docked pen and you'll be able to write and draw to your heart's content on the hi-res 12.3-inch display.
ASUS announces two new phones with four cameras
ASUS took to CES 2017 to unveil their newest ZenFone devices: the ZenFone 3 Zoom and the ZenFone AR. The ZenFone 3 Zoom is the follow-up to the unique if flawed optically-zooming ZenFone Zoom, and its ditching of the mechanical optical zoom is both a disappointment and not a surprise. In its place are a pair of cameras — one standard, one telephoto, not unlike the iPhone 7 Plus. On the flip side is the ZenFone AR, which uses its cameras and sensor array to scan your surroundings in full 3D. It's not the first phone to do this, but it's certainly the most compact Google Tango phone we've yet seen.
NVIDIA's Shield TV box has been something of a sleeper hit — those that know it love it, but it's never really got a heavy push behind it. We don't know if that's going to change with the latest update, but we do know it's an impressive update. Coming to the Android TV party is Google Assistant, Samsung SmartThings integration, HDR video, and a whole bunch of new games.
Get the Windows Central Newsletter
All the latest news, reviews, and guides for Windows and Xbox diehards.
Derek Kessler is Special Projects Manager for Mobile Nations. He's been writing about tech since 2009, has far more phones than is considered humane, still carries a torch for Palm, and got a Tesla because it was the biggest gadget he could find. You can follow him on Twitter at @derekakessler.
Thinner, faster, lighter, stronger. Cue in Daft Punk


I like the new blackberry. It looks nice, its different and may gain some traction.

The only problem is it is not running Blackberry OS

I have the PRIV and must say, it's a very nice phone. Unlike W10M, the typing prediction with BB's keyboard is "magical" and I can often type whole sentences just using the first letter of words. Hub (which I understand you can now get on any Android) is just fantastic...soooooo much better than anything available on WP that there is really just no comparison. And widgets/actionable notifications blow away Live tiles. I have set Cortana to replace Google now, set MS' incredible Arrow as my launcher, and set OneDrive to be my photo backup. By the way, OneDrive works much better on Android than on W10M, and MS' Bing App, which there is no equivalent of on W10M, is my go-to source for "local" information. Although not MS related, I am a longtime Firefox evangelist, and so I've set Firefox to be my main browser. It blows Edge away...not even close... (As an aside, Android is also much less buggy and slightly faster, overall, than W10M. If you value super-smooth scrolling, that isn't' as perfect, but multitasking is streets ahead and generally apps load and transition between screens faster.)

DERP... I'm x I'm tc and I love writing stupid random posts showing how Win 10 Mobile sucks ... derrrp... derrrrp. You really are a tool... sorry but what you wrote above has ZERO merit... its your crappy ass opinion and no one really cares... God when will people like you go away...

LOL. Short version: You can get a great MS experience on Android. You can't get that experience on BB OS. For people on this particular site, that should matter.

Sorry, I'm calling bull on your analysis above. I have a Moto Z running Arrow and all the other Microsoft Android apps and it is NOT 'better' than Windows Phone. OneDrive response is slow, the arrangement of pictures is retarded and Wordflow is more accurate than Hub. Unlike most of the iSheep and the Android peasantry, I'm actually objective and evidence driven and your post above is laughably subjective. And I work for a company that can afford to run tests on tier 1 models from all competitor platforms for comparison purposes. Unless you're running a mobile benchmarking lab for physical hardware, I suggest you leave the quantitative analysis to the grown-ups. That being said, we have Privs and other Blackberry's in-bench, my favorite is the Porsche Design model, so yes, I agree that Blackberry can make great hardware. Performance analysis though is a much more complicated business.

I don't know what Hub and Wordflow have to do with each other, as one is a communications application and the other is a keyboard... ...But Wordflow on WP8.1 was fantastic. I have a couple of WP8.1 devices around and use an L950 as my daily driver, and I can say that the typing experience is (for me, at least) much, much better on WP8.1 than on W10M. I know many other WP users who share that opinion. A hardware keyboard isn't for everyone, but the predictions that BB has worked into their keyboard are astonishingly accurate (they also work on the on-screen keyboard, BTW). Typing on the PRIV is the main thing that makes me want to use it over the Lumia. As for being iSheep or Android peasantry, I am neither. As I said, my primary phone is an L950. I mostly keep the PRIV around on WiFi (or occasionally tethered to my L950) because having an Android or iOS device accessible somewhere is essentially mandatory these days, as new apps are seldom made available for Windows (for example, to deposit checks into my bank would require me to go to an ATM if I didn't have one). I bought the PRIV on sale for $199, which was a helluva deal for a very nice phone. I thought it was a useful and relevant comment to those in this thread that you can get a nice Microsoft experience on Android, and that the OS has several other things to recommend it, too. Notably, some of these niceties are not on BB OS. As to performance, the L950 and the PRIV are essentially identical internally, so direct performance comparisons are quite reasonable. I have played around with app launching--mostly Office apps since it's hard to find more than a few apps that are on both platforms, given the paucity of development on Windows these days--and can state unequivocally that, despite Android's much maligned performance, it's comparable to W10M. I can also report that multitasking is much better on Android. I would argue that synthetic benchmarking is less important than actual use, but to each their own. As to OneDrive, offline files are essentially broken on WP, but work perfectly on Android, so that is why I claim the superior experience on the latter. I never said that Android was "better" than W10M. But it would be foolish not to recognize that there are areas where it certainly is. The most glaring, in my opinion, is the browser, with Edge being the only real choice on W10M and a very poor performer. So, I would ask you, why so hostile? Why do you feel the need to defend W10M against valid criticisms and, conversely, argue that authentic advantages to other OSes are somehow "subjective" or invalid? And why do so by "calling bull" on someone else's opinion, instead of simply stating your own? I'm happy to hear what you think about the topic without throwing around insults. There is a lot to like about Android, iOS, and yes, even Windows Phone. That's why I use Windows Phones.

Android is buggy as hell. The longer you have the phone the worse it gets. But nine of that is really relevant. Android just cannot compete even one tiny little bit against the full Windows 10 mobile devices coming later this year. Talking about android and IOS at this point is like talking about how good a 90 year old man was in his prime.

No one bought them when they used Blackberry OS

Getting very annoying coming to a Windows site and finding coverage of non Windows products. It's like buying a magazine about Xbox and finding it full of Playstation stuff im just not interested in. Could we keep the news and info relevant to the site? Or are we going to start showing news for lawnmowers next. :)

All the downvotes from Android users coming to a Windows site to troll. Lol.

This is a stock post that's being sent to all our sites at once. Because rounding up CES once is better than doing it 4 times.

Fair enough. But how come it can't be sent to you guys first and you edit it for Windows news only? I don't want to, but I've actually been using other Windows sites from today to get Windows ces news. They don't have a load of non Windows news on their sites.

While I believe Mobile Nations in general is about mobile devices in general, I agree that's kind of pointless for WC to share this kind news. When I saw the headline I thought some new W10 phones were released.

New W10 phones? That ship has sailed.

Tell that to HP and Alcatel...

Are there new HP or Alcatel phones coming? That would be exciting. To my knowledge, everything announced is out already, with no leaks or other sources suggesting there will be a new Windows Phone before the mythical Surface phone, should it ever arrive.

HP are releasing a mid range windows phone in the summer in the same price bracket as the Lumia 950. Nokia are also releasing a W10 phone as part of their new range thus year but only to certain markets. There is also a phablet device with Cellular capability coming from Dell. I'm sure we will also see the long awaited Surface phone by the end of 2017 also. MS have stopped marketing W10 mobile to the consumer market and they know that they always had more success with mobile in the Enterprise space.

You are right. Phones are yesterdays news. The future is mobile PCs in your pocket that also make phone calls. Smartphones were designed simply because the tech was not there to run full software on them. So we had apps. Now apps are redundant as full Windows 10 mobile PCs hit the market. What the hell does Google do now? Apple can scramble to try and get OSX on a smaller device. Maybe 2-3 years from now. But Google don't have a real OS. They only have the kids phone OS called Android.

OOOohhhh im loving the Spectre 360 15 - Would be great to see a comparison v Dell XPS 15 - Im going to be running 3 external displays this looks great as I could fold the keyboard back and use this as a 4th and external keyboard and taking up less desktop space. The port in the video looks super scratched though.

1. Once I graduated to my Surface Pro 3 (anxiously awaiting solid news on the SP5) I put my laptop out to pasture. I can't see me ever going back. 2. I never liked, nor do I ever want a Blackberry. 3. I can't stand curved glass devices, including the new trend in curved monitors. And looking at this Honor, it's just hideous to me. Worse, it's an Android device. 4. Chromebook? Android? There's no universe where I'd have one of these even if someone gave it to me. 5. New Android phones to me are just more fodder for my next scuba diving video, to show just how much I hate them. And four crappy cameras doesn't impress me. 6. Whether it's NVidia, Roku, whatever, I have never needed nor seen the value of a separate TV box. We have satellite and the box that goes with it. We have extremely fast internet service and we have a media server for all our purchased digital content.

I saw the Miraxess lapdock over in the Eurikia section of the Sands. "the only computer you need is in your pocket" www.miraxess.com.