Chaos Rings leads a game-filled week of Windows Phone Red Stripe Deals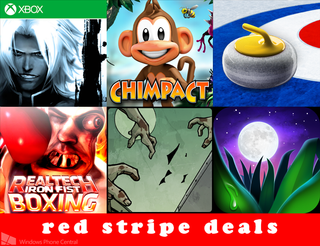 Hey all you penny-pinchers who decry the high prices that Square-Enix charges for its mobile role-playing games. This is your week. Thanks to the magic of the Xbox Red Stripe Deal, Chaos Rings, a game that has never gone on sale before, is now half off! $4.99 is certainly more palatable than $9.99, especially for one of the finest mobile RPGs in existence and single best games on Windows Phone.
The Red Stripe Deals continue to include six discounted games or apps per week in 2014 as opposed to last year's three. This week's haul consists mostly of games, with only a single app – Ipnos Software's Relax Melodies Premium – on sale for 99 cents. The non-Xbox sale games include Chimpact from Yipee! Entertainment for 99 cents, Curling 3D from MaxNick (makers of Spider Jack) for $2.49, Iron Fist Boxing from Realtech VR for $1.49, and Shelter from Survivalist Games for 99 cents.
Head past the break for details, screenshots, and Store Links!
Chaos Rings (Windows Phone 7 with 512 MB of RAM and Windows Phone 8 with 1 GB of RAM)
Regular price: $9.99 Sale price: $4.99 Download size: 775 MB (2-3 GB required to download) Store Link
Chaos Rings tells a multithreaded narrative revolving around eight people who must participate in a mysterious life or death tournament against their wills. The winners receive eternal life. Each of the four pairs has their own short playthrough (around six hours), and finishing everyone's story opens up a conclusion to the entire tale. Plus some equipment earned from enemies carries over between those stories. On the whole it's a clever way to make the game digestible for mobile audiences.
Graphically, Chaos Rings works much like Final Fantasy VII. Outside of battle, backgrounds are pre-rendered and characters are 3D. During battles and cinemas, everything uses 3D graphics. The original game dates back a couple of years, but the character designs and artistry still impress. Chaos Rings also has a fantastic soundtrack and Japanese voice acting with text in English or Japanese.
If you like role-playing games at all, Chaos Rings is a must-buy. Check out our in-depth review for more details. Chaos Rings' Achievements are actually reasonable and can be accomplished with very little busywork compared to the Windows Phone Final Fantasy titles. Windows Phone Central even has an exclusive Achievement Guide to make things easier.
Chimpact (Windows Phone 8)
Regular price: $1.99 Sale price: $.99 Download size: 21 MB Store Link
What would happen if you crossed an endless jumping game with the sling-shot mechanics of Angry Birds? You'd get something like Chimpact, that's what.
This one actually features two game modes with multiple levels to beat, so it's not actually endless like Doodle Jump. But you'll do plenty of climbing up the screen using slingshot-like hammocks. Just pull back on a platform, aim, and launch the monkee up to collect bananas and reach the next platform.
Chimpact is one of the best looking indie games on Windows Phone. Our own George Ponder gives it two bananas up.
Features:
Simple, one-touch gameplay
Four stunningly lush worlds with 12 levels each
Two complete game modes to beat: Gem Quest and Totem Trail
240 challenge medallions to earn
Eight abilities to earn and three chimps to unlock
Beautiful environments + cute characters
Curling 3D (Windows Phone 7 and 8)
Regular price: $4.99 Sale price: $2.49 Download size: 27 MB Store Link
Gamers will recognize Russian developer MaxNick for its Xbox Live titles Spider Jack and Turn N Run. MaxNick has also released several indie games, including this realistic curling simulator.
Curling is a sport that nobody has ever heard of in the United States, but I'm pretty sure they play it somewhere. What better way to learn about it than with a highly rated videogame? With strong graphics, physics, and local multiplayer, this one just might make a fan of you.
Features:
Realistic, hi-res, 3D simulation of Curling
Complete control of force, direction, and rotation of the stone
Advanced features permit tactics used in actual play of the game called "chess on ice"
Detailed instructions for gameplay
Can be played by one player against the computer, or two players against each other
Exploits advanced physics engine of WP7 OS to simulate realistic motion
Easy and intuitive controls
Incorporates the true rules of curling
Player vs. computer (artificial intelligence) with three levels of difficulty
Multiplayer gameplay for two players
A variety of character models
Choice of player sex and 12 countries for teams
Scoring of intermediate and total results
Detailed graphics and animation
Excellent sound design
Iron Fist Boxing (Windows Phone 8)
Regular price: $2.99 Sale price: $1.49 Download size: 75 MB Store Link
No, this game doesn't star Marvel's Immortal Iron Fist. Iron Fist Boxing is not even a straight boxing game – it features multiple fighting styles, making it an MMA fighter.
With multiple game modes, lots of characters, and fairly detailed 3D graphics, Iron Fist Boxing looks like one of the better single-player boxing/fighting games available for Windows Phone. Check out the developer's thread in our forums for more details.
Features:
Experience high quality audio and real time 3D on Windows Phone 8
Enjoy 6 game modes: Story mode, sparring, training and introducing the Speed Bag training, Punching Bag training and Punch-o-Meter.
Story mode: Experience a new world career in Brazil, Canada, Thailand, and USA.
Training mode: Train yourself for the Story mode.
Speed bag mode: Hit a speed bag as fast as you can.
Punching bag: Hit a punching bag in a given same sequence.
Punch-o-Meter: Hold you device and hit as hard as you can.
Sparring mode: Fight against a random fighter.
Play up to 32 characters with MMA combat styles and more: Boxing, Muay Thai, Savate, Kick Boxing, Brawler and Full Contact.
Gain access to new costumes and new attacks.
New camera views, characters can now move on the ring, many super moves and dodges added.
Shelter (Windows Phone 7 and 8)
Regular price: $1.99 Sale price: $.99 Download size: 20 MB Store Link
We've all shot our share of zombies over the years, usually in FPS games like Left 4 Dead. These days, a zombie game needs a unique gameplay style to be interesting – just look at the board game Zombies!!! for a prime example.
Shelter is just such a game. Combining tower defense (which the developer mistakenly calls castle defense) with a card game, it provides both unique gameplay and plenty of zombie killing. The art is gorgeous, too.
Features:
Deep but accessible game-play. Easy to learn. Hard to master.
More than 100 game cards.
Integrated deck builder for deeply customisable play.
Graphic novel & comic inspired hand drawn artwork.
Compelling story and characters.
5 Campaign levels including a free roaming level.
Relax Melodies Premium (Windows Phone 7 and 8)
Regular price: $1.99 Sale price: $.99 Download size: 124 MB Store Link
You know what sounds I like to hear when I'm lying down to sleep? A nice animated cartoon like Bob's Burgers or King of the Hill. But lots of people, they like to hear rainstorms, ocean waves, dogs mating, and stuff like that. Here's an app that offers pretty much all the sleep sounds you could want (maybe not the dogs) with lots of good features to boot. George Ponder likes it, I hear.
Features:
Mix your favorite sounds together with different volume to create your own personal melodies
82 High quality ambient sounds including 6 binaural beat frequencies for brainwave entrainment
Timer system to stop the melodies when you go to sleep
Individual sound volume adjustment
Save, name and replay your favorite mixes easily
Complete and easy to follow help screen
Are you guys picking up any of this week's sale games and apps? Keep in mind there's an Electronic Arts game sale going on too, which we'll cover in another post.
Get the Windows Central Newsletter
All the latest news, reviews, and guides for Windows and Xbox diehards.
Paul Acevedo is the Games Editor at Windows Central. A lifelong gamer, he has written about videogames for over 15 years and reviewed over 350 games for our site. Follow him on Twitter @PaulRAcevedo. Don't hate. Appreciate!