Chaos Rings leads a game-filled week of Windows Phone Red Stripe Deals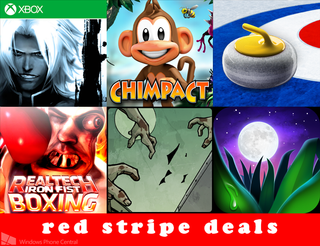 Hey all you penny-pinchers who decry the high prices that Square-Enix charges for its mobile role-playing games. This is your week. Thanks to the magic of the Xbox Red Stripe Deal, Chaos Rings, a game that has never gone on sale before, is now half off! $4.99 is certainly more palatable than $9.99, especially for one of the finest mobile RPGs in existence and single best games on Windows Phone.
The Red Stripe Deals continue to include six discounted games or apps per week in 2014 as opposed to last year's three. This week's haul consists mostly of games, with only a single app – Ipnos Software's Relax Melodies Premium – on sale for 99 cents. The non-Xbox sale games include Chimpact from Yipee! Entertainment for 99 cents, Curling 3D from MaxNick (makers of Spider Jack) for $2.49, Iron Fist Boxing from Realtech VR for $1.49, and Shelter from Survivalist Games for 99 cents.
Head past the break for details, screenshots, and Store Links!
Chaos Rings (Windows Phone 7 with 512 MB of RAM and Windows Phone 8 with 1 GB of RAM)
Regular price: $9.99 Sale price: $4.99 Download size: 775 MB (2-3 GB required to download) Store Link
Chaos Rings tells a multithreaded narrative revolving around eight people who must participate in a mysterious life or death tournament against their wills. The winners receive eternal life. Each of the four pairs has their own short playthrough (around six hours), and finishing everyone's story opens up a conclusion to the entire tale. Plus some equipment earned from enemies carries over between those stories. On the whole it's a clever way to make the game digestible for mobile audiences.
Graphically, Chaos Rings works much like Final Fantasy VII. Outside of battle, backgrounds are pre-rendered and characters are 3D. During battles and cinemas, everything uses 3D graphics. The original game dates back a couple of years, but the character designs and artistry still impress. Chaos Rings also has a fantastic soundtrack and Japanese voice acting with text in English or Japanese.
If you like role-playing games at all, Chaos Rings is a must-buy. Check out our in-depth review for more details. Chaos Rings' Achievements are actually reasonable and can be accomplished with very little busywork compared to the Windows Phone Final Fantasy titles. Windows Phone Central even has an exclusive Achievement Guide to make things easier.
Chimpact (Windows Phone 8)
Regular price: $1.99 Sale price: $.99 Download size: 21 MB Store Link
What would happen if you crossed an endless jumping game with the sling-shot mechanics of Angry Birds? You'd get something like Chimpact, that's what.
This one actually features two game modes with multiple levels to beat, so it's not actually endless like Doodle Jump. But you'll do plenty of climbing up the screen using slingshot-like hammocks. Just pull back on a platform, aim, and launch the monkee up to collect bananas and reach the next platform.
Chimpact is one of the best looking indie games on Windows Phone. Our own George Ponder gives it two bananas up.
Features:
Simple, one-touch gameplay
Four stunningly lush worlds with 12 levels each
Two complete game modes to beat: Gem Quest and Totem Trail
240 challenge medallions to earn
Eight abilities to earn and three chimps to unlock
Beautiful environments + cute characters
Curling 3D (Windows Phone 7 and 8)
Regular price: $4.99 Sale price: $2.49 Download size: 27 MB Store Link
Gamers will recognize Russian developer MaxNick for its Xbox Live titles Spider Jack and Turn N Run. MaxNick has also released several indie games, including this realistic curling simulator.
Curling is a sport that nobody has ever heard of in the United States, but I'm pretty sure they play it somewhere. What better way to learn about it than with a highly rated videogame? With strong graphics, physics, and local multiplayer, this one just might make a fan of you.
Features:
Realistic, hi-res, 3D simulation of Curling
Complete control of force, direction, and rotation of the stone
Advanced features permit tactics used in actual play of the game called "chess on ice"
Detailed instructions for gameplay
Can be played by one player against the computer, or two players against each other
Exploits advanced physics engine of WP7 OS to simulate realistic motion
Easy and intuitive controls
Incorporates the true rules of curling
Player vs. computer (artificial intelligence) with three levels of difficulty
Multiplayer gameplay for two players
A variety of character models
Choice of player sex and 12 countries for teams
Scoring of intermediate and total results
Detailed graphics and animation
Excellent sound design
Iron Fist Boxing (Windows Phone 8)
Regular price: $2.99 Sale price: $1.49 Download size: 75 MB Store Link
No, this game doesn't star Marvel's Immortal Iron Fist. Iron Fist Boxing is not even a straight boxing game – it features multiple fighting styles, making it an MMA fighter.
With multiple game modes, lots of characters, and fairly detailed 3D graphics, Iron Fist Boxing looks like one of the better single-player boxing/fighting games available for Windows Phone. Check out the developer's thread in our forums for more details.
Features:
Experience high quality audio and real time 3D on Windows Phone 8
Enjoy 6 game modes: Story mode, sparring, training and introducing the Speed Bag training, Punching Bag training and Punch-o-Meter.
Story mode: Experience a new world career in Brazil, Canada, Thailand, and USA.
Training mode: Train yourself for the Story mode.
Speed bag mode: Hit a speed bag as fast as you can.
Punching bag: Hit a punching bag in a given same sequence.
Punch-o-Meter: Hold you device and hit as hard as you can.
Sparring mode: Fight against a random fighter.
Play up to 32 characters with MMA combat styles and more: Boxing, Muay Thai, Savate, Kick Boxing, Brawler and Full Contact.
Gain access to new costumes and new attacks.
New camera views, characters can now move on the ring, many super moves and dodges added.
Shelter (Windows Phone 7 and 8)
Regular price: $1.99 Sale price: $.99 Download size: 20 MB Store Link
We've all shot our share of zombies over the years, usually in FPS games like Left 4 Dead. These days, a zombie game needs a unique gameplay style to be interesting – just look at the board game Zombies!!! for a prime example.
Shelter is just such a game. Combining tower defense (which the developer mistakenly calls castle defense) with a card game, it provides both unique gameplay and plenty of zombie killing. The art is gorgeous, too.
Features:
Deep but accessible game-play. Easy to learn. Hard to master.
More than 100 game cards.
Integrated deck builder for deeply customisable play.
Graphic novel & comic inspired hand drawn artwork.
Compelling story and characters.
5 Campaign levels including a free roaming level.
Relax Melodies Premium (Windows Phone 7 and 8)
Regular price: $1.99 Sale price: $.99 Download size: 124 MB Store Link
You know what sounds I like to hear when I'm lying down to sleep? A nice animated cartoon like Bob's Burgers or King of the Hill. But lots of people, they like to hear rainstorms, ocean waves, dogs mating, and stuff like that. Here's an app that offers pretty much all the sleep sounds you could want (maybe not the dogs) with lots of good features to boot. George Ponder likes it, I hear.
Features:
Mix your favorite sounds together with different volume to create your own personal melodies
82 High quality ambient sounds including 6 binaural beat frequencies for brainwave entrainment
Timer system to stop the melodies when you go to sleep
Individual sound volume adjustment
Save, name and replay your favorite mixes easily
Complete and easy to follow help screen
Are you guys picking up any of this week's sale games and apps? Keep in mind there's an Electronic Arts game sale going on too, which we'll cover in another post.
Paul Acevedo is the Games Editor at Windows Central. A lifelong gamer, he has written about videogames for over 15 years and reviewed over 350 games for our site. Follow him on Twitter @PaulRAcevedo. Don't hate. Appreciate!
That's for WP8 devices. It can't run on WP8 with 512 MB of RAM, but it can run on WP7 devices with 512 MB of RAM.

The title says windows phone 7 and 8 with 1gb ram so..? And tats unfair :'(

It's because WP8 and WP7 handle RAM differently. Some WP7 games need more RAM available when running on WP8 devices.

I hav tested it using dev deployment method and how come it works? Jst requires basic tweaking.it is also a wp limitation tat limits ram usage to 180 mb were 200 would do fine.i wonder if there is a limit on Android or memory just over flows lol.in ios real racing 2 can work on 256mb ram lol

Square enix still believes in wp7

Just edit your comments instead of triple posting, please. :-)

One of the letters were missing sry

I believe the main reason that SquareEnix continues to make WP7 games whereas many other developers just do WP8 now is because they are Japanese developer with a lot of popularity in the Japanese market. Windows Phone 7 launched in Japan but Windows Phone 8 never did, so if they want their games to sell in the Japanese Windows Phone market (a market that is dwindling up fast as WP7 is going on 3 years old over there), they need to make sure their games can run on WP7 hardware.

Yeah I liked it too. It wasn't particularly difficult though... And saw no incentive to replay when I finished

EA has also put a bunch of their games on sale, just FYI.

Would like to know where? becoz i cant see any on deal

Safe to say Xbox Live is dead?

There will still be a few more Xbox WP games released this year. We have no idea how many or few though.

Even if there are game releases I have stopped buying any games for WP because I am getting tyred of asking for a refund every few weeks a game is delisted. WP store has become a joke with all these delistings and no way to backup and reinstall your purchases offline.

same for me, i just enjoy my Vita and PS4 with PS+ and free games and i cannot wait for PS Now this summer :P For me, it's the end of XBL and MS.

WARNING Do not buy Relax Melodies. I have used this since WP7 and they have no intent to update this app. That is one app that should be pulled. They have even said they have no plans to update and the last update proves truth.

Is there something actually wrong with it though?

Functionality no. I just know they ported it from Android and left it dead in the water. There's so much that's been updated on its counterparts. The last update was Nov 2013 for their Android version. WP last update was back in 2012. This and White Noise by TMSoft both were left for dead on WP.

I use it every day. They may have not updated it, but i end up using the same tune to go to sleep. It does not matter if they update it or not. Its a great app

I wasn unable to find the sounds of dogs mating in the app. What Gives? What am Idoing wrong?

I think its important that if I pay for it, they update their Android and iOS they should show support for their WP customers as well. There's 108 sounds now and 9 binaural beats frequencies. If I knew they weren't going to support I would had stuck with the free version. I loved this app so much I bought it to support, but there's no support back.

"Curling is a sport that nobody has ever heard of in the United States" Ha! Check out http://www.ecsalaska.com/curl/club_map.php for a map of US clubs. (Home page at http://www.curlingrocks.net/USA-Curling/About-Us). We've have clubs over 100 years old, and some that are at-capacity and turning away 100+ people/year. It's one of those sports that gets no media coverage, so understandable if you haven't heard about it. I don't play, but a family friend started a club that is one of those that quickly grew and is now turning people away.

I'm pretty sure that was meant to be tongue in cheek.

Hard to say. Most locals I've mentioned the nearby games to are suprised to hear they exist at all.

Tongue in cheek, but your original response was still good.

Curling is AWESOME!!! Can't wait for it at the Olympics!

Oh, that's terrific! I was just talking recently about wanting a good curling game.

I would definitely recommend square enix games which are top notch.i like final fantasy 3 more though

Did someone say XBOX LIVE GAME?
Yes they did......
INSTANT BUY!!!!

Indeed! An Xbox-Live enabled Chaos Rings at $4.99 is a great deal.

Off topic but the black update??

When it is released you'll get it

I can highly recommend Chimpact, amazing game..

Oh great. This is make me pissed off. Another game that i have to change region to download it. Why everything that good exclusive for us store? This is not fair. Sorry for my unfluent english

Chimpack is showing the regular price. I am from uk store!!

Is it true! I just saw on Twitter that the Lumia Black update is being pushed out to every Nokia Windows Phone 8 now...?

Yes I just now saw nokias tweet. But MS tweeted that it will be available in the coming weeks.

Why are British prices for Chimpact MORE than treble listed here ? (£1.99 which equates as more than $3)

Any news about GTA: San Andreas? Cant wait anymore -.-

I reached out to Rockstar about it, but no response yet.

Ice Shuffleboard is such a painfully boring game to watch. My wife loves it, as does her whole family. I'll never understand why.

Are you trying to say they're painfully boring too?

NOVA 3 is still on sale but I want to buy Modern Combat 4

This RAM issue hmmm Microsoft and app developers should really work on them.... Unlike android were almost all the cool apps and games don't require much ram
Windows Central Newsletter
Get the best of Windows Central in in your inbox, every day!
Thank you for signing up to Windows Central. You will receive a verification email shortly.
There was a problem. Please refresh the page and try again.