Monkeying around with Chimpact for Windows Phone 8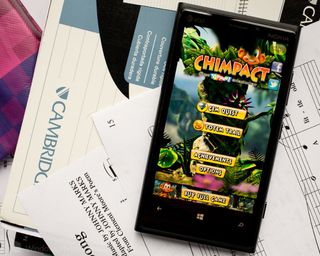 Looking for a fun game for your Windows Phone 8 device? You may want to give Chimpact a try.
Chimpact is a jumper game of sorts where you have to navigate your chimp up the screen by launching him from hammock to hammock. Graphics are great, game play challenging and Chimpact is a enjoyable way to pass the time.
There are two game modes with Chimpact, Gem Quest and Totem Trail. Gem Quest is a multi-level game where you are tasked with moving your chimp up the screen, collecting gems along the way.
Totem Trail is a multi-level game but more task oriented. For example one level will require you to collect a certain number of bananas in a set time period while another reach the top of the screen without any damage.
Each game mode has four worlds with twelve levels each. All totaled, Chimpact has 240 challenge medallions to earn and eight special abilities for your chimp to unlock.
Game play is simple. Your chimp starts sleeping in the hammock at the bottom of the screen and you have to launch him around the screen until he reaches his home hammock. Just tap/hold on the hammock, drag your finger down (a directional arrow will appear) and release to launch your chimp around the jungle.
There are dangerous to avoid and bonus items to collect for extra points. Some launches require full power, while others require a more delicate touch.
Chimpact is a fun game for your Windows Phone 8 device. There is a free trial version to let you try Chimpact with the full version currently running $2.99.
You can find Chimpact here in the (opens in new tab) Windows Phone Store.
George is the Reviews Editor at Windows Central, concentrating on Windows 10 PC and Mobile apps. He's been a supporter of the platform since the days of Windows CE and uses his current Windows 10 Mobile phone daily to keep up with life and enjoy a game during down time.
Wow the quality is the best

Yeah this game is simply stunning. I likes

Great news! I've been playing the trial version on my Windows 8 PC. Fun game. :D

I e-mailed the developers yesterday to see if perhaps they would be able to bring this game to WP7.5/7.8. Haven't heard back from them yet, but hope they respond with either a 'yes or no' to my inquiry. They also have this game for Windows 8, but I'm not interested in purchasing this to play on my desktop :)

I have a Lumia 900, but I read some of the reviews for WP8, and think it might be fun.

The graphics are really nice, they really pop on the screen of my 920. The graphic style reminds me of Donkey Kong Country from Nintendo.

Yes, I was thinking the same thing. DK Country was a blast on my old snes!

You should download the free snes emulator and play dkc. Its awesome

What's the snes emulator called? I wanna check it out.

Snes8x http://www.windowsphone.com/s?appid=f8b632b0-1cac-4acd-b66e-d2154766e92a

Where do you get the ROMs?

I like emuparadise.com and go to the rom section. You'll have to download them to your computer and upload them to your SkyDrive, but its simple honestly. You can even just search Bing for snes roms

You'll need to unzip the files before you upload them though.

Its a very beautiful game! The most beautiful game I've seen for windows phone!

Ya one of the best quality games I've seen.

Awesome game addicting for sure.

Does the game get more challenging? I love the graphics but the trial seemed way too easy to hold my interest.

Yes, it gets much more challenging.

i bought the game after seeing the graphics quality

The ultimate arbiter...my 9 year old son has been playing this on his surface this morning. Loves the game and I am tempted to get it on my phone. Beautiful!

Funny how this game doesn't get that many comments here. IMHO this game is miles ahead of any other Xbox game for wp8. Beautiful graphics and very smooth too. I guess people prefer to complain. ;-)

Tried it on my Dell XPS 12 also...wow! Well made game!!

anyone facing issue where your progress won't save? i had gone through quite far in GEM quest and then i quit and when i return all the GEMS just disappear and everything is locked back i'll have to replay again... been 3-4 times and i stopped playing already.. anyone having this issue? Lumia 920 user

Yes I am having the same problem on my 8X It has happened three times so far, but it has not happened every time I have quit. Shame really because it is a great fun game to play, addictive and great graphics and ideal for a short spell when waiting for an appointment etc ( that is when it does save your progress status afterwards that is ! )


Does anyone know how much was this game in UK pounds before therice drop to 99p? was it £2.49?
Windows Central Newsletter
Thank you for signing up to Windows Central. You will receive a verification email shortly.
There was a problem. Please refresh the page and try again.