Cherry Mobile boasts Windows and Windows Phone Live Tile syncing in striking new ad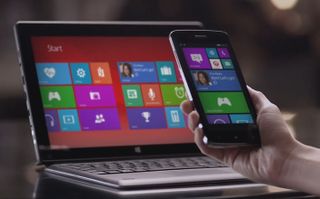 When it comes to commercials for Windows 8.1 and Windows Phone, as they say in Hollywood, everyone is a critic. Either the ad should be complex or minimal, long or short, everybody has his or her idea of what works.
Philippines-based Cherry Mobile is one of the more recent budget manufacturers to jump on the Microsoft train, and they seem to be going all in with their latest commercial.
Featuring Cherry Mobile's new 'Alpha Style' series of Windows tablets and Windows Phones, the brief commercial exaggerates – but actually demonstrates – the benefit of Live Tiles. More importantly, the ability for app synchronizing across the range of hardware is mentioned, something that next spring's ' Threshold' takes to its logical end with a full-on Notification center.
Cherry Mobile's hardware does seem enticing, especially for its designated markets. Our earlier report detailed the full specifications for their new lineup:
What do you think of the ad itself – practical or too much feigning?
Source: YouTube; Thanks, azcruz, for the tip!
Windows Central Newsletter
Get the best of Windows Central in in your inbox, every day!
Daniel Rubino is the Editor-in-chief of Windows Central, head reviewer, podcast co-host, and analyst. He has been covering Microsoft since 2007 when this site was called WMExperts (and later Windows Phone Central). His interests include Windows, laptops, next-gen computing, and for some reason, watches. Before all this tech stuff, he worked on a Ph.D. in linguistics, watched people sleep (for medical purposes!), and ran the projectors at movie theaters because it was fun.
I see what you did there... ;)

Good to see more ads for windows phone.

Just right for the Philippine market. Its actually very average and not too flashy considering the ads we see in the country. And there's Kim Chiu!

I wish I was in the philippines

I want to buy it, but I'm still stickin' to my Nokia Lumia 900 :|

Does that phones still exists! Wow

Yes, it stll exists and I'm still using it

I've never seen a Tablet + phone combo promo. Especially for low budget devices. I could see the tablet and the entry level Alpha Style for $230. Shave a couple of bucks, and makes it more enticing for consumers.

One of our carriers, SMART, offers a laptop/phone (or was it a tablet) combo in one of their plans. Most tablet/laptop/phone combos are aimed at students.

Bring it to India please....here windows phone is also in league

Cherry Mobile Alpha Style and Alpha Luxe are the Philippine versions of Micromax W092 and W121

Honestly, I'm all for flooding the market with cheap WP's like this one to increase market share, but seriously, where are the high-end phones? I mean, the HTC One is exclusive to Verizon and by the time it makes it to other carriers/international HTC will probably have something new and the Lumia 930 doesn't really count 'cause it's just a rebadged Icon. Is Windows Phone now going cheap? It certainly feels that way.

It certainly has much more flair than plastic Sammys.

Reading the people's comment in the facebook page, they see Windows as a sosyal, unique, and fresh. :) Posted via the Windows Phone Central App for Android

For the non-Filipinos 'sosyal' roughly means 'sophisticated'.

I think it's more closer to the term classy rather than sophisticated.

I thought it was a pretty good ad. The last cheesy comment was, well, cheesy, but still I am not used to seeing any ad with a Windows phone in it.

Better marketing than Microsoft.

Agreed. nd now fiipinos are eying to Windows. There is little marketing strategy here. But if microsoft will help also their oems in marketing (or vice versa hehe) windows will gain a lot of traction. I tipped this yesterday but nahh.. Ignored or they did not received... Posted via the Windows Phone Central App for Android

It certainly explained Live Tiles and their benefit a lot more succinctly than Microsoft has managed to in an advert.

Exactly what I was going to say.

I have the same opinion too.

Love it :3 the lady in the commercial is so popular here. Her name is Kim Chiu Posted via the Windows Phone Central App for Android

im a fan of her. and by the way her name is KIM CHU

The advert is good, it is a only a bit exaggerated.. But it is does one thing amazingly right is to showcase the touch and live tiles... And it helps connect with people...

That looks like Windows on the phone, not Windows Phone.

Nice commercial! Sure, cheese end, but the start of it was the best WP commercial tl date.

At first I thought you meant that the Live Tiles are synced "between" Windows 8 and Windows Phone, but of course the ad doesn't show that at all.

Uhm, the voice over says: "get your gadgets synched" then she flashed her Windows Phone that displays the same screen as her tablet, that's the idea there. No need to spoon-feed everything...

No, the screens aren't the same at all. There is one tile that has the same message on it, but the tiles, tile sizes, and arrangement of the tiles are not the same (not synced with one another). No biggie. I just got fooled by the headline.

It is worth-noting that the girl in the ad (Kim Chiu) is an in-demand endorser and prime actress (Big Brother Teen Edition Big Winner); the "amazing" line is actually a reference to her record-breaking movie. Good for Cherry Mobile that they were able to tap Kim which boasts a large and dedicated (and sometimes rabid, lol) fan-base. Now the challenge here is if Kim will be able to persuade her fans to turn them to Windows (Phone) user in a country that's dominated by Android.

Nice, thanks for the context, have an upvote ;)

It is from the movie "Bride for Rent".

I'd like to take her Cherry ....Mobile. What? It was there for the picking.

I noticed the touch version of office ... That Word live tile is not for the desktop.

Better than Microsoft's own...

I guess this is what MS lacks, showing off WP / Surfaces and Desktop in the same breath of wonderful Windows Air :-)

Too much windows Swag in that ad. and she's kinda hot...

Cherry Mobile Alpha Luxe game test..
http://m.youtube.com/watch?v=JRRo4eBpn4E

This ad is great. I think MS has largely dropped the ball in it's messaging for WP, and this ad highlights what they've missed. From the start, WP should have been focused on being the first mobile device that's a complete extension of your Windows desktop. I think there's pent up demand for that but it hasn't been articulated well. Threshold should bring that vision much closer to competion, but even in the older versions of WP there were elements of it they should have been preaching.

I like the ad. I think it might do well with the early teen crowd if the piles of documents were replaced with homework, and the setting in a school. Get 'em while they're young!

I'm sorry. Was there a Surface Pro and a Windows (phone) in that ad? Actually, though, the best user benefits-focused advert I have ever seen for the Win 8 eco system. I hope someone in Redmond sees it (and seizes upon it).

Microsoft might get more attention with ads like that in the US

Need ads in India. Recently i can see ads only for 530. What the hell has happened to other phones

Do you see a lot of people using WP's or looking to buy in India? We see a lot of apps for India which is good sign. Wondering how the ground reality is...

This is the only way for Windows Phone to be advertised on Philippine TV since Nokia doesn't advertise their Lumia phones here in the country. They only advertise Nokia X phones.

It's a surprise that cherry mobile can create marketing campaigns this good now. :) hope WP market share will increase here in the Philippines.

These types of ads are what windows phone needs right now..make people take notice..make people talk about the OS!!!

good ad microsoft should learn from this how to show what they have neat and organised

Mom is still using my old htc trophy. Still works. Just whatsapp and phone and facebook.

Simple, flashy and even a bit informative. Love it.

What's with all those beeps when she taps the screen?

OMG that commercial is amazing. i havent yet seen that T.V ad here in Philippines(maybe im too focus on online world). :D great job cherry mobile.

Cherry Mobile has partnered with MS in doing this, I believe.

Very cool. Happy to see that the Philippines has other options for Windows outside of the Lumpia *cough* err Lumia product line. I hope this helps to bite into Android's share of the pie.

It appears appropriate for the market and I don't believe there is anything decieving about it. Live tiles can help you get organized on both the tablet and phone and syncing to me just means access for both tablet and phone from the same OneDrive online locations. Of course it helps to glue eyeballs to the ad when you include a very popular and attractive lady, and more on point the selection of devices covers all the bases. Over all a nice job for the first ad, and they could use subsequent ads to give more detail about how the features make life more enjoyable, organized and effective.

Funny I just published an app update for the Philippines. Right before this article was published. Great timing. Check out "My Pinay News". It is live in the store right now. I made it specifically for the Philippines new there and I even did a video of it on Channel 9 site under "Every dev has a story...". Great going Cherry Mobile.

Except for the "It's so amazing" (lol), I think this is one of the best visual demonstrations of what a Live Tile is.

Wow. Just wow. Ive never been wowed by a windows ad like this.. And to think it was from a pinoy ad... It feels so much better than any windows commercial. And i think if this commercial floods the afternoon and primetime shows, this will boost the windows market share here in the Philippines.. Filipinos dont look much into nokia phones here because they thought it's a phone of the past, and because salespeople dont know how to advertise, AND they even discourage sales by telling they dont like windows becausw there are no apps, then they entice people with sammy phones. Thats how things go here.

Why can't I share share this page or the link to this page?? It says access denied. tsk!

...kim Chiu is very iconic here in the Philippines. Nice ad btw,...

Pretty ghastly and dated looking Handset they gave her, but nice Ad regardless.

I hope more local OEMs could make this. Because Windows has great potential .

Cherry Windows 8 devices are sold out in my area. :O
Windows Central Newsletter
Thank you for signing up to Windows Central. You will receive a verification email shortly.
There was a problem. Please refresh the page and try again.