Chuwi LapBook 12.3 review: The best budget laptop with a 2K display
The Chuwi LapBook 12.3 brings a Surface Pro-like display to a compact and surprisingly well-built laptop. Here is why this budget PC is worth your time (and money).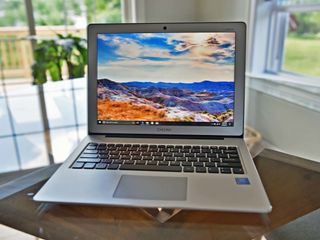 The rise of the premium budget PC is one of the more interesting stories of 2017. Chuwi is increasingly one of those affordable brands for the masses with the Hi13 and LapBook 14.1 winning favorable reviews, and now the company is back with perhaps its best yet.
The LapBook 12.3 is arguably the best budget laptop around, and it has to do with its magnificent 2K display and rugged build quality. Costing between $300 and $349 the LapBook 12.3 is worth considering if you need to save money but want value too. In fact, it's now my favorite budget PC for good reason.
More than budget features
Chuwi LapBook 12.3 specifications
There are three prominent features with the LapBook 12.3. One is the outstanding non-touch 2K display then there is the built in M.2 storage port for simple expansion and finally 6GB of RAM. Those unique features are rarely – if ever – found in any budget PC.
While the LapBook 12.3 continues with the low-end but affordable Intel Celeron processor, it's the sum of the parts plus the price that makes it a standout.
Swipe to scroll horizontally
Category
CHUWI 12.3 LapBook
Processor
7th-Gen ("Apollo Lake") Intel Celeron N3450 at 1.1GHz with burst to 2.2GHz
Internal storage
Toshiba 64GB eMMC
Expandable storage
One M.2 2242 SSD slot
RAM
6GB
LPDDR3 1600 MHz
Display
12.3-inch IPS matte non-touch
Resolution
2736 x 1824
3:2 aspect
Graphics
Intel 500
Ports
one USB 3.0, one USB 2.0, 3.5mm jack, micro TF Card, micro HDMI
Wireless
Intel AC-3165 (2.4/5GHz)
802.11a/b/g/n
Camera
Front-facing 2.0MP
Battery
36 Whr
Weight
3.04 lbs (1.38 kg)
For port selection, the LapBook 12.3 lacks a USB Type-C but makes up for it with two USB Type-A (one 3.0, the other 2.0), which better fits this demographic. There is also a micro SD slot and micro HDMI. At just 3.04 lbs (1.38 kg) the LapBook 12.3 is also quite light considering its all metal construction.
CNC metal that looks familiar
Chuwi LapBook 12.3 design
Take a few parts from the Apple MacBook Air and combine them with some Surface influence – particularly the 3:2 display aspect and 12.3" size – and you have the LapBook 12.3.
Contrasting it with the larger LapBook 14.1, however and Chuwi has opted for an all metal CNC chassis instead of plastic. With chamfered edging like the Chuwi Hi13, the silver metal makes LapBook 12.3 feel more like a premium HP product than a budget PC. It's an impressive design that I have not seen at this price range.
There is a nice notch in the front that lets you open the lid one-handed, and that is in part due to the lighter, non-touch display.
The design is clean and minimalist with the Chuwi logo placed in the corner at an angle giving it a modern but toned-down look.
Flipping to the bottom and there are two speaker grills on the left and right side with rubber feet to boost the LapBook 12.3 off a firm surface. There are 12 hex screws to open the LapBook, but users won't need to as it is not much to upgrade except for storage (more on that below).
On the upper area of the keyboard deck are a few LEDs for power, caps and number lock. There is also an LED on the side near the charging port that lets you know the device is charging. All nice touches. Two microphone holes are also visible for Skype calls.
Like previous Chuwi designs, while somewhat derivative it works. There is no creaking or flex; there are no loose parts or rattles. Instead, the LapBook 12.3 feels incredibly solid, premium, and is something a few years ago I would not think is possible at this price range.
Flip to upgrade
LapBook 12.3 – An M.2 SSD for added storage
One unique aspect of the LapBook 12.3 is the M.2 door on the bottom. The door is pulled off quickly with just your finger nail and reveals an M.2 2242 SSD slot.
While not the full M.2 SSD that many laptops leverage, the smaller M.2 2242 lets users drop in another 128GB ($70) or 256GB ($114) performant SATA III card without prying open the laptop.
In all the laptops I have reviewed I have never seen such a design, and it's very smart. While the built-in 64GB storage may not be enough this slot lets the buyer effortlessly add more storage without reading a guide. It also addresses one of the biggest complaints about budget laptops, which is the limited storage capacity without an option to upgrade later.
Accurate 2K screen
The LapBook 12.3 display is too almost too good
Chuwi dropped in a 12.3-inch matte IPS display with a 2736 x 1824 resolution for the LapBook. If that sounds familiar, it is because that's the same screen size, aspect, and even resolution as the Surface Pro. The one difference between the two is the LapBook 12.3 is a matte, non-touch display whereas the Surface Pro is glossy, touch, and supports pen input.
The LapBook 12.3's display is outstanding. Not only is it evenly bright (around 420 nits) with a 267 pixels-per-inch (PPI) density but the color accuracy is hitting above its belt.
Running a screen calibration, I was shocked to find the LapBook 12.3 has a 99 percent Adobe sRGB and a 77 percent Adobe RGB match. Compare that to the Surface Pro at 97 percent and 75 percent, respectively, and the Chuwi LapBook 12.3 has a more color accurate display than Microsoft. That is probably the craziest thing I have ever seen and suggests Chuwi is sourcing some outstanding display components (the Chuwi Hi13 also had similar color accuracy scores).
Of course, there is a tradeoff, and that is the giant bezels, which are hard to ignore. Whereas the LapBook 14.1 went for very minimal bezels, the 12.3 version embraces them. I don't mind bezels, but clearly, that is one area where the LapBook 12.3 can be improved.
Overall, the LapBook 12.3's display shines. You won't find a better screen in a laptop at this price. The one downside is it is non-touch and large bezels, limiting its usefulness and visual appeal. However, considering this is a laptop and not a tablet or 2-in-1, it is forgivable.
Good enough
LapBook 12.3 keyboard and navigation
Chuwi continues the black keys on silver look that all its PCs feature for its keyboard. The keys are noticeably smaller than the LapBook 14.1, but they have excellent travel and are spaced appropriately.
Like many budget PCs, the keys are not backlit, which is annoying in low light situations especially when you want to adjust screen brightness or system volume. With a power button in the upper right corner and a dedicated Windows key, Chuwi never veers away from its standard design, and it works.
The only issue I had when typing was with the trackpad, which I occasionally hit with my thumbs when spacing. Luckily, that accidental tap problem was more of an adjustment than permanent flaw as after a few hours I was fine.
Navigation is accomplished with a decently sized trackpad that utilizes mouse drivers instead of Precision or Synaptics. While saving on licensing, that means navigation takes a hit compared to premium Ultrabooks.
I usually ding Chuwi laptops for its trackpad and while many of the same complaints apply — e.g. reverse scrolling — the LapBook 12.3 is an improvement over its last few designs. The clicking is better as is the overall feel. While still not perfect I could use this trackpad and not be frustrated. But like all budget laptops, the trackpad is still the weak spot.
Almost great
Two speakers and solid audio (with a catch)
Another area where budget PCs typically cut corners is with audio. Chuwi tends to do better than most, and that shows with the LapBook 12.3. Two speakers are found on the bottom, and while they can get loud without distortion, they are easily blocked by your legs if typing in your lap. However, using the LapBook 12.3 on a desk, the speakers get the clearance they need – especially with the rubber feet – to reproduce better than average audio.
Image 1 of 2
Sound quality lacks bass and richness with crispy highs. For vocals and movies where dialogue is critical I didn't have many complaints.
Those speakers are quite good if you were to hold the laptop's bottom facing you with more richness, which is a not realistic usage case. However, I think if Chuwi can figure a way to keep the same speakers but have them top-firing from the keyboard deck they would have a winning combination in all scenarios.
6GB of RAM helps
Chuwi LapBook 12.3 performance
PC manufacturers have limited options when it comes to processor choice with only Intel Atom or Intel Celeron hitting the affordable price points. While a Core i3, i5 or even i7 would be nice in a budget PC, the cost would likely double the entire price of the laptop defeating the purpose.
CPU
The Intel Celeron N3450 used in the LapBook 12.3 is the same the LapBook 14 with a 1.1GHz base frequency a 2.2GHz burst. Assuming expectations are realistic the LapBook 12.3 with Windows 10 Home 64-bit is an OK experience.
Geekbench 4.1 Benchmarks (Higher is better)
Swipe to scroll horizontally
| Device | Single Core | Dual Core |
| --- | --- | --- |
| CHUWI LapBook 12.3 | 1,408 | 4,248 |
| CHUWI LapBook 14 | 1,365 | 3,818 |
| CHUWI Hi13 | 1,358 | 3,934 |
| Surface Book Core i7 | 3,948 | 7,415 |
| Kangaroo Notebook | 924 | 2,357 |
Chalk it up to improved performance with the latest edition of Windows 10 or just better drivers, but of all the Chuwi laptops the LapBook 12.3 gets the highest CPU scores yet on Geekbench.
GPU
Geekbench 4.0 Graphics OpenCL (Higher is better)
Swipe to scroll horizontally
| Category | Score |
| --- | --- |
| CHUWI LapBook 12.3 | 8,176 |
| XPS 13 (9360) HD620 | 19,410 |
| Surface Book HD520 | 18,197 |
| CHUWI Hi13 | 8,155 |
| CHUWI LapBook 14 | 8,027 |
A similar result for testing the Intel HD 500 graphics, which while not impressive does allow for playback of 4K content on YouTube with no stutters or flaws assuming you have the appropriate bandwidth.
SSD
The Toshiba 064G93 eMMC is decent for storage at this price point, but it does take a hit compared to the Samsung eMMC used in previous Chuwi devices.
CrystalDiskMark (higher is better)
Swipe to scroll horizontally
| Device | Read | Write |
| --- | --- | --- |
| CHUWI LapBook 12.3 | 155 MB/s | 52 MB/s |
| Surface Book 512 | 782 MB/s | 573 MB/s |
| CHUWI Hi13 | 295 MB/s | 141 MB/s |
| CHUWI 14.1 LapBook | 265 MB/s | 118 MB/s |
| Dell XPS Tower SE (HDD) | 133 MB/s | 150 MB/s |
| Kangaroo Notebook | 128 MB/s | 43 MB/s |
Whether it was watching TV on Sling, playing some pinball, or writing this review in Microsoft Word, the LapBook 12.3 is a satisfying experience for light computing needs.
I would have preferred a Samsung eMMC for improved performance with storage, but the 6GB of RAM is a nice tradeoff. Since most budget PCs feature just 4GB of RAM that extra 2GB helps with larger apps, some light games, and just overall system performance when running a web browser with multiple tabs loaded and extensions enabled.
Cool and quiet
No heat or noise
Due to the size and design of the LapBook, 12.3 heat was never an issue with the device barely getting warm on the bottom under heavy load e.g. Windows OS update or installation of a large program. The Chuwi Hi13 had to put the processor in the display-area since it detaches resulting in a warmer experience, but that does not apply here with the CPU in the keyboard deck like a standard laptop.
Because of the Intel Celeron chip, there is no fan making this a silent system.
Barely enough
Decent but not great battery
Chuwi suggests the LapBook 12.3 gets between five and six hours of battery life and kudos for them for an accurate estimate.
Indeed, in regular usage, I did hit around six hours, which while not awful is not fantastic. Part of that tradeoff is a premium feeling laptop that weighs just three pounds, but the 36Wh battery is below that of even the Surface Pro, which features 43Wh.
There's also little doubt that the 2K display and over 400 nits of brightness are the biggest drains on the battery.
The included charger is a proprietary barrel type and small enough to carry around.
Best budget choice
Conclusion – Chuwi LapBook 12.3 is a fantastic budget PC with an outstanding display
Chuwi is one of many PC manufacturers that are consistently impressing. Not content with making generic laptops the company is riding Microsoft's Surface vision but trying to bring it down in price.
Make no mistake, whether it is the Surface Pro/Surface Book Hi13 clone or the LapBook 12.3 which apes Surface and a MacBook, you are going to get less performance. But, for the first time, users can experience a 2K display with color accuracy that rivals and even beats $1,000 PCs.
Moreover, the overall experience – typing, build quality, audio, and looks – is just outstanding. Considering the LapBook 12.3 runs between $300 and $350 the 6GB of RAM, easily expandable internal storage, port selection, and a modern 3:2 IPS display with 2736 x 1824 is an outstanding value. The LapBook 12.3 is so good that a few years ago it would easily be considered a $1,000 machine.
The only downside I see with the LapBook 12.3 is the Intel Celeron processor. That's not Chuwi's problem so much as Intel, who needs something that is better than Celeron, but cheaper than its Core Y or Core i processor range. Still, for light computing and gaming, the resultant fanless design is a welcome change from the noisy and underperforming laptops that consumers used to face.
For teenagers, students, and those on fixed budget the Chuwi LapBook 12.3 is the best from the company yet. While the Hi13 is perfect for the pen experience and the LapBook 14 is larger, I found the overall balance of the LapBook 12.3's feature superior.
Pros:
Probably the best value-laptop on the market.
Outstanding matte display with high color accuracy.
Quiet, fanless design.
Very good typing experience.
Solid port options with a clever M.2 expansion slot.
Excellent overall design that is lightweight.
Cons:
Trackpad can have accidental activations, not the best quality.
Display bezel is rather thick.
Battery life is decent.
Non-touch display.
Get the Windows Central Newsletter
All the latest news, reviews, and guides for Windows and Xbox diehards.
Daniel Rubino is the Editor-in-chief of Windows Central, head reviewer, podcast co-host, and analyst. He has been covering Microsoft since 2007 when this site was called WMExperts (and later Windows Phone Central). His interests include Windows, laptops, next-gen computing, and for some reason, watches. Before all this tech stuff, he worked on a Ph.D. in linguistics, watched people sleep (for medical purposes!), and ran the projectors at movie theaters because it was fun.