Need a case for your HTC 8X? The Cimo S-Line isn't a bad choice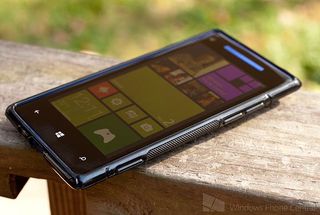 A little while ago we took a look at the Cimo S-Line Back Case for the Nokia Lumia 920. This go around we're focusing in on the same Cimo case but one fitted for the HTC 8X.
The Cimo S-Line Back Case is a skin styled case that wraps around the HTC 8X to protect it mostly from nicks and scrapes. The case may protect the 8X from some bumps but I wouldn't count on it to protect the Windows Phones from drops of any height. There's just not enough to the Cimo case to add any cushion to things.
The Cimo S-Line is made from a silicone gel type material that has cutouts for the 8X's camera, headphone jack, speaker, microphones and micro-USB port. Buttons on the 8X are covered with button extensions on the Cimo case. The case is unlined and has a glossy accent to it to make the Cimo case stand out a little. The Cimo case is textured along the sides to give the 8X a little more grip.
The Cimo S-Line Case pops into place nicely and doesn't add much thickness or weight to the 8X. Buttons are responsive through the case and for the most part, the Cimo case stays in place nicely. There is a little wiggle room along the sides of the case. The fit isn't loosey goosey where it feels as though the case will pop off but the wiggle room may allow dust, grit or grime to get inside the case. I wouldn't mind seeing the overlap of the case extend a little further to eliminate the wiggle.
The S-Line Case from Cimo is solidly constructed, doesn't add any noticeably bulk, and offers a modest amount of protect to your HTC 8X. The only real nit I can find with the Cimo is that the silicone/plastic does attract lint. It's not enough to drive you nuts but noticeable. If you're looking for a basic skin case for your HTC 8X, the Cimo S-Line is worth considering.
The S-Line is currently running $5.95, which makes it easy on the bank account, and available in assorted colors (Blue, Black, Purple, Clear, etc.). You can find the Cimo S-Line Back Case for the HTC 8X here at Amazon.com. (opens in new tab)
Windows Central Newsletter
Get the best of Windows Central in your inbox, every day!
George is the Reviews Editor at Windows Central, concentrating on Windows 10 PC and Mobile apps. He's been a supporter of the platform since the days of Windows CE and uses his current Windows 10 Mobile phone daily to keep up with life and enjoy a game during down time.
It's far from a looker. I'm hoping Gelaskins will add the 8X to their device list soon and offer a nice full wrap skin for it.

It doesn't look good enough for my taste but maybe some will find it appealing.
You guys should review the Doubleshot Hard Shell by HTC. It's an awesome case for the 8X.

I personally think that case is pretty ugly. The whole aesthetic just does not fit with the clean lines and minimalism of the phone and the OS.

I personally think the 8x looks and feels awesome without the case, now what about the L810? No love for us :(

Doesn't look that bad. Not something I would use personally. But I've seen worse

Got this speck case from att and its so sick and stylish

If you want a case, the doubleshot shell is possibly the best choice. It looks like part of the phone, especially if you have the blue one.

I've heard that a lot of people like the double shot. Unfortunately it's not available in the US. Well, except on eBay.

The double shot is available in US from expansys . Already ordered mine

Never owned a case, I just don't get it. I HATE the leather cases people have on their iPhones, where they flap down round their face on a call. So strange. But then the iPhone is made of glass I guess.

Agree... I prefer paying insurance than a case

The cost of insurance would surely outshine the cost of a case over 2 years.


Or alternatively getting a Lumia 920! Seriously, why would I have to put my phone in a case when I bought it for the unique & pleasing design! I had a HTC TP2 for 2 years before I purchased a Nokia Lumia. I had just minor scratches on the phone & slightly worn out keys (from all the texting) but never had a case on it. Sadly it was stolen 4 weeks after I got my Lumia. Windows Phones, like Lumia 920 & HTC 8X, are truly gorgeous devices that I wouldn't want to place inside a case as the aesthetic appeal would now be hidden away. Besides Lumia 920 is really designed to handle those clumsy little moments [not sure about the 8X, however].

Actually, my girlfriend and a few other users have had their screens shatter from dropping the Lumia 920. It's not invincible, despite the sturdy shell.

I have a leather slip/pouch case. The mobile is protected when I'm not using it (definitely saved it from a few drops) and it's perfect/natural when I am. I just stick the pouch in my pocket, or put it on the table to rest my phone on temporarily.

I actually like the case that's If I got that phone

I bought the case that is sold at the Verizon stores. It's not the best looking case but it is very functional. The phone stays in sturdy, doesn't add much bulk at all, has a built in stand which I love and it supports wireless charging with the case on. Really happy with it. Also forgot, it also comes with a belt holster but I don't use it.

I got the S-Line cases from China on ebay. 2 for $5.25 If you don't mind waiting a week and 1/2 to 2 weeks it's not a bad deal. I picked the clear and smoke for my Verizon blue 8x

i had the case but in blue, Black case on a blue phone does look ugly, the blue one looks fine

Do flash photos have a bluish cast to them while in the case? This is an issue with the Cimo 920 cases...

That's not a problem with this case because there's no plastic between the camera lens and flash. You can fix that issue with the Lumia 920 case by cutting the plastic off with scissors.

I have this CIMO case in BLUE with my Blue HTC 8x and looks great because is the same color of the phone, I got it from Amazon at very good price, I really recomend this black case for a black phone, but thanks for let me know that the black/blue combination looks ugly...

I would love to get the Doubleshot case (http://www.htcaccessorystore.com/uk/p_htc_item.aspx?i=237940&phone=237436)that is sold by HTC, but it only comes in blue and my phone is red.

i also am a red htc wp 8x owner. I had the same problem as you... the official htc 8x case is only blue! i bought this case, the quality is good and the most important is red! http://www.accestories.com/index.php/en/accestories/839/87/cell-phone-ac...

My ex has this case on her neon 8x; it looks alot better.

I want at&t to get the red 8x and I'll be satisfied :-)

Against my better judgment I have chosen to go without a case when I bought my 8X at launch. The phone is just to beautiful to be covered by an ugly case. I need to be extra careful though.

Buy a slip/pouch case that you slide the phone out of. It'll be protected when you're not using it, and look great when you are :)

I put ghost armor on it with matte . Does not detract at all. Also order double shot case in case I want something more.

If i had the nice 8X and wrapped this around it, i would like for someone to punch me in the face! :) Damn soooo ugly! You guys should screen your own posts. ;)