Cisco WebEx Meetings updated, brings end-to-end encryption and more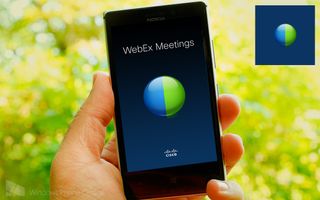 Using Cisco WebEx Meetings a lot? Then you'll want to pick up the new update for the app in the Windows Phone Store. Cisco WebEx Meetings first launched for Windows Phone 8 in early December and was very welcomed by the community. The app allows you to join any web conference with your Windows Phone 8 handset. Let's check out what's new in version 1.5 of the app.
In WebEx version 1.5 we're looking at the following changes:
Single sign-on (SSO)
End-to-end encryption
Wi-Fi proxy support
Join before host
For folks who use the app a lot we're sure the changes are appreciated. The SSO support will alleviate headaches from needing to log in for each separate system. End-to-end encryption is useful for protecting the content of your meetings. The final piece of the puzzle that will help users who frequently use the app is the ability to join a meeting before the host has. The little things all add up for a nice update.
Want to grab version 1.5 of Cisco WebEx Meetings? Grab it for free in the Windows Phone Store.
Thanks for the tip Josh H. and everyone else!
Windows Central Newsletter
Get the best of Windows Central in your inbox, every day!
Previous version did not work with Lumia 925 (T-Mobile) due to login issues. This latest update seems to have fixed this bug.

Wish the tile would have stayed the same. I liked having their actual blue/green logo instead of the metro look half shaded circle now. Yeah I know first world problems!!

This is good but WebEx is terribly needed on RT devices. I love my Surface RT for all basic work, but really really need a Cisco WebEx app on it.

Would be nice, but there is a GoToMeeting app for RT. Seems Cisco hasn't been playing nice with Windows 8+, but Citrix has.

Reading the forums, it doesn't look like that is happening anytime soon....

Single Sign-On (SSO) in this update allows you to login using your company credentials as opposed to logging in with a WebEx.com account. It doesn't enable multiple-account login, as suggested by the article.

Which is good, because for the past couple months, people at Cisco itself couldn't use this app for Cisco's corporate WebEx.

Still eagerly waiting for webex connect (jabber).... any one hear anything?