World-class city builder Cities: Skylines is coming to Xbox One and Windows 10 this spring
Cities: Skylines is arguably the world's greatest modern city management sim on PC, and it's coming to Xbox One and Windows 10 this Spring.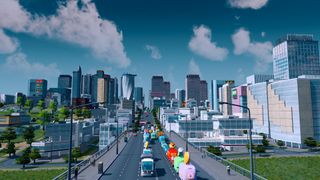 Cities: Skylines was announced for Xbox One some time ago, but Paradox Interactive has been quiet about the launch date, until now! Cities: Skylines Xbox One Edition will land sometime this Spring, and will also hit the Windows 10 Store. There's no word whether it will support Xbox Play Anywhere, but we've reached out to Microsoft to find out.
Cities: Skylines is highly praised on PC for its depth and huge feature set. The new trailer reveals updated controls for use with an Xbox gamepad, and the Xbox One edition also comes bundled with the After Dark expansion, which adds night-life systems to the game.
Here are the main features as listed on the game's official website:
Build the city of your dreams: Plan road networks, bus lines and parks. Bring on a smog-filled industrial revolution or create a quiet beach town ideal for tourists powered by renewable energy. Bring education, healthcare and safety to your citizens. Build it your way!
Multi-tiered and challenging simulation: Playing as the mayor of your city, you'll be faced with balancing essential requirements such as education, water electricity, police, firefighting, healthcare and much more, along with your city's economy. Citizens within your city react fluidly, keeping you on your toes with ever-evolving demands.
Extensive local traffic simulation: Managing traffic and the needs of your citizens to work and play will require the use of several interactive transport systems – use careful road planning alongside buses, trains, subways, and much more.
Districts and policies: Be more than just another city hall official! Create a car-free downtown area, assign free public transport to your waterfront, or ban pets in suburbia. Designate parts of your city as a district in order to set policy at the local level, and give different parts of town their own personalities.
After Dark included: Watch your city become an entirely different place at night: a day-night cycle will have your citizens seeking out places to unwind after work. Add in new policies and zones to create popular hotspots and provide enough taxis and trains to get to and from the clubs!
Getting Cities: Skylines on Xbox One and Windows 10 is a huge win for Microsoft, given the game's wild popularity on Steam and other PC platforms. Paradox Interactive are a world-class developer and publisher, with acclaimed titles like Stellaris, Europa Universalis, Pillars of Eternity, and Tyranny in their extensive library. Hopefully, the addition of Cities: Skylines is a sign of things to come for Xbox One and the Windows 10 Store.
Jez Corden is the Managing Editor for Windows Central, focusing primarily on all things Xbox and gaming. Jez is known for breaking exclusive news and analysis as relates to the Microsoft ecosystem while being powered by caffeine. Follow on Twitter @JezCorden and listen to his Xbox Two podcast, all about, you guessed it, Xbox!
How well do Cities Skyline work with a Xbox Controller? Has anyone tested?

Well the steam version is out for a long time now, and Xbox Controller is supported on Windows, so maybe somebody with both gave it a go.

Haven't played Cities in a while so just checked, and nope, still doesn't support the Xbox controller.

Cities Skylines without the Steam Workshop?... yeah.... no thanks. But hey, different strokes for different folks, I guess :)

I'm not entirely sure what MS will end up with but I hope someone with experience using Cities:Skylines have their ear I don't know how this game is going to be successful without the Steam workshop. There is where the mods are and their are tons of them.

I think it's pretty cool, that some big named games are coming to the Windows Store. Sadly, I already bought this through steam a while back. I think that may be a barrier for the Windows Store on PC..

Was there word if this will mean the Steam version will be updated to support the Xbox controller?

Sweet I love this game. Ill think about it

I liked SimCity when it first came out in 1989. The graphics look a bit better on Skylines!

Already bought through steam but if Xbox/w10 is play anywhere, I'd buy it again

Count me in. I'll preorder straight away. Will play on Xbox definitely. Great to see another console exclusive so early in the year.

Isn't it already on Windows 10?

How will the mods be supported these versions?

Doubtful there were be mods, on Xbox at least, unless they do something like Bethesda has done and incorporated a mod menu/workshop into the game itself. Again, doubtful.

There are a lot of PC only games out there that I think could be adapted very well to console (PS4 or Xbox). I've seen a lot of gameplay videos of this game, how finicky the controls can be, how in depth the menu and statistic graphs can be. It makes me skeptical about how good it could possibly be using a controller, but I'll reserve judgement. I do love a good city building sim and it's been a while since I've actually played one. I have been looking for something different from the other games I have, so this might be it. I'll be keeping an eye on it and checking it out when it's finally released.

I have no idea how this will work on the XBOX without the use of a mouse, but on Windows 10, THIS WILL BE HUGE!

It's been on windows 10 for quite some time now...
Windows Central Newsletter
Thank you for signing up to Windows Central. You will receive a verification email shortly.
There was a problem. Please refresh the page and try again.