Classic puzzle game Chip's Challenge is now available on Windows 10 PC and Mobile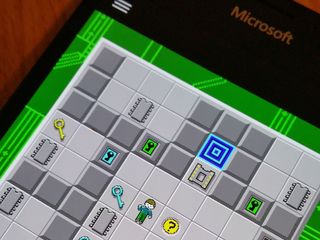 A Windows 10 PC and Mobile version of the classic 2D puzzle game Chip's Challenge is now available in the Windows Store.
The game was actually released first as a launch title for the defunct Atari Lynx portable console in 1989, but became more popular on Windows when Microsoft included a port of Chip's Challenge in its Best of Microsoft Entertainment Pack for Windows in 1995. Here's a quick description of the game (via Reddit):
The source code for the Windows 10 UWP version is also available to download at GitHub.
Download Chip's Challenge from the Windows Store (opens in new tab)
Windows Central Newsletter
Get the best of Windows Central in your inbox, every day!
I remember this game
Nice!
But no Xbox live?!

I wish that someone would redo Rodent's Revenge. Some of those old Windows games were incredibly fun.

Indeed. I remember playing those Windows 95 Plus! Games, back in the day. This Chip game, however, I played in Windows 3.10 on a 486 Compaq.

I remember this game on DOS

Such a great game! I remember playing this off of a 5inch floppy disk on Windows 3.1. Now we just need Ski-Free and JezzBall!

Jezzball is already in Windows Store :). At least as a Mobile release. Not sure if it is official or a clone: https://www.windowscentral.com/e?link=https2F%2Fclick.linksynergy.co...

Omg this is the first game I remember playing on my grandpa's old computer when I was little lol.

Ooo, jet pack, galaxians.... Just a small wish list..

Bomber man please!!! To.. do.. to do tottodu tuttuttoo

Remember this game too! Was one of my favorites!

Holy crap i remember this game. This game is awesome!

This game is superior to many of today, still 25 years later.

I bought this as a wee lad from Wal-mart. I had the original floppy some where. Glad to see these coming back, I'd like to have the entire suite of games.

Sweet! I loved this on the Lynx! Strangely the graphics seem better and worse than I remember...

This made my day... Great puzzle game, good memories...

WOULD SOMEONE GIVE US SKIFREE! please

Nice! I've been having memory flash-backs of this game for many years, great to have it now on my Surface Pro.

Checked the app's permissions: why does it need an internet connection when there was NO internet (especially on the Lynx) when this was released?

I loved this game as a kid (and all the others people have mentioned) but I'm a bit gutted by the fact that all the levels are unlocked from the get go. Where's [Chip's] Challenge in that?

Its gone, i have it on my tablet and phone but i cant get it on my desktop now :(

I just realised that too as it received an update on my phone but was gone from the store when I went to check the changelog. Wonder if it's due to legal issues?

Probably, it's still on Steam http://store.steampowered.com/app/346850/

Any update's on why it's gone and when/if it's getting back?