Clever Easter egg in latest Windows 10 Mobile build matches Microsoft's Birthday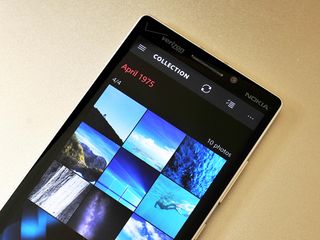 If you are on Windows 10 Mobile build 10512 and you read my initial thoughts on it, you may remember my mentioning of the new wallpapers. The images are themed after Windows 10 on the desktop, and they work quite nicely with the OS.
To access the pictures, you can just go to Settings > Personalization and either pick Start or Lock screen. From there you will want to browse your photos, which is done through the Photos app. Alternatively, you can just go directly to the images with the Photos app.
Interestingly, the new wallpaper is filed under 'April 1975'. One reason for this is there is no longer a dedicated wallpaper folder (boo), so Microsoft had to put them somewhere with a date.
However, this is not just an ordinary date, nor is it random. Instead, April 1975 is the birthdate of Microsoft. Precisely, it was April 4, 1975. Don't believe me? Just ask Cortana.
Anyway, in case you were wondering why those images are dated as such, you now know. Hopefully, it brought a small smile to your day as well.
Daniel Rubino is the Editor-in-chief of Windows Central, head reviewer, podcast co-host, and analyst. He has been here covering Microsoft since 2007 when this site was called WMExperts (and later Windows Phone Central). His interests include Windows, Microsoft Surface, laptops, next-gen computing, and for some reason, watches. Before all this tech stuff, he worked on a Ph.D. in linguistics and ran the projectors at movie theaters, which has done absolutely nothing for his career.
yes definitely cool. Now where can we download these images from? links anyone?

Can someone share these images. i lost mine in a reboot loop :(

hah! Saw that and was wondering about the date. Nice.

Would've preferred a real feature addition, but sure, cool ;)

Not seeing these photos????????

I've had these photos since the last build.

Just if you do a reset :)

Yes, if you only do a hard reset.

cant see them even after i installed the new build after a hard reset..any clue?

I updated to 10512 but I don't have those wallpapers? Even I scroll down to the oldest. Help?

I think you only get it when you factory reset.

@Daniel Rubino - can you tell me the name of the apps on your taskbar (2nd, 4th and 5th)

5th is slack. https://www.slack.com

The second one is Tapatalk (a forum discussion app). Useful for keeping up with large numbers of ongoing discussions.

Can't access it on my lumia 1520. Did not do the hard reset.

April 4, 1975 Microsoft founded by Paul Allen and Bill gates

Do you think at some point Microsoft is gonna bring back the folders like on win8.1 where u can access one drive,Facebook,WhatsApp images?

No idea, but I'd love to have them back.

Do you have to do a hard reset to see the April 1975 date, and photos???

God, yes please. I'm tired of going through my massive amount of photos just to find my OneDrive wallpapers folder's contents. I really, really miss the old photos app with the albums...

I have a feeling that they want you to use file explorer to go through folders like that, The Photos app has been simplified, and really is an "app" as oposed to a launcher.

is there any setting to remove onedrive photos from gallery in build 10512 ?

Remember there is uservoice :), i would love them back too

I did raised my voice like Godzilla in the first build to get the pic folders back.... Third build and so far... Nada :/

Yeah, me too every single build in both desktop and mobile build (It's a universal app) I did the same with uservoice (not mentioning the upvotes) till this build nothing has changed, perhaps we should wait for build 200452 and Lumia 980 to get album folders back :(

Good thing it's separate app and can be updated without the os

I didn't get those images with the updated, maybe because I already had them.. No April 1975 here.. Posted via the Windows Phone Central App for Android

Nope Nope Nope.. Not to see the darn date.. Posted via the Windows Phone Central App for Android

I don't see anything like that

only shows after reset , it think that it's new beginning


Whaaat?
No ninja cat riding a fire breathing unicorn?
Dissapointed...

Kinda fitting, starts many things and left them before reaching the completion and starts some new shits again.. Posted via the Windows Phone Central App for Android

I see what you did there :p

Well... A s.h.i.t is a s.h.i.t... Why bother with an older one when you got new one? :-P - An Ariesian ;-)

A few months to late.
Wheres hotdog stand?
http://41.media.tumblr.com/251560bdfa8a089ea1687285cfe73c3d/tumblr_n1sz8...

Dan i still dont understand why you list these wallpaper as "new" and under your last post said that they are new wallpapers in build 10512. They were all in the last build 10166 for every Lumia i have. There aren't even knew ones added. Did you not get these in the last build or notice them?

I did not have any wallpapers in the last build, even after a refresh.

Many seem to forget Microsoft A-B tests some of their "features" (or in Windows Mobilee's case, minor aesthetic changes of little fanfare). So most (group A) did not see the wallpapers till the latest build, while a small group of insiders (group B) got them earlier. At least, this is how I see things.

Rad. I wonder what the birthday of the Lumia 1050 will be.

Jess, stop trying to make fetch happen! It's not going to happen!

Plz add features for supporting multiple images as wallpaper in windows 10 mobile

Add inbuilt features like stop music, update music library, showing Bluetooth received files either supported or not

Files received by Bluetooth go into their respective folders (images -> photos, audio -> music, everything else -> downloads), and can be viewed with Files on Windows Phone and by Explorer on Windows Mobile

And we should also be able to accept all incoming files at once with Bluetooth, instead of clicking accept for every single one, been pushing for this since, don't know if it has been granted, not an insider

Guys hows the battery life in this build please tell me. !

It's fantastic, my L720 is 5 days running and still with 20% of battery

I am not getting This update i am on build 10512 how i can get date April 1975 in photos app.

It only shows up on a fresh install / after a hard reset.

cannot get them even after a hard reset :(

It probably takes a hard reset. Most of the "defaults" come during setup, I don't think those run on an upgrade....

Could we instead discuss the fact that the Photos hub on WP is getting worse and worse with each generation of the OS? It got worse from WP7 to WP8, then even worse on WP8.1 and on WP10 it's a train-wreck.
WTH, Microsoft.. Posted via the Windows Central App for Android

Agreed, What is happening is that they try to fix things that weren't broken in the first place. The folders were very useful. The Facebook photo integration was also nice. But that was to do with Facebooks new policies or something which is why they also had to remove the integrated Facebook messaging.

1. Facebook photo integration was through the social extensibility framework(?); Integration wasn't exactly removed as it was broke and never fixed. 2. Integrated Facebook messaging was removed well before the API change, going away with Windows Phone 8 alongside integrated Windows Messenger.

Totally agreed. The photos app is a complete wreck. They had it perfect on windows 8 phones. But no, they had to ruin it constantly after every update. Now its just a black background with photos pasted on it date wise, not even folder wise. No carousel effect, no transitions, fade ins, nothing.

If I remember well, they didn't make a 40th anniversary celebration

Where are these wallpapers? Can't seem to see it on my 930

on a side note.. the ads on the site is getting freaking annoying

Gotta love programmers with a sense of humor and nostalgia.

I did not get the Easter egg. But I got a January 1915 date and a 2000 date, weird.

Wondered why they put that date on them

I cant find this folder for some reason!

Is this build now good to install it and use it as my daily driver? Got a 1520. My 920 heats up every time i charge it and using it drains the battery for 4 hours.

My 830 crashes to the desktop every time I select the Background combobox with the new update.

Pretty lazy ee if u ask me, would of been nice to have its own folder...

Doing a hard reset now to get the pictures. I just realized that the option to reset the phone is still under the About option. Shouldn't it move to Update and Recovery?

Feels good to see my forgotten city 's name in reference to something good.

Heh, 4 April is also my birthday. :)

Not an "Easter Egg" by definition. Microsoft forbade the inclusion of Easter Eggs under the Trustworthy Computing initiative.

I installed the build 10512 after hard resetting my phone but still cant spot the wallpapers....any clue why?

Hey Dan, what's NinjaCatMode?

For those who can't find the wallpapers, use the File Explorer app and look in the root of the "Pictures" folder on your phone's internal storage.

They don't show for me on 10512 on my Lumia 640 XL , too bad...
Windows Central Newsletter