How (and why) Microsoft's CEO is carrying his predecessors' legacies
Contrary to what some critics may believe, Microsoft CEO Satya Nadella's AI and cloud focus is not a new direction for the company.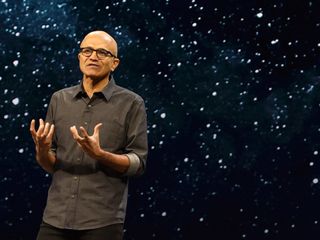 (Image credit: Windows Central)
Nadella is often criticized for focusing Microsoft too heavily on AI and the cloud. But a closer look at Microsoft's history reveals that he's merely carrying the baton passed to him from his predecessors.
Microsoft cofounder Bill Gates strived to set the company on a course toward AI and the cloud. His successor, Steve Ballmer, carried those efforts further by stressing Microsoft's AI and cloud commitments. He even referenced Microsoft's vision of a pocketable folding device that would benefit from the cloud.
Let's take a closer look.
Nadella honors predecessors
During a 2017 GeekWire interview, Nadella shared the investments at the forefront of Microsoft's efforts didn't begin with his tenure:
Tech writers are challenged with presenting analysis about an industry that makes bets up to 20 years down the road, for an audience focused on a yearly device cycle. Readers who want the latest device news frequent sites like ours to satisfy that appetite - and we deliver. Interspersed between the reviews, news, and leaks are analyses about where the companies feeding you these devices have been, where they're going and how they'll get there.
Bill opens gates for AI
Over 20 years ago, Microsoft introduced Microsoft Bob. It was a PC-based digital assistant that Microsoft envisioned would be a Windows user's companion. Bob didn't benefit from the ubiquitous internet, mature machine learning, advanced natural language understanding or evolved AI investments. It flopped. Still, Bill Gates had a vision for an advanced AI-driven digital assistant which he shares in the archaic video above.
Years later Gates shared the following, which describes our current experiences with AI digital assistants.
AI is not limited to digital assistants. Microsoft's mission is to infuse AI into everything from the cloud, IoT and its range of products and services.
The difference between AI, machine learning and digital assistants
Ballmer loud about the cloud
In March 2010 Steve Ballmer gave a speech where he pushed Microsoft's cloud commitments. He followed that speech with a memo to Microsoft employees which highlighted the cloud:
Creates opportunities and responsibilities.
Learns and helps you learn, decide and take action.
Enhances your social and professional interactions.
Wants smarter devices.
Drives server advances that drive the cloud.
He referenced the company's decade-long cloud investments and said, "To keep our momentum, it is critical that every Microsoft employee works to deliver the full benefits of the cloud to our customers."
In 2013, he stressed the company's commitment to AI and a shell that would support all of Microsoft essential services. This shell, he stressed, would respond seamlessly to users' requests and would understand and anticipate users' needs.
Clearly, Microsoft's cloud and AI investments precede Nadella's brief tenure at the company's helm.
Cloud-connected devices with a common shell
The Windows 10 family of devices is positioned to showcase a common shell and a cloud-supported mobility of experiences. This vision was also passed to Nadella by Ballmer who said in a 2013 memo:
Windows Core OS, which brings the full power of Windows to all form factors, and CShell (Composable Shell), which adapts the Windows UI in real-time to various devices types (think Continuum), are the evolution of this vision.
Pocketable folding device, mixed reality and beyond
Ballmer references pocketable, folding device.
Microsoft's Windows Mixed Reality efforts didn't begin with Nadella. HoloLens was well underway when he took the helm, though it was previously gaming-focused.
Additionally, Windows phone fans are not alone in their desire for a foldable mobile device that could slip into a pocket. Steve Ballmer elaborates ever so briefly about such a device after sharing Microsoft's future vision in the 2010 video above.
Ballmer's stresses the capabilities of such a device (and other devices) when connected to the cloud. Nadella's leadership has simply advanced that vision as edge computing, particularly on 5G networks, will make cloud computing profoundly powerful.
Microsoft must leverage eSIM, partnerships and edge computing to position ultramobiile PCs
Nadella's tenure is benefiting from the decades of investments that preceded him. And though he is carrying the baton of his predecessors he has made decisions that are his own. And like his predecessors, for good or bad, he is building a legacy that his successor too, will inherit.
Get the Windows Central Newsletter
All the latest news, reviews, and guides for Windows and Xbox diehards.
Jason L Ward is a columnist at Windows Central. He provides unique big picture analysis of the complex world of Microsoft. Jason takes the small clues and gives you an insightful big picture perspective through storytelling that you won't find *anywhere* else. Seriously, this dude thinks outside the box. Follow him on Twitter at @JLTechWord. He's doing the "write" thing!