Cloud Raiders for Windows Phone gets a graphical revamp and more in latest update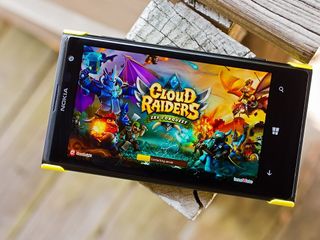 Publisher Game Insight continues to support and update Cloud Raiders for its Windows Phone fans. Today, yet another update is available to download from the Windows Phone Store that promises to bring some graphical improvements to the game, specifically to its water effects.
Here's what's news in this 6.1 version update:
News Hub - We've added the news hub directly into the game. Check it out for all the latest news, sneak peeks on upcoming features, lots of freebies, and more!
Graphics Update, Mark 1! We plan on updating the game for many years to come. We've felt it's time to raise the visual bar. First among many upcoming visual improvements is an all-new water effect! We've been staring at it for days to make sure it's just right. You could say it's mesmerizingly good... Even more visual improvements coming soon!
More Dragon Warriors! Give a warm welcome to the latest addition to your weekly roster of legendary heroes: the ground-shaking Hammerslam and the unstoppable Rolling Thunder! They will be ready to join your ranks starting next week!
On-demand Battle Offers - Never wait for a good buff pack to come flying by. You can now access the battle offers directly from the Specials tab in the shop!
Major technical improvements
Game Insight adds that it has also fixed "dozens and dozens of tiny bugs" since the big 6.0 update which should make Cloud Raiders more fun to play while also "paving the way for new epic major features we'll be rolling out in upcoming updates." The Windows 8.1 version of Cloud Raiders has yet to be updated as of this writing but it should also get the same 6.1 features very soon.
Thanks to Gautam for the tip!
Download Cloud Raiders from the Windows Phone Store (Free)
Download Cloud Raiders from the Windows Store (opens in new tab) (Free)
I don't see any graphical changes. Anyone ?

It's just water effects for this update. The graphical revamp is a continuous project from them.

This game deserves 10star .......more awesome than clash of clans I play it daily at least 20times ......got addicted to it...than age of empires....pls bring more awesome graphics like asphalt 8 type ...it will be mind blowing.....rock rock cloud raiders.....love it

What the hell do u even know about clash of clans,this is the worst ripoff of that incredibly awesome game!! My eyes got burnt due to overwhelming unfinished and literally unconvincing graphics of this game!

It seems like u are the one who have prob..!!!! Check it out..

I don't have much knowledge as like u ...but i know this cloud raiders is far better than that...may be I think u created clash of clans ....my advice is better u don't play ..

For a matter of fact, i play both. This is my opinion so stfu

The same goes to u buddy....that's my statement to u...

Well, basically, clash of clans is a rip-off of age of empires kid.

I play this game, so I'm hoping that there won't be performance issues with this update. Anyway, I'm happy to see they are making big changes.

This game blows. Just more derivative pay to win junk. The only reason people like it is because it is one of the only games on WP.

Lol. I bet you don't surf the store much, do you?

Actually you don't need to pay at all. I only paid a few bucks for an extra worker and that was it. WAY better than Clash of Clans.

Cortini, I know you are not being serious. Troll harder.

Name one other popular, regularly supported Clash of Clans ripoff from a major publisher on the WP store. Outside of IAP oushed crap from no name publishers based in a Chinese basement or forgettable and utterly disposable games from Indy devs that quickly fall into abandonment and disrepair, the WP store is sorely lacking. Thus I stand behind my statement.
Really, if WP had half the options from this genre that exist on other platforms, no one would be interested in this game. This game is generic flop on other platforms, why do you think they actually support this version?

Search a lil bit and you'll find your answer ho

One of the best games in the WP store

"one of the only games on WP" .... what a tool. Sadly the pay2win element is true, starting to resemble Apple Appstore now - I swear 90% of available games for my iPad are IAP laden.

And that still leaves thousands of high quality options.

This game is AWESOME..!!!!!!!!! 'Clash of clans' is nothing.. It has no graphics like this game.. This is THE BEST strategy game in the store., yes I'd tried all of the same kind.. Good graphics., good gameplay..!!! People who ask for 'Clash if clans'., really have to try this before asking for that junk..!!

Oh you got the same name as me..the only downfall is you don't have the same level of thinking you moron.. Have you ever played clash of clans!

:D u are the one spoiling my name..!! U know nothing about this game.. U play that crappy 'Clash of clans' and celebrate with it.. And one more thing., just bcoz using the word moron does not make u yo-yo guy or something.. Ur grammar stinks..!! :D

Has no facts to defend,applies grammer correction...hahahahaha

Guys i just sold my tablet to a friend and he installed cloud raiders but he keeps log in with my account. Is there any way to log out from my account. I did a clean install before i sold my tablet.

Might be time to go back to this game AoE has had my attention for months.

I didn't find any change in the graphics..!!! Is it just me..?! :s

Maybe your eyes decieved you ;-p

Not available in indonesian :|

Does this game allow cross-platform play? Want to find a game I can play with Android co-workers who won't seem to give WP a chance. Nor will I switch to Android.

Hmm switch to android!that's the only option I think currently..

Did my own homework. Found the Windows Central review, "...Players can jump back and forth between Windows Phone, Android, iOS, and Facebook without losing any progress. Playing with friends regardless of their platform preference is just too cool." So, 'Yes', this is that game I've been looking for.

sir i need some help...,why my windows rt cloud raiders....i dont have a tier challenge.....please help
Windows Central Newsletter
Thank you for signing up to Windows Central. You will receive a verification email shortly.
There was a problem. Please refresh the page and try again.