Cloud in your living room: SkyDrive launches on Xbox 360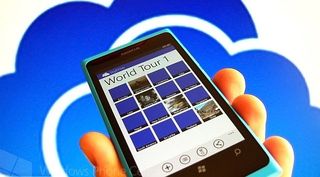 Microsoft has announced today that a SkyDrive app is finally being made available for the Xbox 360 console, further extending the machine's usefulness in the living room. The SkyDrive service shouldn't need much introduction for Windows Phone users, providing cloud connected storage for photos, videos and documents of all types.
Currently apps are available for Windows, OSX, Android and iOS devices but today the essential ability to access your cloud storage across all your Microsoft devices is now a reality.
Said to be going live after 10AM Pacific Standard Time later today the app will appear in the Xbox Apps Social category. The app predictably looks quite similar to the version on Windows 8, providing a now familiar Metro theme to navigate around your content.
Last month, we announced that SkyDrive usage had doubled in the last 6 months, building on the general availability of Windows 8. With the growth of Windows 8, we're seeing more and more people choose SkyDrive as the easiest way to store and share their photos, documents, and other files. Mike Torres, Group Program Manager, SkyDrive apps had the following to comment on the app:
These are the primary features of the app on the Xbox 360:
Shared photos & videos. Share a meaningful event with your friends or family by viewing photos & videos on your TV, or view photos & videos others have shared with you through SkyDrive. Imagine being able to view cherished photos and videos shared by friends and family —like a musical performance, a kid's birthday, or baby's first steps—on your TV.
Snap and see. For Windows Phone users, snap a picture and see it appear almost immediately in your camera roll on the big screen. This feels like magic! For example, you could take a quick snapshot of your child making a funny face, fire up the SkyDrive app on your Xbox, and view it right away on your 50" screen. Just make sure you're using the same Microsoft account sign-in for both Xbox LIVE and your Windows Phone.
Party slide show. Plan a great slide show to play in the background of a dinner party. For example, you could start a slide show of a recent trip for friends, or have holiday-themed photos and videos playing during a holiday party.
The app supports Kinect voice and gesture controls too so you can shout and wave your hands and arms frantically at your console. Later today when it becomes available you'll be able to grab the app from the Xbox 360 directly as per below:-
Turn on your TV and your Xbox.
Go to Apps, and then select Browse Apps.
In the Social category, select SkyDrive.
Microsoft has stated their goal to become a devices and services company, they also have a grand plan for 'Three screens and the cloud'. SkyDrive is the glue that will bind all these screens together, take a photo on your phone, upload it to SkyDrive automatically and then see it almost instantly on the TV. Since SkyDrive launched they have seen an explosion in the amounts of data customers are storing, today they are making it just a little easier to get to that content.
We'd like to hear from you, let us know how you're using SkyDrive and what you'd like to see from the service down the road. We know the SkyDrive team are avid readers of our site so comments could be a good place to make your voice heard.
Source: Inside SkyDrive;Thanks, @EasyPeasyJD, for the tip!
Get the Windows Central Newsletter
All the latest news, reviews, and guides for Windows and Xbox diehards.