CloudMesh Pro for Windows Phone is the myAppFree Deal of the Week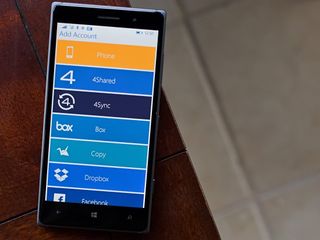 If you are looking for a Windows Phone solution to access all your cloud services from one location, this week's myAppFree deal might be of interest. CloudMesh Pro is a Windows Phone app that pulls all your cloud services under one roof for easy access and management.
The app normally runs $2.49 but through the myAppFree Deal of the Week, you can pick up CloudMesh Pro free. There is a scaled back, free version of CloudMesh (opens in new tab) available in the Store but with the myAppFree deal, there is no reason not to go Pro.
Along with providing you access to storage areas on your Windows Phone (main memory and/or microSD card) CloudMesh Pro lets you access the following cloud based services.
OneDrive
Dropbox
Box
GoogleDrive
MeoCloud
Facebook
Mega
Copy.com
4Shared
4Sync
In accessing these storage areas, CloudMesh Pro will let you browse, copy, move, delete, share, pin, download, upload and search files. There is a synchronization feature that is currently listed as in Beta.
At last check, CloudMesh Pro has almost one hundred reviews in the Windows Phone Store and pulls in a 4 Star rating. The Pro version normally runs $2.49 with the full range of features and no ad support. Through the myAppFree campaign, you can pick CloundMesh Pro up for free. If you have multiple cloud storage services and want to pull them under one roof, now is your chance to save a few bucks.
Please Note: The myAppFree Deal is currently being reflected in the Windows Phone Store but, due to time zones and such, it may take a little longer for the CloudMesh Pro deal to appear in the myAppFree Windows Phone app.
myAppFree
Windows Central is proud to be partnering up with myAppFree as we begin the new year. myAppFree is a free Windows Phone app and service that highlights special deals for software on the Windows Phone Store. Make sure you download their app to keep track of all the specials they run weekly, as you'll never know what you may find.
Windows Central will continue to highlight select apps and games, such as CloudMesh Pro, from myAppFree on a weekly basis as a benefit to the Windows Central community.
Windows Central Newsletter
Get the best of Windows Central in in your inbox, every day!
George is the Reviews Editor at Windows Central, concentrating on Windows 10 PC and Mobile apps. He's been a supporter of the platform since the days of Windows CE and uses his current Windows 10 Mobile phone daily to keep up with life and enjoy a game during down time.
False alert? It cost $2.49

It is free,I just downloaded!!

It is free for me too, in Hong Kong, but united state store

Calm your t*ts people, it was free in the US region when I checked a few hours ago and it is free in the link George has given which I think is the UK region. -.-

It is free here in INDIA :)

Nah, it shows for ₹135 to me.

WP central lagging.. Posting news too late..

Actually, no, this is an issue in scheduling between the developer and myAppFree. Also, you should really finish reading the article before commenting. As a kind gesture, I kindly bolded the part you should be reading ;)

Its windows central not WP central -_-

A moment you want to condemn people but your English sucks. You're the one who lags.. I wonder what processor that you're using. **Facepalm**

@MattMcQueen *cough* It's supposed to be 'your English sucks.' *cough*

Ok Jonny English :D lol.. Hardly a single line and you're judging my English.. Jobless! :P

I quote what Daniel wrote. We got a little trouble scheduling this free app 'cause of the new year incoming and some problems in the store. BTW Happy new Year to everyone!

I love this app!! Yay more free apps on Windows Phone! Android and iOS peoples don't know what they're missing ;)

I just downloaded...its free

Free for me. Downloading right now.

No, too early. Read the other comments, and the article itself. Sheesh.

I suggest you to change regione to US or try in few hours and download the app again.
From web I can see it's free worldwide but the store may have some issue in those days.

At one time this would have been of more interest to me. But now that I get a terabyte of OneDrive, it's of a whole lot less interest. Everything goes in OneDrive now and it's simple, easy, and clean.

Its free. Downloaded this morning(IST)

Yeah its free now... :) i think the updated after 11pm...

Yeah I also downloaded its free

Try to chance your region to US and let us know if you can download it.
From indian store I see it's free, it may be some Windows Store issue.

It's FREE here in San Luis Obispo California

No not free for showing free in myappfree but when i click download it appears buy 135₹ (inr)

It's probably caused by Microsoft Store issue. The Store is having some trouble in those days.
Try change the region to US or try again in few hours, the app will be free at least for more 16 hours.

Downloaded just now, and its workig fine, freee baby yeah ) germany here btw

It is now available for free in India !!! I think In India it is deal of the day on 2.1.15

I keep getting the 'something went wrong" message.

Just DL'd for free. East coast, United States.

INDIAN REGION FREE, I download before 2.1.15 itself!!

Finally got it. It was free.

It's showing cloudmesh is today's myappfree deal....blah blah for US region

Downloaded, just in time because the offer expires in a couple of hours. Thanks WCentral (to the developer(s) and myAppFree of course).

Free for me. Thanks Windows Centel.

Awesome! Now I can manage all my OneDrive accts from one app! And it's FREEEEEEEEEEEEeeeeeeeeee!

Not needed....currently got 25 tb on one drive...and one drive works well on iOS and android. May be I am risking by storing all my files on single cloud service but now nothing to worry about!

Just downloaded free in the US.

it's free in US, at least that's all I can tell ya

The app is good, except loading files and folders under Box is painfully slow. Copying / downloading files on Box doesn't work well with Box. One Drive is good though, but I will use the official One Drive app rather.

Was free for me the moment it went "app of the day" with myAppFree. Macedonia here. The app is awesome, but i have 1 question and 1 suggestion: Question: Does anyone of you guys have problem login into 4Shared cloud? Cuz I do have, it shows me the login error while on my lap top i can log in with the same email and password, but not on CloudMesh Pro. Suggestion: (This mainly goes for the developer) Is it possible to do a full black version of CloudMesh? I mean, we who have Super AMOLED screens (Samsung ATIV S i8750, WP8.1.1) would really love that cuz we all know how much power consumption are full white screens on Super AMOLED screens. BTW, The app works perfect. Thank you :)

It seems like someone has already suggested that https://cloudmesh.uservoice.com/forums/244474-general/suggestions/5981574-light-dark-themes

Oh yeah, didn't see that, thanks for the link KidX. Still have problem login into 4Shared tho, but i hope it will fix it. I use the mobile version from the browser so far, but through app would be nicer :)

Hmm, I have no problem login into 4Shared so far, I think it's your internet connection

Well, i don't think it's my connection, cuz i use the same wi-fi connection on my lap top and my phone. I can login with no problems on lap top, but not on phone. I also tried this with few various connections from my friend's home wi-fi's, still the same problem. Tried also with my mobile internet, same problem. However, it doesn't bother me that much, I am sure this will be fixed soon. :)

Well i just tried now and manage to sign in on my 4Shared account, but using my username not my email. When i try with email I got the error. However I manage to get my 4Shared account to CloudMash and that's fine for me. One thing I also notice is you don't have Upload button inside the app (like we have now in OneDrive app), but CloudMash does appear in the sharing list when you wanna share some file from your phone using the Share button, and it works perfect. :)

here you go, another suggestion https://cloudmesh.uservoice.com/forums/244474-general/suggestions/6059582-add-upload-button In my opinion, I prefer Upload Button to Share Button, it's more friendly

thanks again for the link, voted on both links you send me with 3 votes each and yes i agree, Upload button is better than native sharing option on WP. :)

Thank you to Windows Central and developer. Sensational app on function and aesthetic whether free or bought. Once the cross-provider folder pasting is done this will be perfect cloud software.
Windows Central Newsletter
Thank you for signing up to Windows Central. You will receive a verification email shortly.
There was a problem. Please refresh the page and try again.