CloudMesh for Windows Phone 8.1 consolidates all your cloud storage in one app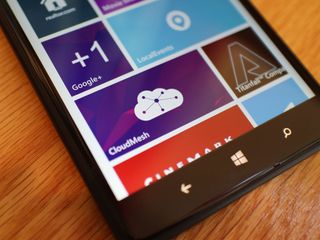 Looking for an app to manage all the various cloud storage providers you have? Then you're going to want to check out CloudMesh for Windows Phone 8.1. It's a brand new app in the Windows Phone Store that allows you to manage all your cloud accounts. Let's check out this beautiful and functional app for Windows Phone.
Head into the Windows Phone Store and you'll find version 1.0 of CloudMesh. As of today, you get access to the following accounts and services through CloudMesh:
Dropbox
Facebook
Google Drive
MeoCloud
OneDrive
Those accounts are in addition to the storage found on your phone and your SD Card. Once you've logged in to your various accounts you'll be able to interact with all your files in the following functions with CloudMesh:
Browse
Copy
Move
Delete
Share
Pin
Download
Upload
Search
We hooked up our OneDrive, Facebook and Google Drive accounts to CloudMesh. We then moved a few files between the accounts with no problem. App works as promise and should be a great way for folks to manage files between multiple accounts and services.
There are two apps in the Windows Phone Store – CloudMesh and CloudMesh Pro. CloudMesh Pro will cost you $2.49, but has no ads or limitations. With the free version of CloudMesh you get ads and restricted access to features. You can remove those ad banners ($1.49) and unlock functionality ($1.49) through in-app purchases. Or you can turn the free version of CloudMesh into CloudMesh Pro with an in-app purchase that unlocks the full version ($2.49).
Download the app and let us know what you think. It's a pretty powerful tool for those constantly juggling multiple online storage vaults.
Thanks for the tip Alin!
I like this. I hope Astro makes its way to WP. It did this plus file manager.

Hi Astro (and other apps) were our motivation to do this app, actually CloudMesh is a file manager also ;)

Yes I saw that and have bought your pro version. I love it already and thanks. Question is it possible to add picasa to the list?

You guys are the ones who tell us what to do ;) Please add it on our uservoice (http://cloudmesh.uservoice.com/) and if its on the top we will support it

Sounds good. This is a great.

Tomorrow i think i got my wp and i need to know if this app support the direct link (like a link of file in dropbox for my file to share to other don't have the app) to cloud service.

Yes, you can share the files links

Astro as in the android app?
Man haven't used that app since Android 2.1 ...

Would be great if it had support for OwnCloud!

Hi, We use Uservoice to decide which clouds/features should come next, if you want you could add OwnCloud there ;)

https://www.facebook.com/photo.php?fbid=407488422724162&set=a.3652183169... ;)

Great Marketing & seeing you commenting here is a good thing!

http://imgur.com/ifSfcSO MEGA comes in next update?

Alin yes, scheduled for this week!! XD

How about MediaFire? And Tresorit possibly? :D

Please vote on http://cloudmesh.uservoice.com/ ;) We will do the clouds that are on top ;)

+1 for OwnCloud. There is an app called "Otixo", it supports 28 cloud services.

If this was on Windows 8, it be the only reason I would use a library. All the clouds!

It will be soon, development already started ;)

Anyway you can also add at&t locker as well? Also, I would dl and pay for the app if it had WP 8.0 support.

Hi, please add it on our uservoice (cloudmesh.uservoice.com) we choose what to do next based on the users feedback ;)

Pocket File Manager does this fine for me,

Great app! Go Portugal! ;)

Hi, You can help us out supporting the new german via our translation program ;) Translation Site http://imaginationoverflow.oneskyapp.com/collaboration/project?id=8650 Regards

Hi. Can you guys add Sugarsync support? Greetings.

SugarSync is on our short list cloud to add to the app, we still recommend you to add it on our uservoice (http://cloudmesh.uservoice.com/) so that we prioritize it in relation to other clouds ;)

Cool. Finally a way to manage all my Contoso files.

Diogo Cardioso COULD be the next Rudy Huyn ;)

Rudy is the best WPdev I know and his someone that we (ImaginationOverflow) really admire, we feel really humble with that comment but we still need to work more to get to his level ;)

Bottom line-thank you for supporting WP!

Great as I'm only buying universal apps from now on. Hope they get more common.

Will purchases made now give us access to the W8 universal app or should we wait to buy until it is released?

The purchases will be shared between W8 and WP8.1. The only thing we can't confirm is when is the W8 version is coming out ;)

Hopefully soon because I'm ready to hand over my money :D

Add Amazon cloud services and be perfect. Especially music stored in the cloud.

Hi, we use our uservoice to pick which clouds to implement next if you want please add it there on http://cloudmesh.uservoice.com/ Thanks for the feedback

With the ability to move files from one account to another, this might be a very useful app.

Can u "copy" from one account to another instead of "move"?

Thank you dev's. I love this app. Downloading....

Are these type of apps safe? I'm a little paranoid with privacy and all that.

None of your personal information EVER leaves the app! So its just as safe as your phone is ;)

Excellent, I'll check it out.

Given the presence of MeoCloud, I'm guessing this is made by my countrymen. Looks promising and I'll try it ASAP.

Haha yeah I thought the same. "Este dev só pode ser português!" hahaha Greetings from a Portuguese in Canada. Força Portugal! Posted via Windows Phone Central App

What Google+ app is that on your home screen?

I would like to know that too

Because of your care and interest of the enthusiast I am buying the app unseen! :) installing pro now.

EricVM, thanks! I can't describe what reading your comment made me feel. You won't regret it ;)

release mega support and i'll buy it inmediately! greetings from Argentina!

MEGA will be supported in the next update.

Great job. Cannot add dropbox though. After login, i go to my files on dropbox on web, instead of authorization. Second, how to copy a file from onedrive and paste it on to local music folder, not possible? Bom trabalho!

Try, to delete the dropbox account (within the app), reopen the app and log back in. To copy files, select one (press on the gear or hold the file) open sidebar, select music folder (assuming that you added it) and press paste and its done ;) Muito Obrigado ;))

Keep good work
Greating from Lisbon

if they add at&t locker I'm in.

Having trouble linking my dropbox account on a Lumia 1020, keeps on giving me an error message

Where does the app actually saves the files once you download them? I can see the files from the Folders Beta app.

Hi, there is a item called "Local Storage" where all the downloaded files are present ;)

But there's no way of download the files into the phone itself? I can't share those files via Whatsapp with the Local Storage.

Yes you can go to the app local and copy to where you want the file to be ;). You can also share it to WhatsApp ;)

Dropbox problems here too. It is logging into the website and not the API

Hi, thanks for the feedback! We are working on it ;)

I wonder why Windows Phone doesn't just include different cloud services in Storage Sense.

Storage Sense is only for managing the local storage on phone and SD card.

how does it compare to pocket file manager?

Holy cow, there are a lot of different cloud storage places. Seems like even content on top is about adding this cloud or that cloud. Crazy

Hey guys, very appreciate your idea, but for now its completely useful. I've got an error message everytime I try to downlonad some file. I can log in to dropbox, but Iam redirected to mobile site which is useful. Please fix it. Great idea!

Hi, thanks for the feedback! We are working on it right now ;)

Bugs when using the back key

Hi, can you elaborate? What is bugging when using the back key? Thanks!

Also having the dropbox problem. Presents the web log-in and then allows for my two factor authentication code. Once I exit the program - it does not save the dropbox service. I bought the pro version....

Hi, we are solving this issue, we will update the app this week with a solution Sorry for the trouble

Guys you can now login on dropbox, sorry for the trouble ;)

Hi after the latest update, there's problem with dropbox again. We can log in but it hangs at the loading portion and the drop box is not added
Windows Central Newsletter
Get the best of Windows Central in in your inbox, every day!
Thank you for signing up to Windows Central. You will receive a verification email shortly.
There was a problem. Please refresh the page and try again.