Is Code Vein just an anime Dark Souls? Here are 5 things you should know.
Dark Souls meets anime in Code Vein – a punishing action-RPG on its way to Xbox One, with enhancements for Xbox One X.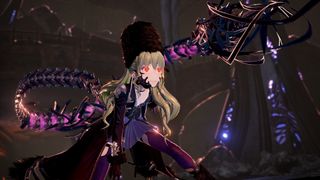 Bandai Namco still stands as one of the biggest games publishers in the industry, with a diverse range of titles spanning several genres. However, among its franchises, few have managed to take the crown from FromSoftware's punishing action-based role-playing game (RPG) series, "Dark Souls."
Code Vein is the latest title to come from the publisher, in collaboration with Shift – a Japanese developer with roots in the genre, best known for its work on the God Eater series. Building on this long-established formula, this title aims to deliver a fresh take on its punishing gameplay, however, with an anime twist. We've brought together five things you should know about Code Vein, ahead of its release slated for 2018.
1. You play as a vampire with superpowers
Code Vein kicks off in a post-apocalyptic world, following a cataclysmic event that throws humanity into chaos. After huge thorns emerge from the ground, known as the "Thorns of Judgement," these mysterious organisms have wound themselves throughout structures, leaving the world is a state of disrepair. This event also led to the appearance of hostile monsters, which look to wipe out the final survivors on the planet.
What remains of the human race are now vampires, feeding on blood and flesh as the only means of survival. Trained to wield an array of swords and supernatural abilities known as "gifts," these vampires aim to slay the monsters roaming the streets and harvest their blood. Code Vein puts players behind the eyes of one of these vampires, taking advantage of these combat skills to take down powerful beasts across the city.
2. Dark Souls fans will feel right at home
Based on the publisher's previous work on the Souls and Bloodborne series, Code Vein has garnered the title of "anime Dark Souls," referencing its familiar play style but a new coat of paint. And while there are some features to set the series apart, the game still takes clear influence from one of the publisher's most successful franchises.
From the flow of combat to level design, upon the first look at gameplay, the core values of the Souls series lay at the heart of Code Vein. Gameplay still has a distinct weight with heavy sword swings and slow pacing compared to your average action-RPG. The game still hugely rewards dodging and precision alongside well-timed combo moves. Even the punishing traits of Dark Souls return to an extent, stacking odds against the player in battle.
Although its cartoon art style might fool at first glance, Code Vein is still a hard game that encourages death, persistence and trial and error.
3. It's more than just an anime-themed Dark Souls
Code Vein may be influenced by the Souls series but also distances itself with some noteworthy changes to core gameplay. Moving away from the medieval fantasy backdrop to a modern-day post-apocalyptic world, this new setting is leveraged to implement new mechanics.
Tying into the vampire theme, Code Vein's gameplay revolves around blood as a resource – giving players access to their "Gifts" after securing the bodies of foes. Gifts are special abilities based on your class (known as a Blood Codes), which in turn, grant both limited-use and passive abilities to your vampire. This allows players to build up characters around a certain play style, with rewards that aid the strengths of a chosen Blood Code.
Unlike the main line of Souls games, which focus on a lone fighter, Code Vein gives players the chance to be accompanied by an AI companion. Characters that travel alongside the player will be prepared to fight in combat, while also providing a limited-use revive spell.
These sidekicks feed into the narrative too, as a source of emotional character building and a main pillar of the story. Between decisions made talking to your companion and other survivors, the outcome of Code Vein's story will be altered.
While Code Vein attempts to capture some aspects of what made Dark Souls so successful, the game also changes up the long-established formula with these new points of focus. However, challenging, yet consistent gameplay still lies at its heart and will remain a draw for most players.
4. Character customization will be a major feature
The role-playing component of Code Vein means that self-expression is another major aspect of the experience. Class building and Gift development have huge consequences in terms of gameplay, giving players the choice to the play around their preferences.
Code Vein also offers the tools for visual customization, including a complex character editor based around cosmetic choices. In this editor, players can select their character's gender, body type, and facial features – with the anime influence allowing for full creativity when it comes to styling and colors.
Your character's clothing can also be switched up. These will be somewhat hidden underneath your Blood Veil, a cloak worn by all vampires, but add an additional flair of personality to your character. It's currently unclear if there will be opportunities to unlock new cosmetic items over the course of the game, however, wouldn't be surprising to see.
The game's developers have previously spoken about the diversity in Code Vein, referencing not only players and companions but also the monsters themselves. Many monsters are based on vampires who lost control of their powers and as a result, inject variety into the foes you'll fight.
5. Code Vein will be 'Enhanced' for Xbox One X
As announced at E3 2017, Code Vein is among the titles currently set to release with visual enhancements for Microsoft's upcoming console, Xbox One X. Following a marketing deal between Microsoft and Bandai Namco, the developer is set to offer various upgrades to take advantage of the console's additional resources, though exact specifics are yet to be disclosed.
Based on the game's art style, which doesn't appear to be hugely demanding, it wouldn't be surprising to see Code Vein striving to achieve a higher resolution on the console, potentially even stretching to 4K. From pre-release materials, it's looking likely that the game will be targeting 60 frames per second at launch (FPS) to ensure consistently smooth combat.
Code Vein is expected to hit Xbox One in 2018, with a release for PlayStation 4 and PC also in the pipeline.
Get the Windows Central Newsletter
All the latest news, reviews, and guides for Windows and Xbox diehards.
Matt Brown was formerly a Windows Central's Senior Editor, Xbox & PC, at Future. Following over seven years of professional consumer technology and gaming coverage, he's focused on the world of Microsoft's gaming efforts. You can follow him on Twitter @mattjbrown.