Cold Space blasts into Windows Phone 8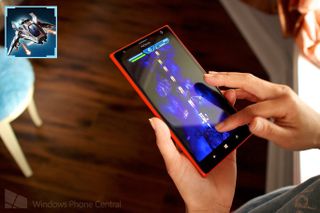 We've been seeing more games from other platforms making their way into Windows Phone 8. Here's another one. Cold Space is a 3D space shoot-em-up with excellent visuals and sound effects. You control a ship with a mission to destroy the alien-armada in the infinite space before it reaches the earth.
Your ship automatically fires weapons, so all you need to do is maneuver the ship by dragging it on the screen. Head past the break to watch our gameplay video on the Nokia Lumia 1520.
Before you even start playing Cold Space, we recommend heading over to the settings page. Check out the options in details: Low, Medium, High, and Ultra. We use Ultra on the Nokia Lumia 1520 and do not notice any lag or stutter while playing. It's hard to see a difference between High and Ultra, but Low versus Ultra is noticeable. With the Low setting, stars in far distance are not illuminated. You can see them in the other settings.
When you start, you can select to use a drone to assist you. Selecting one is free, but adding more costs credits. Choose from Phoenix, Lightning or Rocket. We like the Rocket!
The ship goes a little bit in above of your finger when you're touching the screen. To move, just drag your finger across the screen. The ship automatically fires your weapons, so just worry about aiming enemies down while avoiding getting hit.
Switching weapons looks really cool in this game. When you lift your finger, the game changes into slow motion while a menu pops up to switch weapons. There are three options and each one has their own specialty. The purple weapon shoots in several directions while the yellow weapon shoots straight. The blue weapon consists of strong missiles, but there's a delay each time they're fired. You need to determine which weapon is best to use in certain situations.
The game starts out really easy, but enemies become more complicated as you progress. Avoid getting hit by lasers, bombs, and missiles enemies throw at you. Some enemy ships also appear from behind.
The health and shield meters are on the top left corner. An alarm goes off when you are in danger of dying. Even though enemy ships preoccupy you, keep your eyes open for weapon upgrades, bonuses and power-ups flying around. They'll help out a lot. The nuke, in particular, is very handy. You can activate it by tapping the button at the top center with a second finger.
Cold Space is a free download, but there are in-app purchases available for credits. These are necessary to give you extra drones or continue playing after getting destroyed. You start with 35 credits, but we can't find a way to earn more credits while playing the game. It appears you need to spend real money to get credits. The most affordable option is $3.49 USD for 50 credits. We think that's a little pricey, but you can still play and enjoy this game without spending real money.
Download Cold Space now from the Windows Phone Store for free and let us know what you think of the game!
Windows Central Newsletter
Get the best of Windows Central in in your inbox, every day!
Awesome ..!! Downloading it ASAP !! Want Clumsy Ninja and Candy Crush for my beloved windows phone though :(

You do not want candy crush! Unless you are a 12 year old girl who is addicted to Facebook of course.

I've had multiple people have me beat levels for them on candy crush...it's just Bejeweled with an extremely shitty pay-to-survive schematic. We have Bejeweled so we don't need Candy Crush.

I don't play it anymore, but, Candy crush would definitely bring alot of my friends and family members over to Windows Phone. Personally though, I'm ok with the games we've had so far this year. But I agree, Clumsy Ninja would be cool :D

Did you guys ever contact Cave to see about getting Dodonpachi to work on WP8, I miss that game.

On Twitter, got no reply. I'll bug them again.

I also have been emailing them and facebooking them. They need to get espgaluda and their other games over here too.

I'd like to see an Ikaruga port instead ;-)

Multiple times. No response. I don't even care if they get lazy about resolution scaling, but I want that game back! Almost kept my Focus Flash just so I'd have a WP7 to play the game.

I got this game yesterday, think i was the first reviewer lol, i love it, played it once mind you, but it reminds of an old pc game that eventually got ported to good ol' symbian lol

Thats what one of the girls said in that '2 girls,1 cup' video

At least it wasn't that 'one guy one jar' video...

Whoa this game made me lag hard when I got a certain power up:D

I want an aircraft battle game :/

Look nice guys!!
In my phone works perfectly
XTC 8X

Need subway surfers , temple run 2 and GTA san Andreas in Lumia 520 , can't wait

Subway and Temple Run 2 is already there

Not for 520s, his particular beef.

Sorry, but I have to laugh, GTA:SA on the Lumia 520!!?!

Whats so laughable? The game was made to run on a system with laughably lower specs than even the 520.

Yes, but doesn't that tell you something?

No not really it tells me nothing... Halo Spartan Assault works on the 520. Why would GTA SA not work?

still no clash of clans :/

Total Conquest is pretty much identical so we don't need Clash of Clans.

I thought this was going to be as dreadful as that Dodopatchy shitstorm pixel vomit but was pleasantly surprised. Bit more elegant.

This is a classic format for a space shooter and is executed very well. The graphics, sounds and gameplay are spot on. A brilliant addition to the Windows Phone platform

Very nice looking game but marred by a horrible, draconian pay to win IAP system :-/

No Xbox support? This game looks cool and all, but I really only care about Windows Phone gaming when Xbox is a part of the experience. It really is a big deal to me. As it is...this just makes me really want DODONPACHI to get a WP8 update.

Great game. Worth the download !

Clumsy ninja ... Waiting dor it :/

I liked it, until I heard the WOOOHOOO! What a way to spoil an otherwise epic game.

Sadly not available here in Brazil. Come on developers! :(

Reminds me of the old Galaga arcade game!

I've never been a fan of these European shmups. The action is too slow and stiff and the aesthetic feels so uninspired. Everything's got the same blocky, metallic look. And for some reason the hero ship is always unimposing. I'm still waiting for a proper Japanese shmup to show up on Windows Phone because they tend to get everything right. Given the abundance of these kinds of games on the Xbox, especially by Cave, I'm surprised none exist for Windows Phone.
Windows Central Newsletter
Thank you for signing up to Windows Central. You will receive a verification email shortly.
There was a problem. Please refresh the page and try again.