Cold Space blasts into Windows Phone 8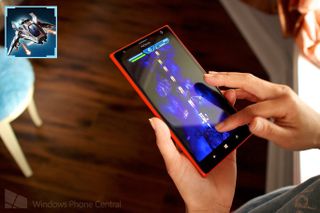 We've been seeing more games from other platforms making their way into Windows Phone 8. Here's another one. Cold Space is a 3D space shoot-em-up with excellent visuals and sound effects. You control a ship with a mission to destroy the alien-armada in the infinite space before it reaches the earth.
Your ship automatically fires weapons, so all you need to do is maneuver the ship by dragging it on the screen. Head past the break to watch our gameplay video on the Nokia Lumia 1520.
Before you even start playing Cold Space, we recommend heading over to the settings page. Check out the options in details: Low, Medium, High, and Ultra. We use Ultra on the Nokia Lumia 1520 and do not notice any lag or stutter while playing. It's hard to see a difference between High and Ultra, but Low versus Ultra is noticeable. With the Low setting, stars in far distance are not illuminated. You can see them in the other settings.
When you start, you can select to use a drone to assist you. Selecting one is free, but adding more costs credits. Choose from Phoenix, Lightning or Rocket. We like the Rocket!
The ship goes a little bit in above of your finger when you're touching the screen. To move, just drag your finger across the screen. The ship automatically fires your weapons, so just worry about aiming enemies down while avoiding getting hit.
Switching weapons looks really cool in this game. When you lift your finger, the game changes into slow motion while a menu pops up to switch weapons. There are three options and each one has their own specialty. The purple weapon shoots in several directions while the yellow weapon shoots straight. The blue weapon consists of strong missiles, but there's a delay each time they're fired. You need to determine which weapon is best to use in certain situations.
The game starts out really easy, but enemies become more complicated as you progress. Avoid getting hit by lasers, bombs, and missiles enemies throw at you. Some enemy ships also appear from behind.
The health and shield meters are on the top left corner. An alarm goes off when you are in danger of dying. Even though enemy ships preoccupy you, keep your eyes open for weapon upgrades, bonuses and power-ups flying around. They'll help out a lot. The nuke, in particular, is very handy. You can activate it by tapping the button at the top center with a second finger.
Cold Space is a free download, but there are in-app purchases available for credits. These are necessary to give you extra drones or continue playing after getting destroyed. You start with 35 credits, but we can't find a way to earn more credits while playing the game. It appears you need to spend real money to get credits. The most affordable option is $3.49 USD for 50 credits. We think that's a little pricey, but you can still play and enjoy this game without spending real money.
Download Cold Space now from the Windows Phone Store for free and let us know what you think of the game!
Get the Windows Central Newsletter
All the latest news, reviews, and guides for Windows and Xbox diehards.