Comcast's Xfinity app for Xbox 360 to shut down on September 1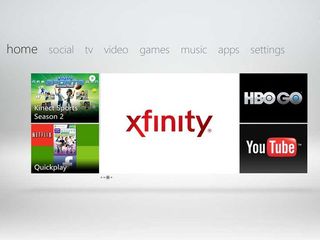 Xbox 360 console owners who use Comcast's Xfinity app got some bad news over the weekend. Microsoft sent messages to those users stating that the app would be removed from the console on September 1.
Comcast first launched the Xfinity Xbox 360 app in March 2012, allowing users of the cable TV service to watch on demand TV shows and movie programming directly through Microsoft's console, if they also subscribe to its Internet service as well. It was the first time Comcast allowed access to its Xfinity service via a game console, and people who used the service also didn't have to worry about it impacting Comcast's 250GB cap on Internet services.
We contacted Comcast's Twitter support feed to find out why the Xfinity app was being discontinued, and received this very vague response:
Comcast never launched an Xfinity app for the Xbox One, but other cable TV providers do have apps for Microsoft's console, including Time Warner Cable, Verizon FiOS TV, and AT&T's U-Verse. In addition, several cable TV networks have their own Xbox One and Xbox 360 apps, including HBO, Showtime, Epix and many more.
Thanks to John for the tip!
Comcast bastards better be putting it on Xbone.

They are b******* and no they will not be providing an app for the XBox One because they want you to rent there X1 DVR box and have you buy and rent movies and shows from them.

I have comcast and hate their idiocy but I have never had a problem over lack of an app here and there. This is why I prefer using a tablet and miracasting it to the TV. It works good enough.

Their xfinity box is garbage with lag on all button imputs, but they clearly view the Xbox one as competition because they offer their own "snappable" apps and rentals. Posted via the Windows Central App for Android because I am unfortunately with Sprint

Going to be talking to Comcast about reshaping my package. This I a major content loss.

You should do an article on the best TV apps!

Nothing says "updates and improvements" like removing an app for last generations console. smh.

They want you to buy/rent their X1 Box, so they can't have you running a similar experience on your XB1. It's an X1 competition! :)
SO glad I moved out of Comcast Country.

I hope there is a Universal App coming for this. Then again, I'm probably one of 10 people in the whole US who has had nothing but good experiences with Comcast. They're a bit expensive but everything has been worth it so far.

Sucks I use that app daily.

Could be worse...you could be in an area that only offers Charter.

OR where there is no cable at all and you have to use CenturyLink DSL. :(

I am in a CenturyLink area with Fiber optics. I get 40dwn / 5up. Soon it will be 40dwn / 20up.

We are not going to get any apps from Comcast. They have too much money to ignore all the windows users.

I'm pretty sure they're restructuring their website and the app's API will be outdated after that.

They're trying to force people on to X1 or to get full boxes.

Crap, I use this app all the time. Beats having to download all the individual apps. Oh well. Posted via the Windows Central App for Android

Wow... The Xbox really is supported

Colusion with MS to force Xbone upgrades?

Xfinity does not have an XB one app at all.

I hope they eventually bring over the TV Go and Xfinity TV app from other platforms over to Windows Phone. They are really great services and would greatly narrow the missing apps that I use on my Xperia Z3.

Interesting... And reminds me that Comcast is missing on some channel websites, where you need to login with your cable provider login to view entire episodes. Perhaps Comcast is having troubles with content providers, and pulling the app is part of that.

I recently moved to another state and decided to give cable a try again. Why? Well, I was offered a pretty incredible bundle (100 Mbps "guaranteed" tier internet, "top tier" lineup, HD, DVR, and security system for about 125$, plus a silly 150$ VISA card). Anyhow, after nearly six months of use I have to say that while I certainly appreciate the higher speeds because I work from home, I don't make too much use of cable TV. I think I'm going to have to make a decision soon. The 100 Mbps "guaranteed" tier is nice as I frequently test higher by about 10-25 Mbps. I appreciate the security system because I can hear activity in and out of my home which is important with kids/ frequent guests and a dog that likes to bolt. I'm just not convinced anymore I can justify all of it. Now, give me a reasonable tier of internet AND an XBOX ONE app and I'm set. As it is, I have my Comcast cable box piped through the XBO and frankly I appreciate the OneGuide more - so much faster. The only challenge is controlling the DVR of the Comcast cable box. Meh. I wish I had more options. I quite liked AT&T U-Verse when I was in Austin. Comcast is dilusional if they think they are competing with consoles and streaming services with their xfinity OS. They need to stick to their core business.

Gee, what a surprise. This is just like how Comcast never authorized the use of HBOGo for its customers on PS3 and PS4.

Meh, the app stopped working on my Xbox about a year and a half ago, so nothing lost. Neither Comcast or Microsoft would offer any support, without further payment.

Comcast service has always been awful. Their own interface looks like it was copied off of a 2007 iPhone. One example, when you finish playing a show On Demand it takes over 20 clicks to get to the next episode s they Kaiser you have to go all the way back to their front page and be subjected to their insane sales video while you struggle to find the next episode, typically buried under dozens of blue oval click buttons. No support for anything Microsoft but I'm expected to pay the same as an iPhone/iPad don't for substantially less service. Now this. Cord cutting is getting very interesting right about now.

Their new STBs will be able to play games

Good thing I have Netflix and Hulu.

The future is open. The future does not have a Comcast.

As much as I wish this to be true, it isn't. Comcast is one of the largest ISPs in the USA. Once they start losing profits on cable subscriptions due to streaming, they will raise the price of Internet service to compensate. The future of Comcast is most of their profit coming from high Internet prices. That is where we need the competition. More ISPs competing for business. Unfortunatley, I don't suspect too much change as Internet is now classified as a "utility" under net neutrality. When is the last time your electric bill was lowered due to service improvements? Limited competition still exists somewhat. DSL vs cable vs fiber. That is it. Competing on speed service is all one can expect from this future. Data caps or metered service will be implemented before long. Oh boy, can't wait for metered Internet service when I stream everything all day long...

"250 GB cap on internet services"
What? I'm a mostly unhappy Comcast customer and I don't know about any cap? I'll have to check into this.

Please launch an Xbox1 app that replaces your X1 box, which is garbage. Kthx.

Thanks for the article John! Just want to inform all folks who live outside US that Xbox 360 is a great media Player. If you want to access Netflix and other streaming stations on your Xbox 360 you can use UnoTelly as I do to get around the geo block.
Windows Central Newsletter
Thank you for signing up to Windows Central. You will receive a verification email shortly.
There was a problem. Please refresh the page and try again.