Completing Xbox Game Pass Quests may bag you a gold Xbox One X
Must get that shiny console.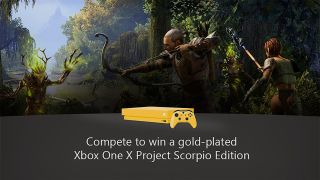 Today, Microsoft announced special Xbox Quests for Xbox Game Pass members. Xbox Quests are certain fun tasks you're required to complete in order to win a special item or be entered into a draw. For example, the Xbox Game Pass Quests: Summer Edition gives you the chance to win a gold-plated Xbox One X.
Microsoft issued the following statement on Xbox Wire (opens in new tab) detailing the program.
In order to win these prizes you have to play any Xbox Game Pass game for an hour, three days in a row before July 9. Apart from that, you also have to earn three achievements in The Elder Scrolls Online from July 10 to July 16.
Xbox Game Pass membership costs $9.99 each month so be sure to check it out if you want a Netflix-style subscription for games. Unlike competing products, the titles download to your system so there's no streaming involved.
Keep an eye on WindowsCentral.com/Gaming for all the latest in Xbox and Windows 10 gaming, accessories, news, and reviews!
Get the Windows Central Newsletter
All the latest news, reviews, and guides for Windows and Xbox diehards.
Asher Madan handles gaming news for Windows Central. Before joining Windows Central in 2017, Asher worked for a number of different gaming outlets. He has a background in medical science and is passionate about all forms of entertainment, cooking, and antiquing.
I guess they didn't realise the world cup is on... 🤣

MS is US-focused. I don't think they really care about the world cup.

We've had an article about Jez talking about quests that are going to be given to players.
I'm guessing this is a way to keep gamers engaged and active.
Giving quests or regular "tasks" or "homework". I would think this is a good way for them to boost "active user" when they announce numbers to investors.
Also this is a good way to make people do or play what MS wants them to do or play...

Wait, are you saying a promotional activity is about more than just giving away 'free' stuff? I'm just shocked I tell you, shocked! Next you'll be saying the free and discounted games through PS Plus and Xbox Live Gold subscriptions are not just offered out of the kindness of their corporate hearts.

No I'm trying to say that imo they want to take control or change gamer's habits and what they play. That the priority is no longer "make great games and gamers will play them". It's about trying give out tasks to artificially create engagement, hype and activity to boost numbers for investors.
I'm guessing it's easier and cheaper to do things like this...

Always finding something to moan about. Do you even own an xbox? Or do you like just trolling. Good to see you around again after E3 and the annoucement of over 50+ games including 10+ exclusives.

"E3 and the annoucement of over 50+ games including 10+ exclusives."
I see your lies never stops... :)

Every store on every device has a method to try and direct their customers focus onto specific products for various reasons. It works in exactly the same fashion in physical stores. Why do you think so many sales correspond with key financial reporting periods? So let me reiterate, you're trying to take a common and fairly transparent practice, that places zero to no impositions on the customer, and make it sound like a dodgy/desperate ploy by MS. Seriously you constantly complain about supposed 'fanboys' or whatever, but being an habitual **** poster is no better in my opinion. MS could find a cure for cancer and you'd be complaining about the amount of time it took and all the other diseases they've not cured.

My problem here is simple. It just comes down to the same thing.
My priority is always GAMES. I want MS to focus on making games. The simple old way of doing thing.
Invest money on making games for your platform. Make your platform attractive by making games for your customers while trying to get new customers in. That's the business model I defend because it's pro-gamers and pro-gaming. I'm not for a company focusing on these methods to artificially create engagement, hype and activity to boost numbers for investors.
I don't want companies to invest a lot less on making games and focus their communication on these type of methods. Meaning putting a lot less money into gaming but make it seem like they are doing great things for gaming... It's marketing, communication and PR stunts over actual money into gaming/gamers.
They have so much money they can do so much for gaming. It's unbelievable how a much smaller company like Sony makes so many more games then them.
MS had the money to actually kill sony's lineup, but they choose to do these PR stunts instead. Really sad... When MS created that one new studio I gave them total credit for them. I said that was brilliant. So there you go, it's not always cynicism.

That Elder Scrolls quest is pretty brutal for anyone who has already played the game a bit.

[quote]
Xbox Game Pass members in the United States, United Kingdom, and Canada who complete their Quests are guaranteed a special prize, plus entry to win the grand prize.
[/quote] Hmmm, to bad for all the other xbox players around the world.....

It's so often the case. For me it's clear, MS doesn't really care as much for these people.

Look at Google, Apple, Sony, Nintendo, Bandai, Sega, RockStar, Bethesda, Dell, which ever company... you are talking nonsense right?

https://en.wikipedia.org/wiki/Whataboutism

I don't think the term Whataboutism applies here. Your comment was making the unsubstantiated assertion that the practice of focusing promotional activties on a few countries was evidence that MS did not value other countries. Knowing that this seems to be a common practice across the sector and industry would suggest there is something else at play (i.e complex licensing or legal factors perhaps) that prevents, restricts or acts as a barrier for broadening these activities beyond those few countries.

You know what, I'm from Europe and I really don't see how this is a common practice across the sector. I've seen MS has this "only in NA" a lot more than any other gaming company this generation.
In fact few examples here, for years the PS+ was actually 50 bucks in Europe while being 60 bucks in the US.
But like I said, Whataboutism is just because instead of talking about MS is doing people want to say "oh but others are doing it too".
Throughout the years and through their communication, the US has always been MS's priority. I mean they invested $400m on NFL stuff!!
I actually wish they put that money into making games for everyone. Here I don't even see a reason why gamers of other countries who all have game pass cannot take part in this thing. It almost look like they just didn't want to bother translating stuff and just focussed on the bigger english speaking markets. XB is getting dominated in all these other countries. MS really need to work on this if they want to get a better image over there. It's not by doing things like this that they'll ever become popular in other markets...
So unlike other gaming companies MS needs to work a lot more than they are. Let's not forget that while trying to say "what about others?".

So a limited edition special edition project scorpio
Or a special special edition project scorpio?

I'm waiting for the super ultra turbo edition.