Comprehensive list of Diamond/Pro G-sensor apps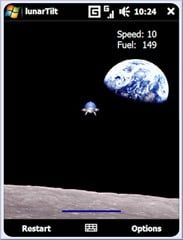 Chances are you're doing more with your Touch Diamond's (or Touch Pro's) G-sensor (accelerometer) than just switching back and forth between portrait and landscape mode.
But if you need a little help, wmpoweruser has complied a decent list of applications, including games and utilities.
Most of the app links head over to the giants at XDA developers. Included are the ubiquitous Lightsaber app, Lunar Tilt (seen at right), Diamond beer, Magic 8 Ball, and utilities such as BubbleLevel, G-Remote G-Mouse (as seen on WM Experts!), G-Alarm and a host of others.
Hit up the list here. And tell 'em WM Experts sent ya.
Windows Central Newsletter
Get the best of Windows Central in your inbox, every day!
with Samsung CAPITIVATE..
if i change from BLACKBERRY to CAPITIVATE. can I still continue to Use my "OUTLOOK" for address and Date Book I use Microsoft Office for all my work and E mails. and it ties with OUTLOOK.
I WILL NOT CHANGE FROM THIS. the ATT store is not a help. And Samsung telehone tells me this is too new to give any help. anyone out there have an answer