Help rename Weather+ on Windows Phone and you could win something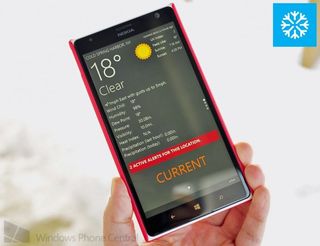 Feb 7, 12:30PM ET: Comments are now closed! We'll be going through and picking our choices! Thanks to all who participated!
Weather apps. Everyone wants one, and everyone has their vision of the perfect one. Weather+ is the new kid in town that we've been covering, and it's maintained a solid 4.5 stars out of 5 on the Store. That means many of you like its unique gesture based interface and bold UI.
Unfortunately, the weather app has run into naming troubles. This is an issue we're seeing more and more these days as the mobile playing field starts to get crowded. The culprit? Weather+ is evidently a popular title on something called iOS (yeah, we haven't heard of it either) and they've filed a successful 'Content Infringement Claim' against the developer Bailey Stein. The app has been temporarily hidden due to this dispute.
So, you know the drill. Based off of the app's unique design and gesture-based UX, what would you call it?
The guidelines are simple, so you better follow.
Rules
Think of a new name
Leave a comment with just the name you came up with (put banter in a separate post, if you must)
Multiple entries WON'T BE COUNTED, so don't spam names
The first instance of a name gets the credit, so pay attention to previous comments
From there, the Windows Phone Central team and Bailey will pick FIVE possible choices. We'll then run a second article with a poll for you folks. Whichever one you vote for the most, gets the new name, deal?
Prizes
5 entrants to the prelims each get $15 gift certificate for the WPCentral Store
The top winner gets a $35 gift certificate (in addition to the $15)
All for just writing down one, ultimate title. Sound good? Think of your new name for Weather+ and sound off below! You have 24 hours.
Windows Central Newsletter
Get the best of Windows Central in in your inbox, every day!
Daniel Rubino is the Editor-in-chief of Windows Central, head reviewer, podcast co-host, and analyst. He has been covering Microsoft since 2007 when this site was called WMExperts (and later Windows Phone Central). His interests include Windows, laptops, next-gen computing, and for some reason, watches. Before all this tech stuff, he worked on a Ph.D. in linguistics, watched people sleep (for medical purposes!), and ran the projectors at movie theaters because it was fun.
OK, but this devs name is Bailey, not Rudy. #justsayin

Hahaahhaa From My Lumia 929

This is a good suggestion.

I like the simplicity but to be more WEB-like I'd change it to: Klimate :)

explanation:
•Multi Touch (gestures)
•Forecast (weather)
• "+" (referring to previous app name)

Perhaps one day I will find a WPCentral post without any stupidity in the comments.

wetar That's the origin of the German word "Wetter" (or "weather" in English). It's a very old German word, which means wind or breathing.

We hath observed what thou hast performed here...

"another weather app without animated radar"

It has animated radar. Look again...

What's the weather doing?

Weather Expression or Weather X

Unfortunately there is already a weather app named MyWeather. My caffeinated fingers typed this in and hit submit before I checked the store. Looks like my submission is out!

JustWeather Posted via the WPC App for Android!

Careful there, you don't want to get sued by BSkyB now, do you?

OneCast maybe?? From My Lumia 929

BRIAREOS-U (Braireos being of of the ancient greek storm gods)

MetroWeather or WeatherPro

Weather you like it or not

Weather++ was the first thing that popped into my head, too. Well played on posting it first. :-) Of course, it won't be seriously considered since it's still too close to the original, but it would be funny.

Forecaster
Forecastr
4castr
4caster

WeatherView or weatherPoint or weatherSight...

Wait...what? I don't get it. Is that the point?

damn just noticed you already took mine :(

Clima (means "weather" in Spanish).

Weather24/7 Beautiful Weather Weather Control My Beautiful Weatherview Windows Phone Weather

Weather Aloft ( there is a word wind aloft ie. wind speed and wind directions at various levels! )

Yeah so windows phone central folks can sue the poor guy

weather sense, weather king

Any Weather If any other possible names can be taken I may say: Bweather We-ather Real weather The weather (or) the nation's weather Your weather If just allowed one then pick the first option, but at least get a few other options!

"weather mate" but with an 8 for wp8

I Can't Believe It's Not Whether!

Weather# (like C to C++ to C#)

meteorologist (number 1 to say it)

What's Falling On My Head

AER is latine expression for - Air, climate, atmosphere, ether, mist, weather...

RT Weather as in Real-Time Weather

Nimbus (the latin word for cloud)

I've also made a Logo to go with the name. It's pretty sweet and minimal :)

WeatherX (as an addendum WeatherX where X>1. thus keeping in the + theme)

Metrology W.eather Waether 4cast ForCast Wether

TouchCast TouchClimate WeatherUI UIElements

CliMate Climate Mate was my orignal suggestion but personally, I think the latter sounds more Windows Phoney

Solar Weather. All weather dictated by the sun

Whoops! I meant to type 'Breezy'
Oh well.

Meghadoot. Means 'Cloud messenger' in Sanskrit.

Weather Phone Central (we could call it WPC for short)

Ha this is what I thought too!

Climate4U
The Weather4cast

KALAVASTHA..,means weather...

Reason: with each gesture it takes you to a different panel (page)

WTF (What's the forecast)

Hahahaha...I lol'd hard when I read this. I must say you have a very creative mind. :)

TempYa. Its the combination of the Latin and Greek words for weather.

Since there is already Power Weather in suggestions, my new suggestion for name is Weather Unleashed

Shows the app will be reliable too. I.E. "It'll work come rain or shine" (might be just an English saying?)

i'm-laughing-so-much-with-the-comments weather

Mausam- a Hindi name for weather, climate or season.. Get mausam

Actual.
Yeah, that's it. Actual for Windows Phone 8. Why? Because it's not "whether", it's actual.

Whether or Not I'll Need My Mittens

YAWA ( Yet Another Weather App)

25* Celsius * denotes degree PS: I don't have degree symbol in my phone.

How's about "weather -"? I know it's mind blowing. I'll be expecting to hear from you soon.

4-Cast was my first thought, but some other guy stole my idea : )

GestCast
A Combination of 'Gesture' and 'Forecast'

Weather Move (for having to do with the gesutre UI)

Cirrus, because it's just that elegant.

IncredibleWeather (or Incrediweather) Weathertastic is another great idea :)

YourWeather Forecast+ The Sky Is Falling

Weatherglass or Weatherglass+

My Weather or My Weather Plus

Explanation - Weather+Move (gesture based controls)
But it's pronounced like the actual word. Sorry for this being my second entry. Couldn't decide which was better.

WeatherWatch World Weather Watch (WWW) Whatever ))

herenow+ rightwether+ rightnow+

Windy / Windy Cast / Windy 4cast ,,,, something related to/only the word "WINDY" :P

It refers to characterising a region or area in accordance to the general prevailing weather conditions of a region (as temperature, humudity, precipitation, cludiness, winds etc.) Derived as a Latin English word famous in 18 century, was used for knowing about weather of a place. like clime of spain - "The rain in Spain stayes mainly in the plains".. haahaha.. i am quoting form pygmalion.. guilty as charged!! but i think it for a great app like weather+ this would be a perfect name as the app provides for all the details in a very detailed manner for all the details require to define the CLIME or we can say CLIMES of different places..

rightnow+
herenow+
rightweather+

Wow there are so many entries for this contest. :)

WTW+ (What's The Weather+)

4Seasons Posted via the WPC App

I suggested Weather Swipe on the first page but I'm so awesome that if it wins 1st place, I'll split the prize with you. $25.00 for the both of us.

Drop or Dry (i couldn't find my previous comment with same name)

WeatherSeer or SeerWeather........ if you guys choose something close to this name but exactly not this then Wherever you hide, I will find you and request you to choose this. ;)

Weather Watch
Your Weather
Forcaster

WhatsItLike ( outside, what's the weather like in"country")

PureAir (or maybe PureAir+)

DaWeather
Wiather
WeatherP
ClearSky
Klima

Weather's here! Logic: When people come to the WP platform, while looking for weather apps, they are very likely to search 'Weather' rather than Sky, Cloud, etc. So I chose to include 'Weather' word in the app's name. Now, how to set apart your app among many many others? Simple. Your app must INTERACT with the person. That's why the final name 'Weather's here!' because it CONNECTS with the person. He is more likely to download this app rather than the conventional ones.

Weatherglass or Weatherglass+ I'm an Earth Science major.

WeatherTrack Posted via the WPC App

Sorry, connectivity issue.

Weather+more
Weather+me
Weather Here
Weather4Me
Weather4SmartOS

AFOS is the computer system that links National Weather Service offices and other computer networks, such as the NOAA Weather Wire, to transmit weather information.

Weather's here! Logic: When a person is new to the WP platform, while searching for weather apps, he is more likely to search the word 'Weather' than Sky, Cloud, etc. Hence, I chose to include the word 'Weather' in the app's name. Now, how to set apart your app among many others? Simple. Your app must appear to INTERACT with the person. And that's how I arrived at the final name "Weather's here!" because it casually and very elegantly CONNECTS the weather with the person. It appears that it says - 'Hey man! here's the weather for the day/month/week you have been looking for!". He is more likely to try out this app than the other mundanely named apps.

WeatherDegrees
Degrees Posted via the WPC App

Inclement(Weather) MyWeather

Weather SEAL (Sea Air Land) Considering the description of this app in the store, "Weather+ is the most advanced weather application on Windows Phone.", I figured the SEAL stamp seems right since SEAL's themselves are an elite force.

vedru which, surprisingly, means "good weather,"
Link http://blog.oup.com/2006/04/weathering_the_/

A CATCHY NAME : PRIME WEATHER PRO ( PWP ) ! LOVE TO SEE THIS

Pure Sky

It embodies the app nicely, as well as being relevant. This app's sole purpose is to give you the weather. Nothing but the sky. Purely, the sky.

"vedru", which, surprisingly, means "good weather. Link http://blog.oup.com/2006/04/weathering_the_/

SkySeer Project Fahrenheit

Weather✅ weatherall weather together Weathersby weathertime weather ultra suddenly weather

Mausam+ (Indain word for weather)

Atmos Posted via the WPC App for Android!

WPW (Windows Phone Weather) It's Not Weather+ VeryWeather RainyWindows

365WeatherPlus 365Weather
Weather365

-Weather Stakes And if I'm allowed more than one: -Weather Scope
-Weather Googles

WeatherStream
WeatherStreamer
StreamingWeather
StreamWeather Posted via the WPC App

WeatherStein or SBWeather

The word "weather" is starting to look weird now!
But my entry is: FairWeather

[EDIT]Can a moderator remove this comment please, didn't see you were not allowed multiple entries :P

Ultimate Weather
Mother Weather

Weather fo sho or weather fo shizzle(yo yo a litre drizzle fo my shizzels)
Or "let see what global warming did this time"

How about rain rain where the f***are u today

WeatherView Posted via the WPC App for Android!

It should be WitchAir or Centwee or DreamMe or Suntrain

Weatherism how about this ..!!!!

CloudyWithAChanceOfMeatballs

How about: #TheWeatherApp #TheWeather #Weather

The Weatherman The top winner gets a $35 gift certificate :) say yes !!!

As a bonus, you could call a trial version "Light Zephyr," which would have a weather-related double entendre!

WeatherUpdate....bt cant u jst write 'plus' instead of '+' ?? From My Lumia 929

Realized that someone already took this.. So here's my new entry
1Weather4all

ACCumulation+ - Capital ACC so u can say, "Hold on let me check ACC, ... Yep is supposed to rain tomarrow." Thanks for letting
us try to name it!!!

D judges are gonna hav a hard tym...selectin 5 entries outta 1000 entries...But plz do select WeatherUpdate an WeatherPlus+...Bst of luckk From My Lumia 929

Weath®Ne► or Weath®1 (meaning = Weather One)

Weather* (*= degree symbol)

Cloudy? ----- "?" included.. some nice colors and a cloud in the icon

WeatherFone / WeatherPhone

Just now saw that someone else has already posted my suggestion.. I am wondering why that comment did not show up in my windows phone...

WeatherCentral. In accordance with WPCentral.

SimplyWeather. Made for you.

BetterWeather+ (seems like my former post didn't show up)

"Weather8" or "8Weather" ?

EyeWeather sounds really cool!

FlipWeather WeatherGo GoWeather WeatherZone WeatherBar

OneCast...it wud sync with the Microsoft's new ONE naming policies...

W E A X
with X in the form of toppling + in the logo.

Why my last entry is not shown i have posted 9 hours back :( My suggested name was Weather Bee/WeatherBees

weather life weather boy weather kid

World Weather Windows Phone

Well, I probably get disqualified because of mutiple entires... But truth be told, since the last WP app upgrade it looks like my comments on stories don't show up in the app. Opened the webpage to check and fair enough, the comments are there... Just not in the app. Using a 1520...

"Out The Window" or simply "Window" Because, you could look out the window to see what the weather is, but instead you used your Windows Phone.

Zeus is the god of fire.He is The God of the gods.Nothing to do with the sky

Weather Targaryen (Every GOT fan will download it at once) and will be super popular xD

Sky Check Sky Speaks Weather International Weather Central International Weather

Clown. Weather Hybrid Windows Outside Winweat Score

RÀNorSHÍN best I could do...couldn't find the 'a' and 'i' with the line over them. Or just go with "rain or shine" :P

✊WEATHER BOSS✊ SATELLITE WEATHER SKY+ ONE WEATHER MIST WEATHER WOODS WEATHER

"CELVIN"----CEL from celsius and VIN from kelvin

Wx Posted via the WPC App for Android!

WASS (winter+autumn+spring+summer)

--- Clowdy --- simply because we are in the era of cloud computing. And it has a strong relation to weather.

"Zenith" is a simple word that, no matter who or where you are on the planet, is the point dorectly above you. Most forecasts predict what will be floating above your head that day, be it sunshine, rain, lightning, clouds etc, and so it seemed a fitting name. Of course, there's always stuff like wind, temperature, pressure, and what have you... but since a lot of that can be dependent on what the skies are doing, I think the title still remains relevant. Not to mention, it also starts with the letter "Z," and any word that begins with "Z" is a cool word by nature ;p My pointless discussion with myself is now over, thank you for your time 8>p ... And GOOD LUCK EVERYONE!!

URANOS.The Greek word for the Sky

TrenchCoat+ or Umbrella Y/N

Greek Titan god of the sun, nice and inteligent name that is also avaiable at the store.

Weather wow ! or Wow Weather !

"BREEZE" first thing that blew into my head...

Forecaster Hey admin sorry for double post I have some carrier problems. Posted via the WPC App for Android!
Windows Central Newsletter
Thank you for signing up to Windows Central. You will receive a verification email shortly.
There was a problem. Please refresh the page and try again.