Get your custom Xbox One controllers from Controller Modz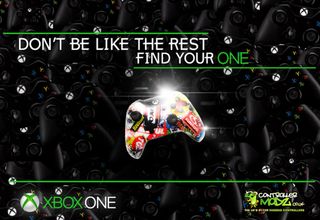 The Xbox One is still a pretty new console, and so gamers don't have much in the way of controller choices. If you missed out on the Titanfall Limited Edition controller, you're pretty much stuck with the default black controller until the camouflage design comes along in the fall. How boring is that? Just think of everybody getting their controllers mixed up during Rayman Legends sessions.
Luckily, controller modification specialists Controller Modz are on the scene. The UK-based retailer offers a wide variety of customized controllers for the Xbox One and other consoles. These controllers aren't third-party knocks offs; they're official Microsoft controllers that have been professionally recolored with the customer's choice of design.
In celebration of Controller Modz's latest design (themed after UK gaming site Invision Gaming Community), users can even get ten percent off of their order. And yes, they ship internationally.
Invision Controller
The Controller Modz "Invision One" Controller for Xbox One comes in a fetching lime green color with chrome finish, evoking the look of the Invision site. Green has always been an Xbox color as well, come to think of it. The controller's green color comes from professional airbrushing and a glossy finish. On the left side of the controller you'll find the Invision Game Community logo and a cute drawing of its mascot.
The sticks and most of the buttons on the Invision One come in different colors than you'd find on a stock Xbox One controller. The analog sticks are white, while the face buttons are black and unlabeled. That would be a disadvantage for someone who doesn't know the button layout very well, but I doubt anyone so noobish has much of an interest in controller mods. As for View and Menu (Back and Start), those are the default black with white labels.
All told, the Invision One offers a very cool alternative look for the standard Xbox One controller.
Choosing your controller
The Invision One is one of 19 predesigned Xbox One controllers that Controller Modz offers. You can check out its product page here, or see the full list of designs here.
If none of those designs feel quite right, Controller Modz also allows customers to mix and match components in order to design their own totally unique controllers. You can even add your own logos, text, and LEDs!
Custom controllers don't exactly come cheap. These things start out as retail Xbox One controllers before going through the professional modification process. UK-based customers can opt to provide their own controllers in order to cut down on the price.
Assuming you don't send in a controller, the Invision One rings up at £79.99. UK customers get free shipping, while shipping to the US costs £8.00. Controller Modz currently offers a ten percent discount on the Invision One if you enter "invision" during checkout. That brings the total to £80.98 for US customers, which equals $136.93.
Having done a little arcade stick modification during my college years, I know how much work can go into changing a controller's appearance and/or adding features like LED lights. The Controller Modz modified controllers aren't cheap, but they look beautiful and seem like very high quality controller mods. I'll try to get my hands on one so we can bring you a full review soon.
Get the Windows Central Newsletter
All the latest news, reviews, and guides for Windows and Xbox diehards.
Paul Acevedo is the Games Editor at Windows Central. A lifelong gamer, he has written about videogames for over 15 years and reviewed over 350 games for our site. Follow him on Twitter @PaulRAcevedo. Don't hate. Appreciate!
Maybe for $75-80, but for twice the price of the controller? Nah.

No kidding! I would like to be able to choose from my own images at that price, which I'd never pay at that price point anyways.

How do Xbox One controllers differentiate players? The 360 does it so simply but it is incredibly effective.

There are no controller lights so you can't really tell which controller belongs to whom. With the Kinect installed and everyone having created a profile, it can supposedly tell who is holding which controller and switch profiles on the fly. But I for one would rather be able to visually differentiate controllers. I always use the same one if I can help it.

QQ, is it pronounced AkkaVEEdoh or AkkaVAYdoh?

Good tries! But it's pronounced AH-SEH-VEH-Doh. You can hear me say it in most of the video reviews I do for the site. :)

I shall make it a point to start watching the videos :) I usually just read my news because of the comments section and the speed of consumption. Thanks for the reply :P

Paul I would like to apologise for the little rant yesterday.
I only realised when I thought about it that what I posted was inappropriate for what was being talked about. I hope you accept my apology for posting in the wrong place.
I Love W.P.Central & the team that do all the hardwork Bringing so much Quality information so Again in Sorry.

No worries, Majic. It's cool that you apologized. :)

Mixing controllers? What do you have an Xbox one for? They advertised the recognition, which player holds which controller as a great feature

I'm guessing your gamerscore is sub-1000

What does that have to do with anything? Do you have a bigger e-penis than me?

Bro, I can 360 no-scope you all day long. I'm so MLG.

Xbox 360 You can't beat it the best machine going.

:D So what does that say about the strange controller recognition of the One?

I am patiently losing my patience with the absence of DLNA client app in Xbox1.

Remove that stupid sticker kills the show.

But it's about how much money they can screw you for, you can't beat the 360. Then there's the additional cost for this & that take EA little subscription charge, I love my gaming but Xbox One they couldn't even give me one. They tried

The EA subscription deal is actually a really good value for cost-conscious consumers like yourself. But although the Xbox 360 has a much wider software library (of course), the Xbox One is better in most ways... Except for video and audio streaming, custom soundtracks, and a few lingering features like that.

Plus, Paul, I'm assuming all of that'll be fixed in the coming monthly Xbox software updates.

Hopefully so! I fear we might never get custom soundtracks though.

LOL, I'm just about ready to throw my controller in the trash since I don't game on the Xbox One and I have Smartglass on my devices. There are still a few areas in settings that don't respond correctly to Smartglass (at least on my machine) that force me to dig out my controller, but once they fix that, I'll be able to clear up some drawer space.

Do you mean you don't play games period or you just don't have any Xbox One games?

I'm a PC gamer. The specs and performance are ALWAYS better than a gaming console. And I hate useing a controller over a keyboard and mouse.

Why would somebody buy an Xbox one and not play games on it?

Seriously? A keyboard and mouse is by far a better way to control a game, my PC always has significantly better specs and performance than even the most cutting edge console. I have never, ever wanted a console until the Xbox One. I bought it because it has now become my media hub for the house. And, as the operating system matures, coupled with Cortana coming and the home automation partnerships Microsoft is racking up, I full expect to use the Xbox One as the central point for an Intelligent House. For now, I love being able to walk in the door, say "Xbox On", and then tell it to watch a particular channel or bring up Hulu Plus, etc. I'm expecting when Cortana comes onboard that a LOT more voice control will be there. I ultimately want to ONLY use voice and gesture to control everything in my house. Console gaming, in that context, is a minor afterthought as far as I'm concerned.

Keyboard and mouse are superior for some types of games, such as FPS, strategy, and some RPGs and MMOs - but certainly not all. Many genres like action, platformers, shooters, and fighting are just markedly better with a controller and/or joystick. That's to say nothing of being able to sit wherever you want with a controller, which you can't really do even with wireless keyboard and mouse. They'll always need something to sit them on. I mean, love the keyboard and mouse all you want but try to keep some perspective.

You could get the $40 media remote and completely replace your one controller.

Well, I thought of that at one point, but Smartglass takes care of almost everything now. Since the Xbox One now also controls my audio system (the voice controls still need some tweaking, but it's good so far) as long as I have my Lumia 1020 plus voice & gesture control, I can't justify another remote control sitting collecting dust most of the time.

As long as they don't use Ocean Marketing

Get your controllers mixed up?
That's one of the many awesome things with Kinect. It didn't matter of they get mixed-up because Kinect will see the controllers and faces and simply match controller to player holding it!
That being said I'd love some cool looking controllers but one of your arguments for diverse looking controllers is completely invalid.

It's not invalid. Whether the Kinect tracks who holds a controller or not - keeping in mind that not everyone has or uses a Kinect - my point was that people might like to use a specific personal controller. That's much harder to do when they're all the same color. Also, personalizing stuff is fun.

there are other guys that do custom paint for controllers and other stuff... I follow them on instagram and they do a great job. www.colorware.com the instagram is colorware_inc follow me: patosgzz

I like the variety of colors those guys offer. Too bad they don't allow customization of buttons and sticks, etc.

yeah, that's right, but I think they look way more professional... still $125 with shipping, a little too expensive for my taste.

Do you think there's enough partitioning space on the Xbox One for gaming as far as I'm aware they boobed by not designating enough & over doing it on the media side, it absolutely struggles for 1080 & 60fps it upscales how is it going to handle the next generation of games 4K & +say it reminds me of the surface pro that boobed but they have it right now though.

Dude, this isn't the pick on Xbox One thread. All of the concerns you're expressing apply just as easily to the 360 that you started out praising. You need to let people enjoy whatever systems they want without trying to naysay the ones you don't own... Especially on an Xbox One-focused story.

Hey dude I ain't pulling at nothing someone said to the person who who does nothing but media you don't play games on it why buy an Xbox One like I put earlier its more a media machine games it struggles Microsoft's words not mine. Watch E3 before launch can do this cant do that. Then the ultimate story change on launch WOW what a difference it was rushed out that's where they boobed & people who shelled out lots of money can't admit they made a mistake buying day one machines I've done it and learnt. As for me not having one remember the loyalty programe well I was awarded one from that but didn't want it & asked them to donate it.anyway I'm not getting at anyone just pointing something out that's all. & if I've upset any one I deeply SORRY.

Already got all of mine and consoles in custom colors from Colorware. They do an amazing job.

nice! can you upload some pictures?

I will, but i need to get back home to the states first. I'll be dropping some pics on the forum then. ;)

They look really good. It's my nephew's birthday soon and I was wondering what to get for him. Now I know - White Hades Skullz Controller - he'll love it. Thanks for the post Paul.

----Enter "Nightvision" at check out to receive a 10% discount on any purchases made.----

Besides the Titanfall controller, Microsoft is releasing a woodland camo controller along with a woodland camo stereo headset due to release on October 1st. Preordered mine at the Microsoft store.