CorelDRAW Windows 10 review: Pro graphic-design software in the Microsoft Store
Professional graphic designers and artists have another option in the Microsoft Store, thanks to the release of CorelDraw.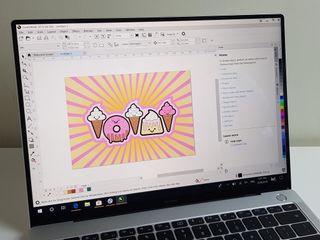 CorelDRAW is a popular graphic design application that's used by artists, advertisers, and digital content creators. It has had a strong presence on Windows, with a version available for Windows for thirty years, and has recently also made its way to macOS and the web through coreldraw.app. But now, users on Windows 10 devices can download CorelDRAW directly through the Microsoft Store rather than the company's website. This aligns with the release of CorelDRAW 2019 which has a number of new features that help content creators.
The application is aimed at both graphic designers who use a mouse and keyboard and artists who use a Wacom stylus (opens in new tab) and touch input. It also can work with the Surface Dial (opens in new tab) to enhance your creative setup.
You can download CorelDRAW for free from the Microsoft Store, but after a week you'll have to purchase a subscription to continue to use it, which costs $16.50 per month. This is unfortunate because the version you get through the company's website has a variety of purchase options, including a single purchase of a suite of apps. The suite has a high price tag of $499 but comes with multiple apps including CorelDRAW, CorelPHOTO-PAINT, Corel Font Manager, and more. Ideally, I'd want an option to buy just CorelDRAW outright on its own, which isn't an option here.
Powerful design tool
(opens in new tab)
A professional-grade design app

CoreDRAW has the wide ranging feature set to meet the demands of graphic designers and digital artists. The download is free but after a week will require a subscription of $16.50 per month.
Covering the basics and beyond
CorelDRAW is graphic design software that allows you to create vector artwork. It can be used for logo design, graphic arts, sketching, and a variety of other types of content creation.
The app covers all the basics you need for graphic design as well as a long list of complex features that you can read on the company's website. Generally speaking, I've found that curve creation, node editing, shape manipulation, and sketching all work well. I have a number of friends that use CorelDRAW exclusively and are very happy with it, and that's not surprising given its feature list and performance.
Separating from the pack
There's no shortage of options when it comes to graphic design software. Adobe's Illustrator remains an industry standard and even the Microsoft Store is already home to a powerful graphic design application in Affinity Designer (opens in new tab), but CorelDRAW has features that make it stand out. The full feature list is long, but a couple of my favorites are the app's built-in symmetry tools, and the AI-powered LiveSketch feature, both of which are new to this version.
I do graphic design as a hobby, including making designs and logos for some American-football teams that I coach. I don't know if I would call my work art, but I spend a lot of time making sure that it looks exactly how I'd like it to. I often use advanced grids and pixel alignment to make my designs, and many of them are perfectly symmetrical. CorelDRAW has a built-in feature that allows you to pick a reflection line and then have the design be mirrored over it. As you make edits on either side of the design, it's mirrored on the other. You can use multiple reflection lines to make more advanced reflections. This is an excellent tool for a variety of designs and beats the often cumbersome steps needed to do the same process in Affinity Designer. Adobe Illustrator can do some mirroring, but I find CorelDRAW's setup to be more intuitive and powerful.
LiveSketch is more impressive to me, though my artistic abilities can't fully take advantage of it. It uses AI to take sketch lines and turn them into smooth vector curves. When drawing with a stylus, it's normal to draw multiple lines over each other to get the general shape you want. CorelDRAW can take those and intelligently make them into the shape you want. The video above is from CorelDRAW's YouTube page and shows the feature in action.
An impressive addition to the Microsoft Store
Windows users have had the option to use CorelDRAW for a long time, but it's great to see another powerful app that's used by professionals make its way to the Microsoft Store. The new version of CorelDRAW also has some significant upgrades and new features compared to its 2018 version.
However, while the features of CorelDRAW are impressive, it looks kind of old in my opinion, but that's pretty normal for graphic design applications. Most developers focus on function over looks, as they should. But I'd like to see a modern design refresh in the future.
LiveSketch, pixel-perfect alignment, and a powerful symmetry mode stand out to me and there are some other features worth checking out. A knock on CorelDRAW from some in the past has been that the app falls behind the competition when it comes to new features. I'm happy to see this change and that CorelDRAW is both catching up and innovating when compared to the competition. How it fits into your workflow compared to other vector software is a deciding factor if you should purchase it. I'd recommend taking advantage of the free trial before committing any cash.
Pros
Powerful
Unique vector features
Works well with Windows 10 touch and Surface Dial
Pro grade app available in the Microsoft Store
Cons
Requires subscription if purchased through Microsoft
Has a learning curve
Older looking design
Powerful design tool
(opens in new tab)
A professional-grade design app

CoreDRAW has the wide ranging feature set to meet the demands of graphic designers and digital artists. The download is free but after a week will require a subscription of $16.50 per month.
Windows Central Newsletter
Get the best of Windows Central in your inbox, every day!
News Writer and apps editor
Sean Endicott brings nearly a decade of experience covering Microsoft and Windows news to Windows Central. He joined our team in 2017 as an app reviewer and now heads up our day-to-day news coverage. If you have a news tip or an app to review, hit him up at sean.endicott@futurenet.com (opens in new tab).
At least the 2018 non-Store version (which I love overall) also lacked good touch support. That was disappointing to me for a product designed for artists on Windows 10 in 2018. If this is like a Centennial bridge from the 2019 desktop version, I don't think they've made many changes to the touch support. In fairness, the touch limitations are more pronounced in Corel PhotoPaint (like Adobe Photoshop), more than CorelDraw (which I prefer to Adobe Illustrator). They both come in the same suite in the desktop version of the app. I want to be able to use my left hand for touch to pan and zoom the canvas, while drawing with a pen using my right hand. That's not really possible (at least not in the 2018 desktop version).

But absolutely fantastic that this is now in the Store!! CorelDraw (and hopefully PhotoPaint will follow without a separate fee) is one of the major Windows applications, like Office. Great to see it in the Store.

Good review. I must note that as a current Affinity 1.X user we have access to Designer 1.7 beta which has up to 32 axis symmetry/mirroring. If that feature is a big deal to you, you can avoid the subscription :P

Thanks! I'm a big Affinity Designer user so this is a good addition. I'm excited to use it.

What is this for misleading crap: Free at Microsoft ......The download is free but after a week will require a subscription of $16.50 per month.

That's explained in the article...

Misleading? It is explained in the article. One week free trial, then the trial ends. Pretty common. Price may seem high, but it's roughly in line with Adobe's Creative Suite, which is the chief competition. I hope and suspect that Corel will lower the price over time or add the other pieces of the Corel Graphics Suite to the Store so the subscription includes everything. Personally, and I know I'm in the minority, I much prefer the CorelDraw Graphics Suite to the Adobe Creative Suite, at least on Windows computers (on Macs, Adobe probably does have the edge). I have only 2 gripes with Corel's suite relate to touch and pen support, where only two-finger touch to zoom can be used concurrent with pen and mouse. Otherwise, it treats all forms of input the same, which is a real shame in the modern era with Windows Ink, and expectations of touch to drag the canvas or workspace with one hand, while actually drawing on it with a pen in the other. The second issue is around network file support – Corel has never properly supported networked files in a Windows domain environment with Offline files. Doesn't stop you from using them, but always requires manually addressing sync issues. But Adobe's problems on Windows are much, much worse – more serious issues and much harder to work-around.

It sin line with creative suite, which is problematic, since PhotoPaint is nothing more than PaintShop Pro with a little more developer attention paid to it. You're better off just going for creative cloud. Some niches of the industry use CorelDraw a lot, though. Signage, etc. But overall, the subscription isnt cheap enough to run people off of illustrator, which has a lot more resources available for it as well. Theoretically, Corel could pour resources into Pinnacle Studio, Photo Paint, and WordPerfect Office and release a suite that could be quite attractive, if priced correctly and they focus on the right features and upgrading the UIs... but they won't do that. They seem to have very messy product lineup and development strategies for them. Affinity Designer is nice for hobbyists, but it really is no match for Illustrator or CorelDraw. People may want it to be, but it isnt. Same with Photo vis a vis Photoshop. It simply doesn't play in the same league as Adobe. Not to mention how slowly Serif develops those apps. They haven't has an update in over a year... (I'm aware a beta is available, but Adobe and even Corel have way more features and seem to always find room to add something new... way more regularly than Serif). Hobbyists: Just get Affinity, Xara, or use Inkscape Professionals definitely should consider Corel if they want out of Adobe's subscription model, but the native formats will be badly supported in other applications (video editors, etc.). Preference has nothing to do with how well it compares to the competition, so your preference is really worth nothing in terms of anyone deciding if they should consider using this.

I first got my feet with with Corel Draw 3 back in the 90's. Ultimately switched to Illustrator (honestly don't remember why). I recently canceled my Adobe CC subscription and am using Affinity Designer/Affinity Photo. AD is missing some features I used from AI, but overall for my purposes (basic brochure design) it's working well enough. I might consider CD again in the future, but for the time being hard to go back to spending hundreds on software when a $50 program is doing most of what I need. Also, it's unclear to me what the "Suite" includes. Does it include their photo app and pdf creator? It's a shame the store reviews are low because the app is labeled is "free" when it's just a one week trial. Instead of them having the actual cost with a free trial option.

If there is one thing that I find annoying about CorelDraw, it is the fact that they have IGNORED Live Tiles in Windows 10. Especially after they went and created a whole new "ground up" version for the Mac that supports the touch bar. It seems like a small thing, but until Corel gets Live Tiles right the program will always seem unfinished to me. All these smaller up and comers are designing beautiful tiles that draw your eye while Corel obviously gives it no thought and that just makes them look deprecated when placed right next to these new apps. I don't even think Corel has updated the app icons in the last 3 versions. These are branding failures and branding failures kill companies. I really hope Corel addresses this soon because I really enjoy using this software.