CORSAIR CX550F RGB PSU review: Stylish and stable power delivery
By Brendan Lowry published
The CX550F is a snazzy and effective mid-range PSU, but it is on the pricey side.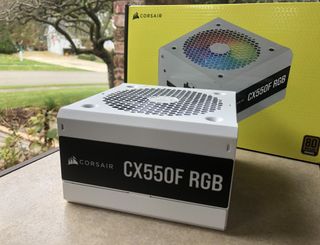 (Image credit: Windows Central)
The power supply (PSU) is one of the most important components to think about when building your own PC, as it's what will deliver power to every other part of your PC. Your rig won't even power on if you don't have a PSU that provides the watts your hardware needs, and a PSU that runs inefficiently will generate tons of heat and noise. Therefore, getting an efficient and reliable PSU is critical.
Gaming hardware developer CORSAIR has been making quality PSUs for years, and it has a well-earned reputation for low noise and stable power delivery. Its newest lineup, the CX-F RGB series, features PSUs that cost a little more than their peers but also come with stylish RGB lighting. The CX-F RGB series has three different wattages available: 550W, 650W, and 750W. CORSAIR sent me the 550W variant to test (I'll be getting a chance to look at the 650W one soon), and after putting it through its paces, I'm happy to report that the CX550F RGB is a snazzy and effective PSU for mid-range builds.
(opens in new tab)
Bottom line:
The fully-modular CX550F RGB delivers power reliably and quietly, even under stress. The RGB lights are snazzy, but some may not like the extra cost.
For
Stable power delivery
Modular cabling
Attractive design
Sweet RGB lights
What you'll love about the CX550F RGB
Above all else, the most important thing a power supply needs to do is (you guessed it) supply power efficiently and quietly. On my NVIDIA RTX 2070-powered gaming rig, the CX550F RGB was able to keep everything juiced up quietly and without overheating, which is what I expected given CORSAIR's positive reputation in the PSU market as well as the PSU's solid 80 Plus Bronze efficiency rating, Japanese capacitors, and 120mm fan. There were no worrisome fluctuations of power during delivery, either, which showcases the stability of the CX550F RGB. 550W is the sweet spot for mid-range PCs like mine, so if you're looking to put together a similar build, don't overlook this PSU.
Another thing that's great about the CX550F RGB is that it's fully modular, meaning that you can attach and detach cables as needed rather than being forced to have every cable included in place, even if you won't take advantage of them. Aside from making the process of organizing your cables easier, a fully-modular design will also allow you to achieve improved airflow in your case since removing some cables frees up space. Speaking of cables, here's what you get with the CX550F RGB:
1x ATX 24 pin
1x EPS/ATX12V 8 pin (4+4)
1x PCIe 8 pin (6+2)
2x SATA (7x SATA)
1x PATA
1x iCUE RGB
1x iCUE RGB to ARGB
Finally, I'm a big fan of the CX550F RGB's design. Granted, PSU's aren't much more than boxes of solid metal, but the PSU is nevertheless pretty sleek and clean looking. The standard version is black, but the white version (opens in new tab) that was sent to me is available for a small $5 price increase. The RGB lighting on the 120mm fan also looks awesome, and it can be customized using either CORSAIR's official RGB controller (opens in new tab) or your motherboard's built-in ARGB controls.
What you'll love less about the CX550F RGB
The only real issue I have with the CX550F RGB is that it's a little pricey compared to other PSUs with similar power output and efficiency ratings, but that's to be expected when you go for something that has RGB lighting on it. In addition to that, the fact that the CX550F RGB is modular gives it an edge over some of the competition, and many cheaper PSUs also don't deliver power as stably and quietly as the CX550F RGB does. Ultimately, this PSU may be pricier than other options, but you get what you pay for.
Should you buy the CX550F RGB?
If you're looking to put together a mid-range PC build and you'd like your PSU to have a little pizzazz, the CX550F RGB is an awesome option. Between its excellent performance, modular cables, and attractive design, it's one of the best PSUs for gaming you can pick up right now for mid-range builds.
The increased price compared to similar options probably won't be ideal for people who are on a tight budget for PC parts, but if you can afford to spend a little extra, the CX550F RGB won't disappoint.
Stylish and stable
(opens in new tab)
Why not be a little fancy?

The fully-modular CX550F RGB delivers power reliably and quietly, even under stress. The RGB lights are snazzy, but some may not like the extra cost.
Brendan Lowry is a Windows Central writer and Oakland University graduate with a burning passion for video games, of which he's been an avid fan since childhood. You'll find him doing reviews, editorials, and general coverage on everything Xbox and PC. Follow him on Twitter.
Windows Central Newsletter
Get the best of Windows Central in in your inbox, every day!
Thank you for signing up to Windows Central. You will receive a verification email shortly.
There was a problem. Please refresh the page and try again.