Cortana finally available for Windows Insiders in India with the latest build of Windows 10 Mobile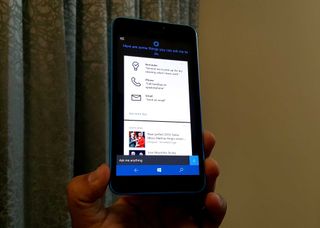 While Windows Phone 8.1 users have had Cortana (in Alpha) for a while, it wasn't available for Windows Insiders in the region on Windows 10 Mobile preview builds. We only had the refreshed Bing experience.
That has changed now. Cortana is now available on the build number 10581 that was released last week to members of the Windows Insider Program, who have signed up to get updates in the Fast Ring (see our hands-on video below). Also, you don't need to alter any Speech or Region settings to enable the functionality.
In the past few weeks, Cortana on Windows Phone 8.1 has been upping the game in India. There's a lot of Bollywood and local culture elements inculcated and with Cortana on Windows 10 Mobile now, the team behind the digital assistant might be working overtime to bring Cortana to Windows 10 PCs as part of the Windows 10 Fall update expected to launch next week.
Thanks, @niththomas on Twitter for the tip!
Windows Central Newsletter
Get the best of Windows Central in in your inbox, every day!
In Brazil MS promised for insiders in December, IF nothing goes wrong. Final version in second semester of 2016, IF nothing goes wrong. Personally I don't believe, we still don't get even in 8.1. Brazil was becoming a good market for Windows Phone but MS screw everything, no apps at all, no features att all, and serious marketing flaws.

Are you absolutely sure it wasn't your government..? O.o

No, it's totally M$ fault. Horrible marketing and support in Brazil. I miss Nokia already. They knew what a good market we are.

Dear Snow, you know nothing.

You know nooothing dear snow

'No apps at all'... How is that Microsofts fault?. 'No features at all'. You're dreaming if you think ios and android have many more. 'serious marketing flaws' I'm not sure about 'serious' but yes there are marketing flaws With the release of windows 10 and windows 10 mobile, the focus of app devs is no longer on wp8.1 wp8.1 will be long gone in a few months. So just coz there is a lack of apps on wp8.1 doesn't mean that windows 10 mobile will be the same way. I think apps are coming nicely to windows 10, and they're universal too. I hope it stays that way

Last sentence is not agreeing with last article. Fall update is coming this or next week? XD

The last article said they could sign it off this week, and that no release date has been announced. Signed off =/= release, it just means they could approve it and not make any more changes to it; they still need to prepare it for distribution.

Oh..thanks for clarification. Thought signed off means published/released XD Guess I missed that hour of English language in school.

finally there will be no more "when in India?" :D

I wouldn't bet on it. The amount of people who skip straight to the comments section...

Surface pro 4 and surface book! When in India.... There

I don't think that these devices will come to India as they are very expensive when it comes to Windows based devices in India.
Most people in India see that there r different cost effective options r available for this and will not buy these and will not sell to justify there availability and it also bad for there OEM partners. As this means Microsoft wants to compete with them , so it is not a good idea.
P.S I also want them to be available in India with there official Microsoft Store but there business model for India do make sense only in regards to there official hardware but I want them to bring all there software and services to India at a affordable rates.

Kdaj v Sloveniji?
Hehe :)
Still wish there was an option somewhere in the settings to use it in any Country. It still works pretty well here too..

Please do a video of the same showing what local content she has got :)

But which languge should be my default languge? I had tried both English (UK) & English (US) but none of them working with build 10581.

Ok now I will try English India

you've need to add English (India) in Settings-> Time & Language-> Speech-> Add a language and then reboot your device

i tried with both English (India) and English (UK) [required for Cortana in India on WP8.1].
it's still asking me to choose a language it can work with.

Read article carefully its only available for insiders(I.e. W10 mobile) not for WP8.1

i'm using Windows 10 Mobile technical preview build 10581. Cortana is already available in India for WP8.1.
i was just referring to the speech settings being the same as on that.

Phone language - English India
Phone region - India
Speech language - English India
Location ON
Will work

I'm using English (UK) in 8.1 and it works well for me!

Switch on your location tooo...

When your "princes'" stop hauling drugs out of Lebanon on private planes....on the other hand, that Princess Amira....omg...

And maybe when they stop using sharia law as the basis for their judicial system...

Yeah, when she gonna start taking Arabic with us?

Speach recognition has also improved in India

Don't know but I need some corn

Is Hey Cortana available in Australia on the latest insider build. I am not seeing it in my settings

Depends on which phone you have. Only the Lumia icon, 930, 950/xl and 1520 have the hardware capability to enable hey Cortana. If you have one of those, it should be under settings > extras > hey Cortana Hope that helps :)

When will get it in South Africa? :(

Change your region to u.s let phone reboot it will appear.

Cortana has been available since the last 2 builds in India.

Yes .. Cortana is available from last 2 Builds..
In 10549 & 10572 initially there was No " Cortana" in Menu / App List..
But Accidentally I pressed Search Button & " Cortana " got activated & then I saw " Cortana " in Menu/ App list too..

Also in Canada (at least in English, not sure about French) in most recent build. Required several restarts around language pack issues but now have it, not in alpha.

I was only just able to setup Cortana on Canada on my desktop and phone and not use US settings...

Meanwhile Slonenia doesn't have Siri, Cortana or Google Now. Great.

Don't worry, you guys may not have Siri, Cortana or Google now but you have people like me who would love to visit your beautiful country! :D

Nice to hear people actually know it :) there is so much traveler people surprised by it, but still nice to read it on internet :)

Slovenia? But we do Have Google Now and Siri ;)... In English indeed.

Finally the 'wen in India' overlords can be appeased by this news, at least until the next 'wen in India' event comes along haha

Now it will be: Wen in philipines, wen in netherlands, wen in..., etc. You get my point XD you won't be relieved of these comments until cortana is available everywhere. Just to prove my point, I'm going to comment "wen in The Netherlands" on every post mentioning cortana in even the slightest way. So be prepared. XD

So now i am hoping Hey Cortana will be activated on my 1520.

"Hey Cortana" is only available for Snapdragon 800 and above processors only that is Lumia 930, Lumia 1520 and most probably new Lumia 950 and 950XL only

1520 here in USA. And can't get my Cortana to go past a settings symbol then says my phone isn't compatible like wtf? :(. Help!!! And yes I've done 2 hard resets

It says voice activation not available on this phone

Cortana Requirements in India
Language : English India
Region : English India
Speech : English India ( Set it as Default )
OS : Windows 10 ( 10549 or Above)
& You should be Connected with your Microsoft Account..

When in Malaysia? Small countries will likely never get the Cortana, MS should just offer a generic English version for the international first More information about text formats

Hello everyone I need a help . I want to buy a HTC one m8 windows unlocked from us/uk. I'm worried about its compatibility in India, is it possible to update windows 10 or future updates by ota in India . Plz help me

Cortana is available from last 2 Builds..
In 10549 & 10572 initially there was No " Cortana" in Menu / App List..
But Accidentally I pressed Search Button & " Cortana " got activated & then I saw " Cortana " in Menu/ App list too..

Hate the voice for India...

Second that. Hopefully future builds will improve this. It's a start, though.

Yes, it's a typical Indian aunty kind of voice. But I am happy for at least she can now pronounce my name as it should be pronounced.

I am having this since the day one of build 10581 and also on 10572 and without changing any speech settings or region setting also. I've seen that the speech setting already set to uk just tell if we switch it to english india then it will work or not?

It works if you change it to English India.

The Microsoft Heera voice is just pathetic.

Now do an impression will show famous senorita dialogue from ddlj

Windows central is so late in delivering news, the day i installed recognized that its available in INDIA

When in South Africa damit.

Was available for me since build 10572 with all languages and region set to the defaults.

I didnt find "hey cortana " anywhere ....

I have been using cortana in india since the last build :O too late windows central i guess :3

That was available since build 10572 was released. I had even sent WC a tweet about a report of Cortana's availability on build 10572. WMPU and WinBeta had reported this much earlier.

Cortana works fine in my 1520, but I am unable to use "Hey, Cortana". Is there specific setting for Hey Cortana to work? Other than speech, language and region settings?

I already have cortana in my PC. Maybe because I've got default language as English(US).

I have lumia 1520 but hey cortana not available. Only Cortana available.

Now I'm not one to complain, but blehg, I'm getting tired of these posts saying "cortana finally available in ......" And it not being The Netherlands. I see more and more people switching to windows phone (or windows mobile) but it seems like microsoft doesn't listen to us at all. 99% of us would love to have english cortana with less functionality, just for the sheer fun of it. But i guess that will never happen. Can we at least get an ETA from microsoft?

please post any india specific responses you find below. i found "do an impression" to be cool.

now we need something new for people to complain about on this board ... oh wait ... the commenters got us covered already ;)

Does "Hey Cortana" work for anyone in India? I am using L930. Cortana works for me. But "Hey Cortana" doesnt. Build 10581.
Windows Central Newsletter
Thank you for signing up to Windows Central. You will receive a verification email shortly.
There was a problem. Please refresh the page and try again.