Cortana can now handle requests for European soccer team scores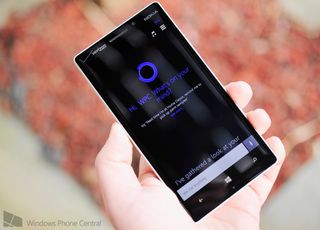 Windows Phone 8.1 owners in Europe can now ask Cortana for the latest scores in general from many different European professional soccer leagues via a new server-side update.
Europeans can ask Cortana requests like "ESL scores" to obtain the latest game results from the big English, German, French, Spanish and German soccer leagues. Although Cortana is supposed to be limited to UK and US users, people outside those territories can enable Cortana on their Windows Phone 8.1 device.
This new feature is location-based, by the way, which means that UK and US Cortana users cannot access these soccer scores. Microsoft has been adding more and more server-based Cortana features over the last few months. What would you want Cortana to help you with in future updates?
Source: WindowsblogItalia.com
Please add Portugal. Please!

Indeed. Our league is better than French, we deserve to see our Sporting on Cortana!

First of all I would like Cortana... Officially... Please... Pretty please.. :P

UK can't access their own leagues scores?

Is you ask Cortana for Barclays Premier League scores it shows you all the games that played last weekend, sof for me it works perfectly and i am in the UK.

Just tried this and as per every request, I get a Bing hit. Continuing uselessness.

What was your query to cortana?

"Show me the barclays premier league results." "Show me the barclays premier league scores." "Show me football scores." Nada. Honestly it is utter garbage, it's just a glorified search engine. It never even calls me by name either.

Interesting, cortana uses goal.com for its data over MSNSports.

Cant access scores is the least of our worries. We can barely watch the games live. US shows EVERY premier league game on TV, while we get a handful each season.

...obtain the latest game results from the big English, German, French, Spanish and German soccer leagues... ;)

That is because germany is the most important here

Soccer... We in the UK call it football.

We in Asia also call it football

It is soccer only in US, for the rest 95% of the world is football

Yup. Because it's played with ones feet. Unlike US football, which is played with ones hands. Go figure...

I don't feel like typing a lot, so I just took this from someone else who knows what they are talking about. Hopefully, some of you will lead something so the constant need to repeat this argument can go away: google is really a simple tool to use. anyways, im bored and i dont feel like being a total douche by ranting: football is not a sport. get that out of your head. football is a general name of a set of sports, that have specific characteristics that make it in the category football. for an analogy, you are in the football (american section), that is in a broader category, the sports section. the sports section deals with different sports. football sports have characteristics such as having posts, off side rules, 11-15 players on a field at a time per team, multiple ways of scoring (soccer being the exception) and others. now, as i have just explained, football is a generic term. american football is called so because its a version of football (aka, a code) based in american. other codes include rugby league football, rugby union football, soccer, gaelic, canadian, aussie rules and lesser known codes. similar to other sports, baseball and cricket are stick and ball or safe haven sports. hockey and lacrosse are in their own category and so on. now, soccer as we formally call it is called association football. it combines cambridge and some other place (i forget and dont feel like looking it up). the term is british. so dont act like we came up with it. as you can imagine, it is tedious to spell so they took "soc" in association and added the suffix "cer". and yes, they did it to avoid calling it "asser" or some other name that would leave it to scrutiny and ridicule. the term football in itself has nothing to do with your feet. in fact, only 2 main codes (gaelic and soccer) use a round ball. and the only code that doesnt allow the use of their hands is soccer. the term football in itself pertaining to a sport in a country is generally given to the most popular code in that country. so americans have american football so its known as simply football. australia has aussie rules and thats just called football there. england and most of the worlds most popular code is association and thats simply called football for them although until the last 60 or so years, it was almost unanimously known as soccer, not football.

Youve been reading too much Wikipedia. There is no history for their so called "Association Football". Just a loose correlation of events. Football, which is in familiar use all over the rest of the world except theUSA refers to the game played with the feet, by 11 vs 11 men and a round ball. Its referred to as Football, and all all forms have a prefix such as "aussie rules" or "gaelic" or an entirely different name like rubgy. Look, the world knows what football is. Is the worlds most popular sport, by miles. The US is learning to love it. At the recent world cup, the US supports bought more tickets than Argentinians, and were the loudest around town. We loved to hear about you loving the game the rest of us love. We live in hope the yankie doodles get over their stupidity and change their American Football, to American Rugby - and drop soccer and call it by its proper name, FOOTBALL :)

Soccer is not a sport either, the sport you are talking about is Association Football.

Also called soccer in Japan...although the term was probably brought over from the US.

And we hear this reminder every time. We get it, its called different things. You KNOW what they're talking about. If I spent my days correcting people online, it would be a full time job and I still wouldn't get through it. If the writer is American, that's what happens. If the writer is a Brit, then it will be different and I'll have read the extra letter "u" in words like "favourite". It's not that big of a deal.

It is a big deal. You should stop ruining what is already a great language ;)
The world will one day speak a homogenised kind of English, Us or not. Its not that big of a deal, just don't call Football Soccer or we will eat you LOL

Probably a typo, he wrote German 2 times and forgot about Italy...

Cortana wha...? Verizon huh...?

The UK is part of Europe. Thats ridiculous IF this feature isnt available in the UK, and even the US. People from all over the world are fans of football teams like Real Madrid, Juventus, Liverpool, Man U. Makes no sense that they cant access this info. If its server side why dont they replicate it to all their servers? Edit: Actually it seems you can now add teams like Real Madrid and Inter Milan from Cortana's interests where you couldnt before so this article may not tell the whole story.

Awww you mentioned Juventus ... I feel so happy right now

Juve did a great job beating Parma i believe ..... Forza BiancoNeri lol Posted via the Windows Phone Central App for Android

I had RM and some others in "my teams" in the Sports app, and Cortana added them to my interests a while ago, pretty cool btw

Same here but when you searched within Cortana it didnt show the teams, now it does for EPL, La Liga, Serie A and the Bundesliga.

Yep, this article is wrong then, I'm in the US and they all show up, great!

I've had my favourite teams set up in interests and she always gives me the fixtures and scores (or even live goals)

Chelsea FC the best team in the world! CFC

I added real and juventus to the cortana's notebook a few weeks ago..I couldn't add them before that.. But what's new in this update..

Windows phone users in Europe can now ask Cortana for the latest scores,.... UK Cortana cannot access the scores? The UK is in Europe.

Wake up, Microsoft! There are soccer fans living outside a particular country, too. Why shouldn't we be able to check Bundesliga scores from the U.S.?

I think you could. I could get that of Bayern Munich

Awesome! Hope USCC & LeMans are next.

Formula 1 support please!

Don't you mean football instead of soccer?

why she can't cricket scores?

WPC??? :0 wasn't it renamed to WC <Windows Central>!!!!

Yeah! I'm surprised this wasn't the first comment someone made.

Image have a Logo as Windows Phone Central!!!! :O

Come on Cortana take your spanish lessons and come to Mexico

If only Cortana is available allover Europe

Yay, another shortsighted decision by MS. There are people all over the world who would like sports scores from leagues that aren't in their country. Way to go MS!

Pfffft, Cortana. Talk to me when she knows Norwegian.

Or at least speaks English and is available in our smaller countries; I'll take an English speaking Cortana over no Cortana any day...

Agreed. I don't understand why it can't at least be enabled as some alpha-BIG-DISCLAMER-HERE-option for *everyone*. I shouldn't have to pretend to be an American just to access this stuff. Siri works just fine with English. It's not perfect, but at least it's an option that works. Don't have to mess with regions either. Microsoft is just really frustrating when it comes to localization. I guess it's not something that will ever change.

Wait, I didn't get it. Can "people outside those territories [...] enable cortana"? I don't really think US folks care that much about football, I'd rather have the cortana team do something useful and release it to all of us mortals

I was thinking the same as I sit here with still Alpha in Canada and as you said other parts of the world without it. It seems alot of time is being wasted on prediction algorithms rather than making it accessible to more people.

Cricket Cortana! Cricket!!

Cricket would be sensible as Cortana is in Beta in the UK and Alpha in Australia and India (?)

Cortana the patron saint of Gamblers Anonymous.

Nice to show that on an Icon.

European Soccer?... that should go over well.

ISL please... We need a full feature app.

This article makes no sense! I can only use Cortana if I set my region setting to U.K. or U.S. but apparently this Cortana feature is not available to people from the U.K. or the U.S.??? Then the article also makes a potentially contradictory claim that the feature is location based (a.k.a. uses location based services, a.k.a gps and WiFi sensing), meaning if I were German and flew to the U.K., this would stop working after flying over the English channel? Makes no sense...

Just tried..BPL scores...and bam!..she brought the Barclays premier league scores..

...and i have my region set to US...but I ask for UK results. .

I also tried NFL scores...ans she bought the US NFL...try it..

Yep, seems to work, tried La Liga and it showed the latest scores.

Cortana what a joke. I wish google or apple would bring siri etc over. Why not run all updates worldwide rather than country by country.

I want Cortana to do more answers to questions in the UK

Not understanding where the future of Cortana is going.. with out giving features and availability in other countries the team is befind silly predictions sports score funny chatting etc.. First of all u should build a clear platform...outside us still not matured cortana and their team not doing anything....

This has been live for a few weeks now, although I hadn't tried searching for all scores, only from individual matches

Hat jemand mal ausprobiert ob deutsche Bundesliga Ergebnisse angezeigt werden? ich krieg es nicht hin :( Sorry englishspeaking Folk :)

People, stop complaining, the article is wrong. I'm in the US and it works

Op is American. Americans don't know that UK is in Europe nor that soccer is called football here. Shots fired. * slowly fades away*

Soccer is called football everywhere... Except in the US lol

nope, in germany Fußball, in spain and latin america futbol :) *enough nitpicking*

And in Portugal "futebol". Still, all words derived from "football", not "soccer", something that not even England, from where the word "soccer" also came, uses ;P lol

Good to see a European (or at least I assume so) admit that the term "soccer" was invented in England. Too many act like us Americans invented the word.

It is Футбол in Bulgaria, Russia, Serbia, Macedonia and rest of the countries which use Cyrillic. It is directly taken from the English language just slightly domesticated to match the local pronunciation. ​ ​

The US plays gridiron, rugby, and association. All off which are football but go by different names. Also it's called football because peasants played on foot while nobles played on horseback.

Give the denim update fast!

Europe plays football, not "soccer".

European soccer teams o.O
Really weird

Finally, a sport a care about! :D

European soccer? Are you serious? It's football

@John Callaham I would like to inform you that Indian Super League (ISL) scores and table are also added. I think it is not only for European leagues. Has anybody tried their regional leagues other non-European countries?

We're talking about teams that can actually play football, that's why. :D

It's called Football almost in the entire world

hey Europeans....please ask cortana,when she is coming to India and other countries....

Cortana when will you roll out to India and other countries... "That I don't know"

So, Europeans can ask Cortana about European football teams... Except the only Europeans that have access to Cortana are the British, and since it's location based, it really only works with British teams... Brilliant! :-\

That's basically it but I guess that would mean Cortana is rolling out to other European countries very soon. Not even I have it yet though so I guess I just need to wait for it.

I hate football, so this feature is wasted on me. However I do find it quite insulting that everything is American biased. If you're going to put a feature like that on Cortana and restrict it from a world wide audience then at least use terminology in line with the rest of the world to dampen your self centred-ness. Football, the clue is in the name. Ball kicked with feet. Foot-ball. Its really basic America! This is probably easier to grasp than whether to invade a country for their crude oi.....i mean for their weapons of mass destruction.

You can be offended, but try to learn why it is called football, it has nothing to do with being played by kicking with feet.

*football Posted via Windows Phone Central App

This is stupid. We don't gave Cortana

Football not soccer.. Them bloody americans :P

Soccer here in Ireland too!

It was already doing it somewhat. If I asked "did Arsenal win" it gave me the most recent score. I tried other team names and didn't work.

If you try adding a team in the sports interest it can only show you the league cannot do champions league or any cup so for me it's useless I want to know every game my team play

More vapid bullshit instead of real improvement in what Cortana can do, as well as accuracy improvements.

Cortana hahahahah hahahaha hahahaha hahahaha hardly anyone has it!! Hahahaha UK Lumia 635 STILL no cortana!!

How about support for MLS scores and teams?

Where are their MLS scores?

I'm using Nokia Lumia 625 . Living in Jamaica ,I update my phone to wp8.1 and I have no cortana, I'm feed up with this phone.

Cortana doesn't work in Romania even with the settings on region USA and language English U.S. Cortana is a whore and Microsoft a bunch of halfwits...
Windows Central Newsletter
Get the best of Windows Central in in your inbox, every day!
Thank you for signing up to Windows Central. You will receive a verification email shortly.
There was a problem. Please refresh the page and try again.