Cortana didn't make the global trip in the Windows 10 for phones preview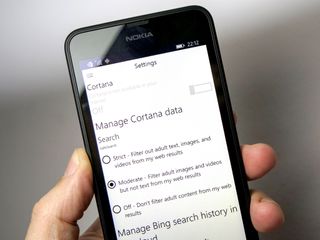 Now that we're finally starting to dig into the Windows 10 Technical Preview for phones, we're unearthing some more details on what you can and can't do with this first build. Take Cortana, for example. As with the desktop preview of Windows 10, Cortana seemingly hasn't make the trip around the world.
The image up top is what we're currently seeing in the UK. The incredibly faint text reads "Cortana is not available in your market." Something else to think about if you're thinking of firing up the preview and you're a heavy Cortana user that isn't in the States. We've not yet tried any region tricks to see if it comes back, but officially, it doesn't seem to be there.
It's a shame, but it'll come back in a later build no doubts. But for now, it's back to doing things the old fashioned way.
Richard Devine is an Editor at Windows Central. A former Project Manager and long-term tech addict, he joined Mobile Nations in 2011 and has been found on Android Central and iMore as well as Windows Central. Currently you'll find him covering all manner of PC hardware and gaming, and you can follow him on Twitter and Instagram.
Cue pointless whining in 3...2...1...

Cortana no! You were taken before your time. Now we'll have settle for image if the day, with no music search smh.=[

Rich Devine thank for all of the great posts. FYI Gabes post which provided much of the perspective for this release of Windows 10 Preview for Phones, gave a heads up that Cortana would be US only out of the gate. http://blogs.windows.com/bloggingwindows/2015/02/12/announcing-the-first...

We're breaking down everything, whether Microsoft posted or not :) It's just what we do!

And your work is very much appreciated, since i am using a 930 i will have to just get all the details from you guys.. Keep up the great work.

Cool...figured as much. You guys always provide thorough details about new features/services/devices. I was just surprised by the tone in the piece which seemed to voice you discovered it via delving into the OS rather than via Gabes piece from which I had previously seen many of the other short news pieces drawing from.
At any rate, I thoroughly enjoy this site and appreciate yours and the work of the team and the time invested, particularly on days like today to parse out news, to a very engaged audience. You guys are a primary source(and Cortana's suggestions :-)) for Windows news. Keep up the great work.

Please is otg support there? Thanks!

The real question is when can my 1520 have it?

Watching this comment on each and every post on wpcentral...lol..#920

I tried the region change and it's not there.
Going back to 8.1

So... It's now based upon your account region, or? I've noticed they've done some shuffling with regions and blockages again lately, goes against what they've previously said they'd do, but...

Oh Jesus, if it IS based on your account region.... -_-


Ah crap, i'm in Aus so if it's based on account region we're never gonna get it

Hard to say.... I run all mine in AU and US at the same time some app purchases are AU some US. wp8.1 and w10 works with Cortana (US version) I have rewards and the recent 100gig onedrive bonus so...you can do it.

I changed my Region and Language to USA English and I got Cortana working fine now. On my Lumia 730.

Eh, I don't know... If it's language improvements for non English countries or what. Still waiting for my preview anyway (L521).

Still Beta..............
.......
BetaSoft

No, Cortana (uk) is in eternal BETA. Yes, win10 is pre beta, but as we all know, Cortana is a service and not dependant so much on the OS. People are complaining that this is a fail for Cortana, not for win10

cortana ON w10 is a pre beta.

Cortana is a service, its the same on both platforms, and UK users are already plugged in to this service because Cortana enabled devices are in retail stores already. Its like blocking the news app. Yes, it needs SOME .... INCREDIBLY minor.... degree of localisation (bringing UK feeds through instead of US feeds ... That's really about it) , but those feeds are already built, enabled, and being used by retail users. Yes we expect bugs and glitches, we don't necessarily expect things to be actively removed....on a localisation basis....which are already enabled in those locales. If a full "app" isn't available / hasn't been written yet etc, that's one thing. That's understandable. Its a pre-beta OS. But this is indicative of a failure of the entire Cortana localisation system itself. The same reason that Cortana is still in BETA and still offers only a FRACTION of what the USA Cortana had at launch. that there is no understandable reason why it could not have been fully functional by now - and therefore would have been enabled in win10, when the USA version seems to have a few new features added every few weeks. ​ ​ ​ ​ ​

It's more complicated than. Cortana is back ended by machine learning algorithms. There is a lot of work done in the scripting to make contextual requests work (well) just for a single language.

not just for a single language, but for a single accent also, calm yo damn tits boy, this is the exact same thing that internal ms employees would be testing internally, during development, you turn things off just to eliminate random errors you arent looking for. dont like it? then get the fuck off the TP and wait for its RTM, otherwise, quit fucking bitching about mundane shit thats obviously not finished.

Who exactly are you talking to❓

My response re: ML was directed at d-signet.

ahaha, sorry the first part was aimed more for sqlchicken, the second part (after the break) was for d-signet

Well Microsoft failed again

It's just another immature poster who doesn't understand prerelease software. If you can't handle testing then don't do it.

The only fail was releasing a technical preview to the public so people can whine over the interwebs about an unfinished product. Pretty soon there is going to be articles about performance drops, missing features, etc...

Yeah, except Cortana os already available on in-store retail hardware in the UK.

Yeah, except non of those is running Windows 10.

Its preview, not an official one.

I can't wait until the Windows Central app allows me to downvote rubbish posts.

Yup, and auto delete posts with 20 down votes.

You can make any comment you want. Right or wrong. Fail not fail!

True but we should be able to downvote the nonsense posts into oblivion :)

I wish that too so you could have a life

How I wish in the final build of Windows 10 we can run Siri as Cortana's sidekick.

Only if it is as an abused sidekick that Cortana constantly makes fun of and gives a low self esteem complex to.

Haha what? Why the *%$& would you do that? Siri is slow and has half the uses

Again with the US-only features. When are they going to do something for the foreign users? And i'm not only meaning English speaking users but make stuff like this available everywhere even though you OS language might be different

Troll of the decade award goes too ...... Patrick Stewart!

I'm still waiting Cortana for Mexico, I hate to change region to enjoy features that are not in my country. US only system is the worst thing on Windows platform!!!

I'm speaking by myself if you didn't notice. I'm free to comment here too.

Oh wow chill out, I was joking, not everyone is trying to bite your head off.. Jesus.

Im chill my friend, I think both interpretated wrong our words.

nah, i know what you said, i was just joking because im from the US, i meant nothing serious by it D=

Just release U.S. Cortana in the Americas and give us option to use Fahrenheit or Celsius. Release UK Cortana in Europe. China has their own version.

And Australians, asians can just twiddle our thumbs and give apple/android more market share bc they offer support in our region? As it is we have to change region/language/speech settings to get Cortana/hey cortana bc ms are too stubborn to include Australian English as an option :/ all well and good when you're American, Chinese or British but everyone else suffers

I tried the region trick to no avail

Well hopefully it will mean its out of beta soon.

Shows how good Cortana is. If Siri vanished from the iPhone nobody would notice.

Well I'm sure some people who actually use her for voice calling and other old pre-smartphone features would, but I've noticed a LOT of people with iPhones never even use her so you're probably like 90% right. :-P

Oh what a surprise! Apple only release products in the US that's why they are so successful... Oh wait...

This is a technical preview, for developers. You would probably understand if you were the target audience

Well, yeah - except we're still waiting for Cortana on WP8 / W8.1

Where are you from? Cortana is still new, and Microsoft is an american company, so its easier to release thing here first to test them.

Australia. It would be nice if they rolled it out to all the English-speaking countries at least. Apparently it just came out in the Denim update that started rolling out a few days ago, but I still haven't got it :\

Yeah , this pissed me off on Desktop win10 TP. Cortana UK is, for some reason, still in beta and still lacking 50% of the features and "personality" that it had in the usa on release all those months ago. If they cant get the second market to launch up-to-scratch , or even beyond beta, in this long, isn't it time that they just admitted that regionalising Cortana to this extent was a massive mistake? Or just admit that this is probably as good as its going to get and take it out of beta, or at LEAST enable it but give it the BETA flag like they do on wp8.1.1. There are UK retail handsets on sale NOW with Cortana. You've dropped the ball. You COULD be getting valuable usage data for your "beta" product....that's already on the market in stores.... ​ ​ ​ ​

Dude, its a preview. Now say it with me... PRE VIEW. Buy the handsets with Cortana if you need her so bad, and don't install windows 10 until its finished, because you obviously are not someone who understands the concept of a developer preview. Microsoft is an American company and thus does its main testing here first, before releasing to foreign markets.

This whole preview thing is bullshit!!! Doesn't Microsoft have a headquarters to test all the software and clean out the bugs on their own.. I'm tired of this beta shit. MS should of fixed all the bugs months ago and released a finished product to all phones

Now you're the bullshit. If you can't understand this preview thing, you are better off in another platform. Typical whiner.

If they had fixed all the bugs and finished the OS, wouldn't be a Preview ...

Man it's an alpha version isn't beta yet http://www.webopedia.com/TERM/A/alpha_version.html here is the definition of alpha software release

Man, it's just hard to explain to people who are close minded. I'm not able to try this technical preview because I have a 1520 but I'm not even complaining.

they need input from the masses to make an OS and more people will love. That's why their doing a preview.
Jesus, MS should of made it invite only, so all these idiots who don't understand can't leave their idiot comments.

I wonder if "Hey Cortana" will be available in the preview for Lumia 1520 when it comes out?

No problem. I will never install W10 on my L930... looks like Android 0.9 Beta Alpha.

Jesus! It's a technical preview people, please stop wingeing already

Can't anybody crying about no Cortana just SHUTT UP there are still people who don't have her at all

I can understand the people that have not had the chance to get Cortana being upset. Honestly, I think Cortana is overrated. I'll have full bars of LTE and l get. "the internet and I are not talking right now.". Stupid.

Well that sucks one more reason to wait

I understand people saying this is just a tech preview, but WP8.1 was launched a YEAR ago. In the meantime Apple launched iOS 8, Google Lollipop 5, MS gives us an abomination of WP/Android mash up in alpha form, for 6 low end phones.

An abomination ??!? That seems like quite an exaggeration.

You are not someone who should be installing tech previews.

When am I going to get mine ?

Cortana is beta even in the US on 8.1.1. That said, she works on my laptop on Japan with US set as area. Not sure the difference.

Looks like a "very very" early build, I'd rather wait.

Ow wow ...... Just as WC posted an X amount of time..

So puzzle is sorted windows 10 on 13 th Feb.Good job MS.

it solves just half of the 1316 riddle. The "16" portion is not solved yet. This Monday is the 16th so remains to be seen if that solves the "16" half of the riddle.

Maybe their releasing the full OS in 2016 LOL. But probably getting to more devices tomorrow.

I've installed WP10 TP on my Lumia 730 and found that MS forgot to put settings for Navigation Bar. I can't hide, show and change colour of Navigation Bar and because of this my start screen background image is not showing up. That's a big bug. :(

There was an article about that bug before the W10 Preview for phones was released so Microsoft is fully aware of that.

Frankly, despite the fact my icon can't get W10, I'm ok with not trying it. 10 looks good, got it on a laptop at home, but I can wait for it on my phone. Like a politician, I'll just sit over here and watch you youngsters go to war.

What I am confused about, and maybe someone can help clear this up, if Cortana was previously available in my region (Canada) why would it not be available for windows 10 preview? Different code?

Emphasis on the word "Preview", as in not yet finished, because that's where you find the answer to your question.

Thank you tipsy. Most People don't understand very many words anymore I guess.

"Mobile first, Cloud first..... , US first..............., UK second................................. India/China third......................................................... then finally maybe the rest of the world"

Well hopefully its in the for the launch of other phones, I love using Cortana so happy I didn't get the upgrade. MS is realm awesome though, thank Daniel Rubino and WC team for delivering such great content, its how I find the newest stuff, and I appreciate the commitment

Then for Cortana in Spanish will be a eternal wait

I managed to change my region and language and get Cortana to work in Canada. I had to set the language to English (United States), the region to United States, the language in the Region page to English (United States) from "match phone language" or whatever it usually is, and reboot once more after all the reboots those setting changes require. YMMV, but it works here.

How big is the update in size?

People need to stop complaining. So what if its US only at the moment.It will eventually be released internationally considering that Microsoft is an American based company.

I wonder what voice they will use for non-English speaking countries. Would be cool if they hire famous people for each language. That was fun on the TomTom too.....right?

As long as we get Jen Taylor in the UK (or at least the option to), then I'm all for the delay.

I have problems with Cortana.

It's the same on PCs here in Germany, no Cortana.
Windows Central Newsletter
Get the best of Windows Central in in your inbox, every day!
Thank you for signing up to Windows Central. You will receive a verification email shortly.
There was a problem. Please refresh the page and try again.