Microsoft is turning off Cortana's voice walkthrough during Windows 10 setup for Pro and Enterprise users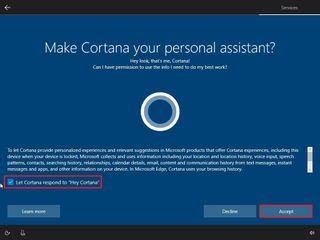 In 2017, Microsoft introduced a new out of box setup experience for Windows 10 that heavily featured Cortana and encouraged users to use their voice to setup their devices for the first time. The problem with this feature is that many people didn't want or need it, and Insiders have been rather vocal about this since it was first introduced.
As such, starting with the next Windows 10 feature update, codenamed 19H1 and expected to launch in April, the Cortana voice-over feature during setup will be disabled out of box on Pro, Enterprise, and Education editions.
Microsoft's wording on this change suggests that users who do want or need the voice over assistance can still gain access to it, but for the majority of users who don't, this feature will no longer bug you by default. Users on Home will still have Cortana voice assistance enabled during setup out of box.
Make sure you check out our complete changelog for Windows 10 19H1, which we frequently update with all the latest changes and enhancements you can expect to see in the next feature update for Windows 10.
Windows Central Newsletter
Get the best of Windows Central in your inbox, every day!
Zac Bowden is a Senior Editor at Windows Central. Bringing you exclusive coverage into the world of Windows on PCs, tablets, phones, and more. Also an avid collector of rare Microsoft prototype devices! Keep in touch on Twitter: @zacbowden.
I'm running Windows 10 home Insider Preview, did a clean install the other day and Cortana voice over was disabled thought the audio driver didn't install now I know why it wasn't working although your post only said pro and enterprise must be a bug in the latest fast ring build for Windows 10 home Ps I liked the voice over.

For those of us who know the initial setup like the back of our hands, waiting for her to finish that very first line before we can speed through it felt like an eternity.
However I noticed regular people like it.

Yeah it did seem to take forever. I never used the guided setup myself, but I'm sure for the non savvy (which it is intended for), it's very nice and needed.

It's cute and fun for a regular UX, but basic consumer end-users usually only ever do setup that one initial time. Too bad a middle ground can't be found.

I usually do a few setups a year and this is very welcomed news!

Microsoft is an expert in annoying people with dumb ai that nobody wants.... remember zippy the Microsoft office paper clip?

It was called Clippit, and nicknamed Clippy... You know... Cause it's a paper clip.

Thank gosh. Even after SCCM imaging this thing would trigger for a few seconds before its skipped.

Hopefully they keep it for home, it's good for accessibility. Although maybe the first thing it should ask is whether you want to use it...

My thoughts exactly; text: Do you want to set up your new pc using voice commands with Cortana? Yes/No Simple...

Genius. More of this kind of thinking is needed in W10.

That's a pity, I for one didn't mind it much as it helped indicate that the audio and microphone drivers were installed correctly. As well as allowing those who use assitive technologies to be able to install via voice without too much hassle.
A better implementation would have been to ask users if they wished to install via voice thus a opt-in experience instead of the previous default opt-out.
Never the less this is somewhat a fair compromise in the grand scheme of things.

I wish things were different, because I loved Cortana on WP, but I think if MS turned her off completely no one significant would notice. Sad, because Cortana could've been the best.

Should've, Could've, Would've the story of Microsoft both past, present and hopefully not the future.

I'm ok with it being available, but it should default to Off for Pro and Enterprise. This is welcome. I work in a group environment and it's super annoying. First thing I do is mute it, but not usually before it barks out a few words.

I've always disabled it anyway so this is good news

what kind of IT pro install windows like that?

One in a small company that doesn't use disc imaging. One installing Windows on a unique piece of hardware. A nerd doing it simply because they can.

I didn't use it, and don't need it, but feel that this is a step backwards.Microsoft are taking away yet another Cortana\voice feature. Like when they removed package tracking, or took the news feed off of the Cortana menu. Taking away features, even ones with little value doesn't inspire confidence in me when it comes form a company like Microsoft. Which has already taken away so many consumer based features already. Taking away this feature makes Cortana seem less relevant, and when taken together with other feature removals could be used by some suit at Microsoft to say that Cortana as a whole should be scraped.

This feature is still available for Home users...

I think this was a wise move.

Lmao that is the exact video I was thinking about when I saw this article.

I actually liked it but again the loud vocal complainers win again. lol but they don't do anything by tablet mode lol

Typical Office full of workers with Cortana chatting away sounds like a total disaster.

Hell, let me keep the Cortana-assisted setup, and get rid of the laundry list of preinstalled time and bandwidth wasting apps and games (Candy Crush, etc.) on the PCs in our Windows domain. THAT's what I really want!

I second that to think you have to crack the WIM with DISM to remove them is just annoying.

Even for a Windows fan like me, I never really use Cortana including on my phone.

I'm sure you use Cortana a lot. Cortana are not only the voice commands.

I use Cortana maybe 50 times a day. I liked Cortana during install, but there should have been a first option to turn it off.

So I just tried it. I will off by default but asks if u want access ability then nerrator then cortana. I this should instead be the first yes no question. I will I set up my kids pc by voice while playing Xbox it was great. I don't want it gone for ever.

...it is still available during the Home edition' setup, you know.

She's definitely not.
Looks like she will soon be showing News again In her dedicated section in 19H1.

She's not dead she just evolved and is now going to conquer the universe with giant robots from a dead alien race. jeez read up on your lore.

(Obligatory comment questioning whether those events were canon, and inserting own head canon).

Bleached, where you at dude? You finally find a good hobby?

Good. It was very unpolished anyway with Cortana using her normal voice VS robotic.

Pro users complaining about Cortana on setup are ******. You only need to watch some YouTube videos of regular people unboxing pcs and starting Windows to see they LOVE it. Those are the kind of details Windows needs if they don't want to lose all their users in favor to Android and Chrome os. And if Windows fails, you will no longer have an OS to work. So stop complaining, you ***** pro users.

They could leave it as an option, if you wanna use it its over there otherwise use the old fashion way. for me I love it.

No, the majority has spoken and this hated feature needs to go.

GOOD. Hopefully just another step towards killing Cortana altogether, which is what most users want. "How to disable Cortana" has been the most asked Windows 10 tech question for 3 years running.