Windows 10 May 2019 Update: The complete changelog
Here's all the notable changes coming in the Windows 10 May 2019 Update.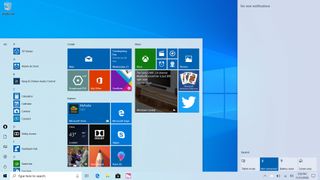 Microsoft's next big Windows 10 feature update is here. Codenamed "19H1," and known officially as the Windows 10 May 2019 Update, this release brings with it a few new features and lots of improvements to already existing ones. Let's take a look!
More on the May Update
(opens in new tab)
Windows 10 May 2019 Update
Windows Shell
Here's a list of expected changes:
A new light theme is available which turns the taskbar, Start menu, and other areas of the Windows Shell white.
Shadows are now present under several UI elements in including XAML context menus and window popups.
The login screen now features Acrylic blur effects.
The Emoji Panel is now drag-able.
Emoji 12, Kaomoji, and Symbols are available in the Emoji Panel.
Focus Assist will now automatically turn on when entering full screen in an app.
You can now customize quick actions directly within the Action Center.
A new brightness slider is now present in the quick actions area in Action Center.
The default wallpaper has been updated with lighter colors and a flatter aesthetic.
Snip & Sketch now supports window snip for easy screenshotting of app windows.
Start and Taskbar jump lists now feature Fluent Design reveal and blur effects.
The power and account menus in the Start menu now includes icons.
The Start menu default layout has been simplified, now using a single column with a cleaner setup.
You can now unpin entire live tile groups in the Start menu.
The File Explorer icon is now slightly darker to better fit in with the light theme.
Game Bar has been updated with a new UI.
Cloud Clipboard's UI has been tweaked to better suite keyboard and mouse use.
Taskbar jump lists will now match your taskbar color.
Search and Cortana
We expect to see these changes and enhancements:
Search features a new landing page for recent activities and search-category UI along the top.
Search and Cortana are now separate.
Cortana will now start automatically listening when you click on its icon in the taskbar.
A new "top apps" area is present that displays your most used apps for quick launching.
Settings
Here's a list of features and changes we expect in Settings:
Settings homepage has a new personalized banner at the top which provides quick access to Microsoft Rewards, OneDrive, Your Phone, and Updates.
Users can now theme the Windows Shell separately from apps with a new custom color mode.
You can now use the Settings app to configure advanced Ethernet IP settings, including configuration of static IP addresses and preferred DNS server settings.
Task Manager will now tell you which apps are scaling per-monitor or by system.
Windows Hello settings have been redesigned with a cleaner user experience.
You can now set up a security key directly in Settings.
A new enhanced search mode provides granular control over file searching to increased performance.
Storage settings have been updated with a new design and cleaner user experience.
You can now uninstall several more inbox apps including:

3D viewer.
Calculator.
Calendar.
Groove Music.
Mail.
Movies & TV.
Paint 3D.
Snip & Sketch.
Sticky Notes.
Voice Recorder.

A new troubleshooting system is present and uses diagnostic data sent from your PC to deliver a set of fixes matching problems that have been detected on your device.
Microsoft will now recommend a fix when Windows detects an issue.
"Fix scaling for legacy apps" is now on by default.
Windows Update has been updated with a new layout that brings forward several functions including pause updates, intelligent active hours, and more.
Intelligent active hours will automatically adjust your set active hours depending on whether your usage hours change to avoid missing installing an update while not interrupting your workflow.
You can now manually sync the system clock with Microsoft for accurate timekeeping.
You can now adjust the size of the cursor.
You can now create new password-less Microsoft Accounts with just a phone number.
Windows 10 Enterprise can now use Automatic Restart and Sign-On.
The pin reset experience has been refined.
Windows will now reserve up to 7GB of disk space for updates.
The "Reset this PC" option has been updated with a slightly different UI.
You can now drag new fonts directly into the Settings fonts page to install them.
The Windows Insider Program page has been updated with a new UI.
Insiders can now choose to automatically opt-out of the Insider Program when an in-development version of Windows is completed.
Apps
These are the apps-related enhancements we expect:
A new Office app is present and provides quick access to your recent documents and Office web apps.
The "Settings and more..." menu in Edge can now break out of the app window.
Miscellaneous changes
And some other random changes:
Microsoft is reworking how game downloads and installs work from the Microsoft Store. It should be much more stable and reliable now.
Fixed an issue resulting in the back button in Settings and other apps becoming white text on a white background if you hovered over it.
You can now read ADLaM documents and webpages with the Windows Ebrima font.
A microphone icon is now present in the system tray when your microphone is in use.
Pressing F4 when in Registry Editor will now place the caret at the end of the address bar, expanding the autocomplete dropdown.
You can now read next, current and previous sentences in Narrator.
Vietnamese Telex and Number key-based keyboards are now available.
Indic Phonetic keyboards are now available for PC.
More symbols are now available on the touch keyboard.
Narrator will now alert you when you are accidentally typing with Caps Lock turned on.
The modern print dialog now supports light theme.
The touch keyboard will now invisibly dynamically adjust hit points for letters based on how you type.
Narrator has a new home experience that lets you launch into specific narrator features.
Windows Sandbox lets Pro and Enterprise users run a virtual instance of Windows 10 on top of your active install to test apps.
You can now set a default tab in Task Manager.
You can now resize the cursor via a slider, with up to 15 different sizes to choose from.
Windows 10 Home users will now have light mode enabled by default after a clean install. Windows 10 Pro and Enterprise continues to use dark mode enabled by default.
Start is now its own process and will no longer go to sleep, meaning it should feel responsive all the time.
This release includes improved RAW image format support.
A new "globe" disconnected icon is now present in the System Tray when disconnected from the internet.
Win32 apps now run within Windows Mixed Reality.
ADLaM and Osage are now supported in the virtual keyboard.
Narrator now announces headings at all verbosity levels.
WSL users can now view Linux user files directly within File Explorer.
Catch up on all the changes from the previous Windows 10 updates
Seeing a feature that isn't listed here? Perhaps it was added in a previous Windows 10 update. Check out our changelogs for those below!
Updated May 22, 2019: We updated this changelog with the latest changes found in release build 18362.
Windows Central Newsletter
Get the best of Windows Central in in your inbox, every day!
Zac Bowden is a Senior Editor at Windows Central. Bringing you exclusive coverage into the world of Windows on PCs, tablets, phones, and more. Also an avid collector of rare Microsoft prototype devices! Keep in touch on Twitter: @zacbowden.
Really? How does it work?

It doesn't, yet. That is my wish for upcoming builds XD

We need an option to save Live tile layout via OneDrive and sync it to other devices. It would be nice to see gadget like controls on live tiles like music controls on Spotify tile.

My question is how long will live tiles remain in the OS. They seem to not be doing anything special with them.

Why fix what's not broken?

Thats what I miss that was a part of Win 8.1 was the live tile start screen backup I want that back in the worst way.

They will be used once CShell has been implemented. :)

Several 3rd party customization programs does it with minimal RAM consumption. It shouldn't be hard for MSFT.

Shouldn't be and isn't hard but Microsoft has bigger and more important things to work on especially when there is already a way to do it using a program.

Yeah, more important like Acrylic blur effects

Of course its more important, as that is part of the visual identity of the OS, while 3D wallpaper is not.

Idk about 3D, but live wallpapers are more or less shelved.. Microsoft replaced it with slideshow in windows 7.
Microsoft's version of Live wallpaper aka Dreamscene was a cool concept but took lot of load on RAM. I remember using it Vista on Pentium 4 system, it used to take atleast 5 to 10 minutes to boot.
Though it faired well on core 2 duo machine.
Even today with out lwp.. system goes quite slow with too many live tiles on system...

Yes, I thought that having animated background sounded cool back with Windows 98, but it just became a distraction and I quickly turned it off. The same with Windows Vista. There used to be a feature that let you run a website as a wallpaper (or something similar, my memory is a little fuzzy on what it was exactly) and that sounded cool as well, but it just became distracting and I switched that off as well.

its completely inconsequential today with hardware acceleration for video now a standard, even phones have it, not only that but also reacting to accelerometers and ****, and even back then it was fine on modern hardware with dedicated GPUs but ofc netbooks were the only thing to exist back then

live wallpapers and a dock

No thanks, just a waste of resources.

Where is edge as a separate app in windows 10 so they can make major improvements to edge more frequently instead of once a year, two at best.

Again - that's not how it works.

That's exactly how it works. That's not how it works only in MS' camp...

How it SHOULD work and how MS has to work Edge on iOS and Andriod.

Edge on Windows and Edge on iOS/Android are two completely separate things.

Exactly. They don't even use the same engine.

It would take some restructuring but it can work. They can either update the Edge app independently of EdgeHTML (this is less effort and will allow them to add new features without breaking the engine or the Windows components that rely on it) or, if they really want to go full in on it, they can try to unbundle the entire SDK like Google Play Services on Android - but that's rather unnecessary knowing how all Windows devices get updates twice a year more or less.

That is on the way when they revamp Edge and turn it into a Chromium based browser. That way Edge will be updated on it's own.

I just don't understand why anyone cares about the stupid acrylic, blur, whatever effects. It adds absolutely no value to DOING anything in the operating system. It's annoying, at best.

What's annoying, is at least two very visible design languages. I'll be happy when MS finally phases out all others and the entire W10 will be Acrylic.

Exactly. It's kinda stupid. When they first showcased the Fluent Design language, they emphasized CONSISTENCY. Everything would look clean, tidy, & uniform, the way a modern OS should be. 1 year later, and what do we have? A bunch of awful, grainy blur effects, hover animations that aren't really special, and... that's it. Oh, and all of these new UI elements are horribly inconsistent, along with all the other inconsistencies we already had! Windows design is a massacre, and it seems like Microsoft cares more about shiny new features that no one needs instead of addressing it.

What are you talking about, they are always updating things to make them match the new style. Windows is a massive OS and changing all that legacy code so the GUI is uniform takes a significant amount of time and considering Microsoft is sticking to win10 and just updating they will get to it. They can't just easily change these things. They have to bug test every single change for weeks before it's rolled into a build and that includes seemingly simple gui items. At the same time different people work on features while also working on improving things and fixing any issues that weren't found till the build was in the wild. There is a reason they have insider builds. They actually take that feedback into account so if you have such a big problem with something go and make a suggestion instead of whining about an issue that isn't a big deal as far as usability goes.... Wow

But...but...but..., why MacOS Dark Mode is beautiful even their Mail app is complete dark mode (unlike Windows 10 Mail, reading pane still white) and they don't even have Insiders and simply do that behind the "Walled Garden"...🤔🙄😣😑😌

Windows10 supports tons of different HW. PC (prebuild or custom build), IOT, WoA, Xbox, AR and MR. Mac? 2012 is the year Apple finally implemented resize-window-from-any-corner. I'm sure the feature is in Win95.
No Menu key, much lesser short-cut combinations, etc.
If you really try to go mouse-free on Mac, you'd discover lots of weird UX and inconsistency.
btw, Xcode, literally the worst piece of software human can ever create. Both UI, UX and stability.
ps: Apple is also quick on removing deprecated API (not just Mac but also iOS), leaves no BC for devs and users. My point is, Mac / iOS is much simpler and small.

macOS is like ms dos compared to windows. Wow they made a dark mode look pretty. Big deal, it's crap to actually use.

why do developers and creators prefer it then?

They don't. Developer for iOS prefer it because they have no choice. Creators have been flocking to win10 in my area for the past 2 years. Touch and pen support is what they want. The surface studio is replacing iMacs in every imaging and graphics office here that I visit, and know people who work there. So, I'm sure this is happening everywhere not just in one province.

No. Devs, not just iOS devs usually use Mac (aside from Linux). Not Windows. In our office, we use MacBooks for web and mobile development. As a Windows fan, honestly, MacOS is smooth, fast, even on "older" hardware. I'm starting to like MacOS. While my Windows 10 laptop, i7, 8GB, is struggling to open explorer.

If your i7 laptop is struggling to open explorer, that says more about your self than windows, intel or whoever your laptop manufacturer is. Beyond that, whatever your office makes, I'm not touching it with a 10-foot pole.

Macs are an expensive status symbol that people want to create the right image. Outside of the US, in places such as China and India where a lot of the worlds programmers are bases, and in Europe, PCs are king, queen, and who knows what else thrown in for good measure. If you're i7 struggles with anything then I would suggest that you have a hardware or a software problem. If I ever sit down at an i7 and it struggles with a basic task the first thing that I do is check for viruses.

That was true, in the 1990s. Today, people mostly pick macs because they create the right image. they are thin and light, and look really nice. From a creative perspective thought you can run the exact same creative software on a Windows system and it runs just as well.

What? Mail app has dark mode.... What a troll.

It does. The reading pane is white though. Even for some plain text emails (non HTML), it should invert colors and make the text light-on-dark.

My reading pane is dark too and I'm not on the 1903 yet.

That's because mail app is not part of Windows OS updates and they added that support earlier. Nice thing is that you can still override / toggle it inside the email reader page by clicking that brightness symbol. Just wish it would stay permanent so you can mix and match (or leave app open I guess)..

The NEW stuff is inconsistent.

The way I see it, inconsistency comes from MS developing a bit here, a bit there and then somewhere else. Maybe that is also the case because they have to deliver lots of insider builds that have to work well enough and do not have time to change all the things at once to make it consistent

acrylic/aero is a total waste of resources... both computer and manpower. Wish 5hey would focus more on returning tablet mode to its formal glory instead

Agree with yoiu all this blurry design is crap, I've turned mine off it just annoys me. The only update to w10 that improved so far is the one drive access in files which only brought back the feature which was in w8.

A guy I work with has some minor vision issues and can't stand the Windows 10 interface. He has difficulty differentiating the different UI elements and things appear too flat for him. And yes, Microsoft has accessibility options such as high contrast, etc. but we work in desktop support so he can't be changing users' themes to suit him. He had no issues with Windows 7 as Aero made differentiating UI elements easier. So with the improvements to come in Windows 10, I'd argue this acrylic and shadow effect will help him.

I firstly care about stability/bug fixes but after that I care a great deal about the UI. I'm stuck looking at it the whole time I'm on my computer so I care for it to be pleasing to the eye. I can see how some people may be 100% function, 0% form but to me the form can either assist or hinder the function. There are theme options (and entire other OSes) out there for those who are content with a gray, blocky mess from the early 90s if that's their preference. I put stock in a well designed, pleasing to the eye interface.

Same here, I turn most of the effects off as they are a distraction. Especially on an older model laptop or tablet where they lag a little.

Little clickbaity.... There's only 1 thing and that's acrylic menus. Things like this are why I have yet to whitelist this site.

"All the change SO FAR." It's kinda in the title, bud. We're going to update this post with every new build. So, worth a bookmark if you want to keep updated.

Seeing the current status of Edge I would say focus on it, UI can be dealt with later.

I think Edge is great, rock solid. Not perfect, but overall, still better than other browsers. Biggest deficiencies from my perspective: 1. A TINY number of sites are still incompatible with Edge. That probably says more about those sites than Edge, but still, MS should work hard to address these. Hardest to stomach: the built-in management page on Xyxel routers. 2. Printing is still like in the original release of Edge with no options, no storing settings, no ability to print background colors or images. If I need to print a page, I'm probably going to Opera. 3. Lack of Extensions. Not sure MS can do anything about this one other than try to get more people using Edge so developers will want their extensions on Edge to be thorough.

While this lands squarely in the overlap section of Edge & UI, it's still an area needing fixing. Edge seems to have incredible issues with favicons. This matters to me because I prefer many of my bookmarks to be icon only so that more fit outside of folders. Many, if not all, favicons don't auto-load when importing bookmarks and even loading a site without its icon doesn't load the icon into the bookmark as it should and does in other browsers. Lastly, their bookmarks in folders are incredibly over-padded. I understand their desire for a bit of extra space for touch users but even in the latest build, bookmarks have 2"+ of empty space next to them adding to the inefficiency of mouse use. Things like these and many others negatively affect my desire to use Edge as my default browser because it comes across as incredibly unpolished.

UI is very important these days. Take a look at iOS or all the new Material 2 things google is doing with Chrome/Android/web. People are now used to to pretty UIs, translucency, animations etc from their tablets and mobile device. If Windows kept their window 8 or 2000 look people would certainly perceive it as ancient tech.

Windows 8 was great, 10 needs to catch up was it's only some people moaning about the start button

Windows 8.1 was ok once a third party start menu was added and the charm bars was disabled.

Wait, so instead of seeing the amazing photo images in the background on sign in it's just a blurry mess? Who thought that was a good idea?

It only shows when you get ready to sign in. Not before hand.

I figured that, but still, it's the same thing Apple does, and I don't like it there either.

Better to offer Toggle option for blurry login background.

Hopefully they can do something about the tablet mode in one of these "major"updates..

@Antonht, this is what I'm most hoping for at this point too. Mainly because I think that's what Andromeda will need to succeed. I don't personally miss any of the tablet features (Windows 10 is good for me as-is on my touch devices), but I absolutely understand that most tablet users really miss many of the features from Windows 8. So to keep the majority of users happy with a tablet/Andromeda-focused release, please MS, at least for any effort you're allocating for the UI, please focus on tablet implementation.

Indeed. Well, im happy with windows 10 on my desktop and my Surface 5 works fine with it, but I sure miss the gestures and all that from windows 8.1. (just for the tablet mode). I wish we could change the colors of the icons in start though (I liked that windows 8 was colorful), but I rather have a working tablet mode than colors. For the desktop I feel its perfect

True. Wish it will be improved.

I think it looks better, but it kinda reminds me of a login screen I did not wanted to see anymore: https://cdn1.tekrevue.com/wp-content/uploads/2015/03/osx-login-default.jpg

And again. Would it be possible to highlight all changes introduced in these historic articles that keep getting updated? It would be lovely.

Maybe you should have waited until there is enough content

About time they integrate the advanced network settings into the settings app.

No kidding. That's one reason I've been keeping a control panel shortcut on my start menu.

Let's hope they're more focussing on stability so users don't find that their files are gone after an upgrade.

I hope that it won't happen again this time too.

Have they fixed the absolutely atrocious timeline/taskview performance at high resolutions?

Nothing that impresses me and gives me the idea that Windows is moving into a new era. Microsoft focusing on the next big thing beyond the curve ... well, it seems others are already taking over. Lost my confidence in OneCore and Cshell. Surface Go should have been on ARM. It is all too inert. Why don't we have a standalone Surface HMD for Windows Mixed Reality. Azure as the worlds computer is going to be useless if Msft has lost all ground on edge computing.

Still waiting for 1809.....

you can download from windows update assistant I have downloaded from there now working properly

Bundled with the OS
like calculator.

Personally, I think it should be written like "in-box app" rather than "inbox app". Inbox implies something to do with email, whereas "in-box" implies "in-the-box" with the OS. Oh well. Tomato, tomato I suppose.

How about 'built-in' apps?! 🤔

They need to work on a more consistent UI

Windows 10 19H1: All the changes we know so far

Features and fixes that I hope and like to see in Upcoming Update-
. 3D live Wallpapers
. Dark Mode/Night mode(not reading mode) which is already included in OS.
. Blur effects in lockscreen
. Music player bar in Action center like in Android.
. In tablet mode, start screen's live tiles are blank, not every but some of the app's tiles look blank only not knowing if what app's tile are they.
. Next windows update should be faster and stable even more while doing multitasking and opening and closing graphics intensive applications and games.
. In videos window bar sometimes there is invisible minimize, maximize and close icon in top right corner.
. Selection of different animation while opening any applications and also start screen (like currently the start screen opening from swipe from down to up, if new animation like from side to side, or fade, dissolve...etc you understand what I am talking about). I not and immergency requirement but if it includes such features than it will be better.

Google's Retpoline fix is also coming to 19H1. Shouldn't that be added to the list too?

Love this recap articles...

So not any improvement in the tablet mode. Still same as in 2015. I hore they at least fixed laggy unresponsive tablet mode and flicking animations (Surface Pro 2017 i7)

Notification Menu still has that ****** animation like it did in 2015... if only...

Update the system music controls
Overhaul the UI of legacy systems
Update the Tablet Mode with better gesture support, and fix the myriad of bugs present These are the things I want to see with the next big update.

We still need third party tools to back up our well crafted Start Menu layouts :( This should be baked into the settings app. I use this free utility to backup Windows 10 Start Menu. it works great! just make sure you're running the latest build of W10. It's called "Backup Start Menu Layout v1.1 https://www.sordum.org/10997/backup-start-menu-layout-v1-1/

So nothing really that interesting then apart from allowing us to uninstall more of their bloat. Just a shame they do not allow us to uninstall Cortana and get rid of telemetry.

Yu know, you can always just firewall it out.

Give me Audio Profiles so I can easily switch between connected devices (surround sound receiver (HDMI), Gaming headset and DAC (USB - 3 devices in sound settings - audio, chat, mic), Monitor (DisplayPort), PC Surround (MOBO 7.1 Analog Out)) with a simple click. Unplugging and replugging a gaming USB headset or opening sound settings and changing audio defaults to switch devices is tedious in 2019.

There control for pretty much all of that in 1809 in setting/sounds.

Looks like a lot more fluff features for me to turn off. I also wonder what the blur effect would look like on my black background signon screen? :-)

Brother, let us not abandon Mobile just yet. If you read between the lines, with each new release, Microsoft is merging Mobile functions including proprietary Lumia features into the main branch of Windows. I bet that there will be a Mobile device within an year or two. Till then, I am going to continue using my Lumia's and Alcatel's and Elites. Double tap is working properly now on Elite and Glance is almost there! Item has been added to extras! Furthermore,they have lately concluded that Windows in its current avatar with a few tweaks can support different formfactors without the need for a new WCOS operating system. Guess it was obvious to all of us except for the Microsoft CFO... lol Looking forward to the next pocket device from MS

And still: Timeline and Task View animations as choppy as hell....

Have they fixed the annoying right click context menu in the dark them to make it readable? I other words does it not have white text on a very light grey background?

"A new Office app is present and provides quick access to your recent documents and Office web apps." Great more bloatware apps to (hopefully) uninstall. Microsoft are worse than OEMs these days for installing bloatware apps. You can install this now from the Microsoft Store (My Office), it's just a pretty pointless Hub, that has limited use.

You do know there just update Web tiles at this point right?
Basically right click to delete the folder that all there's nothing to uninstall.

Changes I would have also liked to see in this build update: -select multiple live tiles from one or more groups and drag them to another or new group.
-supported pinning more filetypes as a live tile. currently very limited.
-be able to hide the timeline button on the taskbar
-be able to hide Cortana on the taskbar
-be able to index AND search local storage AND local external storage. Example: on my surface pro via windows search settings I can only choose to index and search local storage on my pc OR my external sd card. Very annoying having to switch this in settings.
-be able to do a bing search via windows search. currently not supported by default in my region and language. I loved it in windows 8.
-support for autorotate of two snapped apps in tablet mode between landscape and portrait orientations.
-have a floating clock widget for the action center, just like the one with the charms bar in windows 8.
-Be able to more flexibly search an adress in windows maps. I currently am obligated to use windows map search to find and adress with street+street number+postacl code+city+country to find an adress. It's more natural for me to search with street+stree number+city. Even now it is very hit or miss with finding results. Very odd.
-Fix a bug where windows will regularly occaisonally randomly switch keyboard languages. This is annoying as this will change around the punctuation mapping on the keyboard. I have to keep changing settings to default to my preference despite setting the default earlier.

You can hide Cortana and Timeline on taskbar since 2015...

Question: What exactly are the improvements of Edge 19 in W10 1903?

Pretty much nothing as Edge is now in Chromium Canary state

January 28, 2019 update to this article forgot about the interface changes to WMR (Start Menu, Windows)

Some of upcoming features will not available for W10Home. All I want the crash less apps. Aside, I always welcome new features to public released update.

Pretty much only Sandbox will not be available.

I wish they got rid of the ugly and useless settings header, renamed Windows Security to Windows Defender and moved the search bar to the start menu. Also, they should fix Task View since they ruined it with the rewrite in 1803 and fix the touch keyboard since they ruined it with the rewrite in 1709.

Cortana is not working since Feb patch. I'm waiting for this update to try new features and light taskbar mode.

Have you tried troubleshooting the microphone.
Or resetting Cortana process in task manager.

Yes !
Not found any problem.

Brightness slider from the Notifications panel, finally fixed after almost 4 years. That button with 3 presets at 0, 25, 50 and 100% is horrible, was perfect in Win8.1 and now it's coming back :-)

"Settings homepage has a new personalized banner at the top which provides quick access to Microsoft Rewards, OneDrive, Your Phone, and Updates."
I've been on 1903 with Release Preview for over a month, I've yet to see this in the settings app even though my Microsoft Account is added to my user profile.

I've never had the Settings info bar and still don't

1. The brightness slider only works on built in displays, external displays might not work. So says Microsoft themselves. 2. This "new" settings banner is not in the final version. I do not have this at all.

An automatic light/dark theme based on time of day would be nice. I want a light theme during the day, that auto switches to dark theme at night. Do you know the PS3 had this function built in?

For Some Reason, I Didn't Get The Banner In The Top Of The Settings Window When I Updated My Laptop To The Latest Version

These "complete changelogs" are great. It would be nice if MS would do this. I like the links to the earlier similar log articles. BUT, could you please add the most commonly known ID for each, ie Ver1809, Ver1803 etc. and/or the marketing names ie May 2019, Fall 2018 etc. Only geeks are familiar with the significance of the Redstone names.
Windows Central Newsletter
Thank you for signing up to Windows Central. You will receive a verification email shortly.
There was a problem. Please refresh the page and try again.