Windows 10 May 2019 Update: The complete changelog
Here's all the notable changes coming in the Windows 10 May 2019 Update.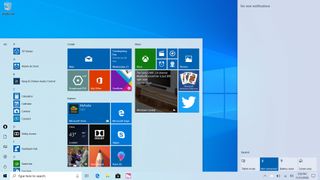 Microsoft's next big Windows 10 feature update is here. Codenamed "19H1," and known officially as the Windows 10 May 2019 Update, this release brings with it a few new features and lots of improvements to already existing ones. Let's take a look!
More on the May Update
Windows 10 May 2019 Update
Windows Shell
Here's a list of expected changes:
A new light theme is available which turns the taskbar, Start menu, and other areas of the Windows Shell white.
Shadows are now present under several UI elements in including XAML context menus and window popups.
The login screen now features Acrylic blur effects.
The Emoji Panel is now drag-able.
Emoji 12, Kaomoji, and Symbols are available in the Emoji Panel.
Focus Assist will now automatically turn on when entering full screen in an app.
You can now customize quick actions directly within the Action Center.
A new brightness slider is now present in the quick actions area in Action Center.
The default wallpaper has been updated with lighter colors and a flatter aesthetic.
Snip & Sketch now supports window snip for easy screenshotting of app windows.
Start and Taskbar jump lists now feature Fluent Design reveal and blur effects.
The power and account menus in the Start menu now includes icons.
The Start menu default layout has been simplified, now using a single column with a cleaner setup.
You can now unpin entire live tile groups in the Start menu.
The File Explorer icon is now slightly darker to better fit in with the light theme.
Game Bar has been updated with a new UI.
Cloud Clipboard's UI has been tweaked to better suite keyboard and mouse use.
Taskbar jump lists will now match your taskbar color.
Search and Cortana
We expect to see these changes and enhancements:
Search features a new landing page for recent activities and search-category UI along the top.
Search and Cortana are now separate.
Cortana will now start automatically listening when you click on its icon in the taskbar.
A new "top apps" area is present that displays your most used apps for quick launching.
Settings
Here's a list of features and changes we expect in Settings:
Settings homepage has a new personalized banner at the top which provides quick access to Microsoft Rewards, OneDrive, Your Phone, and Updates.
Users can now theme the Windows Shell separately from apps with a new custom color mode.
You can now use the Settings app to configure advanced Ethernet IP settings, including configuration of static IP addresses and preferred DNS server settings.
Task Manager will now tell you which apps are scaling per-monitor or by system.
Windows Hello settings have been redesigned with a cleaner user experience.
You can now set up a security key directly in Settings.
A new enhanced search mode provides granular control over file searching to increased performance.
Storage settings have been updated with a new design and cleaner user experience.
You can now uninstall several more inbox apps including:

3D viewer.
Calculator.
Calendar.
Groove Music.
Mail.
Movies & TV.
Paint 3D.
Snip & Sketch.
Sticky Notes.
Voice Recorder.

A new troubleshooting system is present and uses diagnostic data sent from your PC to deliver a set of fixes matching problems that have been detected on your device.
Microsoft will now recommend a fix when Windows detects an issue.
"Fix scaling for legacy apps" is now on by default.
Windows Update has been updated with a new layout that brings forward several functions including pause updates, intelligent active hours, and more.
Intelligent active hours will automatically adjust your set active hours depending on whether your usage hours change to avoid missing installing an update while not interrupting your workflow.
You can now manually sync the system clock with Microsoft for accurate timekeeping.
You can now adjust the size of the cursor.
You can now create new password-less Microsoft Accounts with just a phone number.
Windows 10 Enterprise can now use Automatic Restart and Sign-On.
The pin reset experience has been refined.
Windows will now reserve up to 7GB of disk space for updates.
The "Reset this PC" option has been updated with a slightly different UI.
You can now drag new fonts directly into the Settings fonts page to install them.
The Windows Insider Program page has been updated with a new UI.
Insiders can now choose to automatically opt-out of the Insider Program when an in-development version of Windows is completed.
Apps
These are the apps-related enhancements we expect:
A new Office app is present and provides quick access to your recent documents and Office web apps.
The "Settings and more..." menu in Edge can now break out of the app window.
Miscellaneous changes
And some other random changes:
Microsoft is reworking how game downloads and installs work from the Microsoft Store. It should be much more stable and reliable now.
Fixed an issue resulting in the back button in Settings and other apps becoming white text on a white background if you hovered over it.
You can now read ADLaM documents and webpages with the Windows Ebrima font.
A microphone icon is now present in the system tray when your microphone is in use.
Pressing F4 when in Registry Editor will now place the caret at the end of the address bar, expanding the autocomplete dropdown.
You can now read next, current and previous sentences in Narrator.
Vietnamese Telex and Number key-based keyboards are now available.
Indic Phonetic keyboards are now available for PC.
More symbols are now available on the touch keyboard.
Narrator will now alert you when you are accidentally typing with Caps Lock turned on.
The modern print dialog now supports light theme.
The touch keyboard will now invisibly dynamically adjust hit points for letters based on how you type.
Narrator has a new home experience that lets you launch into specific narrator features.
Windows Sandbox lets Pro and Enterprise users run a virtual instance of Windows 10 on top of your active install to test apps.
You can now set a default tab in Task Manager.
You can now resize the cursor via a slider, with up to 15 different sizes to choose from.
Windows 10 Home users will now have light mode enabled by default after a clean install. Windows 10 Pro and Enterprise continues to use dark mode enabled by default.
Start is now its own process and will no longer go to sleep, meaning it should feel responsive all the time.
This release includes improved RAW image format support.
A new "globe" disconnected icon is now present in the System Tray when disconnected from the internet.
Win32 apps now run within Windows Mixed Reality.
ADLaM and Osage are now supported in the virtual keyboard.
Narrator now announces headings at all verbosity levels.
WSL users can now view Linux user files directly within File Explorer.
Catch up on all the changes from the previous Windows 10 updates
Seeing a feature that isn't listed here? Perhaps it was added in a previous Windows 10 update. Check out our changelogs for those below!
Updated May 22, 2019: We updated this changelog with the latest changes found in release build 18362.
Get the Windows Central Newsletter
All the latest news, reviews, and guides for Windows and Xbox diehards.