Windows 10 Fall Creators Update: The complete changelog
The Fall Creators Update, Microsoft's next major update for Windows 10 is now pretty much done! Here are all the changes so far.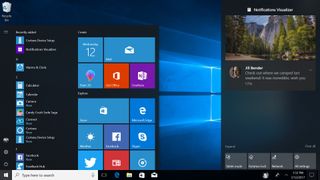 Microsoft is now done with feature development on the next major version of Windows 10. Dubbed the "Fall Creators Update," this update is expected to launch on October 17, 2017, and will focus on a whole bunch of new improvements for Windows 10 users.
There's a lot of improvements coming with the Fall Creators Update that not everyone may be aware of. So, we thought it'd be a good idea to throw together a list of all the changes that are being introduced with the Fall Creators Update!
Our full review of the Fall Creators Update is live!
Windows Shell
The Windows Shell is the main part of Windows that people interact with everyday. It's the Start menu, the Action Center, the Taskbar, and File Explorer. So here's all the noteworthy changes showing up in those locations.
Resizing Start horizontally is now smoother.
You can now resize Start diagonally.
Start now uses Acrylic backdrop.
Scrollbars will now shrink away when cursor isn't near them.
Added new context menu icons in Start.
New Action Center UI featuring Fluent Design.
Action Center now shares the same Acrylic backdrop as Start.
Toast notifications now float in the bottom right corner.
Tweaked design for toast notifications.
Toast notifications now feature an arrow instead of an X to dismiss.
There is now a My People Hub icon on the taskbar.
You can now pin up to three contacts to the taskbar.
Pinned contacts can send you "pops" that appear as animated emoji on your desktop.
My People Hub gives you quick access to all your contacts and associated communication apps.
You can now share with contacts directly from the Share UI
Taskbar Battery icon has new flyout with a slider for Power Throttling.
You can now enable Spatial Sound directly from the Volume icon context menu in the taskbar.
You can now see files saved in the cloud via OneDrive with "On-Demand Sync" in File Explorer.
You can now share files via the Share option in the context menu.
Microsoft Edge
Microsoft continues to improve Edge in many ways. With this release, Edge now has better PDF and EPUB support, a new readaloud feature, an updated favorites system and a load of under the hood improvements for stability.
You can now ink on PDFs directly within Microsoft Edge.
You can now see a PDFs table of contents.
Microsoft Edge now supports PDF forms.
General PDF reading improvements.
You can now pin websites to the taskbar just like with Internet Explorer 11.
General EPUB improvements.
You can now annotate EPUB documents.
Minor UI improvements.
Reading progress is now synced across devices.
You can now save favorites into a different location directly from the favorites UI.
You can now edit the URL of an already saved favorite.
Share UI now shows up in the top right of the window.
Tabs that are no longer active will show a semi-transparent icon.
Edge now features a readaloud mode that reads text for you on a webpage, PDF or EPUB document..
Under the hood improvements.
Copy and paste is now more reliable.
Edge now shows Acrylic in its title bar.
Pressing F3 when using Find a Page will now go to the next result. Shift F3 will go to the previous result.
Updated editable fields in PDFs to now have a subtle color to help indicate that they're editable.
Input Improvements
Input improvements include the way users interact with Windows, whether that be with a mouse or keyboard, touch screen, or pen!
New Emoji Panel (accessed with WIN+.)
Support for Emoji 5.0.
Updated Touch Keyboard with Shape Writing and one handed mode.
Improvements to handwriting panel.
You can now scroll lists and webpages with a pen.
Settings
Here's a list of all the noteworthy new settings coming in the Fall Creators Update.
About area has been redesigned with relevant information about system health.
Storage Sense can now automatically delete files in your downloaded folder after 30 days.
Storage Sense can now delete the previous version of Windows once an upgrade has taken place.
Remote Desktop is now in the Settings app.
A new sidebar is present with contextual help tips and video.
A new "Video Playback" option has been added with HDR and other video options.
A new Game Monitor option is present.
Updates now have individual progress indicators when downloading and installing.
New update activity monitor that shows statistics on downloads of updates for the month.
Cortana now has its own area in Settings.
Slight changes to the order of Settings categories.
Delivery Optimization improvements
You can now track update download usage
There is a new option for linking an Android or iPhone device to your Windows 10 PC
New options for controlling your PC with your eyes using third party hardware from Tobii.
General improvements
Here's a list of some of the changes that don't belong to any of the categories above. These changes are just as important as all the others.
Windows is now smart enough to throttle inactive programs.
Windows can now adjust Win32 programs DPI without needing to logout.
Android users can now see missed call notifications on the desktop when Cortana is synced on their PC and phone.
Windows 10 now runs on ARM64 architecture.
Cortana now supports dedicated Speaker Devices.
Minor elements of the Fluent Design System are present in some areas of the OS.
The Photos app now has a new Story Remix area that allows you to create quick video clips.
You can now recover your Microsoft Account password directly from the lock screen.
Battery life improvements
Windows 10 Security enhancements with Windows Defender, Exploit Guard and more.
Translucent UI elements now have Acrylic noise.
The Mixed Reality Portal icon has been updated.
Cortana can now lock, sign out, shut down and restart your PC with voice commands.
Windows can now automatically re-setup your account after feature-update is installed, automatically opening apps and more.
The Bahnschrift font is now pre-installed.
Fixed the issue where USBhub.sys was causing spontaneous reboots due to bugchecks (GSOD).
Fixed an issue where your PC might not go to sleep automatically after remoting into it and signing out of the remote session.
So there you have it, all the noteworthy changes coming with the Fall Creators Update in October. What are you most looking forward to in this update? If you want an even more detailed changelog, make sure you check out Change Windows for its in-depth Fall Creators Update changelog
Zac Bowden is a Senior Editor at Windows Central. Bringing you exclusive coverage into the world of Windows 10 on PCs, tablets, phones, and more. Also an avid collector of rare Microsoft prototype devices! Keep in touch on Twitter: @zacbowden.
I'm dying to see what they will do with Windows on ARM and the devices that will come out of this.

I think almost all of us--especially those of us who have been here since the days of Windows Phone Central--are all hoping for the same thing: Windows 10 on ARM will mean a surge in Windows 10 phones.

Heard there's eSIM support?
I can already picture myself docking a win10.arm device on my gamepad playing xpa titles~ cannot wait!!!

I actually hope for a new Surface (not Pro) with awesome battery life a better performance than the Atom and the full pen support. The perfect student 2in1.

Does the new Surface Pro come with W10S? Cause that's what your talking about.

No not really. I neither talk about Win10S nor about the new Surface Pro. I'm talking about a new Surface (not Pro) with ARM CPU. And Windows 10 ARM is not the same as Win10 S. You can install software from anywhere you want.
And even that the new Surface Pro is a great update it's nothing close to the battery life of an ARM tablet and costs much more. The normal Surface line was much more affordable but less powerful.

Oh...ok. I always get confused sometimes between the two ideas. I think they did away with the Surface (non Pro). I was in the store recently and the sales associates were talking down on it. In my experience, they tend to do that a lot about MS products. Anyway :)

But they need some showcase device for Windows ARM. So either they make a new Surface or they use a similar OEM devices from Acer, Samsung, Dell..
When they first introduced Windows ARM they talked about full pen support. They really have to show something. But on the other hand it's Microsoft. Sadly they're good in teasing but not delivering something.

I wouldn't say a surge, but it could help sell a few more devices......

Hope it too, but won't happen.

Wait, what is Lumia then? I thought Snapdragon is ARM and Windows already runs on it?

there will be some ARM snapdragon 835 laptop run full windows 10.

I wonder what they will do on supported phones

I guess there is no way to bring ARM64 or W10 64-bit to current phones running a 32-bit version.
So current phones are being banished and MSFT may be waiting until everyone has moved on so that they can release a new mobile device with ARM64 + W10 x64 capabilities

Win 10 x86, 32-bit iirc. do not expect 64-bit x86 compatibility until redstone 4 or later. Then MS will have a whole generation of devices to stop supporting ahead of that.

Current phones starting with Snapdragon 810 (Lumia 950) have ARMv8 cores, which means they are 64 bit.

MS , can you bring cshell to existing high end windows devices? Alcatel idol 4s and hp elite x3

Don't forget the 950 series. Should be for all devices capable of using Continuum.

Don't forget the least they can also do is UPDATE THE FIRMWARE! Been having USB connection issues over USB 3.0. Also add in WI-FI calling!

WiFi Calling is already working in Canada, France, India, and UK. You just need a carrier that supports Windows phones.
.
If in Canada go to Telus Mobility
India: Reliant or Vodafone
not sure about UK or France

I believe they're bringing CShell with support for Win32 apps to mobile exclusively for Snapdragon 835 devices and newer, as older ones are simply uncapable of handling it properly. In other words, no existing devices will get these features sadly.

- Android users can now see missed call notifications on the desktop when Cortana is synced on their PC and phone. - Toast notifications now float in the bottom right corner. I'm not in Windows Insider Preview Program and I already have these ones.

I think Zac meant to say Android users can see when a call is currently coming in on their phone and decline the call on their pc. That was a new feature in one of the insider builds. I agree, I have the missed call notifications too! With the notifications, they are different for insiders. The toast isn't connected to the right side of the screen anymore. It floats on all sides now.

still no improvement reagrding ease-of-use in tablet mode. 2-in-1 are a pain in tablet mode if you dont have a big enough screen. Hope to see this fixed in the future.

Wish they would make desktop mode more touch friendly (systray, all apps, window resize, etc) and there wouldn't be a need for tablet mode. BTW, on my SP3 I never use tablet mode. I constantly touch it, but it's in desktop mode.

I have a 2-in-1 with a 10 inch screen and tablet mode is good for this but what I miss the most is a touch friendly file manager. Also I think that when Cshell is complete and adopted from all the developers, tablet mode experience will be even better.

I'm excited about not needing to log out and back in to see DPI setting changes across applications in the Fall update.

I can already change DPI without logging out, unless you mean something more, but I already change DPI with immediate result in the apps on that monitor.

we're not talking about Windows apps/games but instead old WinXP era win32 programs you download from other websites.

I don't understand. Why microsoft is release an update with this mixed design. The fluent design will be good but it's not finished yet. And this mixed design is the ugliest thing in the world now. And it's not smooth. The acrylic effect is eat my laptop because is not optimized yet. All Microsoft have to do is wait and improve the fluent design until they finish it. The fall creators update is good without the fluent design elements. (sorry for my English)

The mixed design will be fixed in Redstone 4.

MS seems to like launching products that are not complete. windows 10 was not complete when it was origianly launched and is still not compleate. their excuse is that it is a service, which to be honest is a laod of rubbish. If you are going to launch a OS, then make sure it is working as it should be. Nothing on this new version of Windows 10 to get excited about and people that do really need to get a life. Makes no iddference to the way I use Windows, i do not use the extra stuff, I have no need or reason to. would be great if Ms gave us more control over their spying.

Yeah, sadly Microsoft just get away with it and even defended with this behaviour. They tend to announced and overhype things with over promising feature, then delayed and after that its still half-baked. My People for example is still like on its early alpha stage, the UI is just clunky and ugly. Functionality were at least working okay. Fluent Design implementation is also indeed unpolished and incomplete for Wave 1. It's like a taste but not really trying to redesign most UI elements on Windows. Only Start and Action Center got Fluent Design treatment, while all other Taskbar-related elements are left-behind, which are the most visible to user all the time. Even Live Tiles on Start doesn't have Reveal Highlights, and so does Action Center Quick Action buttons. Among 5 things that Fluent Design System that Wave 1 promised. Only some Light, mostly Material and little Depth has been implemented. There is no Motion which things like Connected Animations on all MS apps and even just fixing animations on OS are mostly left untouched. At the moment we have now a clashing mix of few buts of Fluent Design, MDL2, Modern, and flat Aero. What an OS environment for creatives that Fall Creators Update is aiming for.

The start menu just got a varnish coat. It's ridiculous.

Windows 10 start menuj is awful, when i used Windows 10 I replaced it with something that is better and do not have silly tiles.

I'm excited about it all. But the arm support has me hoping I can breathe new life into m surface 2. This would be a perfect test device for windows 10 on arm. Come on Microsoft! Open up arm beta for surface 2 owners so we can be your guinea pigs!

Never going to happen but I too would love this

W10 on ARM is an enhancement of WinRT, which therefore should not have been killed. And, what happened to the claim that UI use of transparency was dropped in Win8 to enhance battery life (Sinofsky said so in his win8 motivation paper years ago)? Looks like translucent controls are making a come back now. Is battery life no longer a concern? Too many changes in direction at the leadership level, IMO.

Windows 10 on ARM will not affect Surface 2. Surface 2 uses an ARM32 processor, Windows 10 on ARM is coming to ARM64 only.

aaand you just killed his dream.

Well yes. What can you do?

As a Surface RT owner, as much as I'd like to see Windows 10 on the old ARM Surfaces, it's never going to happen. Even if the hardware was compatable (it is not) Microsoft has no motivation to support these old tablets.

WIN+. simply does nothing here. How do I enable it?

This is for the Fall Creator's update, if you're in the Insider Builds this is enabled. However, as of now it's a feature that isn't implemented in the stable 17.03 build (Creators Update).

I have the last fast ring build and i cant see the emoji panel when i press Win+. 😭

I had to swap to US keyboard to enable it

Depends of the language. I can invoke it when the PC is set up with En-US, but no with Es-es.

happly look foeward to seeing light and reveal highlight on the start menu

The update feels incomplete due to the incomplete fluent design.

Yes, also would like to see fluent design in file explorer, to have it a bit consistent everywhere and also in old control panel till they don't get rid of it. Also my people hub needs to have integrated fb messanger, WhatsApp, etc...

Will Microsoft Edge be able to run Progressive Web apps? I thought that was suppose to be part of the Fall Creaters Update.

What is a progressive web app?

Watch this and be excited about Progressive Web App https://youtu.be/MxTaDhwJDLg

Actually no, but I expect to see something of PWA in the early Redstone 4 development

«pin up to three contacts to the taskbar.» Why not more?

Because MyPeople is half-baked as usual. Even this feature has been delayed, this is nowhere near what we saw on their first introduction as promised. The fly-out UI isn't a fly out, but a clunky window acting like one.

lets hope for tabs in file explorer (its like waiting for godot)

not coming. wait until Q3 2018

MS can you please update Notepad so it can read line breaks?

I've replaced Windows Notepad with Notepad2-mod a while ago for this very reason.
Notepad2-mod supports replacing Windows Notepad using a clean, unintrusive registry-based method.

Same here. I love Notepad2-mod. :)

there are Notepad+ app on Windows Store that act just like the original notepad program but has additional features you would like.

Notepad++ is my replacement

Great comprehensive & chronicled list Zac. Thank you. Helps Insiders actually quantify those incremental changes we get used to and take for granted. Appreciate your work for WC.

Great comprehensive & chronicled list Zac. Thank you. Helps Insiders actually quantify those incremental changes we get used to and take for granted. Appreciate your work for WC.

With every new release, windows becomes more interesting :)

Very curious to see how good these battery life improvements are.

I can confirm the battery improvements in the fast ring, very notable when you're playing multimedia in a portable device, like my HP Stream 7 tablet.

My most wanted feature in Edge is not listed, unless nobody else than me cares for this: Have an option to be automatically switched to the new tab when doing a right-click--> open in new tab. The reason why I stay with Firefox and IE and don't use Edge and Chrome (because Chrome is also missing this feature)

These improvements are well and good. But all my computers are still on build 1607. When will microsoft push build 1703 into my computers? I figured Microsoft was still tweeking 1703 to be more stable for my range of devices, laptop on 7th gen iCore, desktop on 6th gen iCore, my Surface 3 and my SP4. So I gues I will get 1703 about the time that Fall Creators update is released to public.

You can try force a build update with the "Windows 10 Update Assistant" available from support.microsoft

One of my PCs just had 1703 dumped on it and the next thing I know, we're spending the next hour or so trying to get it to boot. Ended up having to role back to previous version. Every PC I own has been bitten by one of MSFT's updates and to say we are not impressed would be an understatement.

that's probably because the update files were corrupted or that you had shut down/sleep the computer while it was attempting to download the update files.

All of these changes sound excellent. Well done Microsoft!

Whilst there are some improvements, a lot are for tablet users and those with touch screen input. For me, a desktop user not so much. I do not like the tiles on the screen so my pc uses Stardock 10 and looks like windows 7, which I prefer. Much there is not for desktop users so not of interest to me. I would like to see accessing favourites and new web sites now being amended so as to be the way it was done as it was in IE11, 'when you middle click on a link or favourite, the new page opens to the front automatically' NOT having 'to click off the link or favourites then click the new page'. There are times when you have to click 3 a mouse button presses to get to the new page. I feel this is a retrograde step, I have always been taught and teach my IT students that 'the least steps to complete an action the better', with Edge these steps take longer. I would also like to see favorites from IE11 and Edge being accessed and stored the same way so that when you set a bookmark in either browser, BOTH save them! No doubt many will not like these views, just my penny worth.

Yeah, file manager is a pain, to use it and to access it; i mean the experience is good but still not as good as win8.1 (win10 is better though)

So just two Creators updates? No Creators Update Update Update?

Will MS ever port Event Viewer, Disk Management, Firewall, etc. to the new Settings tab with XAML? Or will this app remain forever second rate?

Eventually I am sure, but it's probably far down the priority ladder, most people never touch those, or even know they exist.

"Most people..." OK... I can tell you that as an IT professional I use event viewer every day. Microsoft seems determined to make it harder for IT to do our jobs. Walking people through "Metro" UI over the phone really sucks. Remote support is worse since there's so much animation eating up bandwidth. I use Control Panel roughly 10 times more than Settings, because it works. Dumbing down a menu designed specifically for power users isn't a good way to reach out to the people who have to keep this crap working.

alt+f: drop down "File".
(shift+)tab: move to the next control in a dialog.
esc: equivalent to clicking the cancel button.
alt+underlined letter in dialog box item: move to the corresponding item.
etc. REALLY miss those when using a UWP app.

Action centre looks 20 years old now, edge don't use it, settings is a one time set up, fluid design looks terrible looks grainy
So not much of an update again let's hope there is a speed improvement as all this pointless UI updates may slow things down

Nope to everything you said. I can't see your perspective here. It all looks way more modern to me. Still work to do on consistency, but it's getting there.

Have you seen the action centre on the fast ring? Now has the notification in smaller boxes looks old school. And the blurry background looks like privacy glass I'm not a fan but if you turn off transparency I loose the screen saver on the start screen

i've gotten edge notifications in the action center. i'm not certain as to what you're referring to.

QQ a little more please. no it doesn't, edge is good and getting better (use it as my default browser now) Fluent Design is excellent ( in concept, hope they go WAY further with it. Excellent update.

Edge on my WP10 is unusable...refreshes 2X every 30 seconds then crashes...It worked when I purchased my Lumia 650 in December, however after the last 2 build updates, it's completely useless...

So they're not going to put the Control Panel back on the Windows menu? Idiotic move in the first place, baffling that they'd keep the mistake intact.

Running on a new chip architecture (arm) is significant.

What does that have to do with burying a core part of Windows from the user?

The control panel is legacy, for most settings now you don't need the control panel

That you have to say "most" is exactly why it ISN'T legacy. There are still too many things you need to go through the Control Panel for to efficiently do. Changing audio channels and manipulating the Devices and Printers stuff is still a Control Panel activity, as is uninstalling non-Store software. The new Settings stuff is a mess that's spread out way too much and a pain to manage for it; it's missing both some of the Control Panel functions and requires going through too many menus and windows to do efficiently. It's built as friendly to those who are on mobile/touch PCs, but for a desktop with a mouse and keyboard, the "legacy" stuff is vastly more usable. If they want to build something that actually replaces the Control Panel and works well, I'm all for dumping it. However, leaving it as a necessity, then hiding it, is strange and confusing.

"but for a desktop with a mouse and keyboard, the "legacy" stuff is vastly more usable." Absolutely agree. Love W10 on my hybrid, but on my dual-screen keyboard/mouse workstation it's a significant step back from W7. A touch UI - like W10 - is crap on a desktop machine.