Cortana's Foursquare support goes live on more Windows Phones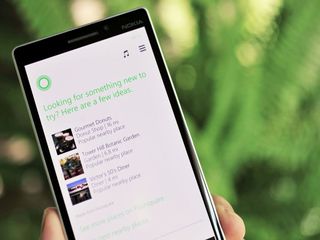 Microsoft flipped the switch to expand Cortana's previously revealed support for recommending nearly places to more Windows Phone 8.1 devices late on Monday, perhaps in preparation for launching the digital assistant in China later this week.
While we had already reported on this new feature for Cortana a few days ago, it had not actually gone live on our phones at that time. That changed last night as our editor in chief Daniel Rubino confirmed that the Cortana recommendations for nearby places, using data supplied by Foursquare, went live on his Windows Phone device, as it apparently did on other phones.
As we posted a few days ago, this means Windows Phone 8.1 users can now ask Cortana to display recommendations for nearby restaurants, bars, shopping centers and more locations based on popularity, newness and buzz.
Microsoft is reportedly close to launching Cortana in the UK and China and recent reports suggest that it will go live in China on Wednesday, July 30. Did the recommendations for nearby places go live on your Windows Phone 8.1 devices?
Windows Central Newsletter
Get the best of Windows Central in your inbox, every day!
Cue people in other countries complaining about Microsoft not releasing Cortana in their country

Lol the feature was on my phone for ages already! Haha, not particularly useful for me cos Singapore is just so small but a great feature to have nonetheless

I'm more surprised that its only now that it can search for restaurants, or am I not understanding the article?

It could via Bing info before, now it's added Foursquare data into the mix as well.

Ironically, it's starting to feel like there are more anticipatory whingers than people actually complaining about the lack of a wider release.

Yeah this is pretty brilliant. WP8.1 is only officially out in non-US countries... but they don't have Cortana. Catch 22.

Wish they would integrate Yelp into this feature as well.

Yelp is integrated if you ask Cortana to show you the best Italian restaurants around you, for example.

I received the update in the north west. It's pretty sweet!

Yes installed foursquare yesterday.,works like a charm..

My Sprint ATIV S Neo with the DP got this feature late last week, around Thursday or so... also got the feedback feature a couple of days earlier as well! Very cool to see the updates to Cortana!

Same on Sprint HTC 8XT last week.

Doesn't releasing cortana to Dev preview need an update ? if so what are the odds that update won't fix the bitlocker issue and allow us to update to cyan ? and maybe it's GDR1 preview ?

https://twitter.com/marcusash/statuses/490147788479401987
he say it's coming to "Developer preview" so ?

Cortana can be updated with new content and information on Microsoft's end. No need to update the OS to show you new places to eat or new phrases she can respond to.

You didn't get my point
The OS hide Cortana when the region is set to UK, right ?
udpating cortana's sever won't help to show the app on UK device

I'm guessing there should be a small update which will enable Cortana in the UK. Maybe a registry setting or a list of allowed regions... but I'm hoping it's out today :)

finally someone understand what i'm talking about ! yeah, why not today ! and fix the DP to Cyan or GDR1 :P

If you restart your phone, or change the date for the following month, the MS verifies the information and download settings of servers Bing again.
These settings are responsible for telling about Cortana. But this is downloaded automatically. Just have to wait. = D

No. My Cortana on DP has been updated several times on the past few months and it never told me when it was happening or needed any kind of interaction to update.

Because your region is set to USA
if you switch to UK, Cortana app/tile are hidden
i don't think update on Cortana's server will help showing the app

What a childish question ... I think you don't know that Microsoft has not yet released Cortana officially world wide... It is only (officially) available in USA. by the time it will be available, and then only it will be unhide.

Wow, did you even read the comment ?

Cortana works through internet(html 5 pages which Microsoft updates/or will update at regular intervals)..There is nothing but personal interest,,reminders,,etc saved on your phone!! And Cortana is not like an app which can be installed/hidden on your phone but it's just like viewing (for example) Facebook from different devices(in case of Cortana..A WP 8.1)..

did you read my comments ? i know how it works but it's hidden in the OS, or better to say "disabled" when the region is set to something else than US updating her on the sever side won't enable the OS to display the tile or the app in the apps list

Yeah it won't show up until ye have the region set to US..

Working as of today in Australia, works well too, in a new city for work this week and getting good suggestions on where to go and things to do

Recommended places are live in Austria!

And Australia. Sadly it's recommending crap places with crap reviews haha Edit: dammit, someone already said Australia XD

I've been getting place recommendations for a few days now. I thought the whole thing was already live. Apparently not...

Yup!! I live in India and since today morning cortana is showing nearby places powered by foursquare.. and feedback.

Foursquare integration works perfectly well in India. I even found that small popsicle cart (gola wala) downstreet in foursquare :D Posted via the WPC App for Android!

Yes it's live here in Egypt!!

I got this last night! Loving it!

I got it working on my phone. Here in The Bahamas

Working on my 1520 with Cyan update...love this feature while I'm travelling.

Two days ago for me.Cali :)

See I am not sure how I feel about Cortana, I was excited at first, but basically the permissions allows Microsoft to access and utilize every bit of personal information on your phone. Contacts, location, access to email, and test messages browsing search history, calendar information. So you're handing your personal life and who you know to Microsoft. It seems like a bit much. And if you browse their documents it also allows them to use your in-home wifi information as well. You have to go to a site to opt out. It is an amazing deep dive into personal information.

You mean in order for MS to succeed it has to adopt some of Google's success strategies? And yet they don't use it like Google does. Microsoft allows you to share your wifi connection with other windows phone users in your contacts / friend's lists without actually sharing your password with them. As for everything else, I'd rather give it to MS than to Google at this point because I want some serious competition for Android out of the MS Lumia camp. Take a look at apps like Dropbox, Box, Evernote, even Ynab. When you connect an app like YNAB to dropbox, you give YNAB full permissions into your data. The only way to eliminate all of this is to use BTSync and your own NAS as your cloud.

Two things: If you look closely at Google Now's integration, it is much more of an invasion of privacy than Cortana is with the Windows Phone platform. Using any browser on virtually any OS and any application that utilizes location via WiFi or LTE is essentially allowing information to be sent and received--the quick solution for you would be to disable Cortana, or just to use it over a cellular connection (thereby not permitting the software to access your in-home Wi-Fi to send or receive any personal information). The phone is not actively harvesting any personal information via an in home internet connection when not connected to WiFi anyway. I'm unsure what the issue is, or perhaps I misunderstood.

My greatest concern is allowing them access to my email and text messages. I have my work email (outlook) on my phone. I am sure my employer would not want Microsoft harvesting information from my work email. And as far as 'google's worse' comparison it doesn't matter. I just can't see people willingly giving Microsoft complete access to not only who they know, but also what communications they have with who they know. Cortana reads your text messages and emails ! I like the idea of cortana, but I'd rather have a digital assistant that does what I tell it to do, not scan my life and make suggestions. Regardless if it is MSFT or GOOG or AAPL.

The whole idea of the notebook feature is you can choose that stuff and a lot of that info is only used locally on the device.

Exactly. You only let her know what you want her to know

So I can disable Cortana reading emails?

I don't think so, but nothing from email gets sent to servers.

Yeah I got it yesterday ... It's cool... Great that Indians can make use of it with dev. Prev.

Foursquare is working on Cortana for me

What I'm worried about is that there's a date set for China but Microsoft are keeping quiet about the UK :/

Do u need to install foursquare app for that? I kept getting local scout or yelp search results.

I'm wondering the same thing..

I think it works even without the foursquare app.. I don't have a foursquare app installed, and still I'm getting suggestions from Cortana.. I guessed the suggestions are 'powered by foursquare'.. Not that it needs the data from the native foursquare app..

Nope still dont have it on 928 AZ USA dev preview

I don't get it, how do you know if it's enabled??

Cortana asked if I wanted to add Foursquare a few days ago.

Or go to Cortana, click the burger, select Interests and under discover, click events. Mine were all unchecked for some reason, once I enabled a few, including Food+Dining it worked.

Me too. Just have Event and eat+drink

I noticed this about almost a week ago for me in California. It's pretty cool and it also looks like the preferences especially in the food selection has changed, with more options. All good.

Microsoft is damn serious about two things at present. OneDrive and cortana

And They market Windowsphones by mentioning CORTANA at first place, knowing that the feature is supported only in a couple of countries . :-/

They are marketing it that way only in the US.

Ya I figured out today morning only.... But thought that it was previously there and would have just popped up today.... A good thing to see Cortana getting feature updates quickly

I had this update last Friday. Do you need to have foursquare installed or can you have the recommendations regardless to owning the app?

You can have recommendations no matter if you have Foursquare installed or not. The difference appears when you touch the place displayed by Cortana, without Foursquare the browser is launched instead the app.

I've had this for at least 1-2 weeks

MS needs to go as hard on their entire OS as they seem to be doing on Cortana.

Lumia 928 in East Texas -- received the update yesterday afternoon.

What reports are they talking about suggesting 30th of July launch?

My HTC 8X is waiting for Cortana :)

I've had it since last week here in Rochester, NY

So the 'hitting the UK in less than two weeks with China SOON THEREAFTER' thing from Marcus Ash back on July 18 was bull? Well unless Cortana releases in the next couple of days, in which case yay, go Marcus!

Exactly what I was thinking, I think Marcus Ash got it wrong and it should have been, 'Cortana will be hitting China in less than two weeks with the UK soon thereafter'. How long does it take to change English US to English UK!!?!

That is just a recommendation. Tap on the Place name, and the Foursquare link opens in IE. That's not of use. The place should rather open up in HERE Maps.. :/

At where I am, Foursquare has better POI than HERE. Even Waze can use Foursquare POI.

Germany not branded 920: i
I did get the 4square recommendations today!

What about the windows 7.5 and 7.8

Not sure if that's sarcasm or not but Cortana is an integral part of WP8.1 so the answer is No!!!

Just checked Cortana on my 1520 here in Bangkok Thailand and the nearby location recommendations is working perfectly! Now if I could only get the Lumia Cyan update (they're slower than molasses in the dead of winter here when it comes to releasing updates)!!

still unable to see recommendations and feedback form in cortana. Pakistan , region is US , lumia 520

Yes, I have been getting suggestions from Cortana via Foursquare for several days now. I have also noticed that I am now getting traffic updates for my travels to work. Cortona is awesome!!

My Cortana isn't working right now! It says " go ahead and tell me what to do, interests aren't available at this moment" or something like that. I went to interests and it said the same thing. Then I tried to add interests and it said they were unavailable.... Please help. I have good internet connection.

This may sound dumb, but do we need Foursquare installed on WP?

I don't have Foursquare installed and Cortana is still able to pull suggestions from Foursquare.

My old Maps app with eat+drink which stoped working when I moved over from WP7 is finally working again. In cortana i'm also able to get nearby as well as see more place on Foursquare. I can also send feedback. Toronto, Canada. Me likes so far.

Awesome! I was wondering about that Foursquare support for a while!

I am from India but i still haven't got any Cortana update while my dad having a similar windows phone has the latest Cortana features.. Can someone please tell me the reason... Is this some kind of bug!?

it's working perfectly in INDIA, even FourSQUARE is working great. cortana keep suggesting new places for last 2 days :) but there should be a notification that these are the changes made/ or added to cortana so user can know.

Trip Advisor integration would be incredibly useful.

It is now showing me restaurants in Mexico.

I joined foursquare just because of this

Got in Jul 27th. Works really well in Singapore! I don't use foursquare. Though Cortana is pulling in very good suggestions.

Why don't I have it on my HTC phone? I have windows .

Will cortana ever arrive at Irish shores?? I had her for a while when I changed the region to US and I loved her. I changed back my region to Ireland for fear of not receiving my firmware or OS updates. I think Cortana would be epic across-the-board for all countries.

About Foursquare, I wonder when is coming the new Foursqare to Windows Phone? I hope so soon!