Could this be Nokia's first Windows Phone?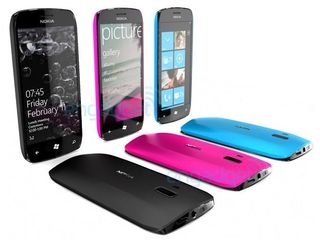 There's still a bit of buzz lingering from Nokia and Microsoft's newly announced partnership with Windows Phone 7. The ink has barely dried on the press release and we are now seeing concept photos on what the first Nokia Windows Phone might look like.
The concept phone resembles the Samsung Focus but has the power button joining the micro-USB port and 3.5mm jack at the top of the phone. One can only assume that the camera and volume buttons rest on the left side of the phone that isn't shown. Right now we can only guess what might be under the hood.
While the colors add a little flair to the Windows Phone line-up, does the concept phone look a little plain for Nokia? Or does it hit the right spot?
It will be interesting to see what additional details come to light at the 2011 Mobile World Congress. We've got a crew flying the ocean blue this weekend and will be pounding the pavement trying to find out all that we can Windows Phone related.
George is the Reviews Editor at Windows Central, concentrating on Windows 10 PC and Mobile apps. He's been a supporter of the platform since the days of Windows CE and uses his current Windows 10 Mobile phone daily to keep up with life and enjoy a game during down time.
Hey George! Did you notice that the Start screen on the blue Nokia phone has two new tiles?A clock tile in the top left and a compass tile in the mid-right.

I think this looks very nice. I like the design a little more than the focus. For one, the back looks like a matte finish, and one thing I hate in consumer electronics is a glossy finish. The second thing that I like, is the angles on the back cover, looks very nice.I just hope Nokia gives us some CDMA love! (As well as Microsoft)

its really too bad nokia is going wp7, its literally made their phones boring as hell, and wp7 does nothing that symbian is famous for.no using phone as memory card... and no to basically anything else. why would you ever get a nokia wp7...i have my samsung focus and since then my friend got a galaxy s, and i cant believe i managed to get a wp7 compared to the android. its literally joke of an OS, there is almost nothing you can do with it.the first patch that ... still hasnt come out is bringing ONLY? copy and paste? are you serious?id rather be able to use my phone as a portable hard drive without annoying tweaking.wp7 is just so boring, it works sure, it browses, and plays mp3, yet ANYTHING else is a problem, streaming radio, files, storage, drm, realllly boring apps, no voip, no skype or any messengers, no 3rd party multi tasking.those 8000 wp7 apps, there are like 5-10 that are useful at all.microsoft has another 2-3 years to go to even make this look like a finished os. rightnow, it seems like they made it all in 1 year, it performs 3 tasks well, and thats it. im so disappointed i got wp7 and that nokia, is switching to this... gah

Hey Dude, do yourself a favor and sell your Focus on eBay to some lucky future WP7 owner. Then go get the supercalafragalisticexpialadoshus Android phone of your choice. It will be good for your health and everyone else who has to listen to you.

This nokia concept thing is a waste of everyone's time ...Let's write about reality.

I like it. I currently have the HTC Surround. The concept looks very sleek. Of course it won't be for everyone but should appeal toa good group of people. It just needs all the key components to work well and impress.

Depending on the internal memory (or if it can be upgraded) and performance... I may have to say good by to the HD7.

This concept looks phenomenal. Exactly the kind of beautiful hardware design that I would expect Nokia to aim for.Assuming that the back of the phone is aluminum and (hopefully) a unibody design, if this thing becomes reality I may just sell my Focus and pick up this bad boy come release. I love my Focus but this concept is just as sexy BUT it doesn't have the annoying plastic back. Win-win for me :D

@cenkeataya, I don't know what rock you have been under(oh wait it's the Android is better because its the only OS slow enough for me to figure out rock right?!)man the widows phone 7 OS can do all that and very very well and if you knew anything about the up date there are several new things being added all the time to the list for the update hense the later release date. in fact this update is going to do what it took iOS three yrs to do and android somrthings android doesnt even offer yet.no way you would own a focus wp7 and not know this if you claim to know so much about what it cant do(NOT!)seriously I dought you even own any wp7 device you're simply another follwer on the iOS or Android band wagon who is actually bored to death with your device and actually want a wp7 device but want to see what everyone else has to say about it first so you come here otherwise you would just go to android central now wouldn't you. you had 30 days to try your device you could have returned it and got an Android device but you didn't,it doesn't take me 30 days to realize that I dont like a device I am constantly learning more cool things that I can do and thats what microsoft wanted, to let the phone and the developers show you the full hidden potential of the device thats why they have strict top of the line hardware requirements for everything that went in to the device no matter who makes it so that the power is there for whatever cool apps,video or graphics intense games a developer can come up with(Halo Nation and Rise of Glory) they even have a wp7 device that streams HD video to your WIFI enabled HDTV in great clarity your Android device still has to use a mini HDMI cable. one things for sure the possibilities and potential are endless with wp7. If Android was all that then why didn't nokia take there offer,I'll choose my Zune player app over the Ipod player any day it dosen't even compare.Halo Nations gonna make Nova look like well what it is an attempt to make a mobile version of Halo lol. You dont deserve a wp7 device, it's too emersive for you!

i think it more sounds like you havent used a good android.wp7 has so many limitations its almost crazy. sure its works well for many of the tasks that i need, but not all, and i think itl take another 3-5 years for it to do that. many of those tasks symbian does with no problem, or wm6.5, or android. IOS is just a joke, you cant compare it to that. android is like wm should have been, faster, more options, and skins. there is so much software like something as simple as skype, which cant even be possible on wp7 yet. wp7 is good for the casual iphone user, but if your a power user of any kind its just... a joke. The fact that i cant come and plug my focus in to use as a drive to transfer some music/videos is just... a joke.

Android can't text. Kinda a deal breaker.

Dude I have right now collecting dust a white my touch 3G slide had it since they first released them at t-mobile,cool but not at all too impressed the best Android devices out there right now are the Galaxy s,G2 and Evo still not impressed.its certainly not the power wp7 is missing its got plenty to spare, its the html-5(in update) copy & paste(in update) flash video(in update) MS stated by the second update wp7 will have the ability to do so over the air no more plugin into your computer for large updates. 3-5 Years dude wp7 is already ahead of iOS and Android from the very beginning in the way this OS is evolving,when the update is released buddy that slow but steady stream in development and utilization of the full potential of wp7 will become an unstoppable flood and you know what happens when a dam breaks right? You either get out of the way or drown.the safest place is behind the flood not in front buddy lol! And Symbian dude give me a break ,please don't get me started.

sorry for the long comment guys lol, but could have gone on about it more ha ha!

I own an HD7 by the way and an HD2,both tilt models, touch pro mods 1 and 2, 8925,8525,8125, htc touch and touch dual. all in pristine condition so I know how far this OS and devices come in power and quality.

I agree with Dusteater it does look like a matte finish, and I also like the angles to. It gives it a different look, then all the other flat back phones. Sometimes a phone's back seem to be an afterthought. For example, look at some of the HTC, LG, and older Motorola phones they had problems with making battery covers that fit correctly, or Samsung's use of cheap looking plastic. It doesn't look like they put a camera flash on the phone. I hope they put a flash on it like the dual LED on the Mozart. Nokia has been innovator in creating phone's cameras for years, sometimes ahead of the curve in the megapixels used on their phones. To differentiate Nokia from other phones, they need to add features that current WP7 phones doesn't have. In an ideal world Nokia would make a phone with these specs.3.7 to 4.5 inch screens better than Samsung's AMOLED or Apple's Retina.Dual cores processor or at least the current top shelf parts.Not the standard 5or 8 MP camera, but at least 10 or 12 MP camera w/ full HD video record.Dual LED flash w/ computation settings, such as indoors, scenery, snow, so on.Increase the standard memory of 16 GB to 32/64 GB.Add an expansion option, such as Micro SD cards.4G!!!And a second version w/ a QWERTY board.More updates, if there is problem fix it. Don't wait to next year's update. More memory and expansion is necessity if WP7 is going too marketed as a multimedia device in the future. It's great that the updates are coming, but why a few months? If Microsoft wants to keep their momentum, they need to add updates regularly. Android was really slow in updates in the beginning. WP7 is ahead of the curve, they are farther along than Android was at the same time of development. But for WP7 to take more of a market share, it needs to evolve to innovate faster than Android. They need to make WP7 able to do multitasking, and open up some of the restrictions on it like, removing the developer limitation on apps downing of only ten. Because Android has gotten better at updating their phones, and WP7 needs to do the same. Finally, how important the development of Xbox Live and Zune is to WP7. Xbox live needs better integration between 360 and For Windows games. And adapt Xbox games, such as Halo to WP7 format. A Halo game would be a big selling point. Even a Halo Edition Nokia phone, like what Microsoft has done for the Xbox. If Unreal Tournament 2 can be ported to a Motorola Droid (Milestone) a year ago, then it can be done to Halo too. Zune needs to be better distributed, and combined with Kin, Windows Media, and Nokia technologies. It needs to become more like Last FM, Slaker Radio, Pandora, and Napster. And Zune Pass should be free to WP7 phone owners, it would be a benefit. I believe WP7 has a good future with Nokia on board. Maybe next year people will be talking about them at CES like they were Motorola this year. As long they can blend their services and technologies together to benefit WP7, it will be a go future for both.

@cenkaetaya"those 8000 wp7 apps, there are like 5-10 that are useful at all"You have to be kidding me right now. 5-10 are useful? You are bragging up Android apps that have absolutely 0% quality control. If you say 5-10 WP7 apps are useful then I would say 5-10% of the billions of Android apps are useful.

true thatbut there are still more cool apps on androidflashlightgoogle mapsstreetviewearthgooglesftpskypeemulators with free gamesand prob a few more.

Such a shame that a Nokia device is not slated to be released until late 2011; Wishful thinking, but since they've already 'tested' WP7 on a current Nokia device, it would be great if they could release one before the end of Q2, just as a prelude to more awesomeness to come. Not sure what is coming at MWC, but not sure that it matters to me anymore; as much as I'd like to help contribute to the WP7 sales early on, I will definitely hold out on the WP7 purchase until the Nokia's hit the shelves.

Dude I spammed you by accident I'm sorry lol. But in reference to your comments of many valid points by the way, I would rather they take their time and release a few awesome devices than to hurry and get a repeat of the Dell Venue problem plagued release.

Sorry you did not like my "let's talk reality" comment ... but it seems like we are a looooong way from seeing a Nok WP7 prototype... lots of time for things to change ...But OK, this is evidence that Nok and MS are already hard at work, so I will give you that.The BIGGER NEWS is not what a future device will look like, but the shot in the arm that this gives the nascent platform.This really does make it a 3 horse race, at the expense of HP and RIM.

Soooo true, how exciting!

The windows Phones from Nokia might not take as long as people think to hit the Market.Elop as said they will use Hardware components originally pencilled in to be used with MeeGo products. so after Few Handset revisions to add the 3 buttons etc. and a couple months testing we could have devices by summer I'm Guessing.

Btw there a Nokia pre-mobile World Congress event Sunday so could be news there or on Monday B/c Ballmer is doing a KeyNote and Elop is going to join him on stage.
Windows Central Newsletter
Get the best of Windows Central in in your inbox, every day!
Thank you for signing up to Windows Central. You will receive a verification email shortly.
There was a problem. Please refresh the page and try again.