Counters for Windows Phone 8: a Modern solution for a simple problem, from the developer of Fuse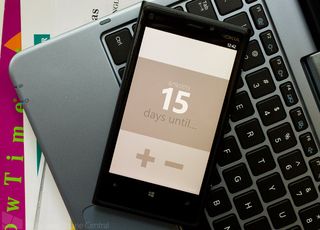 Windows Phone developer extraordinaire Rudy Huyn, the mastermind behind TVShow, Fuse, Wikipedia, and soon Vine (unofficial) has a new app out that has blown us away with its design.
Counters is one of the simplest Windows Phone 8 apps we've seen and if even if you don't have a need for it, you'll want to gaze over it's UX. It's designed to help you keep count of things such as days until you vacation, number of invites to a party, or anything else that can be counted or counted down.
Counters also takes advantage of our Live Tiles by letting you pin individual counters to your Start Screen for easy access. This really comes in handy if your counting down the days and need an easy reminder.
In a nutshell, Counters is a very clean, simple and straight forward Windows Phone 8 app to help you count.
[[ counters a app count for is keep laid need nicely of p the times to useful you ]]
When you first launch Counters the app's tutorial will launch. It's a five page illustration on all the features of the counters. When you're ready to start counting, just tap the "Back to App" screen on the tutorial.
The main pages of Counters include an Add Page where you can add a counter and pages for each active counter. For new counters you have three choices; counter, days until, and days since. The counter name and number can be modified by tapping on them respectively. To pin the counter or change the color, just tap and hold the screen and the pop-up menu will... well... pop up. If you use the Live Tile feature, you'll need to go into Counter's settings (on the three-dot menu) and turn on the periodic agent. This will help keep your Live Tiles updated on a daily basis and avoid the need to run the app periodically.
Should you need to delete a counter, just swipe down at the screen.
As you need to add to or subtract from the counter, you have "+" and "-" symbols at the bottom of the screen. If you are counting days, the counter will automatically adjust as days pass by.
Counters is an appealing Windows Phone 8 app for those needing to keep track of counts. Counters is a free app and you can find it here (opens in new tab) in the Windows Phone Store.
George is the Reviews Editor at Windows Central, concentrating on Windows 10 PC and Mobile apps. He's been a supporter of the platform since the days of Windows CE and uses his current Windows 10 Mobile phone daily to keep up with life and enjoy a game during down time.
Looks like it might be an Asus...possibly the Q200

Yup.. Looks like an asus to me too

Looks like the Samsung 500T to me:)

Going to have to agree with this. My 700T looks nearly identical but with a darker shade.

Simple, but with loads of fun uses; perfectly suited for live tiles.

Love the design on his apps

Hey George, what's happening in 15 days? :-)

I was going to guess BUILD, but that's too late for this counter.

Given the programming genius that he is, I wonder how many minutes it took for Rudy to develop this app. :)

Chuck Norris of app developing he is - the app created itself when Rudy was drinking his morning tea :P

Awesome.
Bookmarking for when I get my Windows Phone 8. Wish there was a way to purchase in the Marketplace even though I can't download it to my current Windows Phone.

I like the "days without her" counter in his sample images.

Is the "days without you" countdown linked to the Vine release ;)

Love this!! Rudy ur becoming my fav WP developer :)

Great app, I also really like Countdown+++.

Rudy, please show us 7.8'ers some love :)

I use Rudys TVshow app every day (paid for regular tv shows, lite for my anime). Will gladly download anything the man codes.

Can't you pin multiple tiles with the paid version? I ask because I have no idea how it works and why you need a separate version for anime.

I have both because I'm anal and I don't want the number of anime episodes I've yet to watch (since I have a lot of older animes on my list with hundreds of EPs) to mess with the number of tvshow episodes I've yet to watch. Its a personal choice, not a limitation on the app or anything.

Probably won't work on my live tiles but ok.

Super clean, simple, and WAY better than the last countdown app I downloaded on WP. Pinned.


This guy is really gifted.

Indeed! TVShow is one of my most frequently used apps! Would be cool if the countdowns could be shared to Facebook and even on friends walls. Like : Dude. Beer arriving. ETA 3 minutes.

Look, Qualcomm is working with Microsoft to bring tablets with the Sanppdragon 800. Maybe it won't be long until we see one on WP. Also, if EOS really exists, the only processor of current generation from Qualcomm capable of handling a 41mpx camera is the 800. http://www.qualcomm.com/media/releases/2013/06/04/qualcomm-works-microsoft-offer-snapdragon-800-processors-windows-rt-81 http://www.qualcomm.com/snapdragon/processors/800-600-400-200/specs

How is this compared to countdowns which you reviews earlier?

I thought this was the Nokia counters app from wp7

Wow. What a beautiful design. 2 numbers a +- and a colored background. Truly ground breaking and innovating. Must had spent countless hours figuring out that UI. NOT!!!!

Nice, but I still prefer Day Counter +

Seriously Rudy's WP Wikipedia is the best channel to access Wikipedia, ever. Good job man.

Definitely going to try this out!

I've been waiting for something pretty to use to count own to my gallbladder surgery. Good look!

Very nice and clean! The guy's a natural!

beautiful - thanks. I still prefer the app Countdown for date related countdowns though. It nicely displays my countdowns on one tile.

Will it be available for 7.8 devices???????????

He copy the iphone apps "+1" made by 1Button.
http://1button.co/+1

Very clever and Metroish :D
Pinned.

I need support for WP7 :(
Windows Central Newsletter
Get the best of Windows Central in in your inbox, every day!
Thank you for signing up to Windows Central. You will receive a verification email shortly.
There was a problem. Please refresh the page and try again.